If you're visiting the Okanagan Valley, there is a roadside stop worth making between Osoyoos and Penticton. Located on Highway 97 just south of Okanagan Falls, Tickleberry's has been around for nearly 30 years and is an ice cream lover's dream come true. They serve more than fifty flavours of ice cream and make their own chocolates, fudge, and even kettle korn. When my family and I were on a roadtrip around the Okanagan this past fall, we stopped by Tickleberry's twice to indulge in their ice cream.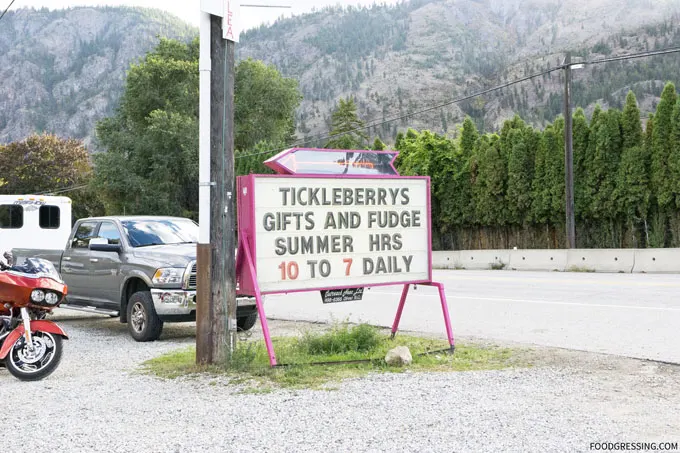 Tickleberry's Menu
Walking into the shop, there was a sense of nostalgia of what it felt like as a child to enter an ice cream parlour. The number of flavours on the menu is mind-boggling and can be a nightmare for the indecisive. There are some retro childhood ice cream flavours like Worms in Dirt, Peanut Butter Binge, and Bubble Gum. Tickleberry's is the kind of place where it's almost impossible to go with just one flavour and they have a wide range of sizes to allow you mix-and-match.
It was also refreshing to me to be in an ice cream shop where they use actual nuts in their ice cream like Pistachio n' Almond, Peanut Butter Binge, Butter Pecan, Pralines 'n' Cream and Cherry Chocolate Pistachio. I had been used to places in Vancouver that served nut-free ice cream. As someone who doesn't have a nut allergy, I gladly welcomed some nutty ice creams for once.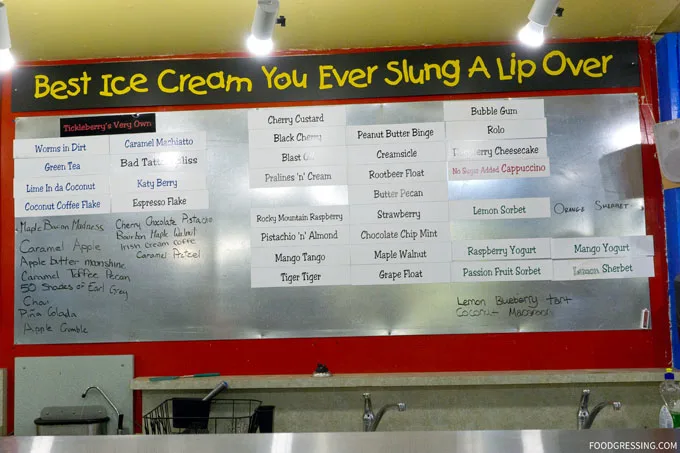 Tickleberry's size options are not what I would consider normal. Customers can enjoy a child's ($4.50) cone that comes with two scoops already. A single ($5.00) has three scoops and a double ($6.00) scoops. But for those that are true ice cream lovers, you might want to just the large size which has a whopping 7 scoops (more on that later). The price per scoop is so good; I obviously I have been paying a premium in Vancouver.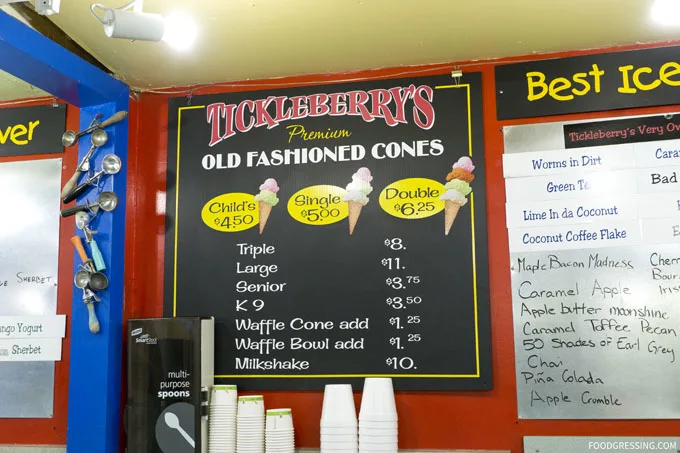 What We Tried
On our first visit to Tickleberry's, I went with a humble double scoop ($6.25) in a waffle cone ($1.25) which had three scoops: Fifty Shades of Earl Grey, Black Cherry, and Pistachio n' Almond.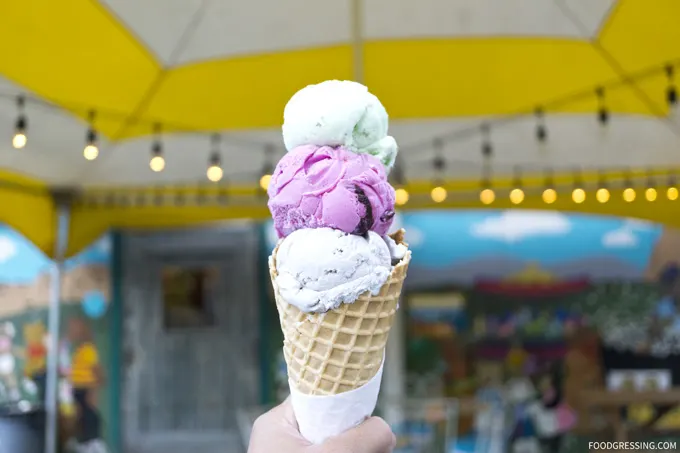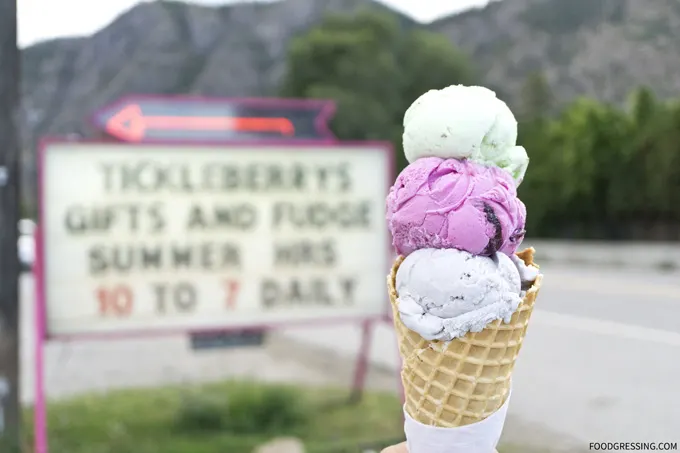 The Fifty Shades of Earl Grey had a good tea flavour and I very much enjoyed the incorporation of frozen cherries into the Black Cherry flavour. I loved the Pistachio 'n' Almond which was light but still nutty. The textures were on point: smooth, silky and creamy.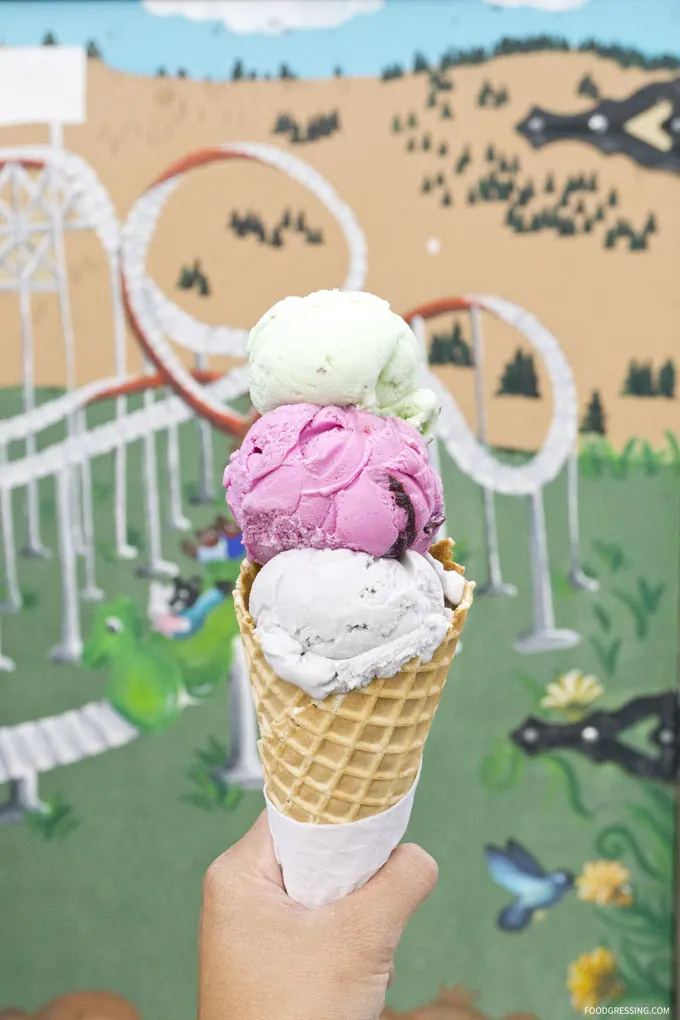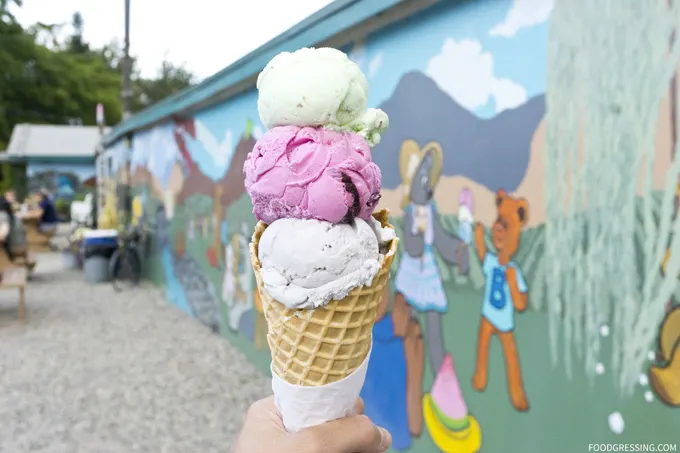 Our second visit, I decided to go with large. Go big or go home, right? This monstrous ice cream beauty had 7 scoops of ice cream ($11) and two waffle cones ($1.25): Peanut Butter Binge, Bubble Gum, Butter Pecan, Tiger Tiger, Cherry Chocolate, Chocolate, and Pistachio 'n' Almond. They didn't charge me for the extra waffle cone which was nice. The key to this creation is to go with ice creams that have a more solid texture so that they stack up well. If you get softer ice creams, it will likely all fall down.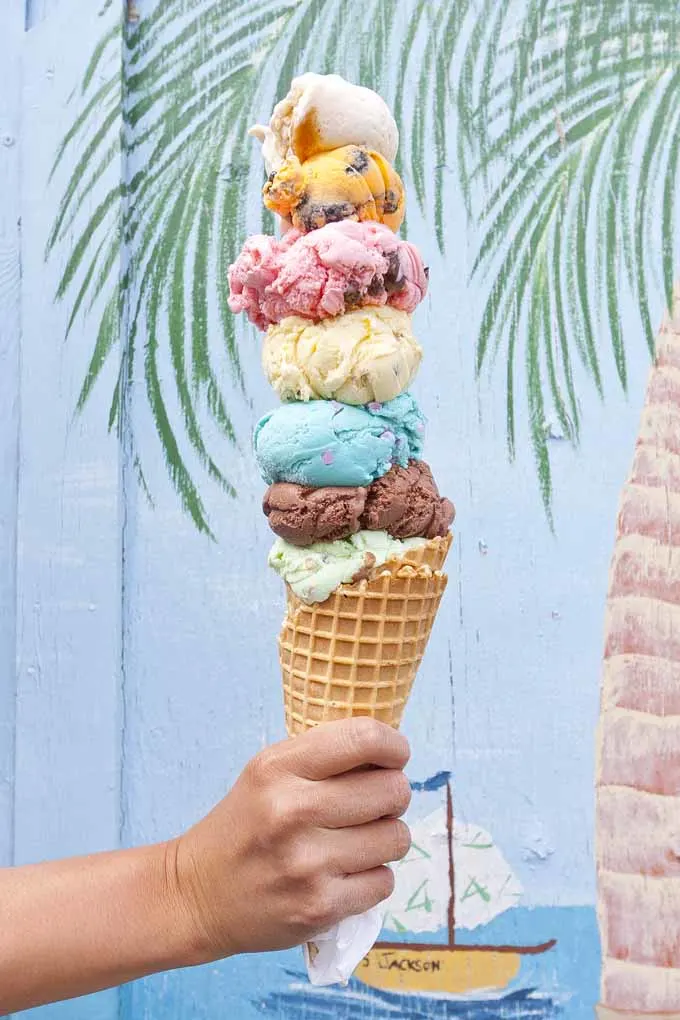 I quite enjoyed the Peanut Butter Binge which really had an very tasty peanut butter flavour. Second to that would the Tiger Tiger which was an orange-flavoured ice cream with chocolate.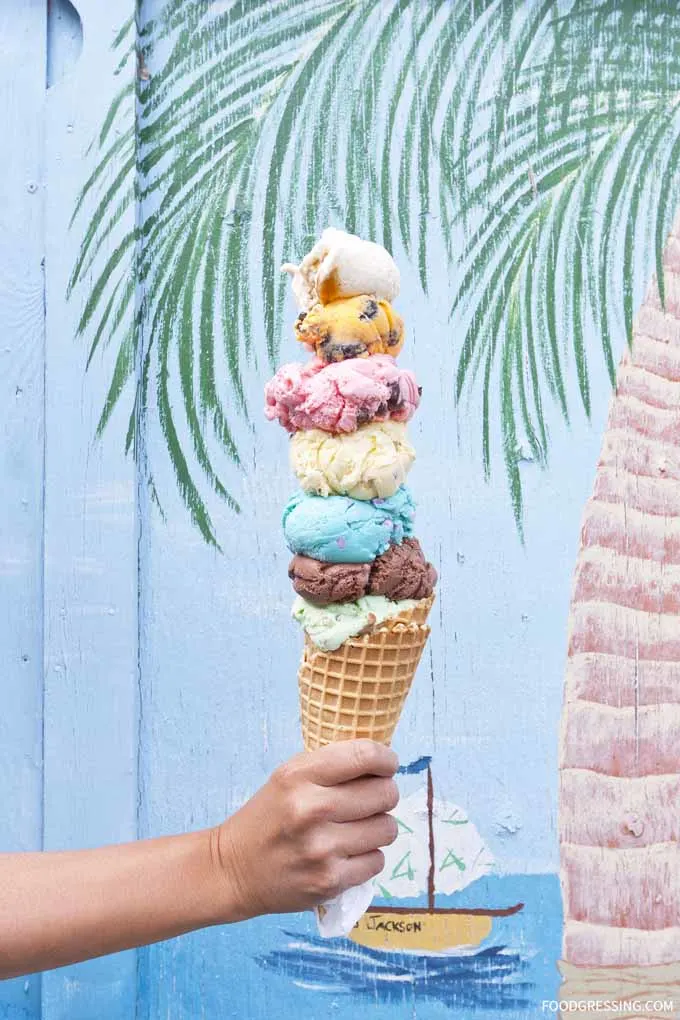 Gift Shop
And while you're at Tickleberry's, look around their gift shop. They sell a range of local crafts, windchimes, jewellry, hand bags, and souvenirs (like magnets, postcards, t-shirts).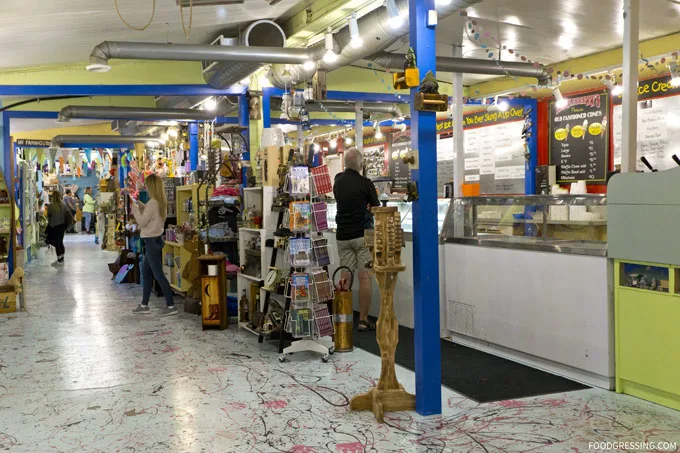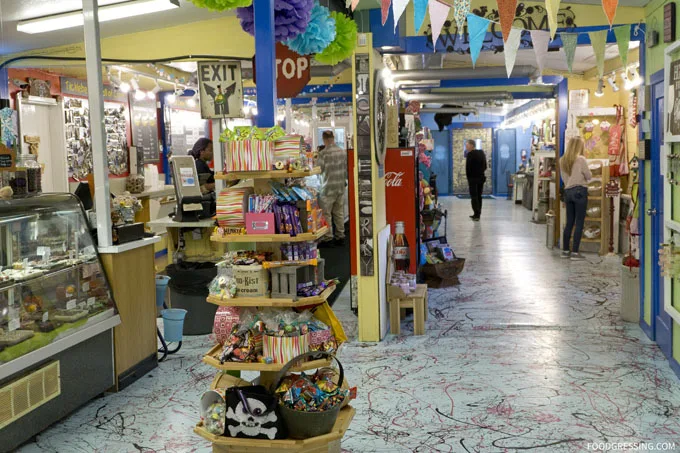 They also have a variety of chocolate flavours for sale like chocolate covered ginger candy, dark chocolate cherries and more.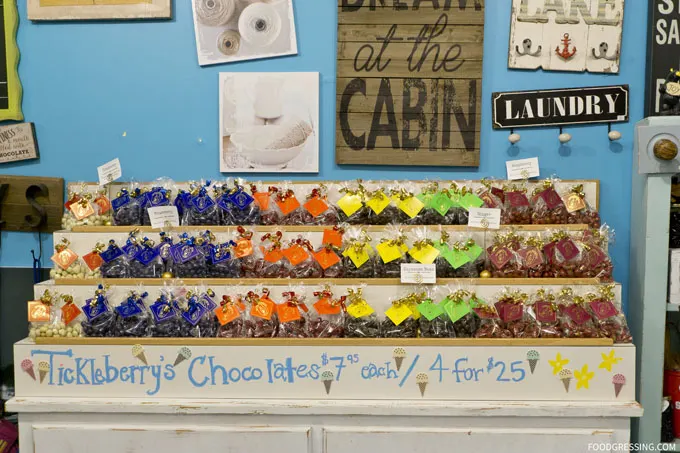 Overall Impression
Tickleberry's is a fun stop in the Okanagan Valley with their abundance of amazing ice cream flavours. It was one of my favourite parts of my trip – I mean, where else can you get 7 scoops on an ice cream cone? I recommend paying them a visit on your next Okanagan adventure. If you can't get down here though, it may be worth looking at some of the best ice cream makers to try and replicate their ice cream, good luck! Rating: 5/5
Website: www.tickleberrys.com