DunnEnzie's Pizza Co. is local favourite in Kelowna having been voted best pizza by diners.  When my family and I were on a road trip in the Okanagan, we stopped by their Downtown location on Ellis street (the other in the Landmark Towers) to see just how good their pizza was.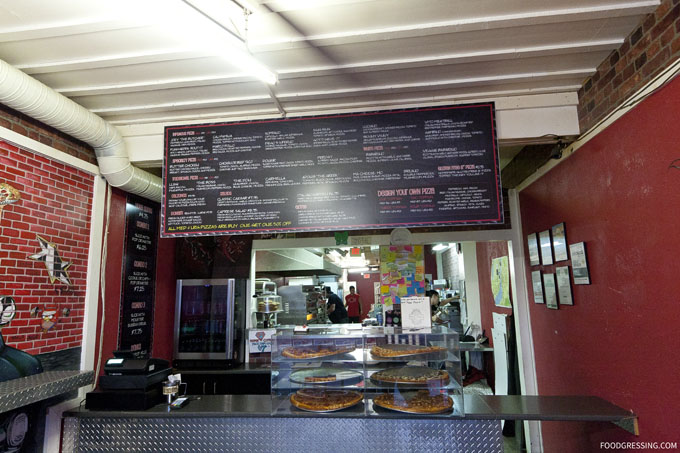 DunnEnzie's Pizza Menu
DunnEnzie's sells pizza by the slice of by the pie and they do takeout and delivery.  They are known for their "huge" slices which are $4.75 each.  Their pies range from $18 for medium size pizza with traditional toppings up to $25 for a large specialty pizza.  Some of their interesting specialty flavours include butter chicken, chicken or beef taco, and perogy.  They also have gluten-free and vegan options.  Their menu is available on their website.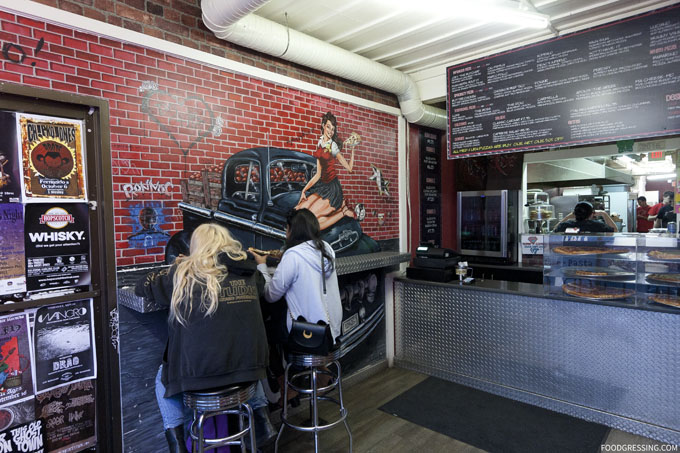 Retro-Inspired
The interior of DunnEnzies seems retro-inspired.  There are bar stools and counters along the wall and window, but no dining tables.  You can also enjoy pizza outside as there is a bench.
What We Tried
We went for a few pizza slices in their warmer and the traditional flavours: pepperoni and Hawaiian.  The slices were pretty big and valued reasonably at $4.75.  Their pizzas are not Neapolitan-style just regular fast-food pizza with a thicker crust.  I thought the pizza to dough to toppings ratios were reasonable.  However, I did feel that the pizzas were a bit dry – something common with pre-made pizzas sold by the slice and placed in a warmer.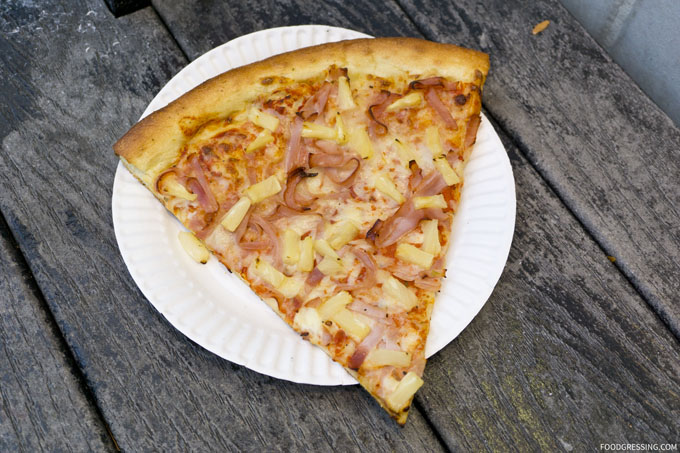 The pizzas were just okay to me and not so much of a wow factor.  This could be because I just went with traditional flavours rather than the specialty ones.  And the pizzas by the pie probably taste better than ones by the slice.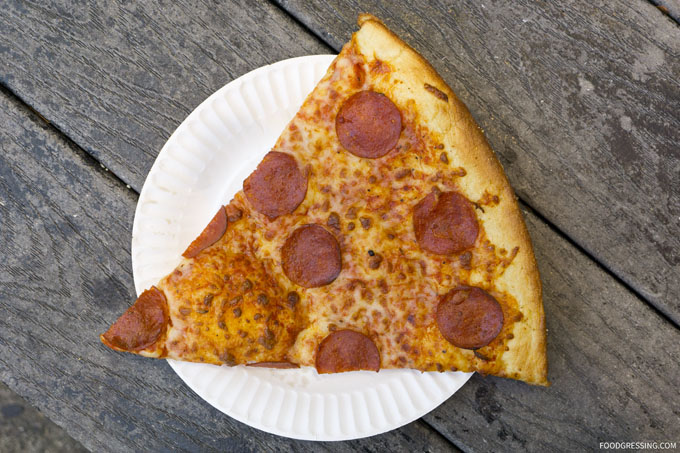 Overall Impression
The tradtional flavour pizzas we tried from DunnEnzies were just okay though nothing to write home about.  The fact that they were large slices was the most interesting point.  I think that their speciality ones by the pie would probably taste better.  Rating: 3/5
Website: www.dunnenzies.com