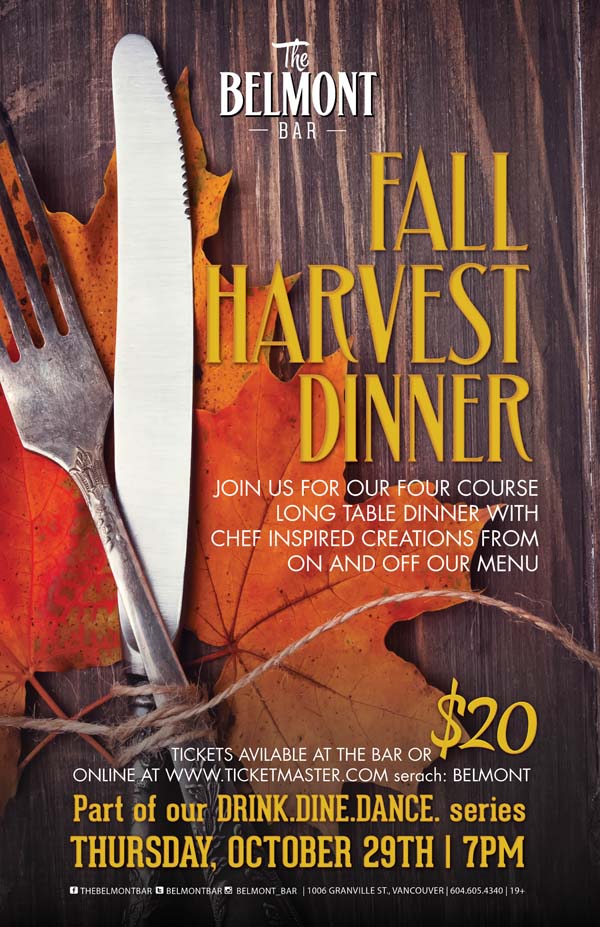 On Thursday, October 29th, The Belmont is offering a special savory 4-course fall harvest dinner featuring fabulous menu items as well as some unique dishes only available that night. The event is the 2nd installment of the Drink. Dine. Dance. series to celebrate their one year anniversary!
The Belmont Fall Harvest Dinner Menu
Appetizer: The Belmont Sausage Party – Local, artisanal sausages; pork and ale, lamb merguez, pork chorizo, served with a variety of house made condiments and warm baguette.
Soup: Roasted butternut squash puree topped with a light cinnamon Chantilly.
Entree: Prawns Provencal and Gnocchi – Buttery prawns, fall corn and peas, roasted tomatoes and preserved lemon.
Dessert: Spiced Pumpkin Crème Brulee and candied apples.
Ticket Information
Tickets are available at the special price of $20 as a thank you to customers for a fabulous year of business.
Limited tickets are available, so please ensure you get your tickets in advance! Tickets available here: http://www.ticketzone.com/event/DrinkDineDance-Series-Fall-Harvest-Table-Dinner/306670
For more information, please email [email protected] or call 604-605-4340.
Must be 19+
About The Belmont
The Belmont Bar brings a whole new flavour to Granville Street, adding a wide selection of craft beers, specialty cocktails, wine on tap, fresh and local fare, and live entertainment nightly. Open at 5pm daily, we are the perfect place to grab a bite and cocktail after work or for a night on the town.
Hinting of its historic past as the Hotel Belmont in the 1930s, The Belmont Bar features industrial elements and copper finishes. The room has plenty of comfortable seating, including a horseshoe-shaped bar for great conversation and a private VIP area for guests looking for a unique experience.
Follow The Belmont on social media: Facebook, Twitter and Instagram.
Disclaimer: The Belmont has provided me with complimentary tickets to the event.