Thanksgiving is a wonderful time to eat, drink and be thankful. Looking for ways to celebrate Thanksgiving this year? Here is a list of restaurants and businesses in Victoria and elsewhere on Vancouver Island that have special Thanksgiving offerings this year.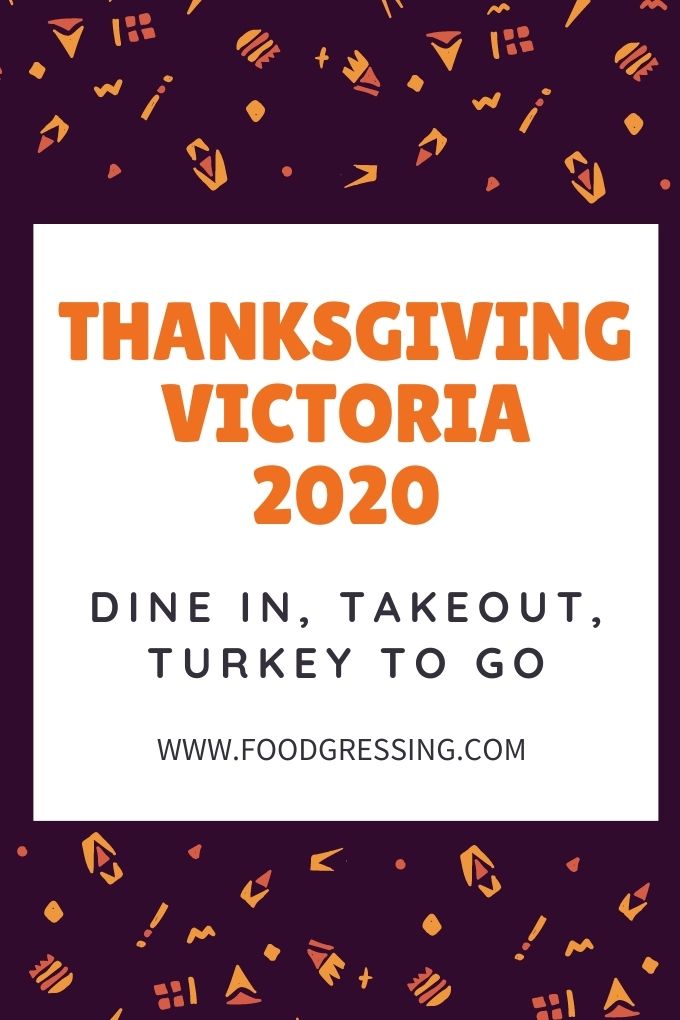 Of course, any support to local businesses in Victoria and on Vancouver Island is appreciated in these times. Thanksgiving celebrations can take on different forms from traditional, fusion to modern.
Please use this list as an inspiration for ideas on how to put together your own Thanksgiving celebration.
This list is updated as information becomes available. Please reach out to me foodgressing@gmail.com or @foodgressing on social media for any suggestions.
Thanksgiving Victoria & rest of Vancouver Island 2020
Dine – In Options
Brentwood Bay Resort (Brentwood Bay)
Brentwood Bay Resort's The Arbutus Room is offering a 3-course dinner (Buttermilk Cornbread Biscuits; Sunchoke and Apple Soup or Harvest Salad; Turkey Roulade & Sides; Apple Crisp Cheesecake or Classic Pumpkin Pie). Priced at $60 per person.
Tigh-Na-Mara Resort (Parksville)
Tigh-Na-Mara Resort is offering a 4-course dinner on October 11 & 12. The dinner features Butternut & Pumpkin Soup; Pear & Pecan Salad; Roast Turkey Breast or Braised Beef Short Ribs or Cedar Plank Sockeye Salmon; New York Cheesecake or Sticky Pudding or Flourless Chocolate Torte.
Kingfisher Spa (Courtenay)
Kingfisher Spa is offering a 3-course dinner menu on October 11 & 12 priced at $70 per person. The dinner features Apple & Local Squash Soup or Sous Vide Celery & Pear Salad; Cornish Game Hen Two ways or Smoked Pork Rack; and Carrot Cake or Sticky Toffee Pudding.
They also have a Thanksgiving Brunch A La Carte Features on October 10 & 12. The features are Mushrooms & Toast ($19) and Buttermilk Fried Turkey & Waffles ($18).
Long Beach Resort (Tofino)
Long Beach Resort is offering a 3-course dinner or a la carte available on October 10 & 11 from 5 pm – 9 pm. The dinner features Roasted Squash Soup or Beet Salad; Turkey Two Ways; and Pumpkin Cheesecake.
Turkey to Go
Fairmont Empress (Victoria)
For a completely cooked and "hot and ready to serve" option, Fairmont Empress is preparing Ready-to-Serve Turkey Dinners for $399. There is also a Ready-to-Roast option for $374, with the turkey trussed and ready to put into the oven. Both options serve 10 adults and come with all the traditional fixings, as well as a number of optional add-ons available.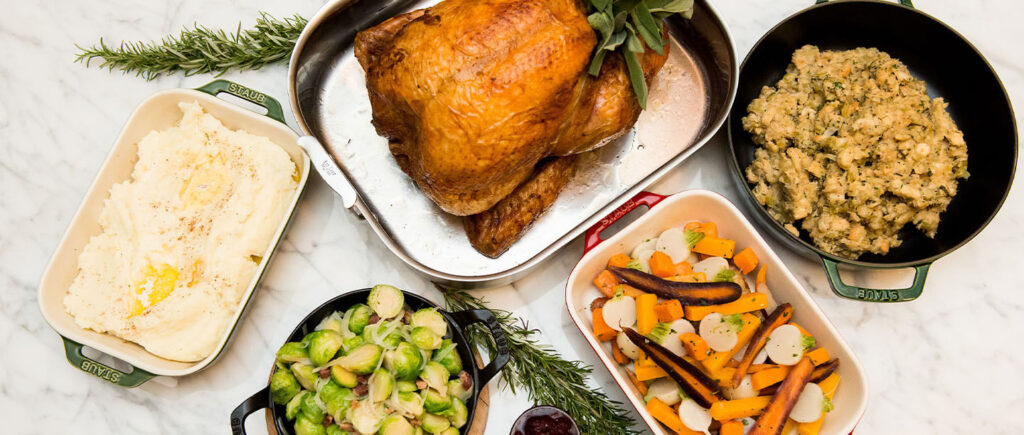 Tigh-Na-Mara Resort (Parksville)
Tigh-Na-Mara is offering a few turkey-to-go options:
18-20 lb turkey: whole or sliced
Whole Turkey (up to 20 people) – $325 plus applicable taxes
1/2 Turkey (up to 10 people) – $175 plus applicable taxes
3-course For One – Includes appetizer & dessert. $40 plus applicable taxes
Orders must be placed by October 10, 2020. To order: call 250-248-2333. Pickup Times: 3 p.m. to 5 p.m on October 11 & 12. Pick up at Cedars Restaurant & Lounge Entrance.
Food Delivery on Thanksgiving Day in Victoria
There are a few food delivery app and services in Victoria that you can order from.
Traveling to Victoria? Here are my recommendations on top things to do in Victoria.