The Vancouver Aquarium's Ocean Wise Café has just launched beautiful picnic bags and baskets, making it even easier to organize your Stanley Park picnic.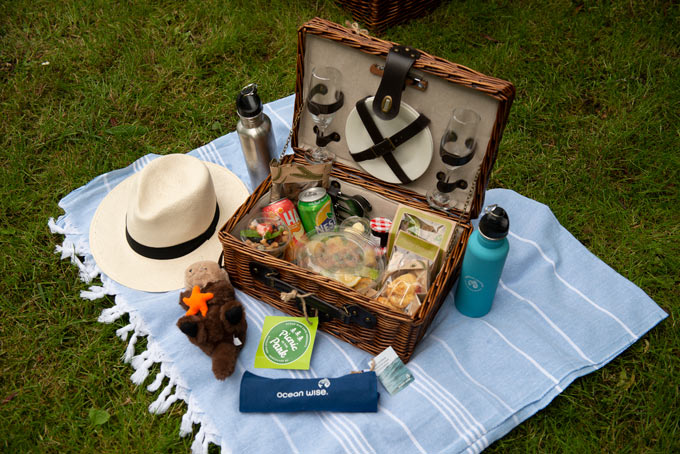 Whether it be a romantic date for two, a picnic for the family, or a physically-distant outdoor gathering with friends, the Vancouver Aquarium's Picnic in the Park has you covered with a customizable four-course picnic menu featuring Ocean Wise-recommended seafood, compostable cutlery and packaging, and the option to upgrade to a beautiful souvenir wicker basket.
Starting at just $24 per person, the four-course menu from Chef Will Lew includes:
mini scones with berry jam and whipped butter
a choice of salad (such as blackened prawn 'sea'sar or Mediterranean quinoa)
choice of sandwich or bowl (such as BC smoked salmon sandwich, tuna poke bowl, or grilled chicken and Okanagan apple sandwich)
choice of dessert (such as a Whistler sugar bun, or coconut chia seed pudding)
your choice of drink.

You can also upgrade to the keepsake wicker picnic basket: a high-quality woven wicker basket with place settings for two or four including porcelain plates, glass wine glasses, wood-handled stainless steel flatware, and faux leather straps and closure.
How to Order
Your picnic can either be pre-ordered in advance at vanaqua.org/picnic so that it is ready to grab-and-go before or after your Vancouver Aquarium visit.
Stanley Park visitors can just stroll up to the Ocean Wise Café (located outside the Vancouver Aquarium) to order a picnic to be made up while you wait.
Picnic in the Park is a perfect complement to a Vancouver Aquarium visit. However, you don't need to be an Aquarium visitor to partake — Vancouver Aquarium's Picnic in the Park is available to anyone visiting Stanley Park.
Proceeds from the sale of all picnics support the not-for-profit Vancouver Aquarium and Ocean Wise Conservation Association which remain in serious financial difficulty resulting from the pandemic three-month closure.
The Vancouver Aquarium has now reopened, but due to the reduction in allowable visitor numbers, the Ocean Wise still needs support.
To order your picnic and to see pricing and menu options, visit vanaqua.org/picnic.