There's a new pink drink available at Starbucks! The Starbucks ombré pink customization is a refreshing summery drink that combines light, fruity Cool Lime Starbucks Refreshers Beverage with cool, creamy Coconut Beverage and a splash of Teavana Shaken Iced Passion Tango Tea and a lime wheel, for a bright burst of hibiscus notes. The drink is apparently inspired by the beloved Starbucks pink drink customization of last summer.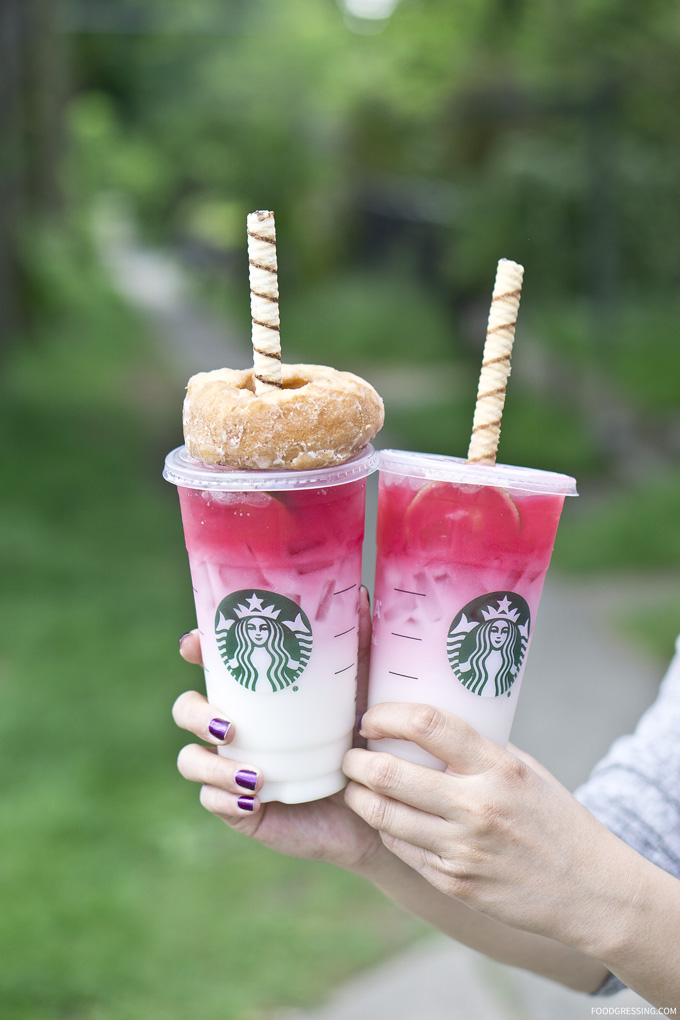 To order the drink, just ask for a Cool Lime Refresher, sub Coconut Beverage (instead of water), with a splash of Passion Tango Tea. When I went to the Starbucks on Dunbar on Friday, I simply showed the Starbucks staff person at the front those exact instructions listed above. These instructions were then passed to the barista and he made it without any issues. I also added an old-fashioned glazed donut and two cookie straws for fun.
So what does it taste like? It's kind of got a tangy flavour with some creaminess to it. The bottom portion of the drink is coconut milk and the pink part is the Passion Tango Tea. The drink also has a lime wheel so there is definitely some lime flavour to it. The drink wasn't very sweet but still satisfying. In terms of nutrition, a 16oz Grande has 100 calories and 18 grams of sugar. I'd would personally recommend giving it a try!
Unlike the limited time offer of the Starbucks Unicorn Frappuccino, the ombre pink drink will be available on Starbucks menu year-round. While it's a nice drink to cool off from the heat this summer, you can also enjoy it all year.
Disclosure: All food in this review were complimentary. Opinions are my own.