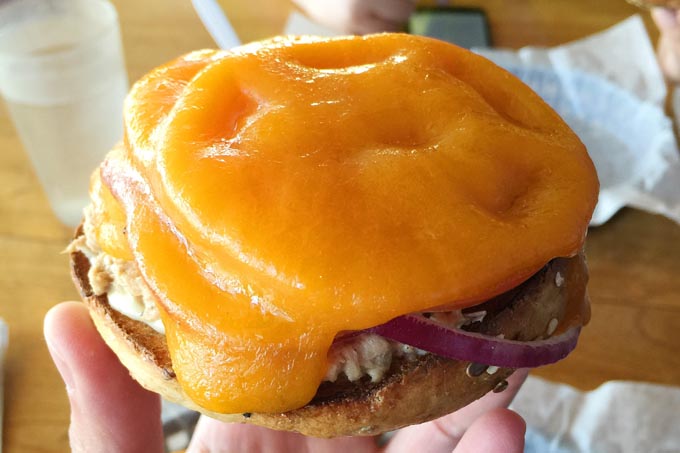 Solly's Bagelry has been serving customers in Vancouver since 1994 and is one of Vancouver's go-to places for bagels. This cute little Jewish bakery has quite a selection for a deli menu, which consists of an all-day breakfast, sandwiches and soups. Their signature "Brooklyn style" boiled bagels can be prepared as "Eggels" with cheese, eggs and choice of toppings. For people on the go, you can simply get Sally's Shmears – bagel and low fat cream cheese with choice of flavours. Sandwiches and soups round out the menu, but they offer an extensive variety of fresh baked goods and baked goods that you can take home too.
Tip: you order from the right of the counter, pay on the left, and food is brought out to your table.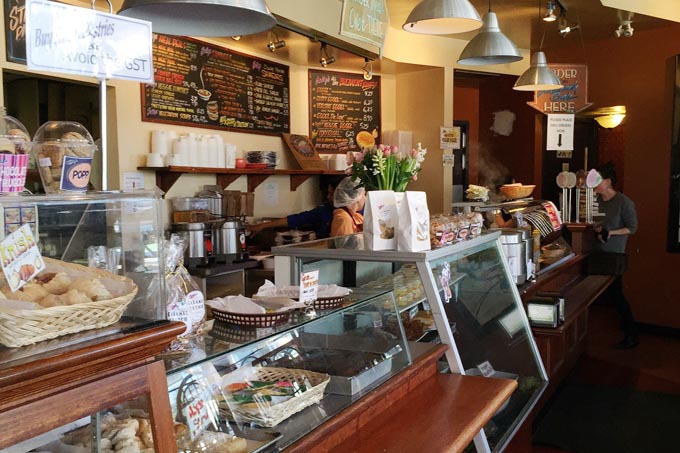 Solly's Bagelry Food
When you approach the counter, you see a tower of bagels showing you the types of bagels they have. Interesting flavours include pumpernickle, herb and sundried tomato, and "mish mash." I find that their bagels are chewy and quite delicious.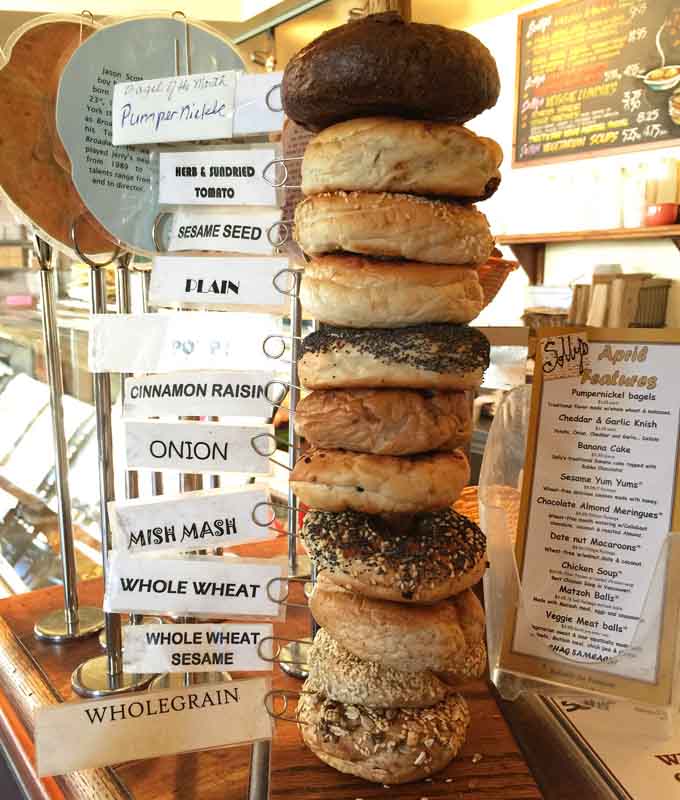 I've tried their sammies which included a bagel with tomatoes, onions, sprouts, chips and a kosher pickle spear. The Lox & Cream Cheese ($8.95) was so good. It was made of BC wild salmon lox on cream chese topped with capers and onion rings. I love the mix of the salty-sugary taste with the cream cheese.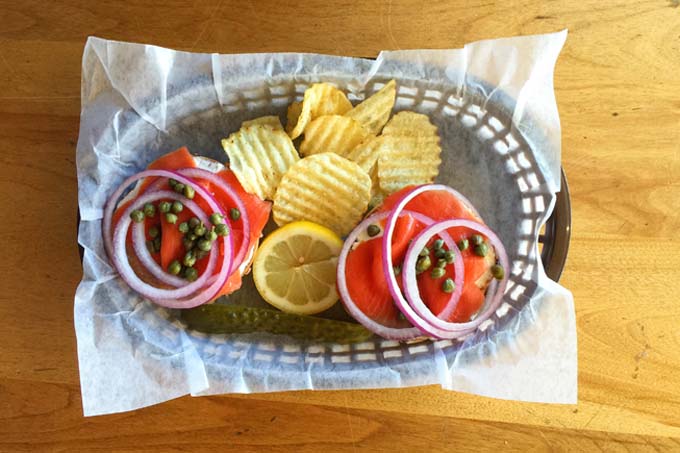 The tuna melt had cheddar melted over tuna salad on a bagel. The amount of melted cheddar looked impressive and the tuna salad was pretty good.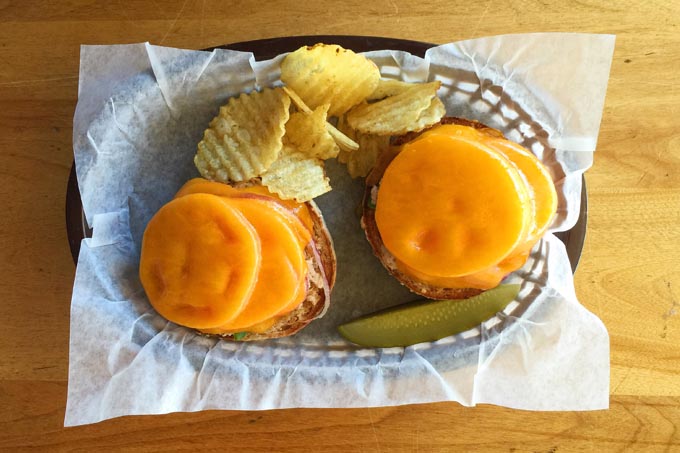 On one visit, I tried the latke special consisting of three latkes (fried potato pancakes) with Solly's homemade apple sauce. They were soft on the inside, and golden and crunchy on the outside. It was a bit too greasy for my liking, but dabbing off some oil made it much better.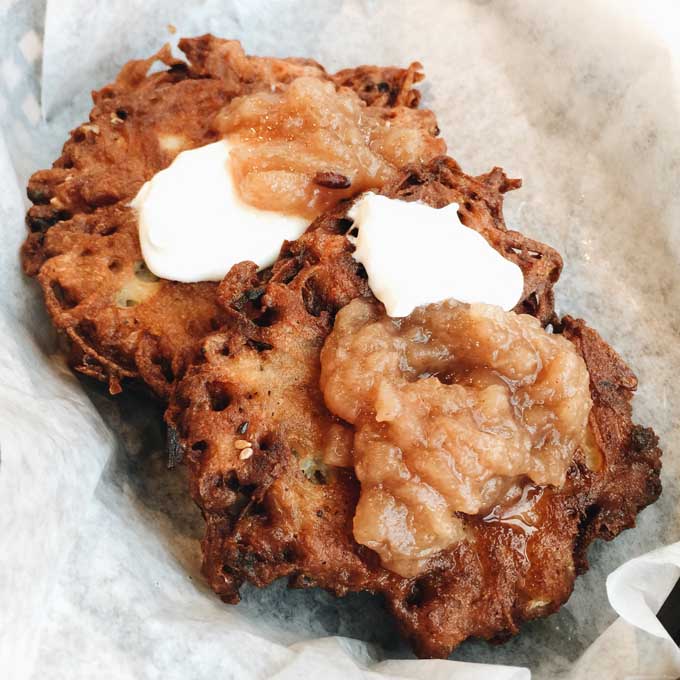 Family Friendly
Solly's Bagelry has highchairs and booster seats in the dining area that you can help yourself to. They even have a small area with toys to help entertain kids. The inside of the restaurant has an overall relaxed and Bohemian feel. There are quite a few tables indoors and there is also a patio setup so that you can enjoy your food outside on a sunny day.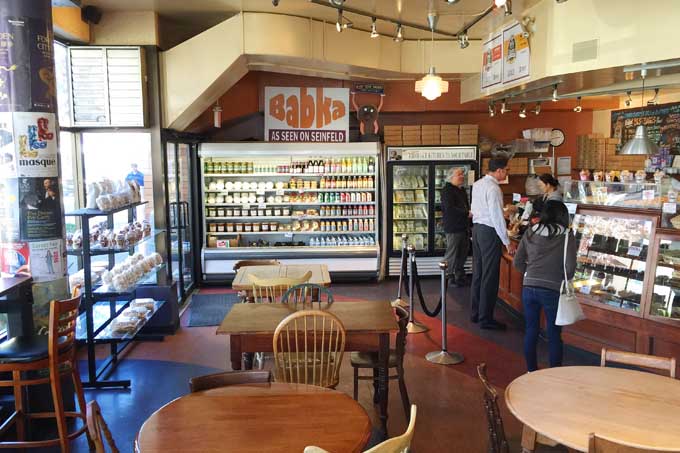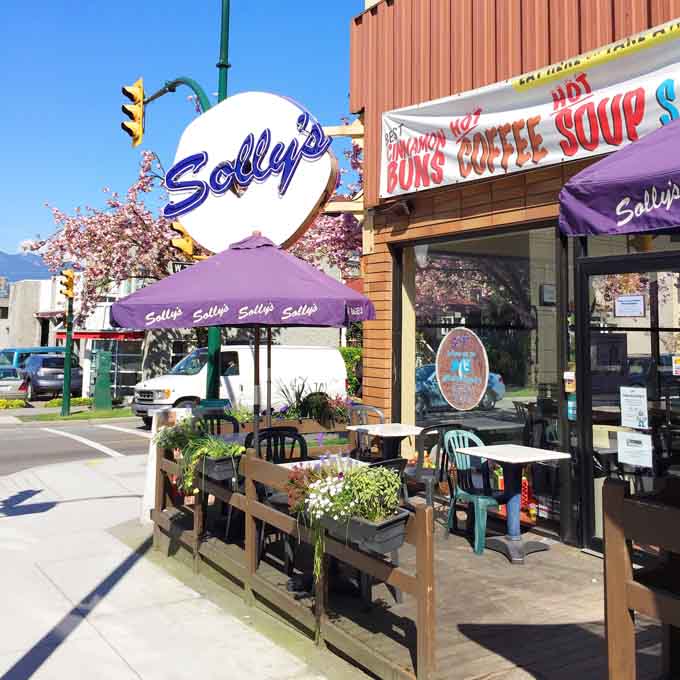 Solly's has such a large number of products along with their regular deli counter that it feels more like a mini supermarket. There are still many items that I would like to try. With two other locations in Vancouver (Main and Kitsilano), I'm looking forward to my next Solly's Bagelry experience.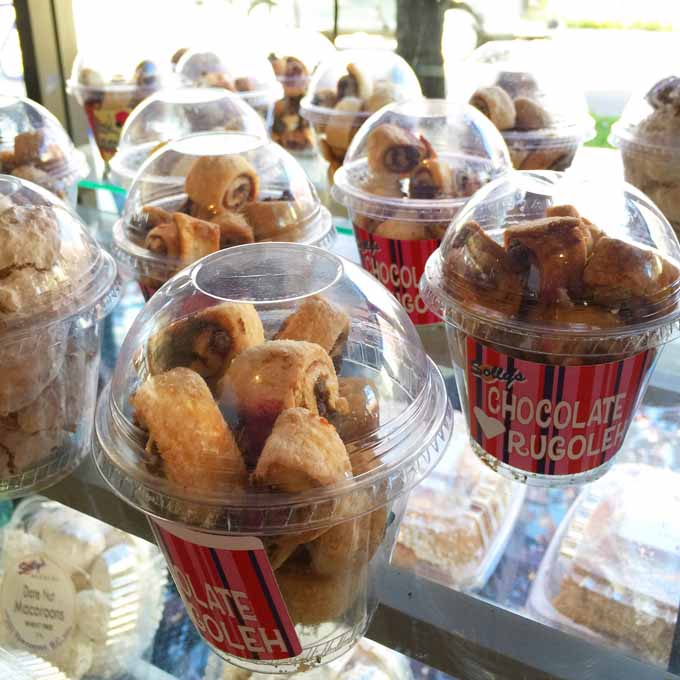 Website: www.sollysbagelry.com/