This recipe by Chef Josh Gale features a festive twist on a classic crêpe, this eggy side dish can be made fresh or prepared with your favourite holiday ham or turkey. Packed with flavour, these savoury crêpes are perfect for sharing with friends and family.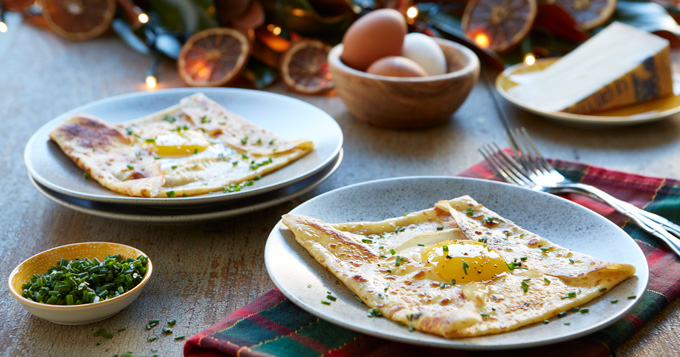 Prep Time: 10 minutes
Cook Time: 15 minutes
Serves: 4
Ingredients
Crêpe Batter
1 ¼ cup (295 mL) milk
2 eggs
1 cup (250 mL) all-purpose flour
2 tbsp (30 mL) butter, plus a little extra for greasing the skillet
1 tbsp (2.5 grams) fresh thyme leaves
Pinch of sea salt
Crêpe Filling
¼ cup (60 mL) butter, divided
8 eggsPinch of salt
Pinch of pepper
1 cup (215 grams) grated Gruyère cheese
8 slices of ham or turkey
1 tbsp (2.5 grams) sliced chives
Instructions
Step 1: Combine milk, two eggs, flour, and 1 tbsp (15 mL) melted butter in a mixing bowl. Whisk until batter is smooth and has no lumps. Add fresh thyme leaves and salt and fold into the batter.
Step 2: Lightly butter a 10-inch (25.4 cm) non-stick skillet over medium heat.
Step 3: Pour 1/4 cup (60 mL) of the batter into the pan and move it side to side so the entire surface is covered in a thin layer of batter.
Step 4: Allow the crêpe to cook until the top begins to bubble.