On Canada Day, my family and I decided headed down to Canada Place like so many others to partake in the local celebrations. Since it was hot that day, I was very in the mood for some ice cream. We went to Bella Gelateria, known as having the one of the best gelato's in the world, located on West Cordova and Burrard. There was a line up *obviously* but we decided to turn away when the line appeared to move too slowly for our liking.
I was a bit disappointed (no gelato makes me sad) but then we stumbled upon QQ Gelato, a small gelateria on the east side of Vancouver Convention Centre.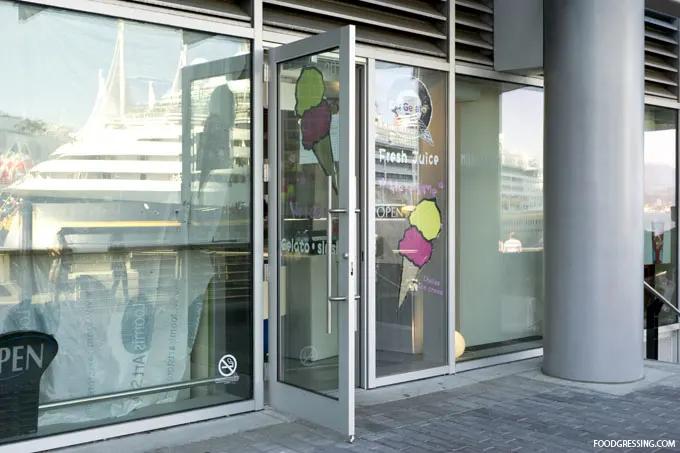 It's A Small, Small Shop
QQ Gelato is a small shop: after you enter the door, you pretty much arrive right at the ordering counter. There is no seating inside QQ Gelato, but there are lots of outdoor sitting areas around the convention centre. QQ Gelato is also the sister store of QQ Bubble Tea and Coffee in Richmond.
QQ Gelato Menu
QQ Gelato has 12 different flavours of gelato available at once including green tea, black sesame, espresso flake and pistachio. There are two sorbetto (lactose-free) flavours : raspberry and lemon. A single cup or regular cone costs $4.25 and a double costs $7.50. A waffle cone costs an extra $0.50 for the single serving and $1.00 for the double serving. QQ Gelato also has fresh juice slush and milk tea slush ($5.25 – $6.00) with optional add-ons. Although there are a limited number of flavours in the display case, they do have *all* the flavours that are on the list. They take cash or credit only.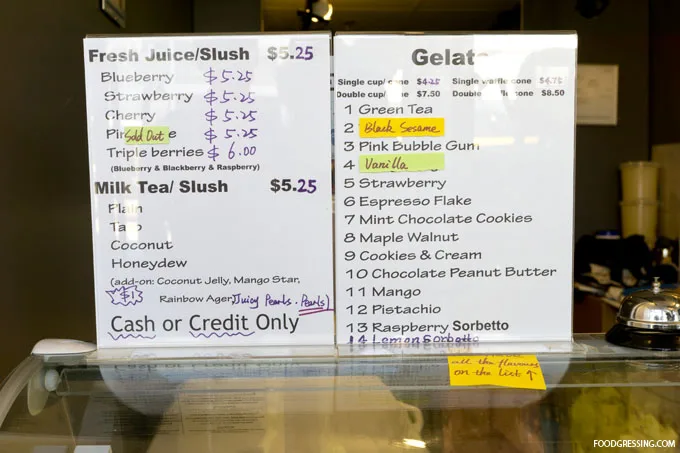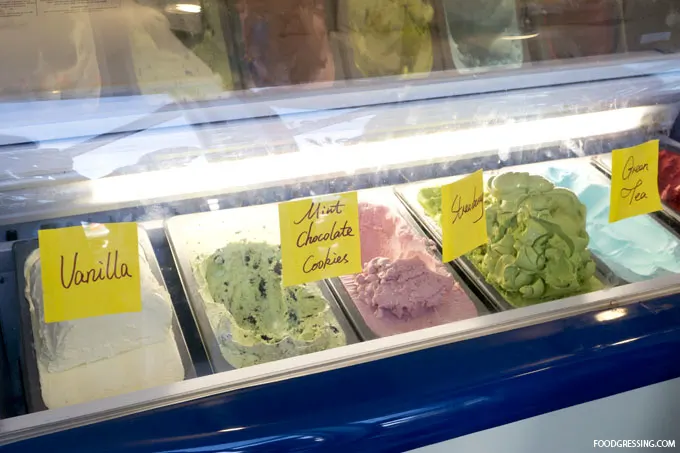 What I Tried
On Canada Day, I tried the raspberry sorbetto in a waffle cone ($4.75) which had a nice and intense raspberry flavour.
I returned yesterday on BC Day and had the mint chocolate cookies in a waffle cone ($4.75). This gelato flavour was surprisingly good: the mint taste was not too overpowering while the chocolate cookies added a fun crunchy texture. The waffle cone was perfectly crispy with a delicious sweet flavour. It was also fun to see a Disney cruise ship docked and it even played "It's A Small World" with the ship horns.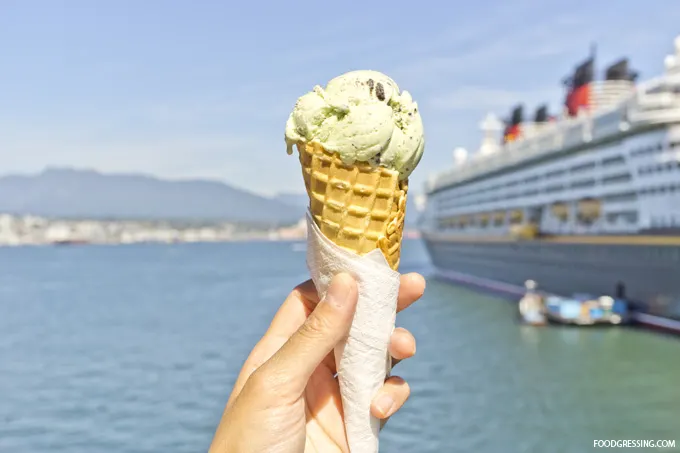 Overall Impression
QQ Gelato is fine in my opinion as the next-best choice to Bella Gelateria for gelato around Canada Place. On the times I went to QQ Gelato, there was just a small line-up which pales to compare the massive one at Bella Gelateria. QQ Gelato is not considered world-class or anything too *fancy*, but they do a reasonable job of satisfying your gelato craving. Rating: 3.5/5
Facebook: http://www.facebook.com/icravegelato