Last month's visit to Portland was full of fun-filled foodie-licious adventures.  I was able to immerse myself into Portland's amazing food culture through Feast! Portland – their annual food festival presented by Bon Appetit – and through visits to restaurants around town.  It was at an event that I had the chance to meet Danielle Centoni, a James Beard Award-winning food writer, recipe developer, and cookbook author.  Prior to meeting her in person, I had read one of her articles in Bon Appetit entitled, "The Best Healthy Restaurants in Portland."  So when I ran into her, it was nice because I had read some of her fantastic work already.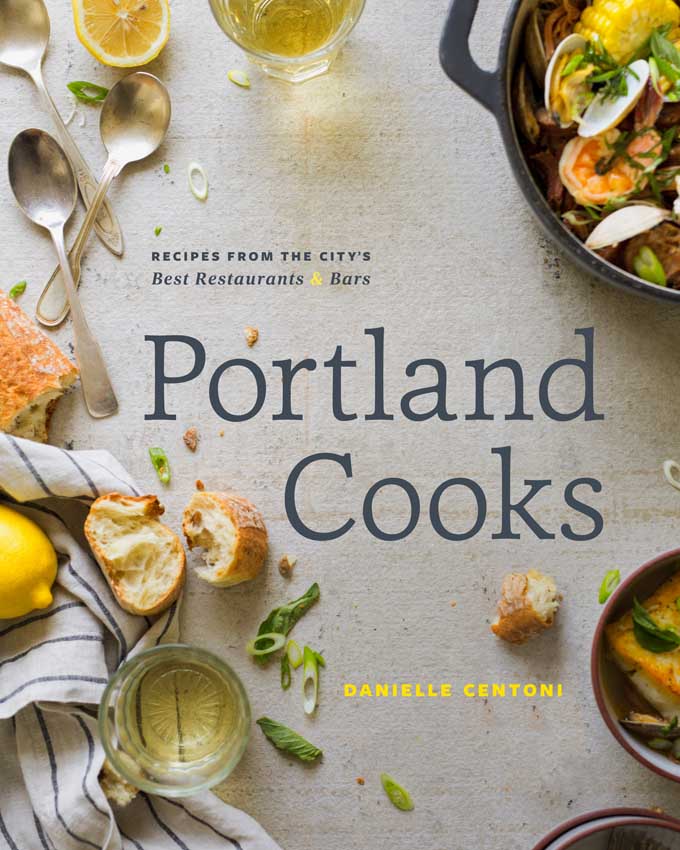 Danielle recently published Portland Cooks – a book that celebrates the talented culinary community in Portland.  The book features 80 recipes from 40 of the city's favorite restaurants, cafes, and cocktail bars.  Some of the mouthwatering recipes include Troy MacLarty's (Bollywood Theater) Roasted Beets with Coconut Milk, Curry Leaves and Indian Spices as well as Alex Yoder's (Olympia Provisions) Pan-Roasted Halibut with Shrimp, Clam and Andouille Stew.
Most recipes are weeknight friendly while others are weekend adventures; they're all designed with the home cook in mind.  It's the kind of book which appealed to me as a person who loved dining out in Portland and can now recreate some of those experiences and style of cuisine at home.
Goat Cheese Ice Cream with Marionberry-Habanero Swirl
A recipe by Tyler Malek of Salt & Straw and Wiz Bang Bar |  Copyright 2017 by Danielle Centoni. Republished with permission from Figure 1 Publishing Inc.
Serves 4 to 6
Tyler says that of the hundreds of ice cream flavors he's made, this is one of his absolute favorites. He stirs tangy, creamy, ultrafresh Portland Creamery goat cheese into the base and ribbons the ice cream with a sweet, yet fiery, marionberry jam. The more seeds you leave in the habaneros, the hotter the jam will be, though it mellows quite a bit when frozen.
Ice cream base ingredients
3/4 cup granulated sugar
1/4 tsp xanthan gum (see Note)
1 1/4 cups whole milk
3/4 cup canned evaporated milk
2 Tbsp light corn syrup
1 3/4 cups heavy cream
Marionberry-habanero jam ingredients
1 cup marionberries
1/2 habanero pepper, ribs and seeds removed if desired, chopped
2 tsp freshly squeezed lemon juice
1 Tbsp plus 1 1/2 tsp powdered pectin
1/2 cup granulated sugar
Assembly ingredients
1 cup (8 oz) goat cheese, softened
1 tsp kosher salt
1 Tbsp freshly squeezed lemon juice
2/3 cup marionberry-habanero jam (see here)
Ice cream base method
Combine the sugar and xanthan gum in a small bowl. Combine the milk, evaporated milk, and corn syrup in a medium pot (off the heat). Whisking vigorously, slowly mix the sugar mixture into the milk. Don't worry if the xanthan gum causes a few lumps, but try to whisk hard enough to get the sugar and gum mixed evenly.
Set the pot over medium heat and cook, stirring constantly, just until the mixture is hot and the sugar is completely dissolved. (Try to avoid simmering—you're just trying to melt the sugar and give the xanthan a head start in activating.) Allow the milk mixture to cool to room temperature. Stir in the cream and refrigerate until well chilled, at least overnight but preferably 24 to 48 hours for a better texture and milkier flavor.
Marionberry-habanero jam method
Combine the berries, habanero, lemon juice, and pectin in a pot, smashing the berries to release some juices. Cook over medium-high heat, stirring occasionally, until the mixture begins to simmer. Stir in the sugar, bring the berries back to a simmer, and cook for another minute.
Remove from heat and puree with a hand blender, food processor, or regular blender with the lid ajar, or just mash thoroughly with a whisk. While still hot, strain through a fine-mesh strainer to remove the seeds. Refrigerate overnight.
Assembly
Mix the ice cream base with goat cheese and salt, mashing as needed to break the cheese up into the cream. Add lemon juice to the ice cream base and immediately transfer to the ice cream maker. Churn the ice cream base according to the manufacturer's instructions until it's the texture of soft-serve.
Using a spoon or ice cream spade, transfer the ice cream to an airtight container, half a scoop at a time, layering it with a generous spoonful of cold marionberry-habanero jam as you go (work quickly so the ice cream doesn't melt). This is where a lot of the artistry of ice cream making comes into play, as you try to achieve the perfect ratio of ice cream to jam for each scoop. (You might not use all the jam. You can refrigerate the remainder for several weeks.)
Flip the container upside down and store in the coldest part of your freezer for at least 12 hours to harden before serving. (We flip the container so that it'll create an airtight seal on the top, keeping the ice cream super-fresh.) When ready to serve, allow the ice cream to sit out at room temperature for about 5 minutes until scoopable.
Note: Xanthan gum helps keep ice cream from forming ice crystals, which would ruin its smooth and creamy texture. It's often used in gluten-free baking, so look for it in the baking aisle or near gluten-free products. Bob's Red Mill is a common brand.
Giveaway
Thanks to Figure1 Publishing, I am giving away one copy of Portland Cooks.  Giveaway is open to US and Canada and ends Oct 31, 2017 23:59 PST.