Here's to saying goodbye to 2020 and welcoming a brighter year. These are a few ways to celebrate New Year's Eve and New Year's Day in Ottawa.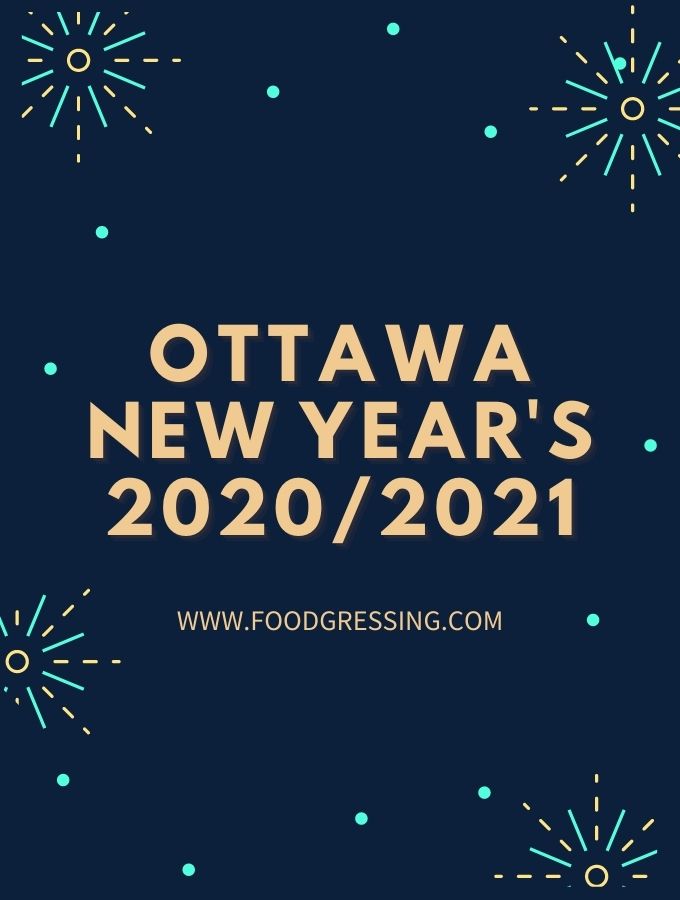 This list is updated as information becomes available. Please reach out to me [email protected] or @foodgressing on social media (Instagram, Facebook, Twitter, TikTok) for any suggestions.
North & Navy
North and Navy has a 5-course tasting menu with wine pairing and midnight snack options.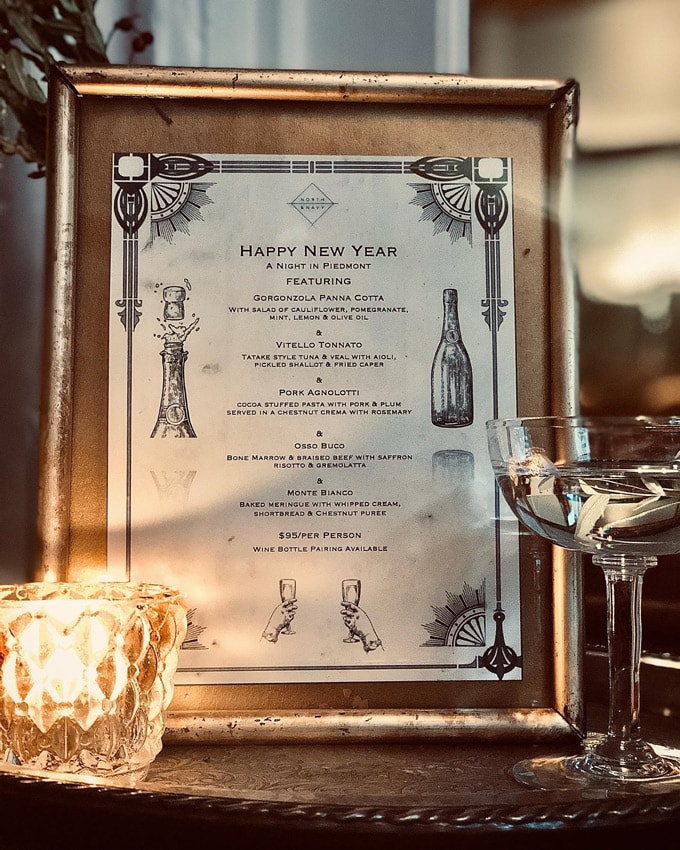 Milestones
Milestones has a 3-course menu for pickup with choice of starters, mains, desserts and choice of tea/coffee.
Chances R Restaurant
Chances R Restaurant is offering a 3-course New Year's Eve takeaway. Available December 31 from 12 pm – 8 pm. Preorder online.
'R' Salad
Goat cheese, green onion, sunflower and pumpkin seeds, cranberries, cucumbers and tomatoes. Tossed with spring mix and romaine with house-made Italian dressing.
Spring Rolls
Hand-rolled in house by Chef Hout, filled with veggies and savory spices. Served with plum and spicy Thai sauces.
Prime Rib $36
6oz cut of certified Angus prime rib of beef. Served with garlic mashed potatoes and grilled vegetables.
Roast Turkey $30
Roast turkey with honey glazed carrots, stuffing, cranberries, mashed potatoes and gravy.
Greek Style Cod $33
Cod filet lightly floured in a blend of oregano, black pepper and parsley. Grilled in olive oil and finished with a squeeze of fresh lemon. Served on a bed of rice and with grilled vegetables.
Chicken Parmesan $34
Lightly breaded chicken breast topped with our house-made tomato sauce and baked with a blend of cheeses. Served with spaghetti and meat sauce.
Chocolate Mousse Cake: a flourless chocolate cake with creamy layers of dark chocolate and white chocolate mousse.
Skor Chocolate Chip Cheesecake: a rich and creamy vanilla cheesecake with Skor bits and chocolate chips on an Oreo crust.
OCCO KITCHEN
Occo Kitchen is offering a special Ottawa New Year's Eve and Day menu and regular menu.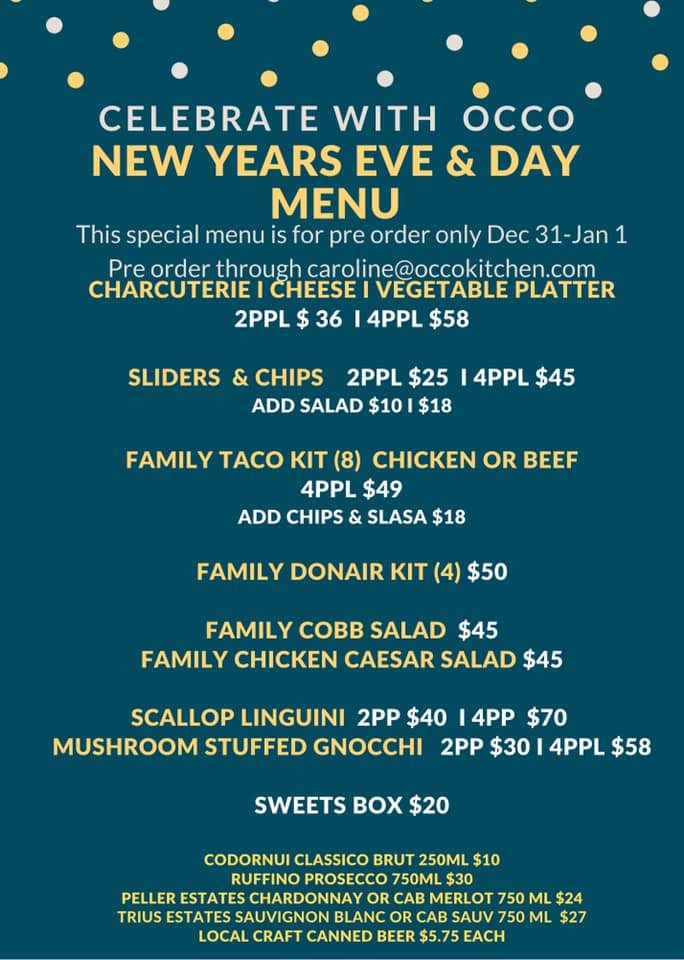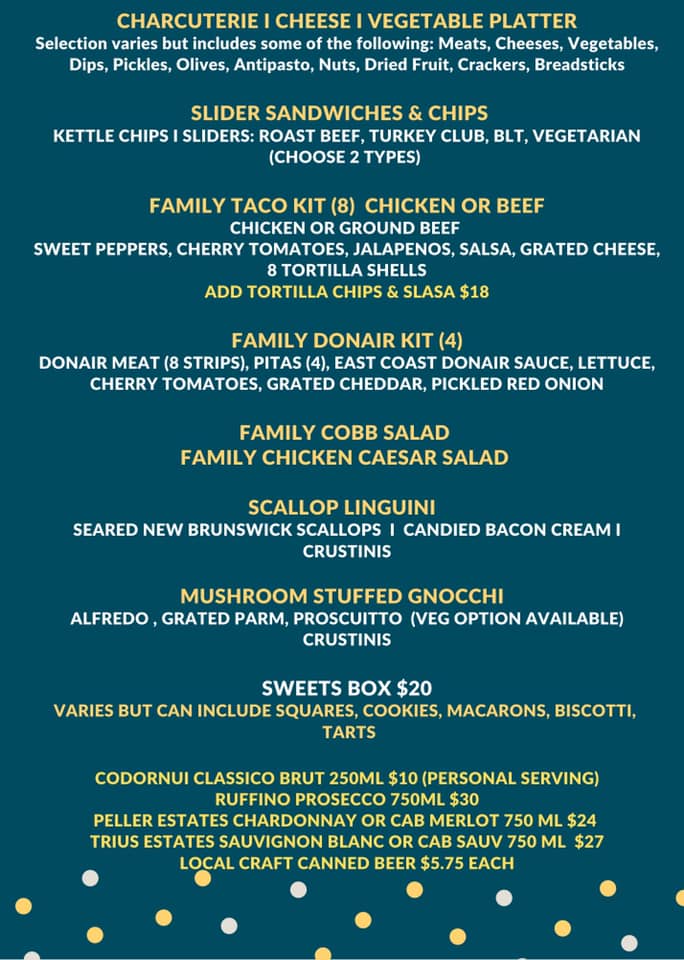 Gray Jay
Gray Jay has a 10-course New Year's Eve menu:
tartar/ red rice cracker/caviar
white ham/tatin/endives
rosette/brassica/soy
tuna escabeche/ cilantro/ kohlrabi
dumpling/ tomato/ peach gastrique
quail/ foie Gras / rosehip
cranberry cocktail sphere
sourdough cone/ Brie/ smoked honey
pumpkin / ground cherries/ cracker crust
ginger bread torte/ sour dairy/ shaman liqueur
Cyranos
Cyranos as a New Year's Eve takeaway menu ($150):
Fresh Baguette
Charcuterie To Share (Assorted meats, cheeses & other goodies
Cyranos Signature Caesar Salad
Prime Rib (served with mashed potatoes and steamed green beans)
Blueberry CHeesecake
Prime Rib for Two