Vancouver's beloved Afternoon Tea destination, Notch8 at Fairmont Hotel Vancouver, will launch its next themed Afternoon Tea service, 'Griffin's Gambit,' beginning on Friday, June 3.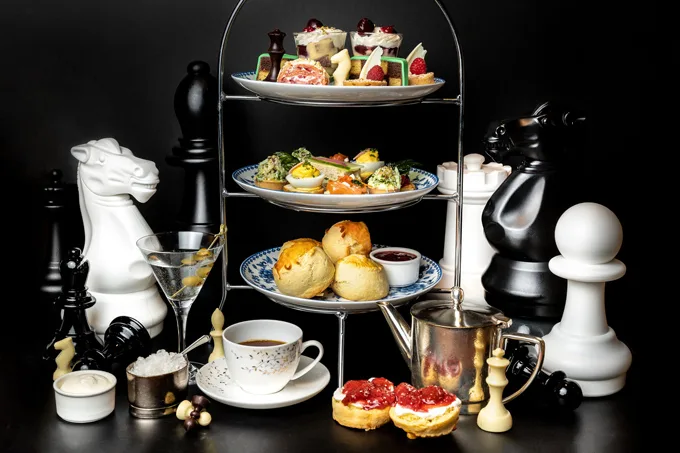 Fairmont Hotel Vancouver has a long-standing tradition for Afternoon Tea, and this next iteration is inspired by the glorious and gritty game of Chess and pays homage to the coming of age series that captivated audiences around the world. For the very first time, Notch8 has partnered with Vancouver-based Koncept Designs to re-imagine the tea room, where visions of life-size rooks, pawns, bishops and more will hang from the ceiling and walls, setting an inspiring backdrop for delicious tea service.
Griffin's Gambit Afternoon Tea will be available from Friday, June 3 through Sunday, September 4 with 'matches' held every Friday through Sunday at 11:00 a.m., 1:00 p.m., and 3:00 p.m. The special Afternoon Tea Menu is available for $69 per person ($34.50 children 12 and under), and begins with a selection of Fairmont's LOT 35 Tea, along with sweet and savoury bites such as Aged Cheddar and Buttermilk Scones with strawberry preserve and crème fraîche, Dungeness Crab Corn Custard Tart, Chilled Fraser Valley Chicken Finger Sandwich, and Emperor Ham and Deviled Egg. Sweets include Manchester Custard Tart, Victoria Trifle, and edible chess pieces. Specialty cocktails and wines are available as optional add-ons to the experience.
The Griffin's Gambit Afternoon Tea at Notch8 is available Friday through Sunday from June 3 to September 4 with three daily seatings at 11:00 a.m., 1:00 p.m., and 3:00 p.m. Reservations are now available and can be made online. Walk-ins are welcome, though reservations are strongly encouraged. Afternoon Tea is also available as a to-go option every Saturday and Sunday with pick-ups at 12:00 p.m, and 2:00 p.m. Advance booking is required and can be made online.
Guests planning to check-in to check out the new themed Afternoon Tea can reserve Fairmont Hotel Vancouver's 'Lights, Camera, Vacation' offer inclusive of 20% off accommodation for stays through 2022.