Tourism Richmond has launched new Pop-up Picnic Areas to provide an inviting space for people to dine outside in locations close to restaurants.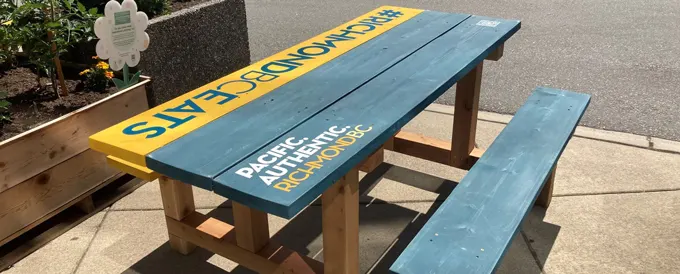 There are a total of 31 picnic tables in the seven picnic areas in Central Richmond and Steveston Village:
Aberdeen Centre
Lansdowne Centre (two locations)
CF Richmond Centre
Gulf of Georgia Cannery National Historic Site
Steveston Town Square Park (next to the Post Office)
Britannia Shipyards National Historic Site
To create a unique sense of space, the picnic tables have been designed to reflect the award-winning Pacific. Authentic. Richmond BC brand. Tourism Richmond worked with local Richmond artists to create limited edition tables for each area.
These tables illustrate what makes Richmond so special; each design highlights the multi-cultural and dynamic nature of the city.
The picnic tables will be available for use until September. Learn more about the Pop-Up Picnic Areas at visitrichmondbc.com/pop-up-picnic-areas