The KFC Double Bucket 2021 Campaign is now on until August 14 where KFC restaurants across Canada will donate one meal to Food Banks Canada for every Double Bucket sold.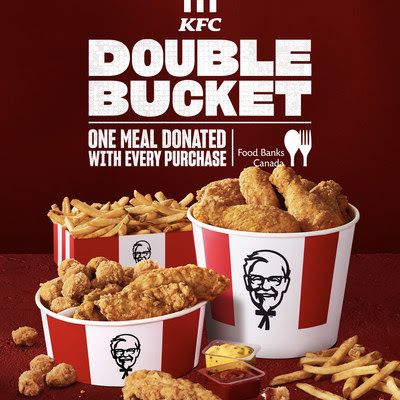 What's included
The Double Bucket includes eight pieces of hand-breaded Original Recipe Chicken, four pieces of crunch-inducing Original Recipe Tenders and mouthwatering Popcorn Chicken, one large fries, one large side, and two dips.
How to order
Canadians looking to participate can do so by purchasing any Double Bucket from their local restaurant through the KFC App, delivery, drive-thru or take-away.
Supporting Food Banks Canada
Following the success of last year's program with over 200,000 meals donated, KFC is excited to continue this partnership and support food banks across the country.
Food Banks Canada will then receive the meal contribution in the form of a collective cash donation to share with its food bank network.
KFC has a long history of donating food through its Harvest program, which sees restaurants supply local charities, food banks and shelters with cooked surplus chicken every day.
Since the Harvest program's inception 2016, KFC restaurants from across the country have donated more than 182,000 pounds of food to over 240 Canadian charities.
Throughout COVID-19, KFC's franchisee partners also made significant donations to local hospitals, first responders and shelters.
For more information on the KFC Double Bucket 2021 Campaign or to order your Double Bucket, visit www.kfc.ca