National Bacon Lover's Day is this Saturday, August 20 and in honor of the household food-staple, here are a few bacon-themed dishes offered by Chicago restaurants to celebrate.
Monroe Reserve
Monroe Reserve, an intimate 650 sq ft cocktail bar and private event space, connected to South Branch, in the heart of downtown Chicago, features a Bacon Flight as part of their private events menu.
The bacon-lover's dish is served candied with pecan praline, maple peppercorn, and jalapeno brown sugar.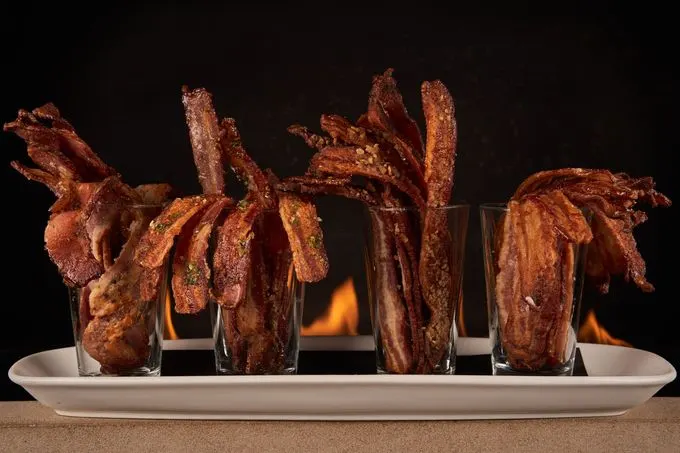 Old Town Pour House
Old Town Pour House, the vibrant bar and restaurant featuring 90 beers on tap (30+ dedicated to local breweries) and modern American food with chef-driven twists features bacon-themed dishes such as their Bacon Cheeseburger made with house-smoked candied thick-cut bacon, aged Vermont white and yellow cheddar cheeses, shredded iceberg, vine-ripened tomato, red onion; Smoked Cheddar Mac N' Cheese with grilled chicken, bacon lardons, smoked cheddar cheese sauce, cavatappi; Let It Bite Breakfast BLT made with thick-cut hardwood-smoked bacon, baby arugula, beefsteak tomato, sunny side up egg, roasted garlic aioli, toasted challah, cheesy potato casserole.
Old Town Pour House has locations in Chicago, Oak Brook, Naperville, and Gaithersburg, MD.