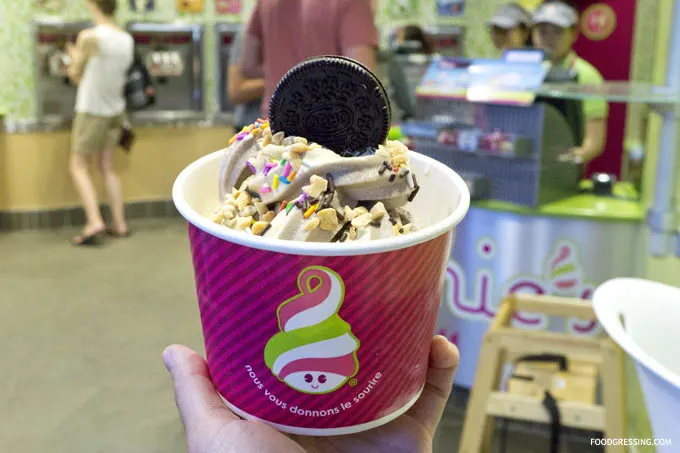 Menchie's in Yaletown opened last month, and I have made a few visits already. It has been several months since my last Menchie's fix at the Cambie location. They are having a grand opening this Saturday, July 25th, where they will be giving away free frozen yogurt! More details below.
Mix, Weigh, Pay, Yumm!
I first visited Menchie's in Yaletown a few days after they opened. They are located on Davie between Richards and Homer. This location is quite small with counter top seating but no dining tables. There is also a high chair available for kids, which I did use for my son.
They have 10 rotating daily flavours along with more than 40 toppings including fruits, candies and nuts. Unlike Pinkberry, they charge by weight at a cost of $2.19 per 100 grams.
I heard that they had the Nutella flavour via social media and was eager to try it. It had been a while since I had something with Nutella on it and I definitely missed the taste. We decided on a classic vanilla and Nutella swirl with gummy bears, fuzzy peaches and peanuts. The cost was close to $6.
A few days ago, I visited Menchie's again in Yaletown with my friend and husband and this time we and had a celebrity encounter. I recognized Hollywood actress Andie MacDowell as she was getting her cup of froyo that evening. Her show, Cedar Cove, is filmed in North Vancouver apparently. We did not stop her for photos or autographs, but she talked to my husband briefly as he was watching my friend's dog outside. Andie even petted the dog because she thought the dog was cute!
I decided on the Oreo, which is a new flavour at Menchie's in Canada, and a zen green tea swirl. For toppings, I had the chocolate sprinkles, rainbow sprinkles, peanuts and an Oreo cookie on top. The green tea yogurt was a bit runny unfortunately. The yogurt cup cost close to $10.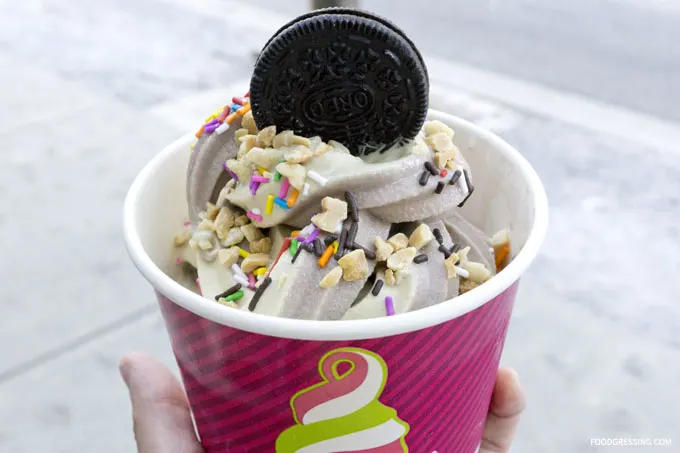 My friend went with a blueberry cheesecake froyo with gummy bears, gummy worms, strawberry mochi, and a Nanaimo bar. My friend thought the gummy bears were a bit hard. Her cup came out to be around $6.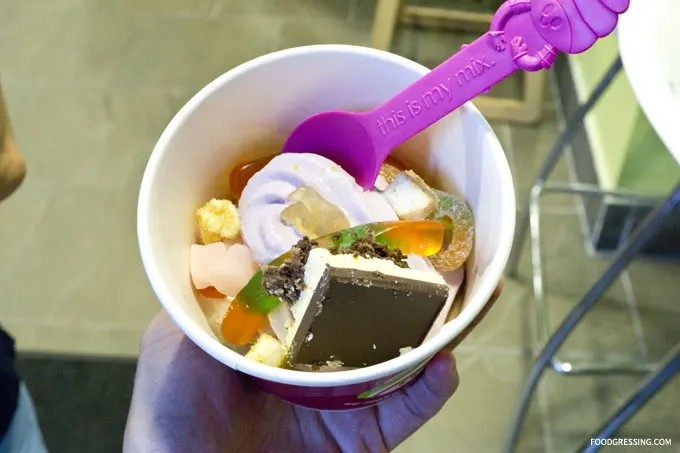 Friendly

The staff at the new Menchie's Yaletown seemed quite nice. They were eager to give my son stickers the times we were there. On our first visit, the owner thanked us for coming and even helped keep the door open for us as we left with our stroller.
Menchies Yaletown Grand Opening on July 25th
One of the staff handed me an advertisement which had information about the Grand Opening this Saturday.
Free frozen yogurt from 11 am – 4 pm (limit one per guest)
50% off frozen yogurt from 4 pm – 11 pm (limit one per guest)
Free gift bags to the first 100 people (limit one per family, until supplies last)
Balloons, stickers, tattoos (until supplies last)
Pictures with Menchie (until supplies last)
Free colour-in t-shirts (starts at 4 pm, limit one per family, until supplies last)
Overall Impression

The Menchie's in Yaletown has a good rotating selection of froyo flavours and toppings. I also enjoy the friendliness of their staff. My green tea froyo was a bit runny and we found the gummy bears to be hard, but the overall experience has been good.
Website: http://www.menchies.ca/frozen-yogurt-shops/frozen-yogurt-yaletown-bc
Facebook: http://www.facebook.com/MenchiesYaletown
Twitter: http://twitter.com/MenchiesYT/