Here's a McDonald's Pokémon Cards Canada guide featuring what you need to know about getting your hands on these coveted items.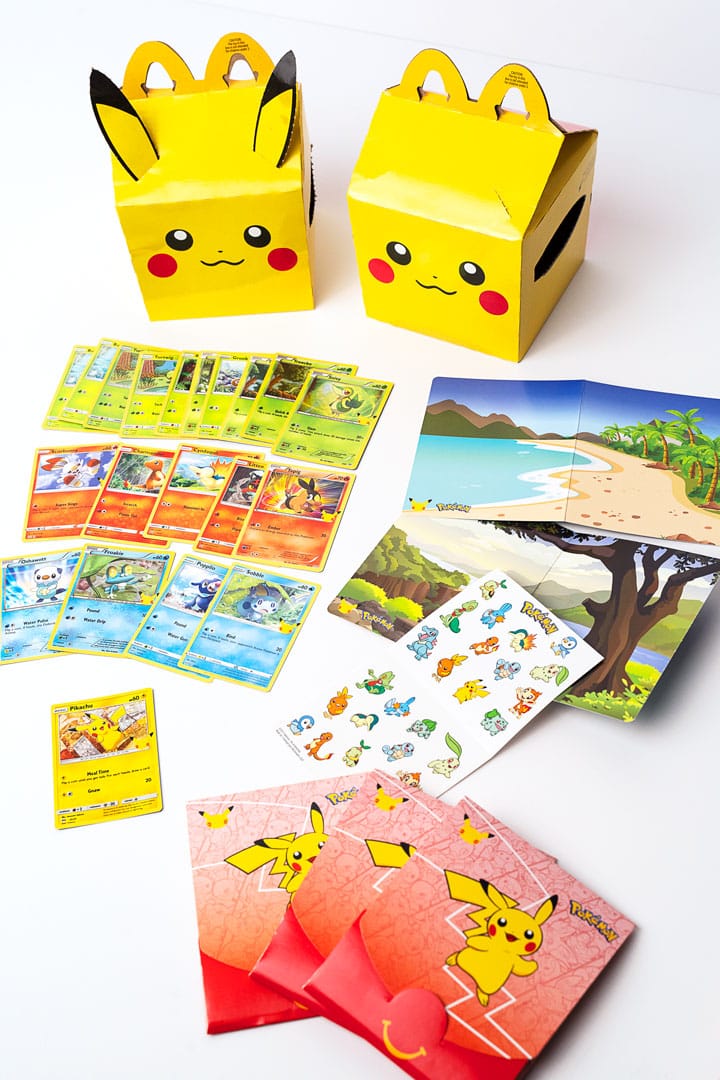 McDonaId's Canada does not have an official news release but I have included some information based on my research and my own experience.
How to get Mcdonald's Pokemon Cards
This year marks the 25th anniversary of Pokémon franchise, with the ongoing celebration officially known as Pokémon25.
The Pokémon Company has teamed up with McDonald's for a Pokémon-themed Happy Meal.
The McDonald's Pokémon Happy Meal includes the following:
4 Pokémon Trading Game Cards in one pack
A Pokémon-themed toy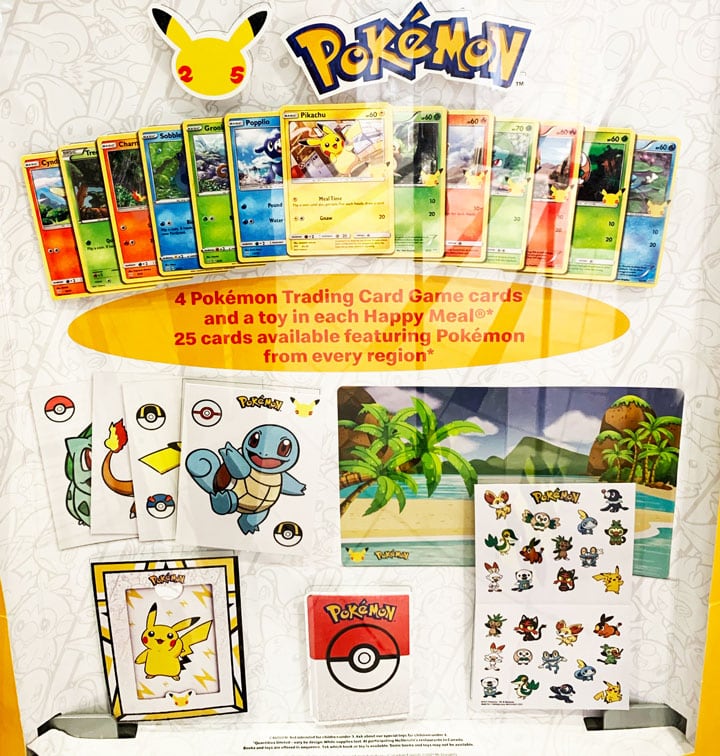 How many McDonalds Pokémon cards are there?
Each Happy Meal comes with a card pack that contains 4 Pokémon Trading Game Cards.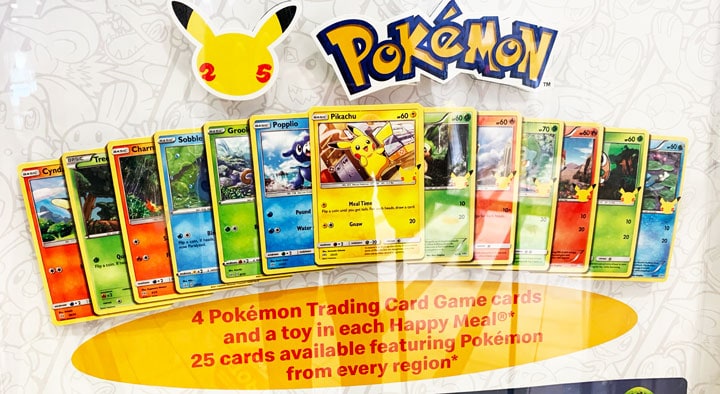 There are 25 Pokémon featured from every region including 24 starter Pokémon plus Pikachu. Each Pokémon comes in a holo and non-holo format.
In total, there are 50 possible Trading Game Cards in the limited-edition McDonald's set accounting for both the holo and non-holo cards.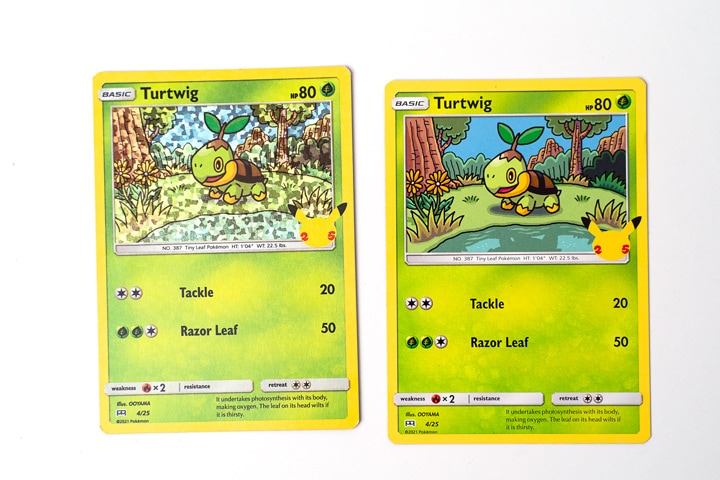 Mcdonald's Pokémon card list
By region
Kanto
Bulbasaur
Charmander
Squirtle
Pikachu
Johto
Chikorita
Cyndaquil
Totodile
Hoenn
Sinnoh
Unova
Kalos
Alola
Galar
By card number
Bulbasaur
Chikorita
Treecko
Turtwig
Snivy
Chespin
Rowlet
Grookey
Charmander
Cyndaqui
Torchic
Chimchar
Tepig
Fennekin
Litten
Scorbunny
Squirtle
Totodile
Mudkip
Piplup
Oshawott
Froakie
Popplio
Sobble
Pikachu
Mcdonald's Pokémon Toys 2021
Each McDonald's Pokémon Happy Meal also includes a Pokémon "toy." There are 4 types:
Pokemon Card Holder
This is a cardboard frame to hold your Pokémon card.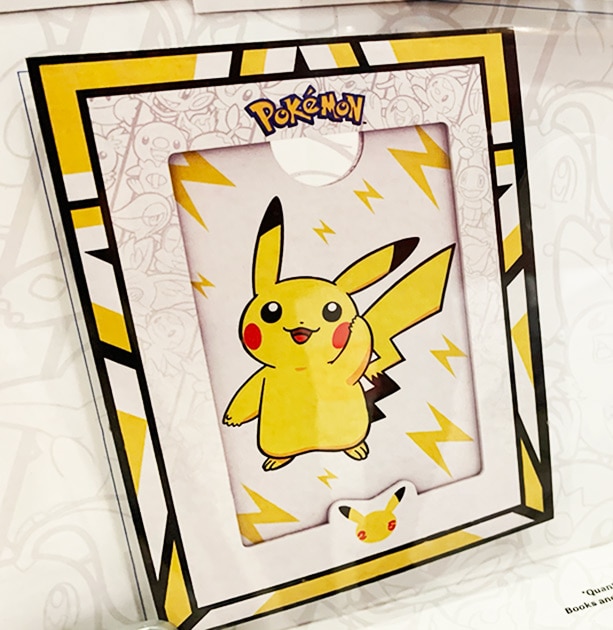 Deck Box
The cardboard deck box can hold your Pokémon cards.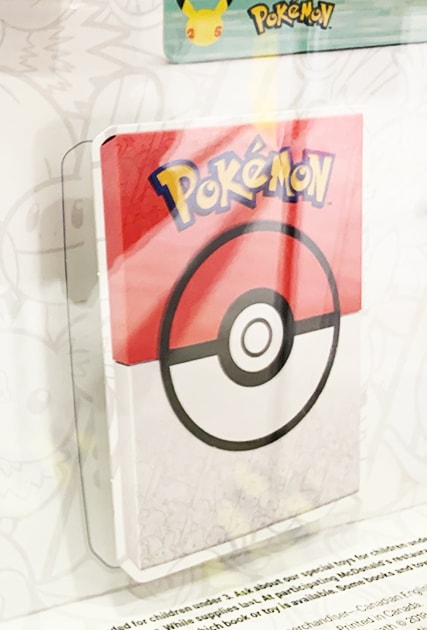 Small Sticker Set
The small sticker set comes with 26 stickers, two for each starter Pokémon and two for Pikachu.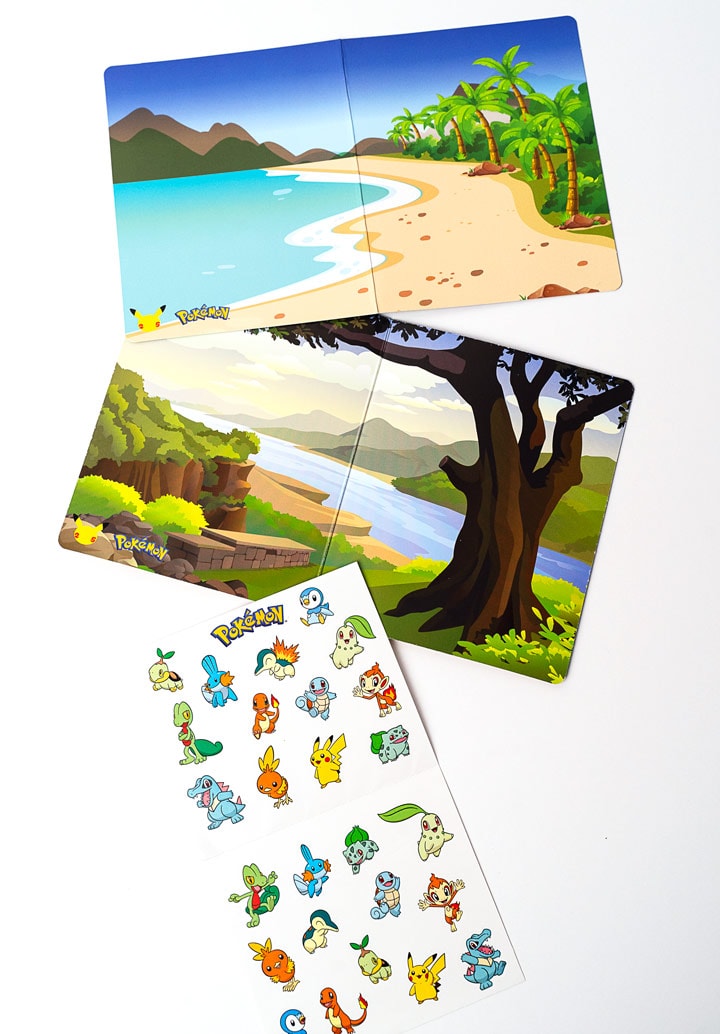 Large Sticker Set
The large sticker includes 4 Pokémon.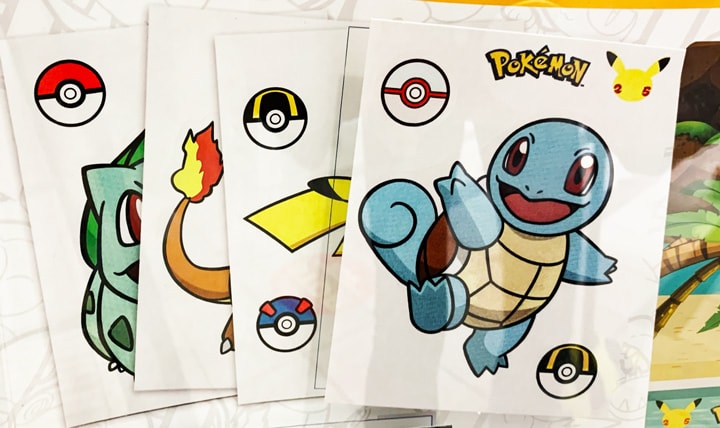 Mcdonald's Pokemon Happy Meal Box
The Mcdonald's Pokemon Happy Meal Box is designed as Pikachu.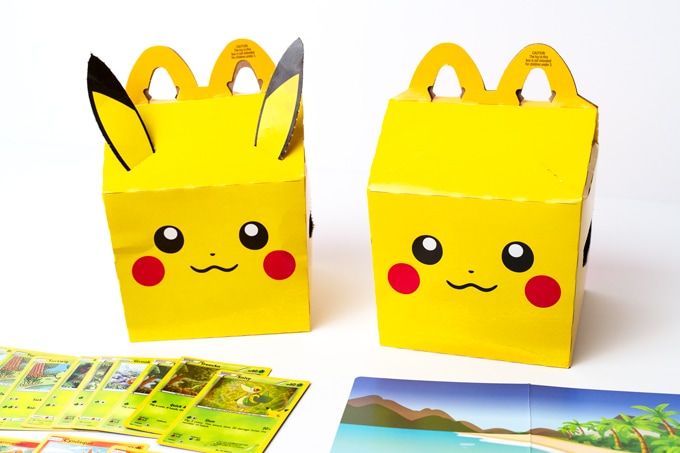 You pop out Pikachu's ears on the sides of the box and add it to the inserts on the top of the box.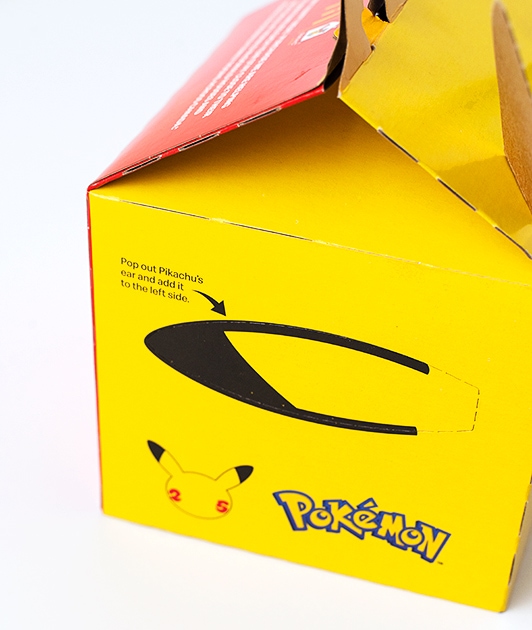 McDonald's Pokémon Cards Canada 2021 Release Dates
McDonald's Pokemon Cards Canada are now available at participating locations. They were released this week around April 27.
Are Pokémon cards from McDonald's real?
Yes, they are real and are created by The Pokémon company for McDoanld's.
While the the cards re all reprints from previous sets, they have also have a special 25th-anniversary logo.
Are McDonald's Pokémon cards worth anything?
While scalping is highly discouraged by the companies, this does not deter individuals from listing the individual cards as well as full decks on sites like Ebay.
In an official statement, The Pokémon Company is aware that some fans are experiencing difficulties purchasing certain Pokémon Trading Card Game products.
The company states that in situations where there is limited availability, they will be actively working to print more of the impacted Pokémon TCG products as quickly as possible and at maximum capacity to support this increased demand.
This suggests that the value of the cards may not be as much since the company will try to meet the demand as much as possible.
How much is Holo Pikachu worth Mcdonalds?
Pikachu card is the most valued card in the deck with auction prices hitting above $50 CDN, and buyouts are available at $70 CDN at the time of this writing.
Which Pokemon cards are worth money?
Based on some research on Ebay.ca, here are some insights.
The most valuable Mcdonald's Pokémon trading game card is the holo Pikachu card, at $50 CDN including shipping fee.
All other McDonald's holo Pokémon cards are around $10 CDN including shipping, and non-holo cards are around $5 CDN including shipping.
The complete McDonald's non-holo deck of 25 cards goes for $50 CDN including shipping, and the complete holo deck goes for $300 CDN.
Can I just buy the toy at McDonald's?
The toys are intended to be sold with the Happy Meal but sometimes toys can be sold separately in restaurants subject to availability.
I believe you will have to go into a McDonald's restaurant and ask for this in person because they don't have a toy option only on the McDonald's app.
Which McDonald's have Pokémon cards?
Pretty much all McDonald's across the country should have the Pokémon cards but to be sure you should call your local McDonald's to double check.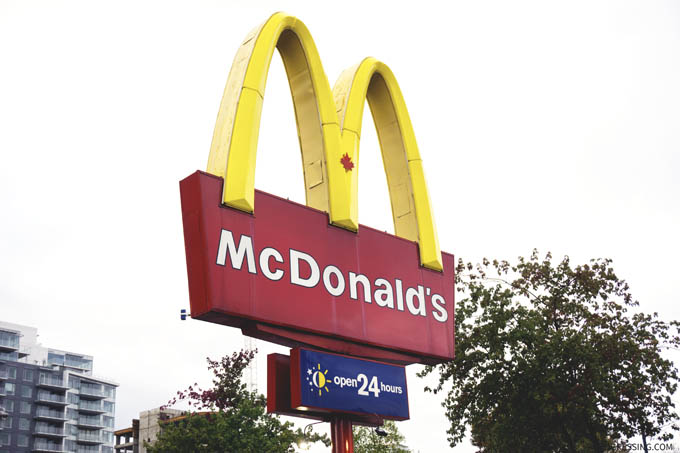 I called up my local McDonald's over the phone and they confirmed for me.
I did see a video where the person got the Pokémon Happy Meal box but with a toy from the previous Happy Meal theme.
McDonald's Pokémon Happy Meal limit
At my local McDonald's, there was a limit of five Happy Meals per person for the Pokémon promotion. This may vary at other locations across Canada.
Can adults order McDonald's Happy Meals?
Yes, adults can order Happy Meals at McDonald's. You can order in person at a restaurant or via a McDonald's drive-thru or using curbside pick-up, McDelivery, take-out or dine-in.
McDonald's Happy Meal types & prices
Happy Meal Hamburger with either Mini Fries ($3.99), Apple Slices ($3.99), or Small Fries ($3.99).
Happy Meal Cheeseburger with either Mini Fries ($4.69), Apple Slices ($4.69), or Small Fries ($4.69).
Happy Meal Crispy or Grilled Chicken Snack Wrap with Mini Fries ($4.69), Apple Slices ($4.69), or Small Fries ($4.69).
Happy Meal 4 McNuggets with either Mini Fries ($4.79), Apple Slices ($4.89), or Small Fries ($4.89).
Happy Meal 4 Hotcakes with either Mini Fries ($4.29), Apple Slices ($4.29), or Small Fries ($4.29).
Is McDonald's still giving out Pokemon cards?
There is no official end date noted on the McDonald's Pokémon promotion. In general, Happy Meal themes last around 5 -7 weeks.
What I collected
We purchased 5 Happy Meals and received 17 different Pokemon including Pikachu and 3 holo cards.
Here are some close-up photos of the cards which I have collected.
Holo Pikachu 25/25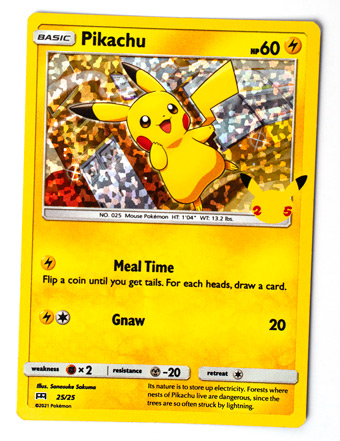 Bulbasaur 1/25 Non-Holo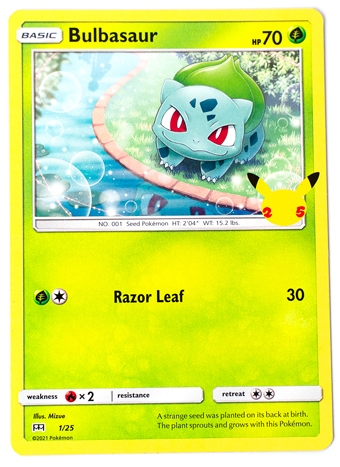 Treecko 3/25 Holo and Non-Holo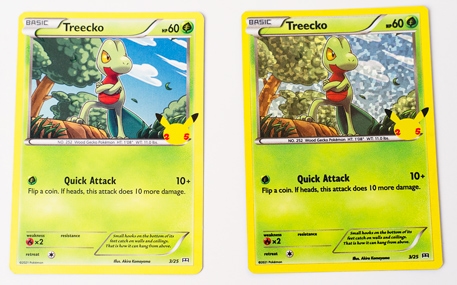 Turtwig 4/25 Holo and Non-Holo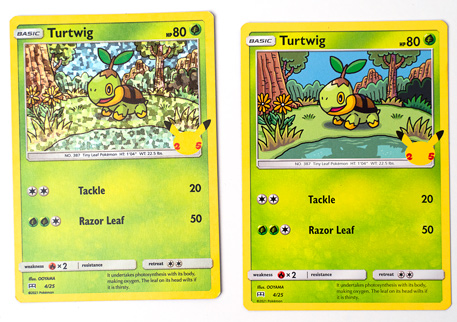 Snivy 5/25 Holo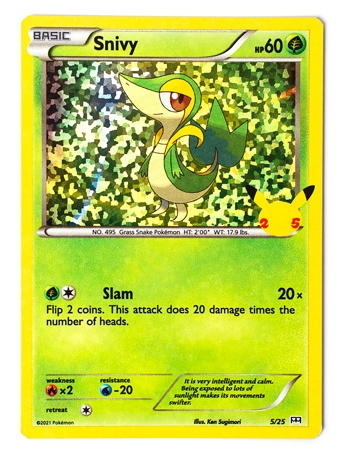 Chespin 6/25 Non-Holo
Rowlet 7/25 Non-Holo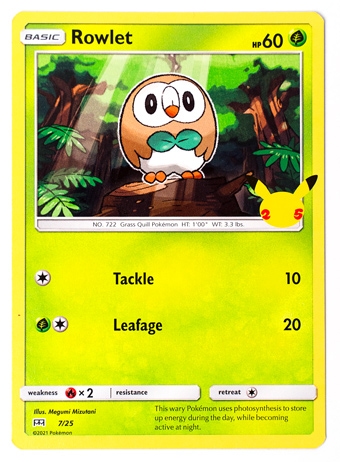 Grookey 8/25 Non-Holo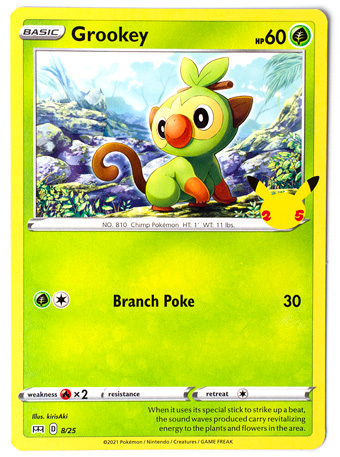 Charmander 9/25 Non-Holo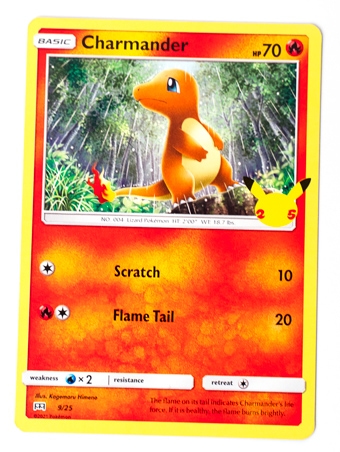 Cyndaquil 10/25 Non-Holo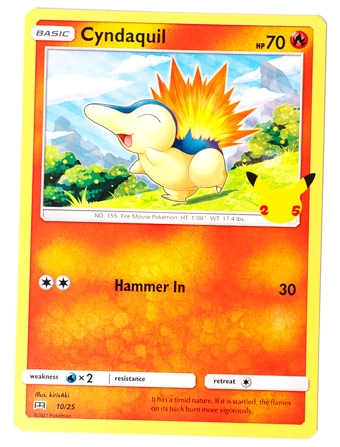 Tepig 13/25 Non-Holo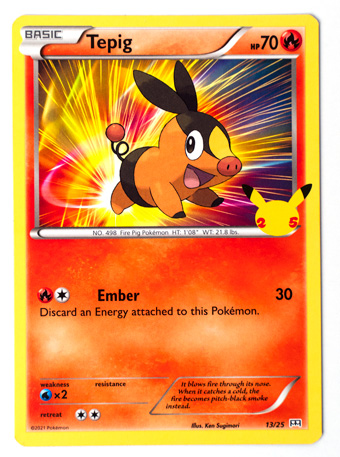 Scorbunny 16/25 Non-Holo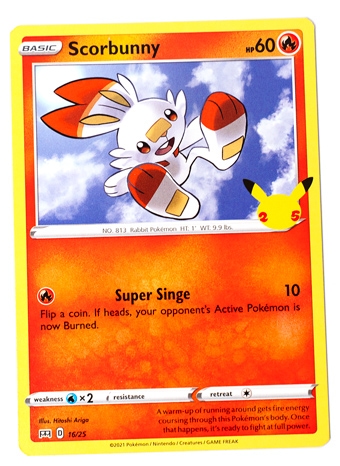 Froakie 22/25 Holo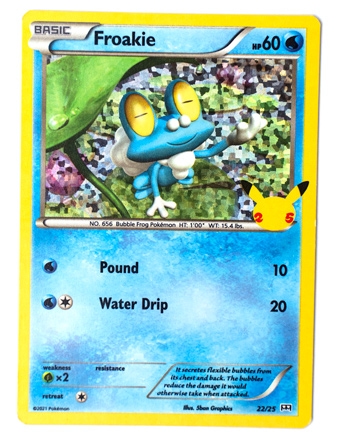 Popplio 23/25 Non-Holo