If you're an ice cream lover, you'll be happy to learn that there's a new Vancouver liquid nitrogen ice cream shop – Magicream.  Located at at 2009 West 41st Avenue in Kerrisdale, customers can choose from an astonishing 40+ toppings and flavours.  The ability to customize your ice cream in so many ways is what sets Magicream apart from other liquid nitrogen ice cream parlours in Vancouver.  So many combinations, so little time…this is a good problem for an ice cream lover to have.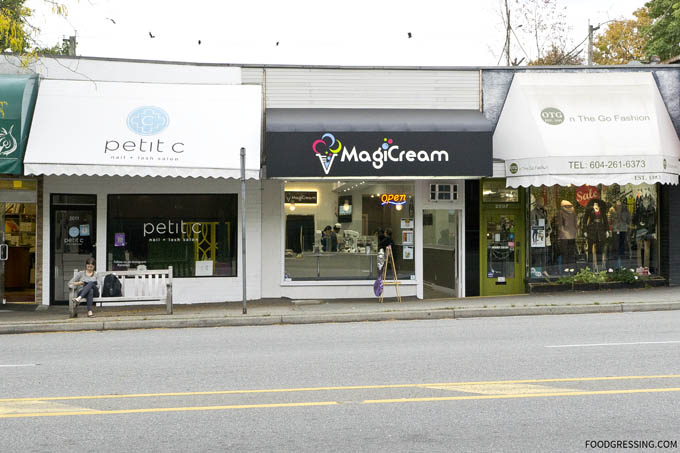 Disclosure:  I was invited by the owners for a complimentary tasting.  All opinions are my own.
Modern & Bright Space
Magicream's interior has a  clean, contemporary look with a few high top tables and banquette seating by the window.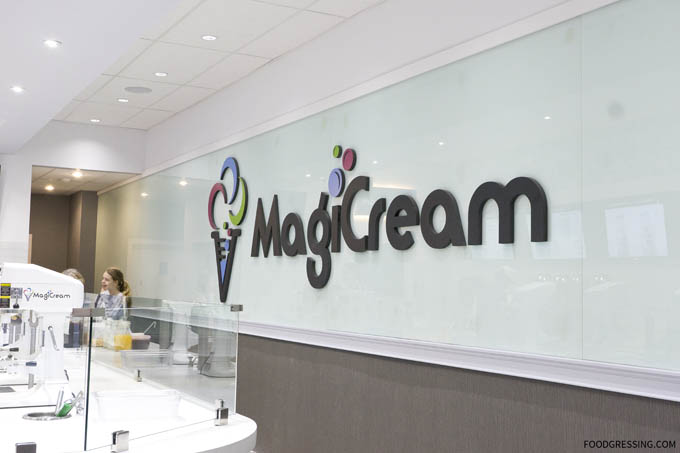 Magicream Menu
Like other liquid nitrogen ice cream shops, Magicream's ice cream is made-to-order.  How it works is you start off by choosing a premium base made with 12% milk or sorbet (dairy-free option).  There are 40 flavours available which are categorized into classics, cookie & cake, nutty or fruity.  Some of the more interesting flavours include ovaltine, root beer, chocolate coconut, and guava.  The sorbet comes only in the fruit flavours as they are made with real fruit.  Topping choices include candy, cookies and cakes, fruits, nuts, jellies and syrups.  These include lychee jelly, coconut jelly, mango jelly, gummy bears, mochi, cheesecake bites, walnuts and more.  Customers can enjoy a regular ($5.50), medium ($7.50) or family sizes ($9).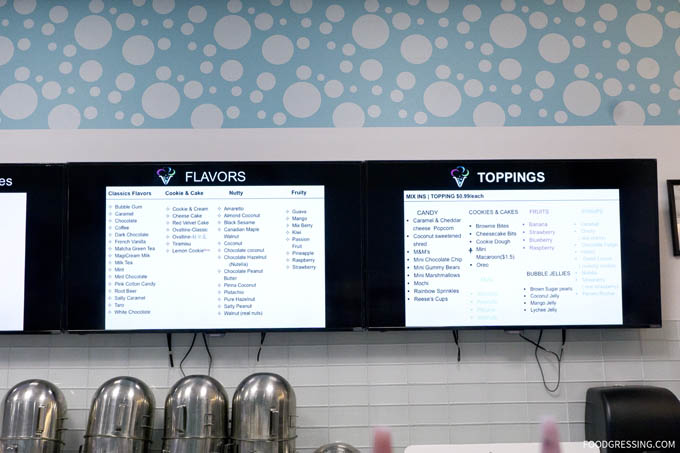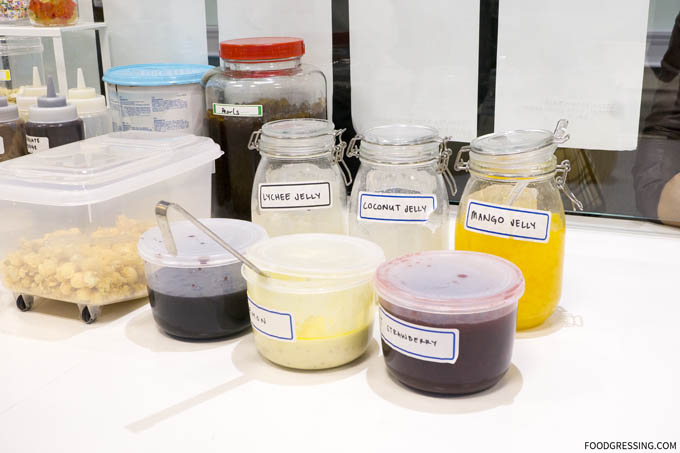 The ingredients are then placed in commerical mixing machines where liquid nitrogen is poured over to freeze the mixture.  Because liquid nitrogen freezes the mixture quickly, the resulting product has a velvety smooth texture.  The ice cream is prepared right in front of your very eyes but behind a safety barrier, of course!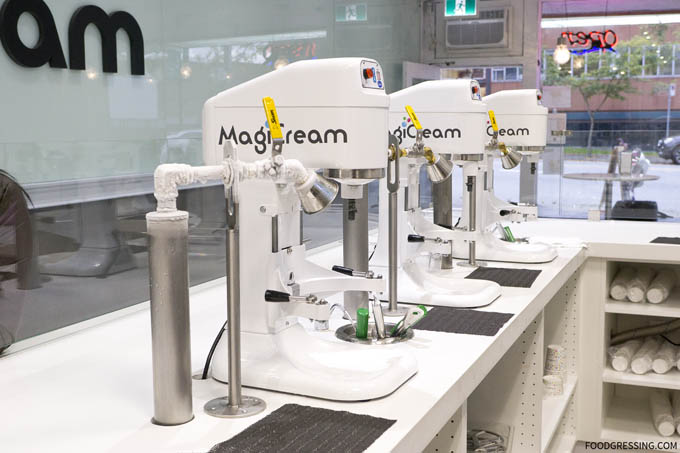 While some liquid-nitrogen ice cream shops pour liquid nitrogen from containers manually, Magicream pumps liquid nitrogen from tanks to the mixers through piping.  This is a much safer process.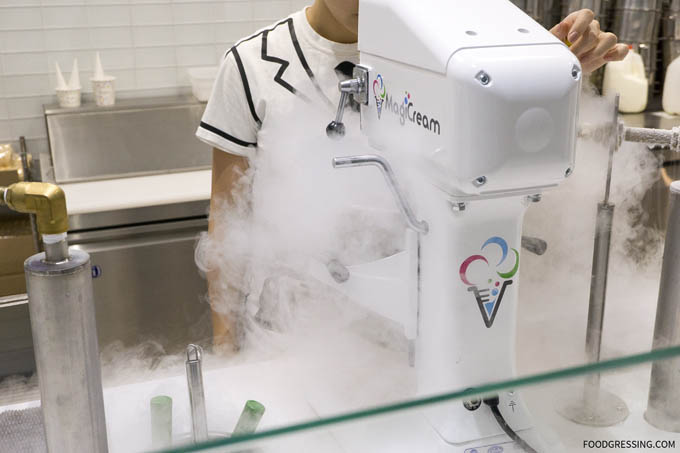 What We Tried
Our group sampled 9 different combinations:
1. Chocolate with brownie bites and chocolate sauce
2. Caramel popcorn
3. Root beer with gummy bears
4. Strawberry with cheesecake bites
5. Black sesame with coconut and Reese's cups
6. Coffee with cookie dough and mochi
7. Ovaltine with walnuts
8. Milk tea with pearls and mango jelly
9. Mango sorbet with mango and lychee jelly
The texture was perfect – smooth, dense, rich and creamy.  Flavourwise, some stand-outs for me were the ovaltine, root beer,  black sesame, and chocolate.  The ovaltine and root beer flavours were childhood nostalgic flavours that were surprisingly good.  They tasted quite like what their name suggests and not too artificial either.  The chocolate was rich and satisfied the chocolate lover in me.  However, the real winner for me was the black sesame with coconut flakes and Reese's cup – so incredibly tasty and the coconut and Reese's gave such a nice textural contrast.
I also enjoyed the fact that the ice cream did not melt too quickly unlike what I experienced at Mister.  This gave me the opportunity to take photos of these creations and to take my sweet time consuming these delicious delights.
Speaking with other fellow foodies at the event, everyone had his or her own likes and dislikes.  But with so many options available, I believe that there is something for everyone.
Overall Impression
I enjoyed the variety and customization options offered at Magicream.  The ice cream itself is delicious enough to consume on its own without any added toppings.  I liked that the ice cream didn't melt too quickly and that it was not overly sweet.  Great that you can enjoy different sizes (regular, large, family).  I would recommend Magicream to others.  Rating: 4.5/5
Instagram: @magicream_n7/