Liuyishou Hot Pot Richmond has reopened after undergoing a three-month renovation and a brand refresh. Originating from Chongqing, China, Liuyishou specializes in Chongqing style (spicy) hot pot and has over 1,200 locations worldwide.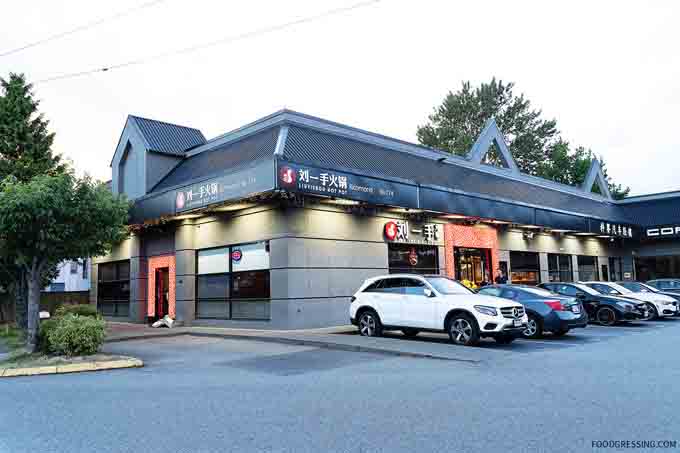 I was recently invited to a media event at Liuyishou Hot Pot Richmond. Here's a look at what you can expect.
---
Modern and Inviting Interior
The renovated interior of Liuyishou Hot Pot Richmond is modern, clean and inviting. The space features booths, small and large dining tables, and private VIP areas. The booths are separated by movable dividers to accommodate various group sizes.
---
Start with a Sauce Base
The experience starts with choosing a soup base. Liuyishou's traditional Chongqing style soup base is prepared with special butter, red hot chili, Sichuan peppercorn, and other exotic herbs and spices.
Liuyishou also has offers non-spicy soup base options like Wild Mixed Mushroom, Special Pork Bone, Tomato Soup Base and so forth.
The soup bases range between $7 – $16 and you can have 1, 2 or 3 soup bases in your hot pot. If you order 2 soup bases, the price would be that of the more expensive option. If you order a trio of soup bases (excluding seasonal options), it is priced slightly cheaper at $22.
---
MAKE YOURSELF A PERFECT SAUCE
Mix your favourite sauces from the Liuyishou's sauce bar featuring 20+ sauces, fresh herbs and spices. Cooked food can be eaten with your own sauce mixture.
The restaurant also posts recommendations on how to create different styles of sauces. For example, a traditional Chongqing style sauce has a garlic oil base, mashed garlic, sesame oil, green onion, coriander, chopped peanuts, oyster sauce, vinegar, capsicum frutescens (a type of chili pepper) and spicy sauce.
---
Freshly Slice Meat
At Liuyishou Hot Pot Richmond, the meat is freshly sliced in a preparation area where customers can observe. I was quite impressed with the process and the ability for diners to watch how the meat platters are made.
---
What We Tried
At our media event, we went with Liu's House Special Soup Base (spicy) and the Tomato Soup Base (non-spicy).
We enjoyed the sliced beef and lamb platter presented in a ring that goes around the hot pot. I thought it was a fun and space-saving way of presenting the meat slices.
You can see how the ring is dropped over the hot pot in my Instagram video: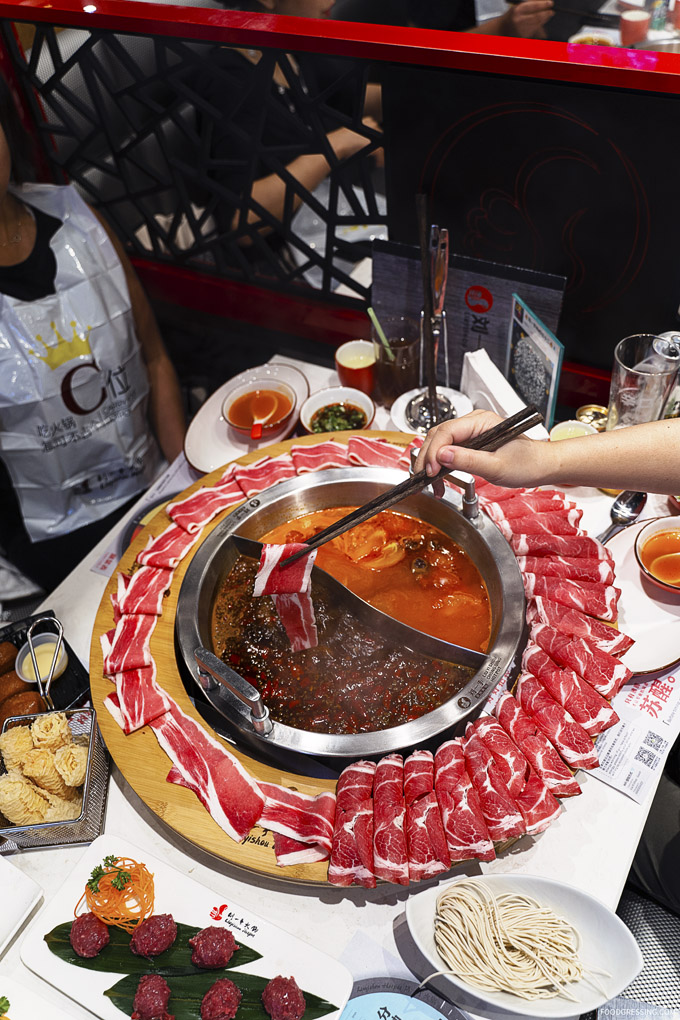 Other meat options we had were additional beef slices and wagyu beef.
The meatball platter featured handmade fish, lamb, pork and beef balls.
Because we love our beef, we ordered a plate of beef meatballs on its own.
One exotic seafood option we had was the Argentine red shrimp, which are $2.95 per piece.
The Pacific White Shrimp were nicely arranged in an upright position in a shell-like dish.
For a soybean dish, we had tofu bean curd. Because of their delicate nature, I enjoyed the fact that they were placed in a basket that we could immerse directly into the hot pot.
A house specialty dish was the duck blood cake, which had a firm, gelatinous texture.
Some assorted snacks we ordered included the glutinous black rice cakes with house special brown sugar dipping sauce and deep fried buns with condensed milk.
For dessert, we were presented with cups of yogurt which are perfect for cooling off the palate after a spicy meal.
Overall Impression
Liuyishou continues to be one of my favourite hot pot chains based on the quality of the food and selections available. The improved presentation of the dishes elevated the hot pot experience. The renovated space at Liuyishou Richmond makes it a comfortable and inviting environment to enjoy a hot pot feast. My favourite items were the sliced beef and lamb platter, fried Chinese donut with shrimp paste, assorted meatballs platter, wagyu beef, and glutinous black rice cakes.
---
Liuyishou Hotpot Richmond
731 Garden City Rd #150, Richmond, BC
Instagram: @LiuyishouHotpot