Kintaro is one of the most iconic ramen houses in Vancouver serving ramen lovers since 1999. Line-ups are common as loyal customers return for comforting bowls of ramen. Over the past year, I have eaten at Kintaro many times. I love going there for a piping hot bowl of ramen on a rainy or cold day. Here is an overall review of my experiences at Kintaro in the last year.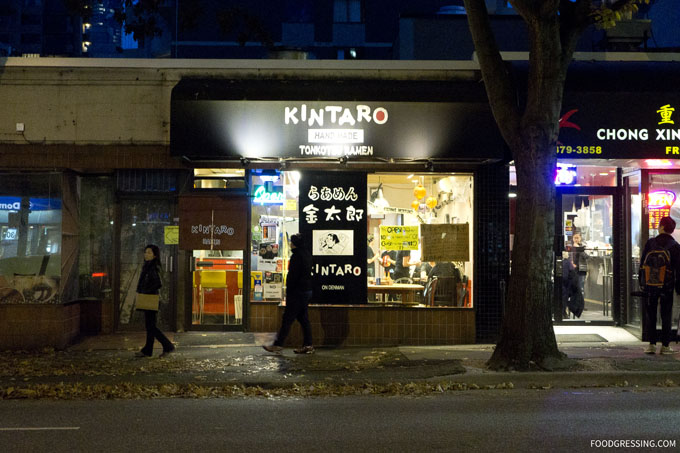 Kintaro Ramen Menu
Kintaro offers 14 types of ramen ranging from basic (like shoyu, shio, miso) to specialty (like cheese and cold). Their broth has been reported to be simmered for 22 hours in order to maximize the flavour from the bones. You can also customize your order by choosing the richness of your soup (rich, medium, light) and how fatty you want your cha-shu (fat or lean). Ramen bowls are known to be budget-friendly and priced around $10 – $13. If you are feeling extra hungry, you can order additional toppings, meat, noodle and soup.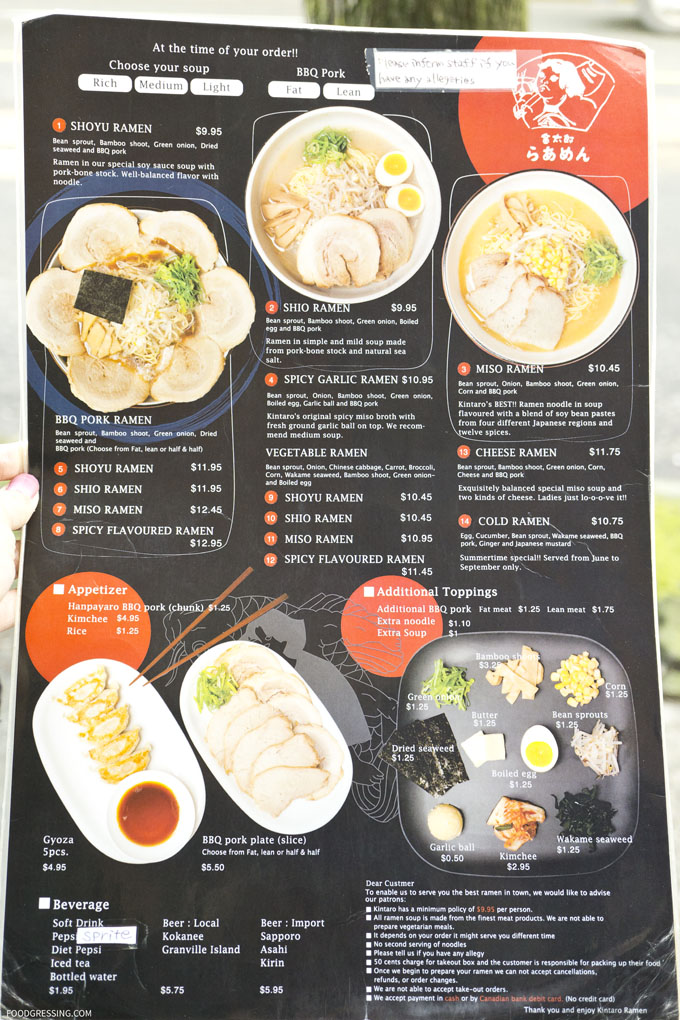 Basic Interior
The interior of Kintaro is functional. It's an unpretentious eatery where you sit down, have your bowl of ramen, and be on your way afterwards to make room for a new customer. Not your kind of place to sit down for a long romantic dinner or to bring a large group of friends. Seating is mostly along the bar overlooking the open kitchen. There are a few two-person tables and one round table which is good for a small group or for communal seating.
Photos of the kitchen are not permitted as indicated by a sign. While I enjoy the food at Kintaro, I would like to raise issue of some cleanliness issues. On my last visit, I sat at the corner next to the while and noticed some highly disturbing yellow substance mixed in with dirt (I think?) on the wall. Kintaro really needs to work on maintaining their restaurant interior to an acceptable level.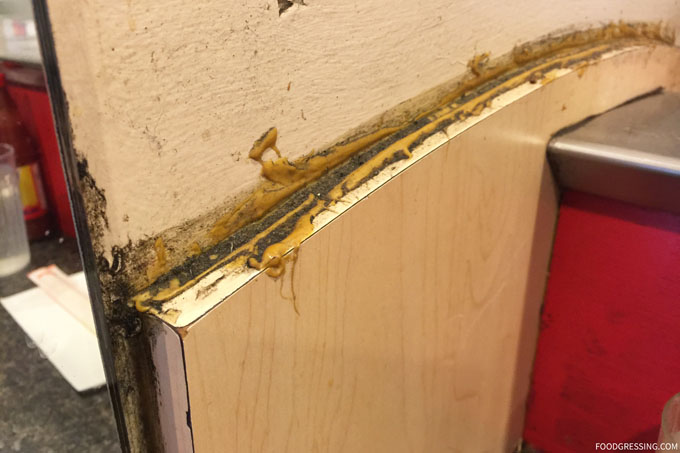 What I Tried
I have tried the following at Kintario:
Miso ramen twice ($10.45) with additional wakame seaweed ($1.25)
BBQ shoyu ramen ($11.95)
Shio ramen ($9.95)
Spicy garlic ramen ($10.95)
I have only gone with "standard" options for the In general, I have found that the noodles are cooked al-dente, the cha-shu nicely gelatinouos, and the broth to be rich and flavourful. The portions of noodles and other ingredients are reasonable too.
My favourite is the miso ramen, which is Kintaro's best ramen. The soup is blended with soy bean paste and Japanese spices so it is very flavourful. I love to add in seaweed for some extra oomph.
If I were extra hungry, the BBQ ramen is the best choice. It comes with 6 pieces of cha-shu which is bound to make you full.
The shio ramen is simpler in flavours as the soup is much milder.
If you're not planning on getting to close to other people after your meal, you might want to go for the spicy garlic ramen. It comes with a ball of freshly ground garlic and has enough heat to tickle the taste buds but not set them on fire.
Overall Impression of Kintaro
I continue to be a fan of Kintaro's food but I hope that they work on having a cleaner restaurant. There are still many types of ramen to try but I'm happy with my go-to choices as well. Rating: 4/5