Looking for places to eat in Merritt, I was introduced to Kekuli Cafe by Tourism Merritt who mentioned that they serve the most delicious bannocks. In fact, Kekuli Cafe is one of the top 5 Aboriginal restaurants in BC. The cafe was started by a couple, Sharon and Darren Hogg, who sold bannock from their concession stand in Westbank, BC. It has now evolved to be a local treasure with two bricks and mortar locations in Westbank and Merritt. Specializing in bannocks, their motto is, "Don't Panic…We Have Bannock!" One morning during our stay in Merritt, we visited Kekuli Cafe for brunch.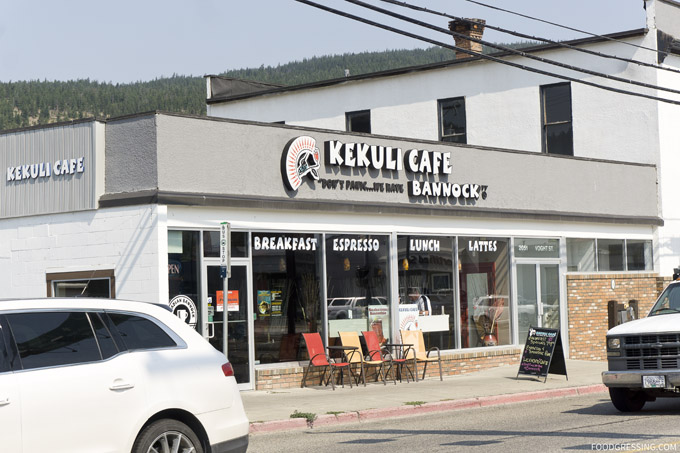 A few years ago, John Catucci of the Food Network's "You Gotta Eat Here" visited Kekuli's flagship location. Here's a look at that featured episode:
Kekuli Cafe Menu
Using organic flours and creative recipes, Kekuli Cafe serves bannock in many ways, including flavours like Saskatoon berry, maple walnut and cream cheese Skor. Bannock is also incorporated into more traditional fast food items instead of regular buns. There are breakfast sandwiches (like Wild Smoked Breakfast Bannock and more), burgers on bannock (like Bacon & Cheddar Bannock Burger and more) and lunch sandwiches (like Bannock BLT). Other home-style dishes include fresh garden salads which come with bannock or toast and chili and soup. As for drinks, there are espresso-based ones, smoothies and specialty "Saskatoon drinks" and "Canadian Maple" ones.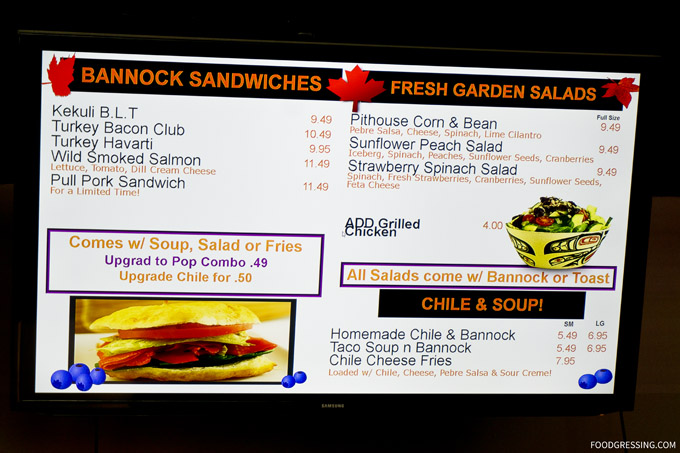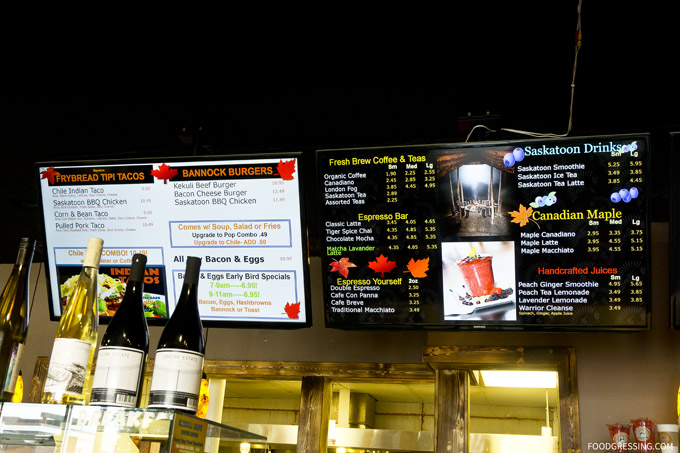 Kekuli Interior
The interior of Kekuli Cafe is modern and spacious with plenty of tables of a variety of sizes. They also have a few board games available for people to enjoy over food and coffee.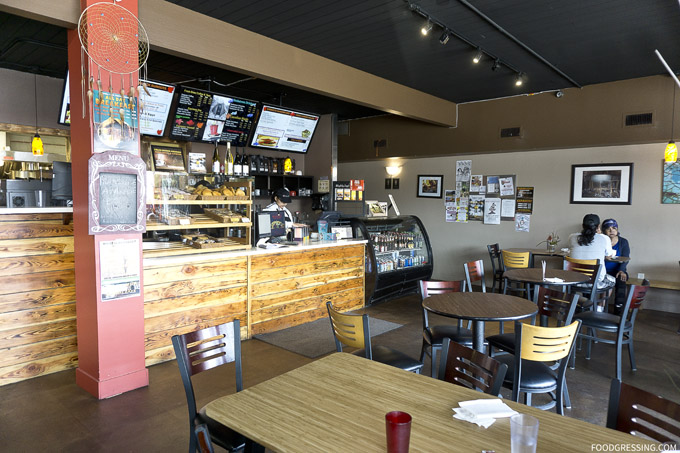 What We Tried
We ordered the Indian tacos ($10.49) and homemade chili with bannock ($6.95) as well as coffee. Starting with the bannocks, I found them to be super delicious! Golden in colour, crispy on the outside and ultra light and fluffy. My last experience with bannock was almost a year ago (review here) and the bannock at Kekuli is way more tasty than the one I had previously.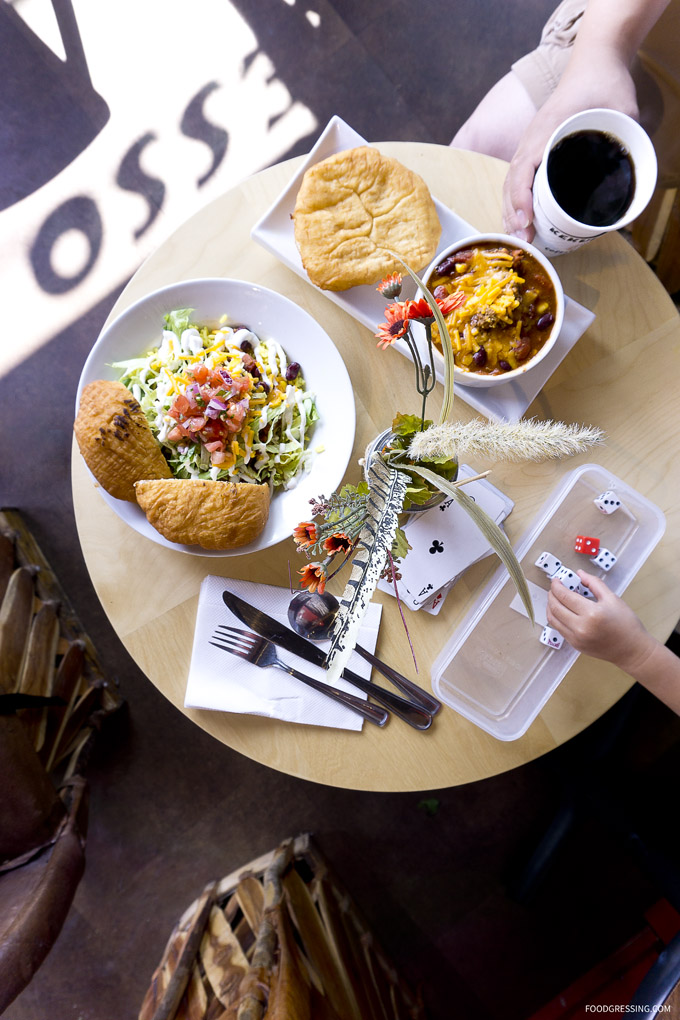 I *loved* every bite of the Indian tacos which had lime cilantro rice, homemade chili, lettuce, sour cream, cheese and fresh made salsa. All the ingredients tasted wonderfully fresh and the lime cilantro rice made rice much more tasty. I can't stress the freshness enough because the lettuce was wonderfully crispy.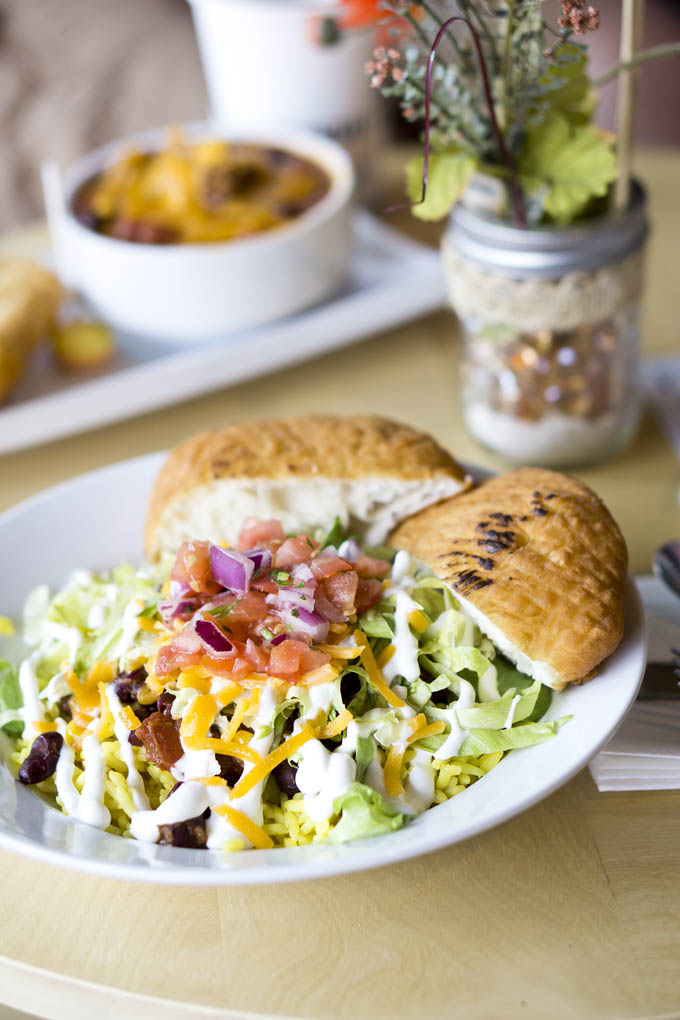 As for the chili, it was hearty, loaded with flavour with a subtle sweetness. The bannock was the perfect accompaniment.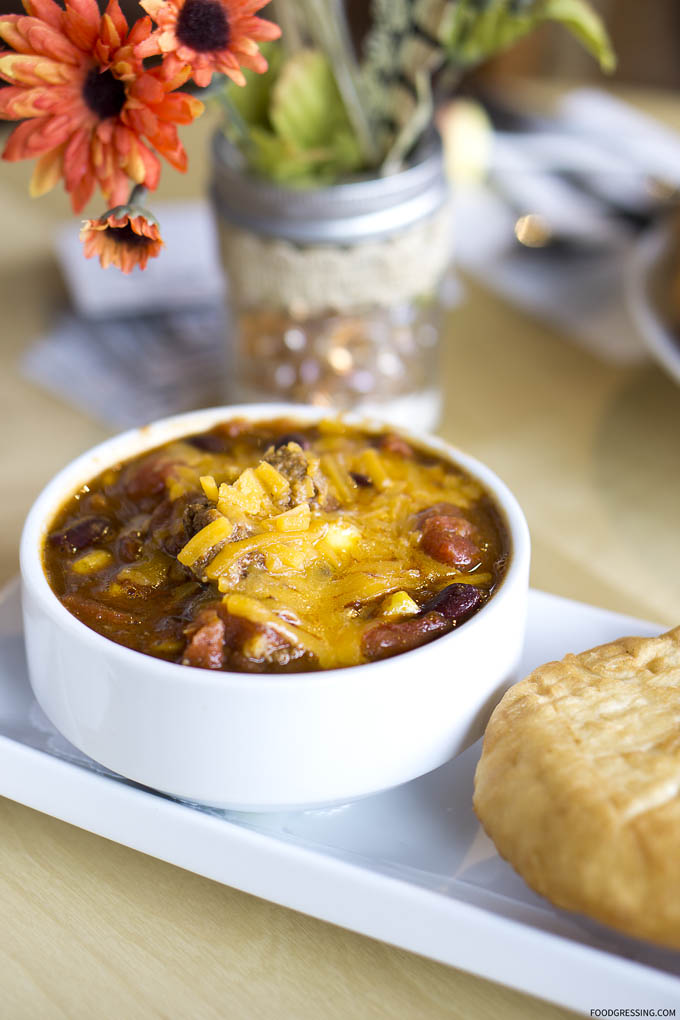 Overall Impression of Kekuli Cafe Merritt
I loved the bannock-centric offerings at Kekuli Cafe. The bannocks were so delicious that I'll be back for more. If you are visiting Merritt, be sure to stop by Kekuli Cafe for some bites. You won't be disappointed. Rating: 4.5/5
To read about my other adventures in Merritt, follow https://foodgressing.com/category/travel/merritt/
Kekuli Cafe Coffee & Bannock
Address: 2051 Voght Street, Merritt, BC
Website: www.kekulicafe.com