Häagen-Dazs ice cream has announced its newest innovation entering the U.S. market, the Butter Cookie Cone, as the brand looks to offer a new experience to the growing consumer demand for premium snacking.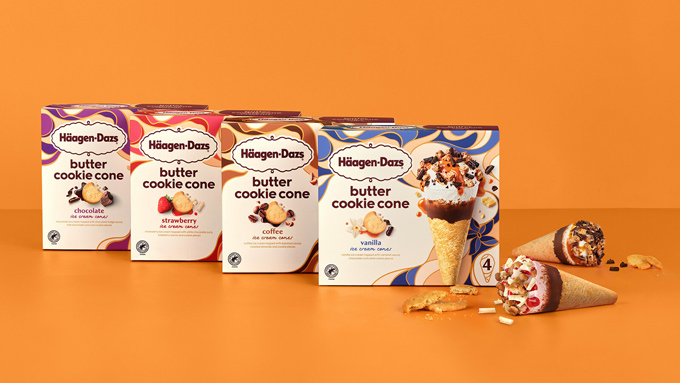 It delivers on a one-of-a-kind dessert experience wrapping its famously luxurious ice cream in butter cookie from top to bottom.
The Butter Cookie Cone is a first-to-market frozen treat from Häagen-Dazs that is wrapped in unexpected moments of luxury.
This is an original tasting sensation made of a thick, crunchy butter cookie rolled into a cone for the first time in brand history.
It possesses all the characteristics of a traditional butter cookie made with butter, sugar, and flour, but with more personality, style, and attitude.
The cone is lined with rich chocolate inside and filled with four legendary top-selling Häagen-Dazs ice cream flavors including Vanilla, Strawberry, Chocolate, and Coffee.
From there, various combinations of decadent sauces such as raspberry, chocolate fudge, espresso, or caramel are drizzled on the ice cream and generously sprinkled with indulgent toppings like cookie pieces and delicate chocolate curls, making each bite even more enticing than the next.
The Butter Cookie is available in packaged, (4ct) boxes and has four debut flavors:
Vanilla Butter Cookie Cone – Madagascar Vanilla ice cream topped with rich caramel sauce, chocolate curls, and cookie pieces
Strawberry Butter Cookie Cone – Strawberry ice cream topped with white chocolate curls, a tangy raspberry sauce, and cookie pieces
Chocolate Butter Cookie Cone – Milk Chocolate ice cream topped with chocolate fudge sauce, chocolate curls, and cookie pieces
Coffee Butter Cookie Cone – Coffee ice cream topped with espresso fudge sauce, roasted almonds, and cookie pieces
There are several sustainable aspects of the Butter Cookie Cone.
The cocoa used in the Butter Cookie Cone is Rainforest Alliance certified and a significant advancement for Dreyer's Grand Ice Cream portfolio.
Rainforest Alliance certification helps farmers produce better crops, adapt to climate change, increase their productivity, and reduce costs.
All varieties of the Butter Cookie Cone will be front and center throughout the year as part of the brand's #ThatsDazs campaign, where the next evolution of Häagen-Dazs tastemakers will be among the first to test the innovation.
This includes the return of rising social media talent like Kamry James (@kamrylorin), and Tauri Janeé (@editaurial) with a warm welcome to new tastemakers such as Livia Ishak (@liv.ishak), Chelsea Henriquez (@chelseaasoflate) and Pat Meynard (@Pxt_M) who will share their experience using interactive Reels and TikTok content.
Additionally, the brand will continue to celebrate its $1.5M commitment to underrepresented communities inspired by the brand's original immigrant founders whose endless creativity brought a small luxury, ice cream, to many.
With the balance of the donation, Häagen-Dazs will honor and introduce new partners and deliver the Butter Cookie Cone to the masses as part of a live music event and immersive activations at popular music festivals this summer.
The Butter Cookie Cone will be available in select retailers with full, national distribution expected by April 2023.
The new Butter Cookie Cone products will retail at $8.99 per 4ct box with varying prices based on retailer discretion.
For more information on Häagen-Dazs, visit https://www.haagendazs.us/ or follow @haagen-Dazs_US on Instagram and TikTok.