George Trois Group, the dual-concept dining destination from distinguished Chef Michael Lachowicz, has re-opened at 64 Green Bay Road in Chicago's North Shore with a drastically updated look, feel, and menu.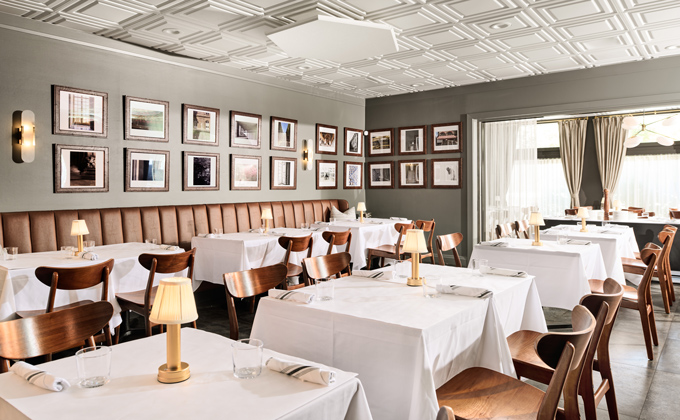 For 18 years – the first 10 of which were profoundly successful under the eponym of Restaurant Michael – Lachowicz's outpost has remained a preeminent destination for French cuisine in Chicagoland and a staple of the North Shore dining scene.
The acclaimed fine-dining mecca George Trois and the under-the-radar, much more relaxed Aboyer, have been known for Lachowicz's classical and laser-focused knowledge of French cuisine, combined with his playful and daring interpretations.
The triumph of making it through a pandemic that changed the industry forever, and the ever-shifting culinary landscape around him inspired Lachowicz to make big changes that aim to bring both he and his patrons full circle, and back to the real reason he started cooking in the first place.
The Design
Lachowicz enlisted the help of designer Leah Oros to start the journey back to his roots by reinventing the interior of both George Trois and Aboyer.
The comprehensive interior refresh is meant to complement the restaurants' classic cuisine in a way that brings patrons as close to the French dining experience as possible.
Aboyer, formerly quite contemporary while sporting an interior of edgy artwork and bright colors, has transformed to exude the interior of a timeless French brasserie.
Materials often found in French homes such as deep leathers and heavy linen are found throughout the restaurant.
Notes of mid-century French and art deco combine to cement the vibe with a mirrored wall installation, a gut rehab to build a custom brass-wrapped, 8-seat bar with accompanying brass accents and brass table lamps, floor-to-ceiling window treatments and back-lighting, and more.

Thomas Gavin was commissioned to create a gallery of photographs for Aboyer.
Shot in Paris and the Palace of Versailles over a 6-day period in April, the work encourages guests to consider the overwhelming attention to detail of French culture.
Crisp linens topped with butcher paper, and a new entrance including doors and awnings complete the transformation of the 72-seat dining room.
The re-designed 44-seat patio is also unveiled, complete with a heated and covered pergola, decorated in a French garden motif.
The exterior of the building at 64 Green Bay Road was also given a transformative touch to line up with the changes made to the interior, with the long-time black façade now painted an ethereal white.
The Menus
Changed just as drastically as the interior of the restaurants are Lachowicz's two, very distinct and dynamic menus.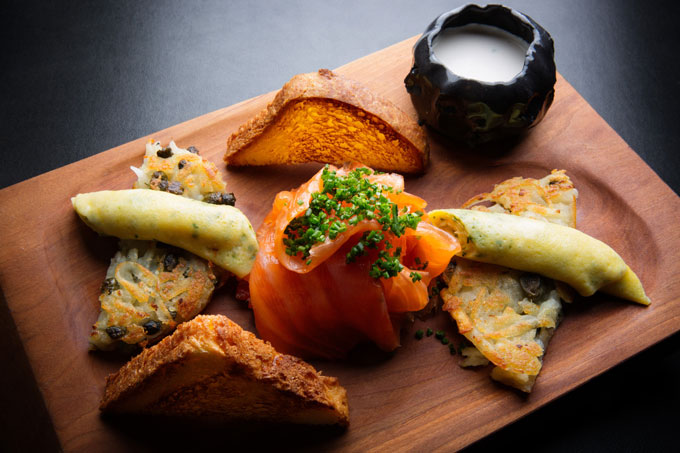 At George Trois, Lachowicz continues to utilize his menu as a seasonal workshop for his creativity and culinary expertise, providing a meticulously curated 10-course tasting menu.
The cuisine reveals Lachowicz's passion for precise French method and technique and allows for guests to have a time-honored experience scarcely available outside of France.
Offerings on his new tasting menu include austere and refined preparations such as:
Foie Gras & Foie Gras with English Peas, Soupe de Foie et Truffe
Saddle of Rabbit with Morel Souffle and Sauce Moutarde
Roast Squab, White Asparagus, and Béarnaise au Beurre noisette, Pave Dauphinoise
Lychee & Papaya Frappe with Blueberries and Yuzu Pearls
All of Aboyer's dishes gain their fundamental identity from their sauces.
This menu celebrates a style of cuisine that can only be described as retro French cooking at its finest.
From timeless bistro dishes to a new section of the menu dedicated to dishes that relive the nostalgia of Lachowicz's previously lauded Restaurant Michael, Aboyer's menu is the centerpiece of this concept's in-depth overhaul. Skillfully and soulfully created preparations include:
House-smoked Salmon Board with Chive Omelet, Creme Fraiche Mousse, Potato-Caper Gateau, and Brioche
Classic Escargot Bourguignon en Croute
Stuffed Breast of Hen with Duck Fat Potatoes, Roasted Baby Carrots, and Morel Mushroom Sauce(one of several dishes nodding to Restaurant Michael classics)
Duo of Lamb: Roasted Loin of Australian Lamb, Rosemary-scented Lamb Shank & Potato Raviolo, Grilled Ramps, Lamb Jus with Black Garlic Butter
Aboyer Patio Brunch Series
Aboyer's Patio Brunch Series will offer diners with an idyllic Sunday afternoon that includes a celebration of French flavors and preparations with a multi-course brunch experience on the restaurant's newly renovated, French garden-inspired patio. Reservations are now available for two late-summer dates – Sunday, August 28th and Sunday, September 11th between the hours of noon and 2:30 p.m. Reservations can be made for parties of 1 – 6 guests. $48 (++) per person includes guests' choice of selection for three incredible courses – Here's the full menu:
Appetizers:
House Smoked Salmon Board
Omelet, Crème Fraiche Mousse, Potato Gateau, Brioche
Country Style Charcuterie Board
Liver Mousse, Cured Salumi, Baguette, Pickled Vegetables
Gateau of Crab
Pan Roasted Scallop, Thai Coconut-Curry Broth
Main Course:
French Rolled Omelet, Bacon, Toasted Brioche, Crispy Potato Gateau
(Preserved Tomato, Chives, Goats Cheese, Smoked Salmon, Manchego, Black Forest Ham, Bacon)
Classic Eggs Benedict
Over Toasted Brioche, Grilled Asparagus & Black Forest Ham, Truffle Hollandaise
Hanger Steak
Chimichurri, Fresh Cut French Fries & Classic Béarnaise Sauce
Desserts:
Souffle Au Chocolat
Creme Caramel
Officially reopened for business, the George Trois Group is proud to unveil these two newly re-imagined concepts that uphold the integrity and reverence of French cuisine in a multitude of ways.