If you haven't tried foodora already, now's a good time to do so.  foodora Vancouver has now expanded to three new areas: Commercial Drive, Kitsilano, and Mount Pleasant.  And they're offering free delivery for customers until April 30th.  Today, I indulged in some delicious macarons by French Made Baking, one of the newest restaurants in Mount Pleasant to join the foodora family.  How sweet is that?
Disclosure:  I am a media partner of foodora.  All food in this review was complimentary.  Opinions are my own.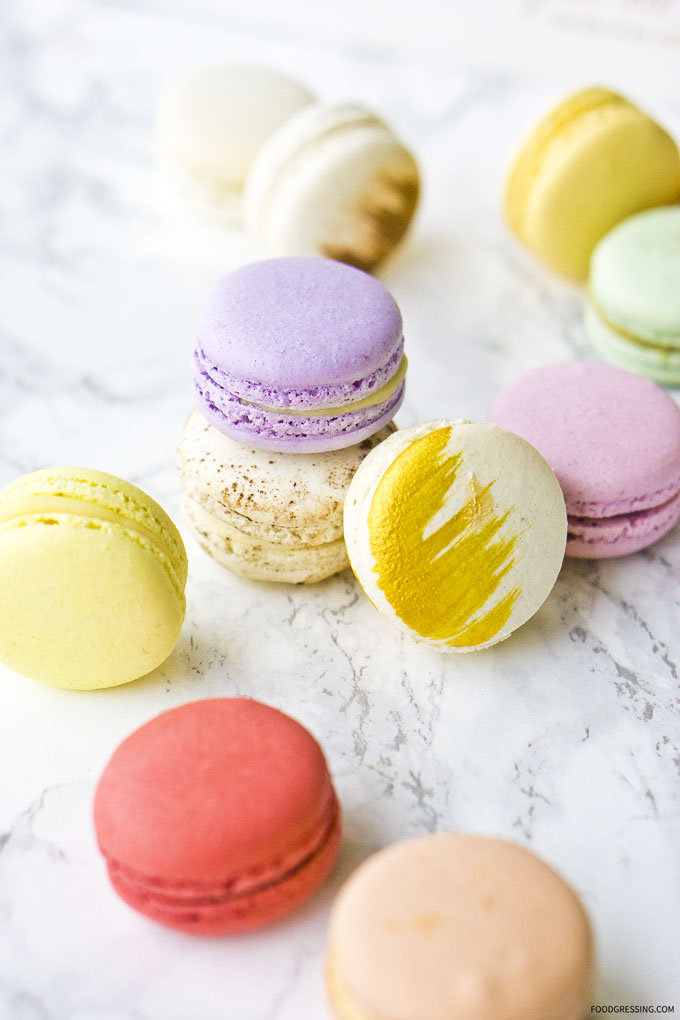 HOW TO PLACE A FOODORA ORDER
Placing an order on foodora is easy as 1-2-3.  Using the foodora app (iPhone or Android) or website, customers can look for restaurants that deliver to their area or offer pickup.  You then place an order, track as it is prepared and receive a delivery or ready for pickup notification in about 35 minutes.  For those getting food delivery, you'll be happy to know that foodora is eco-friendly: they use bike couriers in addition to cars.  I placed my order via the foodora app and ordered one dozen assorted macarons ($24), a plain croissant ($2.95), and a chocolate croissant ($3.50) from French Made Baking.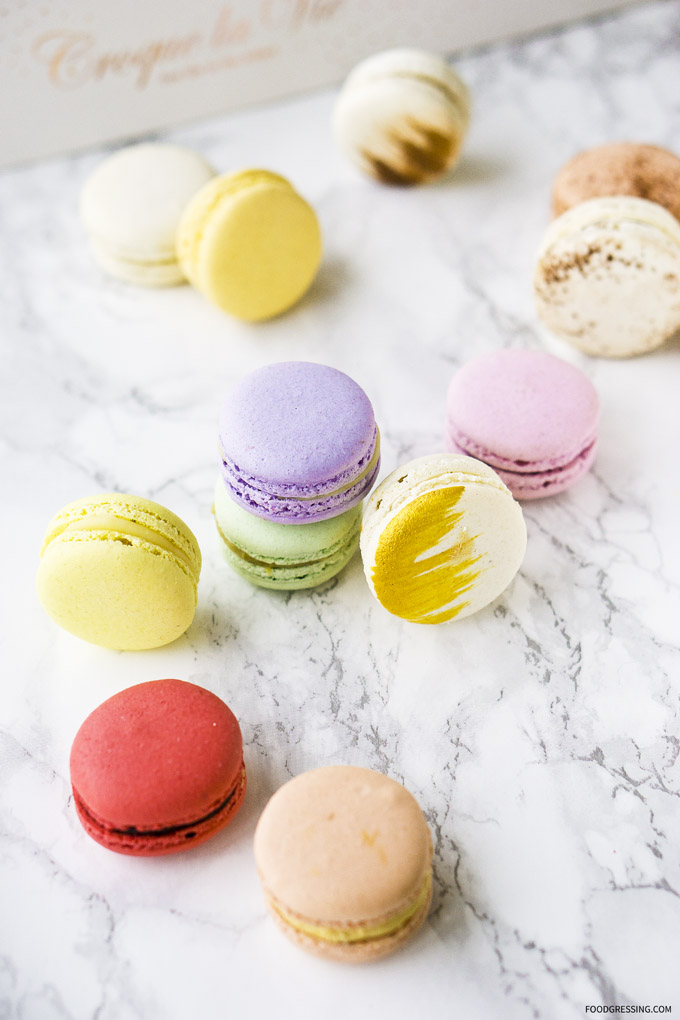 The one dozen assorted macarons came in a beautiful premium gift box.  I received a little guide on the flavours and here is what I think I received at the time of this post:
Amour: strawberry & dark chocolate ganache
L'Anglais: Earl Grey tea infused milk chocolate ganache
Le Breton: salted caramel buttercream & fleur de sel
Citron Intense: lemon & lime white chocolate ganache
L'Oriental: rose & litchi white chocolate ganache
Pistache: roasted pistachio white chocolate ganache
Pure Vanille: vanilla bean white chocolate ganache
Tiramisu: amaretto & coffee mascarpone cream
Tout Choco: Cacao Barry 58% dark chocolate ganache
Brise d'Ete: Yuzu & ginger ganache
The au Lait: Mile Tea ganache (with Assam & Ceylon teas)
Tropical: Passion fruit & vanilla ganache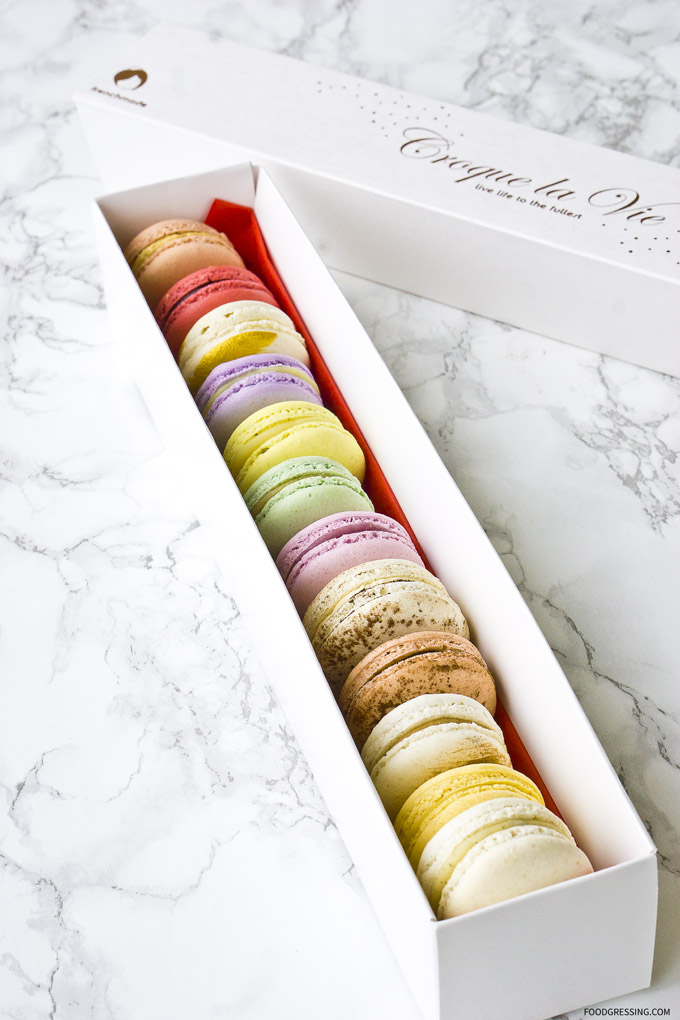 And really, these macarons are just gloriously delicious.  I really liked how their macaron shells were not super delicate such as to break very easily.  They survived my handling during my at-home photo shoot.  Perfect macarons in my opinion.  The outer crust was thin and the cookie texture under the crust was light, a little chewy, soft but not mushy.  The fillings were smooth, firm, light but not sticky.  The macarons also had just the right amount of sweetness (ie, not overpowering).  By the way, I use this guide from Serious Eats on how to determine a good macaron.
As an Earl Grey tea lover, I was blown away by how good the L'Anglais (Earl Grey tea infused milk chocolate ganache).  It is crazy good and you could really taste the Earl Grey flavour.  Highly recommended.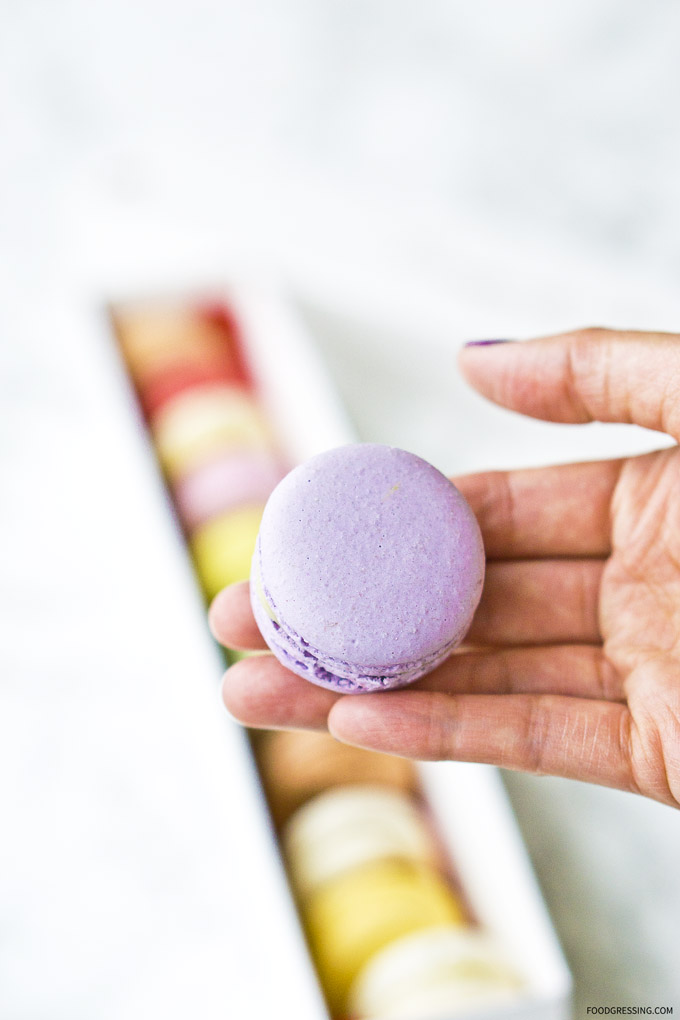 The plain and chocolate croissants were everything they should be.  Buttery, flaky, golden brown and basically the stuff that dreams are made of.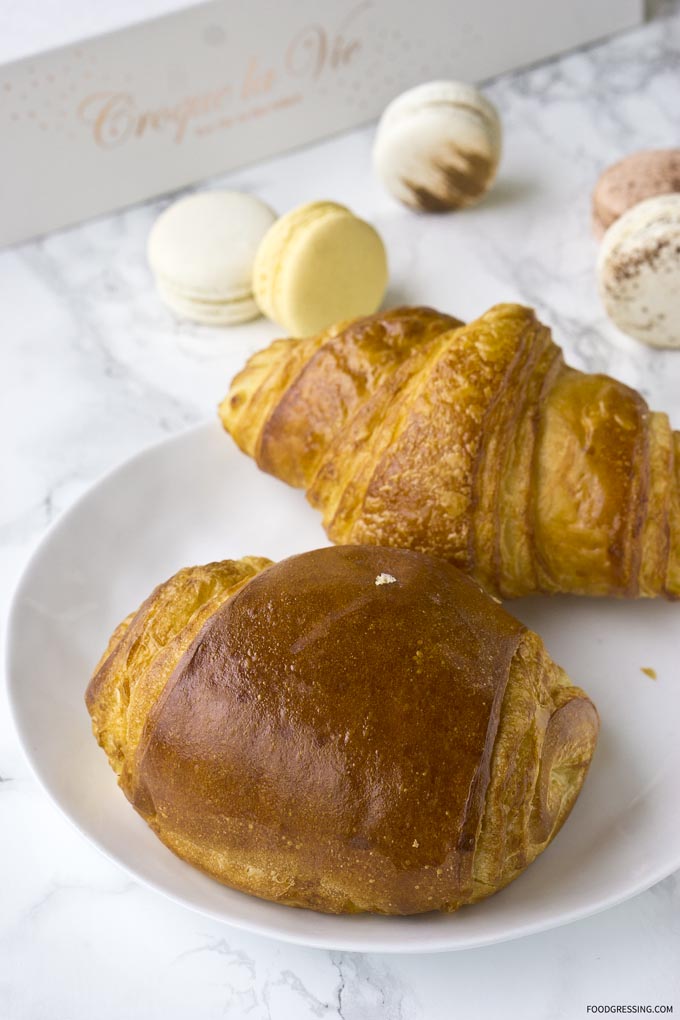 Enjoy the free delivery from foodora while it lasts this month.  Here's an extra incentive: you can receive $10 off your first foodora order with a minimum order of $20 with my referral link: https://bnc.lt/YR5e/QxdZHcjmXL. And if you're looking to satisfy your sweet tooth, French Made Baking is a good place to order from.  Macarons to your door when you need it.