Finch's Tea & Coffee House is a legendary lunch spot in Downtown Vancouver that is known for their European-style, gourmet artisan baguette sandwiches and salads. The place is so popular that they regularly have lineups. I visited Finch's for the first time recently with a friend who works in the area and who goes there for lunch often. I'm normally not a "salad or sandwich for lunch" type of person but I was interested to see what the appeal of Finch's.
Disclosure: None of the food in this review was complimentary. This review is done anonymously.
Old-World Charm
The interior of Finch's exudes an old-world charm. It's all in the details like the vintage dresser, antique chest, distressed wooden floors etc. The staff who operate the cafe seemed young and hipster. Definitely a quirky and kind of artsy sort of place.
Coming in a lunch, there was a lineup of what looked like people who mostly worked in the nearby office buildings. Getting a seat seems to be hard during this time but my friend arrived early enough to save us two seats at one of the communal tables.
What I Tried
Not being much of a sandwich person, I ordered the Prosciutto & Vine Tomato Salad with a free range egg (~$15). I don't like the idea of having too much bread but I could see that Finch's baguettes had a good proportion of filling to bread. My friend had the Avocado & Walnut Salad.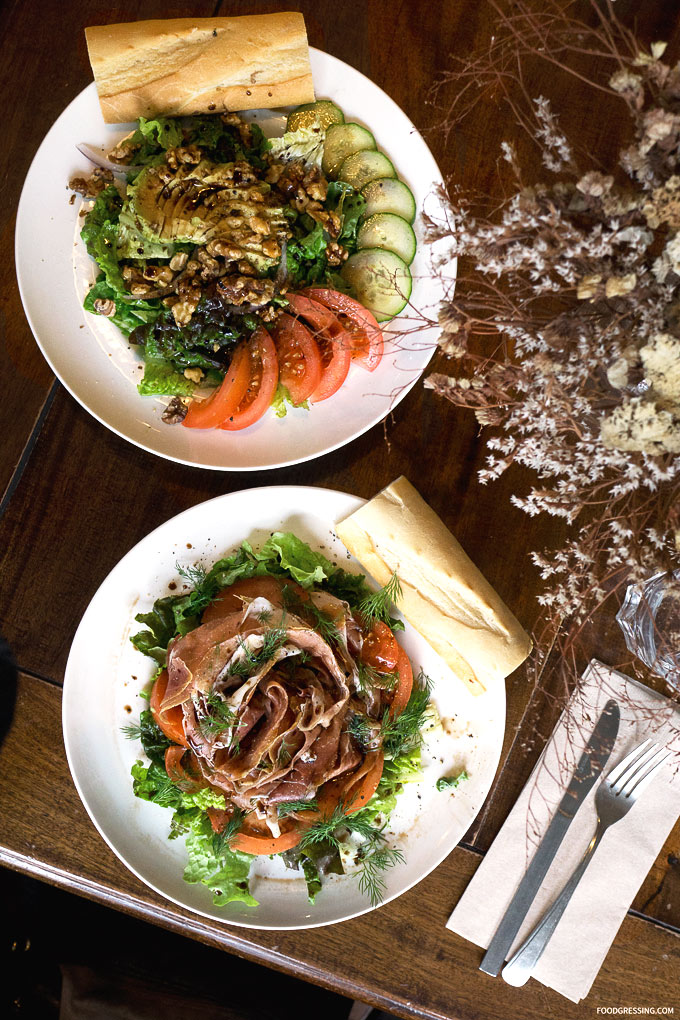 We waited in our seats for the food to arrive which took maybe about 10 minutes. A staff person came into the dining area, called out our names associated with the order and brought the food to us.
After taking a few photos of the food, I noticed that my free range egg was missing from my salad. I went up to the front and notified the staff who gave me the egg afterwards.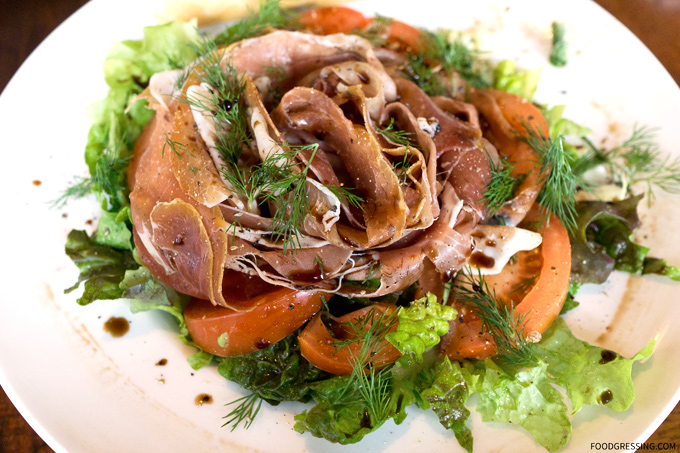 The Prosciutto & Vine Tomato salad came with red onion, red leaf lettuce, fresh dill, extra virgin olive oil and balsamic vinegar. It was also served with buttered baguette. The portions of prosciutto seemed pretty reasonable but I was hoping that it would be arranged more nicely – like in a rose-shape – as I had seen on Instagram. The fresh dill was a nice touch but the perhaps could be cut smaller. The dill had both leaves and stem and they kind of got stuck in my throat. Also, the amount of dill could be less as I felt the salad got too bitter. I end up picking a lot of the dill off. The baguette on the side was a nice touch as a filler item. Sometimes, you can get so hungry from eating salad only.
On the plus side, if you don't want to order coffee or tea, they have self-serve water pitchers at the front.
Ambiance
Finch's is a busy cafe as expected, but sitting at the communal table was a bit weird (depending on who is next to you). My friend and I were chatting over lunch but the lady sitting next to us didn't seem impressed as she was trying to read a book. The hipster staff could be friendlier but perhaps they were just too busy managing a lunchtime crowd.
Overall Impression of Finch's
I thought my Prosciutto & Vine salad was overall OK; it had too much dill but the portions were reasonable and ingredients were fresh. The interior of cute and artsy but the cafe is so busy that it makes it hard to appreciate all these charming details. I personally wouldn't return as sandwiches and salad establishments are not really my thing. Rating: 3.5/5
Finch's Tea & Coffee House
Address: 353 W Pender St, Vancouver, BC
Website: www.finchteahouse.com‎