Easter Holiday 2021 takes place Sunday, April 4. Here's an Easter Vancouver 2021 guide covering things to do during Easter weekend; restaurant offerings and special menus; desserts and treats and more.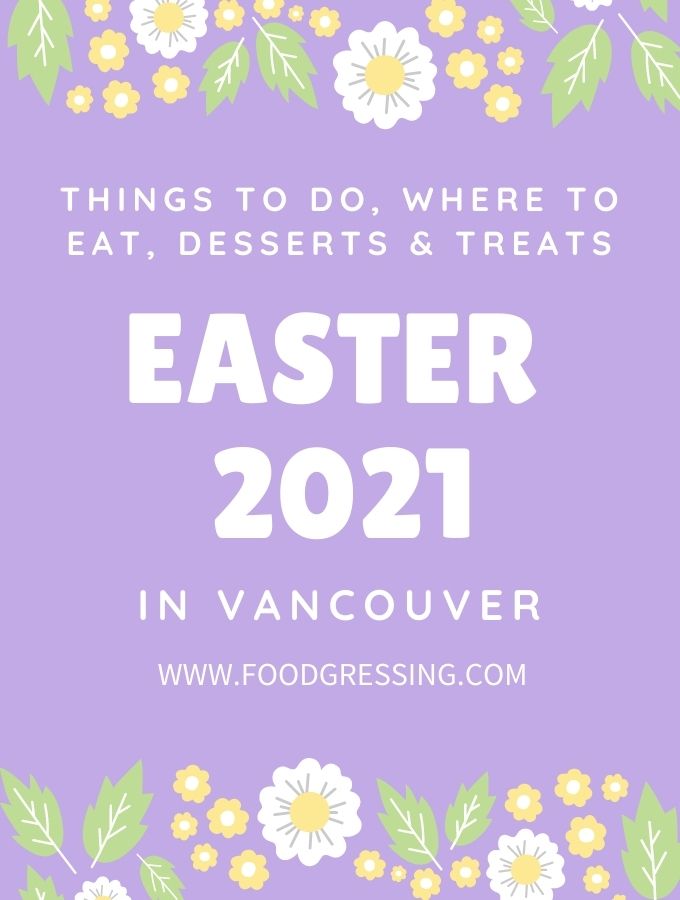 This list is updated as information becomes available. Please reach out to me [email protected] or @foodgressing on social media (Instagram, Facebook, Twitter, TikTok) for any suggestions.
Any support to local businesses is appreciated in these times. Holiday celebrations can take on different forms from traditional, fusion to modern.
Please use this list as an inspiration for ideas on how to put together your own Easter celebration.
Easter Vancouver 2021 Brunch, Lunch, Dinner and Features
Arc Restaurant at Fairmont Waterfront
Arc Restaurant at the Fairmont Waterfront is offering Bottomless Easter Brunch on April 4 and 5 from 9 AM - 1:30 PM.
All the great tasting dishes you know and love from their signature bottomless brunch AND chocolate fondue. Priced at $54 per person, $30 children 6 - 12.
The ARC After Dark: Easter Edition will be exclusively available on Sunday, April 4 and will feature the same lo-fi beats from DJ Remsta and bottomless small plates that have made this a must-try downtown evening destination.
Priced at $64.00 CAD per person, ARC After Dark: Easter Edition will be available for seatings from 5:00pm to 8:30pm.
The Botanist at Fairmont Pacific Rim
The Botanist at Fairmont Pacific Rim is offering a three-course brunch menu developed by Botanist's Executive Chef Hector Laguna and his culinary team.
Available April 3 and 4 from 10 AM - 2 PM, this special holiday menu is available at $78 per person.
Upon arrival guests will enjoy a glass of complimentary sparkling wine and a hand-crafted cocktail from the award-winning Botanist Bar team.
The dining experience kicks off with a selection of starters, featuring options such as a Roasted Squash Salad or Hand-Cut Beef Tartare, followed by main course options like the Baked Sablefish or Slow Roasted Onion Benedict.
For a sweet ending, diners can choose from several spring-inspired dessert options.
Reservations are recommended and can be booked through Opentable.
Dockside Restaurant
Dockside Restaurant on Granville Island is offering a Bottomless Brunch on April 4. The kitchen team will prepare a wide range of brunch favourites which will be ordered from a server. It's all-you-can eat but served a la carte style!
Brunch is $70pp with kids aged 5-10yrs $35pp (18% gratuity will be added to bill). Reservations can be made from 9am-2pm by calling 604-685-7070.
Pat Quinn's Restaurant & Bar
Pat Quinn's Restaurant & Bar in Tsawwassen is offering an Easter brunch on Sunday, April 5. They have various brunch features with gluten-free and vegetarian options.
Bacchus Restaurant & Lounge
Bacchus Restaurant & Lounge at Wedgewood Hotel is offering an Easter Sunday Three-Course Brunch menu featuring Leg of Lamb Roast; Apple-Wood Smoked Salmon Benedict; Gently Steamed Haida Gwaii Halibut and more! Live piano entertainment.
First Seating: 11:30 AM, 12 PM, 12:30 PM. Second Seating: 1:30 PM, 2 PM, 2:30 PM. $65 per person.
H Tasting Lounge
H Tasting Lounge is offering an Easter Afternoon Tea on Sunday, April 4 from 12 PM - 3 PM.
The patio at H Tasting Lounge at the Westin Bayshore has launched "Secret Garden" - a captivating botanical garden and dome dining experience to celebrate spring.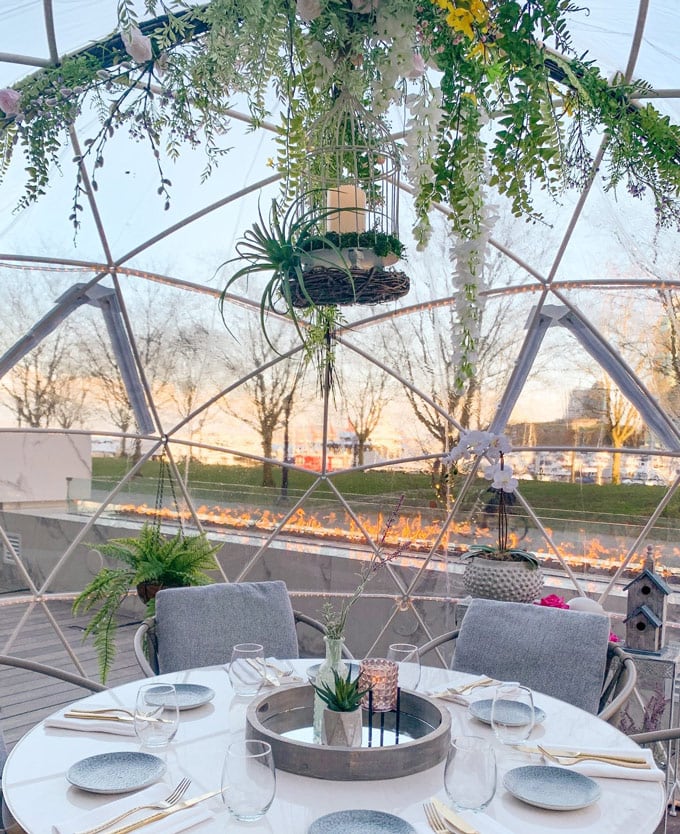 Indulge in light bites and cocktails that infuse local ingredients and vibrant flavours of the spring season while basking in the serenity of the natural surroundings.
Reserve your spot for the H Tasting Lounge Secret Garden experience on Tock.
H2 Rotisserie & Bar
H2 Rotisserie & Bar at the Westin Bayshore is offering an Easter Lunch on April 4 from 12 pm - 2 pm. $65 per person.
The Sandbar
The Sandbar will kick-off the seasonal celebrations with a savoury Lobster Benedict feature dish on its brunch menu, available throughout the Easter weekend on Saturday, Sunday and Monday.
Guests will also be able to partake in the waterfront restaurant's signature Seafood Boil on both Sunday and Monday evening; the southern-inspired seafood feast for two includes a full pound of mussels and clams, jumbo prawns and two lobster tails served in a rich Old Bay broth with andouille sausage, potatoes and local corn on the cob.
With False Creek views and live music offered nightly in the lounge, The Sandbar's welcoming waterfront dining room is an ideal choice for warm family gatherings.
Cardero's
Waterfront dining and live entertainment from local musicians will also be available during Easter weekend at Cardero's in the Coal Harbour marina.
Known for its elevated pub classics and lively atmosphere, the scenic neighbourhood spot overlooks the Burrard Inlet and North Shore Mountains.
During the Easter weekend, guests at Cardero's can tuck into a traditional Lamb Shank feature dish in addition to the restaurant's popular Sunday Night Prime Rib dinner, which includes mashed potatoes, seasonal vegetables, Yorkshire pudding and creamy horseradish.
Cardero's brunch menu will also include a spring-inspired Green Eggs & Ham feature dish available on both Sunday and Monday.
Seasons in the Park
Those who want to enjoy an intimate Easter meal in an enchanting setting can visit Seasons in the Park (one of Vancouver's most romantic restaurants) to dine amidst the springtime splendor of Queen Elizabeth Park.
Specializing in regional West Coast cuisine, Seasons in the Park offers an elegant-yet-relaxed ambiance paired with panoramic views of the park's lush landscaping.
In addition to a signature slow-roasted Sunday Prime Rib dinner, Seasons in the Park will also serve a Grilled Veal T-Bone & Prawns feature dish throughout the Easter weekend and a Crab Cake Benedict special on the brunch menu, which will be on offer from Good Friday through to Easter Monday.
Moxie's
Moxie's is offering a special three-course Turkey Dinner on April 4 and 5.
Their Easter feature menu will be available through pre-ordered phoned-in pick-up, or dine-in service at a participating Moxie's restaurant location.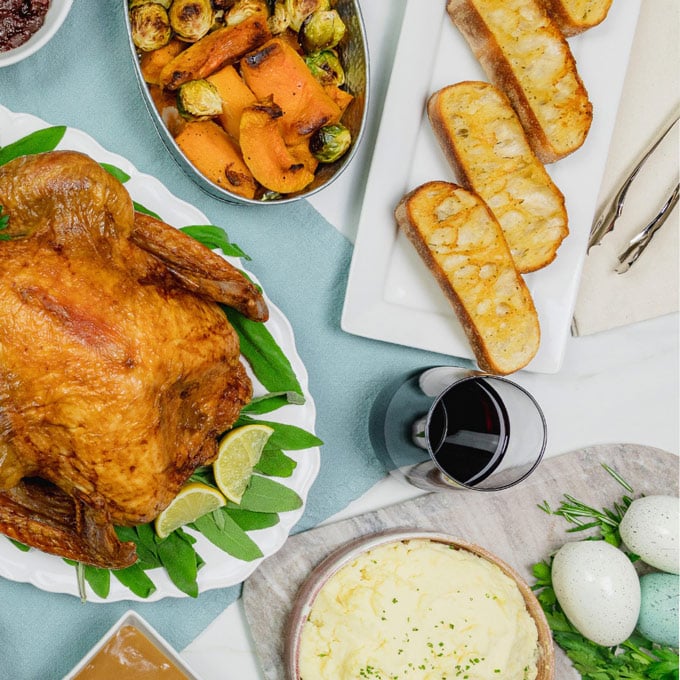 The Moxie's Easter Menu is $30 per person and is highlighted by Roasted Turkey Dinner, with tender carved turkey, savoury bread stuffing, buttered mashed potatoes, fresh seasonal vegetables, cranberry sauce & gravy.
Each dinner also includes a starter Caesar Salad and a White Chocolate Brownie bite for dessert.
All Easter Dinner pick-up orders must be placed by Thursday, April 1st at 12pm local time for pick-up on April 4th & 5th. To pre-order, please call the Moxie's location nearest you.
Participating Moxie's restaurant locations are open for seated dining service and are pleased to be offering the Easter feature menu on April 4 and 5.
Boulevard Kitchen & Oyster Bar
Boulevard Kitchen & Oyster Bar is offering a three-course menu ($68 per person) for brunch and dinner on April 4 bursting with fresh seafood and early spring ingredients.

Menu highlights include:
First of the Season Halibut, prepared with asparagus, tiroler bacon, poached button mushroom, English peas, sauce Normande
Brant Lake Wagyu Beef Carpaccio, a decadent yet delicate starter with pickled shiitake and lively soy-lime vinaigrette
Lamb Duo that nods to Mediterranean influences showcasing premium Te Mana lamb sirloin charcoal grilled and a ground shoulder merguez.
Pastry Chef Kenta Takahashi prepares two tempting treats for dessert, a Raspberry Caramel featuring a raspberry curd, milk chocolate mousse and crunch and caramel, which delivers the perfect balance of sweet and tart. Alternatively, his Passionfruit Tart presents playful layers of toasted marshmallow and butter crust.
For the little ones, the newly launched three-course Kids' Menu will be available for $39. Boulevard's Raw Bar will be fully stocked, and Caviar Service will be available for those looking to indulge further.
Reservations can be made by calling 604-642-2900 or via OpenTable. The full menu can be viewed here.
Glass House Estate Winery
Glass House Estate Winery (Langley) is hosting an Easter Dinner. $65 per person, $18+ for wine pairings. Seatings at 5 PM and 7:30 PM on April 4.
Minami
Minami has an Easter Zen Lunch for dine-in or takeout. Available exclusively April 2-5, during lunch only. Priced at $49 per person.
The menu includes:
ZEN: Aburi Sweet Gem Caesar Salad, Saikyo Miso-Sakekasu Baked Sablefish, Koji Compressed Pork and Chicken Nanban Duo, Miso Soup
ABURI SUSHI: Aburi Salmon Oshi, Ebi Oshi, Saba Oshi, Ikura Gunkan, Tamagoyaki-Hickory Smoked Bacon Nigiri, Red Wave Roll, Nanohana Goma-ae Inari
DESSERT: Feature Coconut Mango Mousse
Five Sails
Five Sails is offering an Eggs and Caviar Brunch on April 4 & 5, featuring a selection of beautifully prepared breakfast entrees paired with caviar, dessert platters and a feature champagne list and a gorgeous Easter champagne cocktail.
Trattoria
Trattoria (Kitsilano, Burnaby, Park Royal) is offering an Easter Weekend Brunch Platter ($25 for 2 people).
It features Smoked Salmon Eggs Benedict, Cinnamon Maple French toast with candied walnuts and Bacon, Meatballs, Forno Bread, Mista Salad and Trattoria Breakfast Potatoes.
Black+Blue and The Roof
On Easter Sunday, The Roof will be open at 11:30 AM onwards. Guests will be able to enjoy special brunch features and Black+Blue will be open at 4PM for Sunday Prime Rib Dinner.
Glowbal Restaurant
Glowbal Restaurant is offering a special Easter Sunday brunch on April 4 from 10:30 AM to 3:00 PM.
Enjoy a special brunch menu for $39 per person and half priced for kids under 12.
Start with complimentary mini donuts and fruit smoothie shooters and each table will be filled with candy and each kid will be gifted a bag of cotton candy to take home with them.
The menu includes:
Appetizers
House Brioche Avocado Toast: Chilliwack Honey, Toasted Pine nuts, Black pepper, Arugula OR
Fresh Burrata Cheese: Beetroot Mostarda, Modena Balsamic, Toasted Rye sourdough OR
Smoked Salmon Gravlax, Horse radish Creme fraiche, Dill-Cucumber Salad OR
Lacinato Kale Salad, Lemon Buttermilk Vinaigrette, Almonds, Grapes, Parmigiano-reggiano
Entree
Seafood Eggs Benedict, Herb butter Sautéed Prawns & Crab meat, Sundried Tomato, Hollandaise, Crispy potatoes OR
Black Truffle Scrambled Eggs, Patatas Bravas & Aioli, Chives OR
Braised Wagyu Beef & Hash, Kale, Wild mushrooms, Grilled pepper, Kennebec Potatoes, Mustard Aioli OR
Glowbal French Toast, Walnut Mascarpone Cream, Salted Caramel Glaze
Add Ons
Half Lobster +$24
Seared Quebec Foie Gras +$25
Freshly Grated French Black Truffle +$16
Dessert
Cheesecake, Spiced Orange, Crunchy Meringue OR
Swiss Roll Carrot Cake, Cinnamon Cream cheese, Creme Anglaise
Italian Kitchen
Spend your Easter weekend (April 2 - April 4) with IK's special features:
Prawn Crudo & Organic Beet Carpaccio with lemon puree, pickled fennel, blood orange segments and peppery greens $19
Ricotta & Spinach Tartlet with fresh figs, parma prosciutto, arugula and vincotto $17
Herbed Crusted Lamb Rack with mushroom & fontina arancini, heirloom carrot puree and salsa verde $49
Stuffed Branzino with prawn & scallop mousse, fingerling potatoes, caponata, aqua pizza sauce $47
Zuppa Ingress with chocolate & vanilla custard, alchermes soaked sponge fingers, marzipan & chocolate truffle eggs $13
Ancora Waterfront Dining and Patio - Falsecreek
At Ancora's Falsecreek location, Executive Chef Sebastian Delgado's special Easter two-course lunch ($44 per person) and three-course dinner ($55 per person) menus beautifully display Ancora's signature Peruvian-meets-Japanese Nikkei cuisine.
Guests can indulge in dishes such as Prawn Causa with avocado mousse and panca emulsion, Papa A La Huancaina Salad with romaine hearts and soft-boiled egg, and Forbidden Rice Seafood Paella with Peruvian corn and sablefish croquettes.
Choose between Picarones with pecans, spiced syrup, and ice cream or daily selection of Sorbet for dessert.
"Easter in Peru" is the feature cocktail created by Bar Manager Kam Tabarraee in honour of the holiday.
This captivating drink showcases Tacama Albilla Pisco, white crème de cacao, Frangelico, cacao nibs-infused green tea, and a dash of raspberry-and-lemon shrub.
It is then served in a chocolate-rimmed martini glass lined with two whimsical chocolate-covered grapes, which resembles chocolate Easter eggs.
Ancora Waterfront Dining and Patio - Ambleside
Ancora Ambleside's Executive Chef Jorge Kim is presenting vibrant two-course lunch ($44 per person) and three-course dinner ($55 per person) Easter menus, just in time to ring in springtime.
Diners can choose between tasty plates such as Crab Causa with quail egg, huancaina sauce, and crispy yam; Grilled Romaine Hearts with soft boiled egg; Cast Iron Paella with scallops, prawns, mussels, and chorizo iberico; and Roasted Rack of Lamb with garlic-butter quinoa crust, yam-and-squash purée, and chimi churri.
End the meal with sweet finishes that includes Roasted Rhubarb with whipped yogurt and rhubarb compote, or a daily selection of Sorbet with fresh fruit.
Papi's Seafood and Oyster Bar
Bar Manager Katie Slacks at Papi's Seafood and Oyster Bar has created a special Easter cocktail for drink enthusiasts: the Modern Bunny ($13).
This libation is a riff of another classic cocktail known as the 20th century—Papi's version features orange-infused gin, Lillet Blanc, white crème de cacao, lemon juice, a dash of orange bitters, garnished with a slice of Terry's chocolate orange. This festive creation will be available April 4th and 5th.
Besides mouthwatering drinks and gorgeous views of English Bay, guests can enjoy a Sunday Prime Rib Roast feature with crab Oscar sauce during the Easter Weekend.
Denny's
Participating Denny's is offering an Easter Turkey Dinner ($62.99, serves 4 people) available for pickup or delivery April 2 – 5.
The package includes tender carved turkey breast, savoury stuffing, garlic red-skinned mashed potatoes, turkey gravy, cranberry sauce and your choice of broccoli or sweet petite corn. Pick up cold and reheat at home.
Please check on whether the package is offered at your local Denny's.
Cibo Trattoria
Cibo's popular brunch service is perfect for couples and families, and features a can't-miss $15 food menu that's perfect for Easter.
Dig into delicious items such as Banana Cream Pie Pancakes with loads of whipped cream, Tiramisu Stuffed French Toast with mascarpone cream and ladyfinger crumble, Salmon Benedict with Artic-char caviar and whipped ricotta, as well as The Veneto made with Polenta hash, sausage, and cherry tomato.
A build-your-own mimosa tray ($30) that includes a bottle of prosecco and selection of daily juices is the perfect pairing for this morning meal.
Cibo's brunch service is available on weekend and statutory holidays from 10 am to 2 pm.
Reservations can be made by calling 604-602-9570 or booking online.
The Met Bar & Grill
Toast to the Easter Weekend with The Met's famous $5 Brunch, which includes all the tasty fixings such as eggs, bacon or sausages, hash browns, and golden toast.
The Met's morning cocktails, including a Caesar and mimosa, are ideal drink pairings for brunch.
For dinner, enjoy a $15 Roast Beef Dinner and $5 Budweisers to wind-down the holiday weekend.
Fable Diner
For the Easter weekend, Fable Diner will be offering a special Family Meal from April 1 - April 3 available for takeout and delivery. Pre-order online or by call 604-563-3463.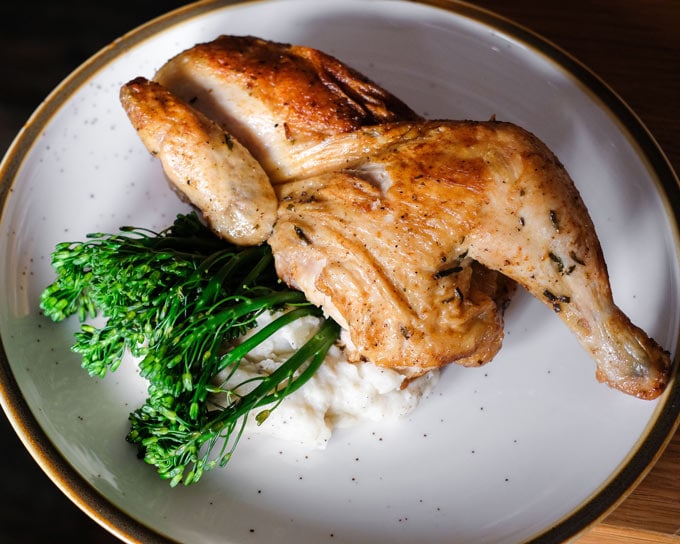 Enjoy a Roast Chicken dinner with featured salad (mixed local greens with house-made apple cider vinaigrette), mashed potatoes, seasonal vegetables and 4 house-made ice cream sandwiches (delicious chocolate chewy cookies made with rye flour) for $50.
Easter Meals to Go Vancouver 2021
Edge Catering
Edge Catering has a variety of take home dinners and brunch options.
All orders must be placed by March 30 4 PM. Pickup available Saturday April 3 between 10 AM - 4 PM.
Pickup: Edge Catering - located at 1927 East Hastings Street (at rear entrance off Victoria)or by pre-arranged delivery for an additional charge.
Easter Lamb Dinner for 2 ($90) or 6 ($240)
Sous-vide grilled garlic and rosemary lamb shoulder (pre-sliced), fresh mint pesto, Spring organic greens with fresh berries, celeriac and potato pave, asparagus & heirloom rainbow carrots, choice of Strawberry galette with vanilla Chantilly cream OR Raspberry rhubarb upside down cake with vanilla creme anglaise. Bonus Purdy's chocolate bunny duo.
Easer Ham Dinner for 2 ($70) or 6 ($180)
Canadian maple-glazed ham (pre-sliced), port infused fig mostarda, Spring organic greens with fresh berries, celeriac and potato pave, asparagus & heirloom rainbow carrots, choice of Strawberry galette with vanilla Chantilly cream OR Raspberry rhubarb upside down cake with vanilla creme anglaise. Bonus Purdy's chocolate bunny duo.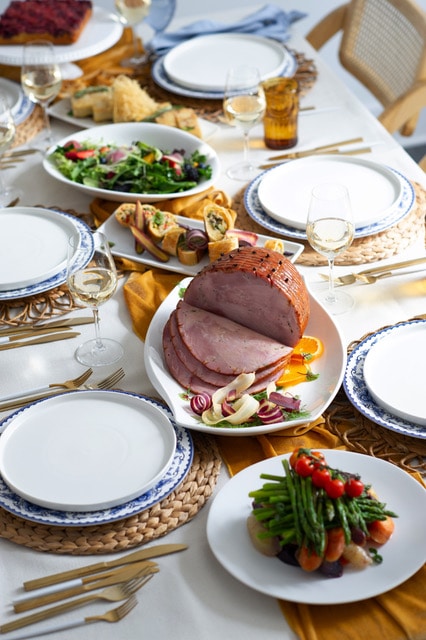 Easter Vegetarian Dinner for 2 ($70) or 6 ($180)
Vegetarian Strudel - crispy pastry wrapped vegetable medley, lentils, smoked red pepper sauce, Spring organic greens with fresh berries, celeriac and potato pave, asparagus & heirloom rainbow carrots, choice of Strawberry galette with vanilla Chantilly cream OR Raspberry rhubarb upside down cake with vanilla creme anglaise. Bonus Purdy's chocolate bunny duo.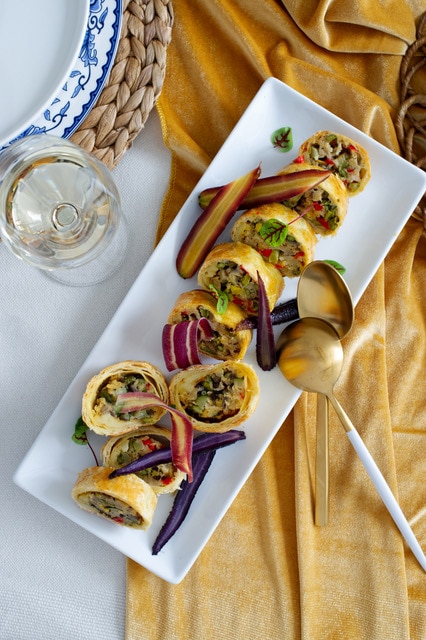 Easter Brunch for 2 ($40)
2 Springform pan rustic Quiche - choice of double smoked bacon and gruyere OR roasted butternut squash, asparagus and chevre (vegetarian), Caprese salad - pearl bocconcini and cherry tomato, orange poppyseed loaf. Make for a sunnier brunch - Add a Mimosa!
Easter Mimosa for 2 ($15)
Make your Easter morning even brighter with a Mimosa for 2 - 500 ml sparkling wine, Simply Orange fresh orange juice
Easter Cookie Decorating Kits (6 cookies $30, 12 cookies $50)
Great activity for Little and Big kids - self contained DIY cookie decorating kit with 6 sugar cookies in Easter shapes, pastel icing piping bags, colorful sprinkles.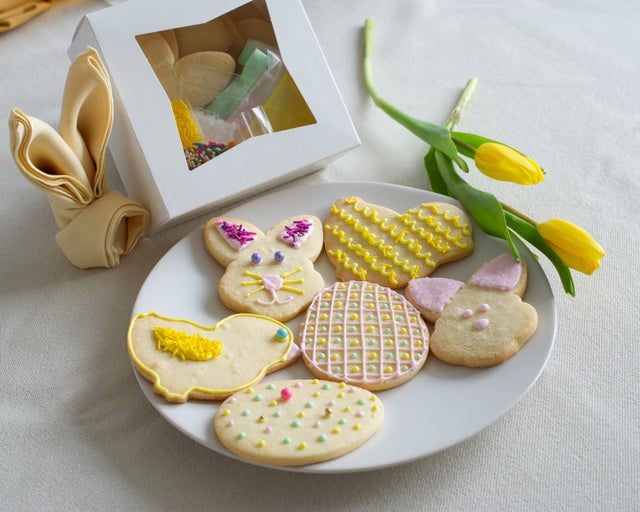 Belgard Kitchen
Belgard Kitchen is offering an Easter Meal Kit ($40 serving two people). Available for pickup April 2, 3, and 4.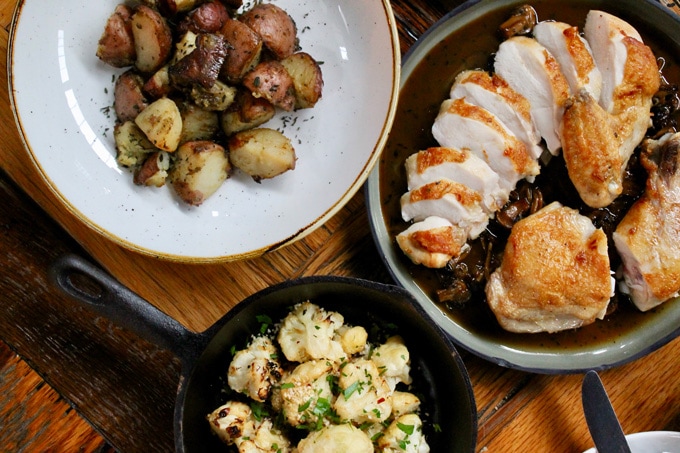 This year's menu is arguably their best yet:
Roasted Half Chicken
Honey Glazed Ham
Apple Mustard Gravy
Maple Roasted Root Vegetables
Rosemary Goat Cheese Bread Pudding
Herbed Baby Potatoes
Butterscotch Panna Cotta
Along with written instructions, a link to a YouTube video will be provided for chefs/diners to follow along at their own pace and revisit steps as needed.
Pacific Institute of Culinary Arts
Pacific Institute of Culinary Arts (PICA) is offering a four-course Easter Dinner To-Go menu. Priced at $45 per person and available for preorder until April 1. Pickup on April 3 and 4.
Hot Crossed Buns
Grilled asparagus with smoked salmon and lemon dill cream cheese
Maple bourbon glazed ham with pineapple salsa

Salad of warm baby potatoes, snap peas, and English peas
Roasted baby carrots with chimichurri

Molten Chocolate Cake
Mini Easter Eggs
Railtown Catering
Railtown Catering is offering Easter To-Go packages, available for pickup or delivery on April 4 and 6.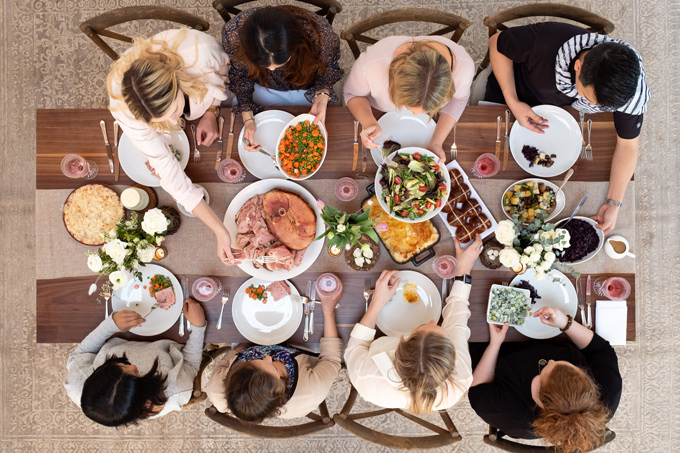 The festive feasts are available in both small (feeds 4-6) and large (feeds 8-10) sizes for $199 and $339 plus tax, respectively.
Hot, ready-to-eat packages are also available for an extra charge of $50. Additional side dishes are available on an a-la-carte basis.
The menu includes:
Honey-Glazed Bone-in Ham with House-made Caraway Mustard (pre-sliced)
Organic Spring Greens with Asparagus, Haricots Vert, Grape Tomatoes, Marinated Artichokes, Toasted Almonds and Sherry Vinaigrette
Cucumber Salad with Fresh Dill and Sour Cream Dressing
Scalloped Potatoes with Gruyère Cheese
Buttered Sweet Peas and Baby Carrots with Mint
Braised Red Cabbage
Roasted Root Vegetables with Caramelized Shallots, Mushrooms and White Asparagus
Hot Cross Buns with Whipped Butter
Classic Rhubarb Crumble with House-made Vanilla Ice Cream
New this year, the Railtown chefs will be preparing a Rosemary-Crusted Lamb Leg, available as a premium add-on.
This traditional Greek Easter protein is a cut above the rest, prepared medium alongside a mustard lamb jus. The lamb leg is available in two sizes, small (feeds 4-6, for $69.00), and large (feeds up to 10 for $119).

All orders must be placed by 10:00 am on March 31. Packages are available for pickup at Railtown Cafe's flagship location, 397 Railway Street in Vancouver, on April 4 or April 5, from 10:00 am – 5:00 pm.
Delivery will be available throughout the Lower Mainland for an additional charge.

Railtown Catering will be offering a special early bird offer; those that reserve a package before March 23, will receive a $40.00 Railtown Cafe gift card. Both small and large package orders are applicable to receive the early bird incentive.

As with all of Railtown's holiday offerings, a portion of the proceeds from the sale of each Easter To-Go package will be donated directly to Mission Possible, a non-profit charity providing street-level care for those with immediate and critical needs in Vancouver's Downtown Eastside neighbourhood.

Orders may be placed by calling 604-568-8811 or online.
el Santo
With Spring blooming and a new collaboration with Marcela Ramirez, a well-known culinary figure in Mexico, el Santo in New Westminster will be offering a feature Easter family style takeout dinner Sunday, April 4th.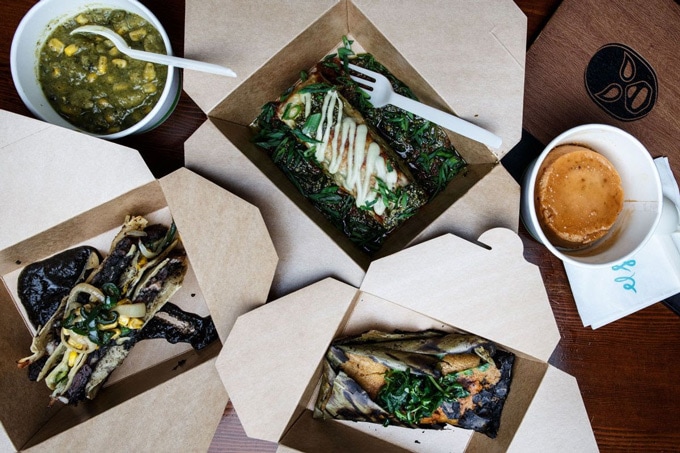 The takeout Easter menu will highlight some of Marcela's dishes shaped by her roots in Mexico.
Featuring four courses, the Easter family style takeout dinner includes:
Chileatol, a chicken and Poblano chili broth fused with Veracruz traditions
Choice of a chicken Tamal or refried pinto beans and Oaxaca Tamal
Cheese and rice filled Chile Relleno or el Champandongo, a dish layered with corn tortilla, braised pork, Poblano slices, and topped with black huitlacoche.
Guajillo flan made with Mexican vanilla and brown sugar caramel.
Vegetarian option available
Priced at $76 for 2 or $140 for 4, this unique menu takes taste buds on a brief traditional culinary journey of Mexico in the comfort of home.
Boulevard Kitchen & Oyster Bar
Boulevard Kitchen & Oyster Bar is offering the following Easter to-go packages:
Slow-Roasted Leg of Lamb
tarragon, shallot, garlic, potato gratin, broccolini, radish, fennel, lamb jus
$235, feeds four people

Boneless Prime Ribeye Roast
porcini salt, Yorkshire pudding, potato gratin, broccolini, radish, fennel, horseradish cream, thyme jus
$265, feeds four people

Both indulgent offerings come complete with the signature BLVD Corn Bread, a sensational spring Asparagus Soup featuring sweet Dungeness Crab and tarragon cream and a Raspberry Caramel dessert.
Easy-to-follow printed cooking instructions accompany Boulevard's Easter To-Go kits.
Easter To-Go will be available for pickup from Boulevard on April 2, 3 and 4, orders must be placed via Tock. The full menu can be viewed here.
Hy's Steakhouse
Hy's Steakhouse is offering an Easter Take-Home Package. Priced at $395 and serves 4 people.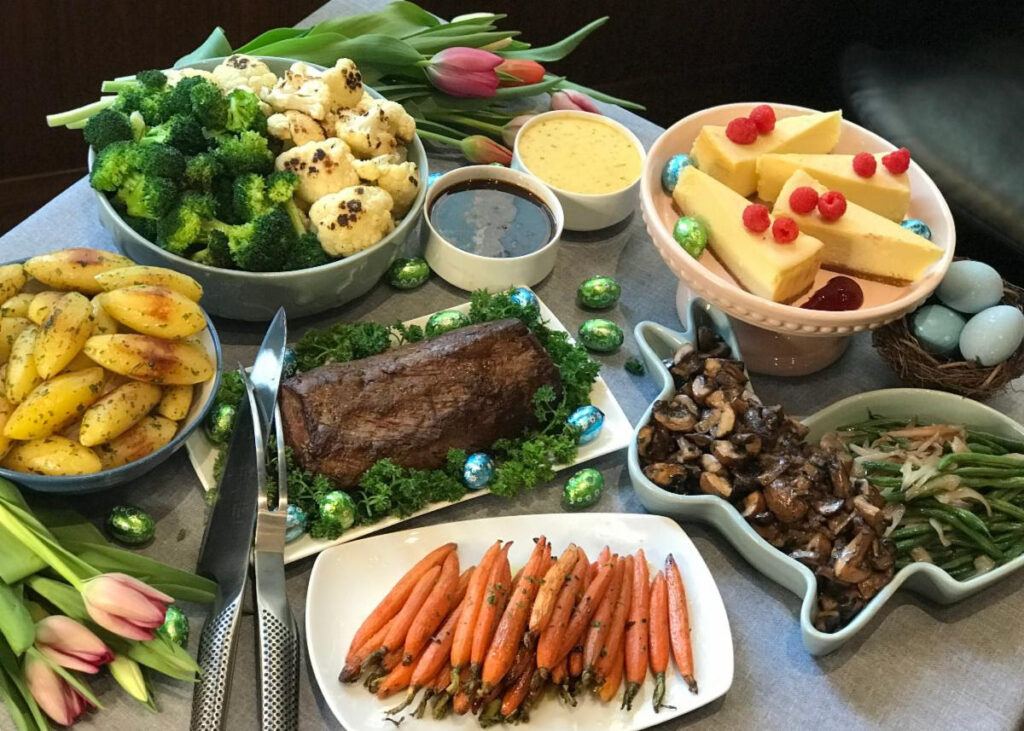 Available exclusively for take-out from Tuesday, March 30 to Monday, April 5 inclusive for takeout and delivery through Uber, Skip and Door Dash.
Packages may be ordered via hyssteakhouse.com or by calling the location directly.
The menu includes:
Cheese Toast
Caesar Salad, creamy garlic anchovy dressing, grana Padano cheese, house made croutons
Classic Chateaubriand

32 oz. Canadian Prime Filet of Beef Tenderloin
Broccoli & cauliflower with lemon & olive oil
Roasted carrots & green beans with shallots
Sauteed mushrooms & chateau potatoes
Chef's bearnaise sauce & red wine jus

White Chocolate Raspberry Cheesecake, shaved white chocolate, raspberry coulis & fresh berries
Gotham Steakhouse & Bar
Gotham Steakhouse & Bar is offering an Easter Feast Package. Priced at $325 and serves 4 people.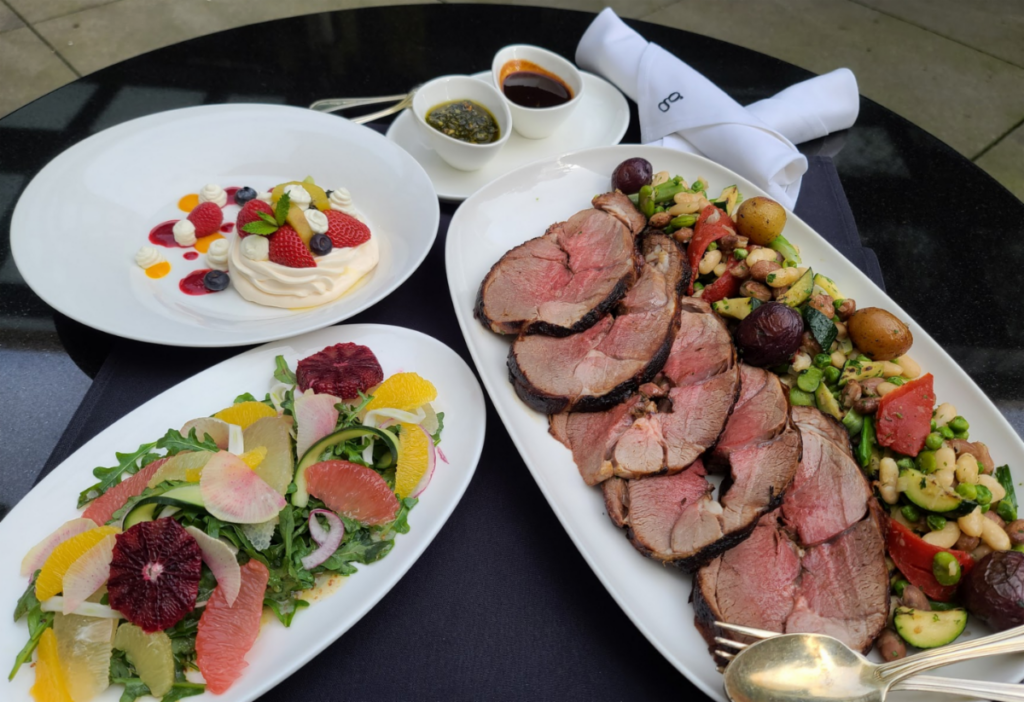 Available exclusively for take-out from Tuesday, March 30 to Monday, April 5 inclusive for takeout and delivery through Uber, Skip and Door Dash.
Packages may be ordered via gothamsteakhouse.com or by calling the location directly.
The menu includes:
Fresh Citrus Salad, baby arugula leaves, blood orange, pink grapefruit, pomelo & lemon, pickled fennel, cucumber & sweet red onion, macadamia dust & honey Dijon vinaigrette
Roast Leg of Lamb & Spring Succotash, organic New Zealand lamb, fava beans, baby green peas & zucchini, piquillo peppers & fresh herbs, roasted nugget potatoes, mint pesto & lamb jus
Pavlova, baked meringue filled with French custard, fresh berries, kiwi & mint, berry coulis & whipped cream
Hawksworth Restaurant
Hawksworth Restaurant is offering an Easter Lamb Wellington Dinner for 4 people ($317.40). Available for pickup April 2 - 5. Order by March 26 at 5 PM.
The menu includes:
Spring salad
cucumber, easter radish, pickled fennel,
champagne vinaigrette
Lamb wellington
lamb saddle rolled in crepe, wrap with puff pastry,
sautéed carrots, fingerling potatoes, lamb jus
Easter eggs
dark valrhona 70% chocolate easter eggs,
filled with mignardises
soft caramels, passion pate de fruit, lavender marshmallow
White Spot
White Spot Easter Dinner 2021 features a single Turkey Dinner for $19.99 OR order ahead, their Heat & Serve Turkey Dinner For Two including all the same fixings plus an Apple Pie to share for only $39.99. Available March 29 - April 5.
Say Mercy!
Say Mercy! is offering a Collective Goods Braised Lamb Shank Kit which feeds 4.
It consists of 2 Braised Lamb Shanks with Creamy, Cheesy Polenta and a Mint Pesto, alongside Marinated Artichokes, Caesar Salad, and Say Mercy's well-known-extra-buttery Parker House Rolls. *Please note : this kit contains dairy + gluten.
Chef Sean Reeve has carefully put all the components together with easy instructions to help you prepare it all with a low degree of difficulty! Oui Chef.
Pickup is on Saturday, April 3 from the front of Say Mercy! (4298 Fraser Street) between 1 PM - 3 PM.
Truffles Fine Foods
Truffles Fine Foods is offering Easter Dinner to Go for 4 people ($160). Available April 3 & 4 for pickup between 11 AM - 3 PM at 8286 Sherbrooke Street, Vancouver.
The menu includes:
Choice of One Entrée
Honey Glazed Ham
with apricot chutney
OR
Baked Salmon
with lemon caper salsa verde (additional $20)
OR
Leek & Artichoke Pie (Vegan)

Comes With the Following Sides and Salad
Scalloped Potatoes
Roasted Baby Carrots
Sugar Snap Peas with Butter & Fresh Parsley
Arugula Salad with Shaved Parmesan and Apple Cider Vinaigrette

Comes with the Following Dessert
Caramel Chocolate Fudge Cake
with chocolate nest
Pacific Yacht Catering
Pacific Yacht Catering is offering an Easter Dinner for 2 ($76) or for 4 ($149). Available April 2 and 3.
The menu includes:
Roast Rack of Pork Stuffed with Apples & Celery, apple sauce with cinnamon and Dijon mustard cream sauce
Loaded Mashed Potatoes, cheddar and grilled spring onions
Spring Salad, Sole Food Farms spring greens and a pumpkin seed pesto dressing
Collard Greens, paprika and garlic butter
Roast Fennel and Purple Beetroot, herbs and extra virgin olive oil
Uprising Breads Hot Cross Buns (6)
Traditional Crème Caramel, dulce de leche sauce
They also have Roast Stuffed Pork; Loaded Mashed Potatoes; Collard Greens; Roasted Fennel + Beetroot; Hot Cross Buns; and Creme Caramel.
Notch8 at Hotel Vancouver
Celebrate Easter from the comfort of your own home with an impressive Easter to-go dinner (serves 4 people) from Fairmont Hotel Vancouver's Executive Chef David Baarschers. Detailed re-heating instructions included.
Order by Monday, March 29 at 12 PM. Available for pickup April 3 from 10 AM - 4 PM.
Easter Prime Rib Dinner To-Go Includes:
Potato and Leek Soup (1 liter)
Prime Rib - (Approx. 1 kg total)
Yorkshire Pudding
Green Beans with Olive Oil Soffritto
Roast Tri Colour Potatoes
Horseradish, Dijon Mustard, Jus
Dulce de Leche Cheesecake - Gluten free chocolate brownie base, chocolate ganache (4 slices)
Price: $310
Easter Ham Dinner To-Go Includes:
Potato and Leek Soup (1 liter)
Emperor Ham (Approx. 1 kg total)
Yorkshire Pudding
Green Beans with Olive Oil Soffritto
Roast Tri Colour Potatoes
Horseradish, Dijon Mustard, Jus
Dulce de Leche Cheesecake - Gluten free chocolate brownie base, chocolate ganache (4 slices)
Price: $258
forage
forage has an Easter 3-course take out meal box (served hot or cold - pickup from April 2 - 4 from 3 PM - 5 PM. Priced $55.
Beetroot hummus, Hannah Brook spring mix, courtenay cheddar, rose vinaigrette, paprika dusted crispy chickpeas, camelina oil.
Option 1:
JD farm turkey, gelderman farm honey ham, Italian sausage and pickled chanterelle mushroom stuffing, celeriac pomme puree, roasted vegetables.
Option 2:
Moroccan style braised Peace Country lamb shank, celeriac pomme puree, harissa, roasted vegetables, pine nuts.
Golden Ears Neuchatel cheese puff, caramelized apple and birch syrup puree, crème anglaise.
H Tasting Lounge
H Tasting Lounge has an Easter Ham to Go package for pickup between 2 PM - 6 PM on April 4. Priced at $350 serving 8 people.
It includes fresh baked hot cross buns and a flavourful spring green salad, before diving into the main course of apricot and mustard glazed bone-in ham with all the fixings.
Accompaniments include Bayshore honey buttered vegetables, Dauphinoise potatoes, apple sauce, and grainy mustard.
End off on a sweet note with our festive carrot cake, smothered in cream cheese icing and topped with chantilly cream.
Make it a one-stop shop and add an optional wine pairing.
For smaller households, they have a Ham Carvery To-Go priced at $49 per person (with a minimum of 2 persons per order).
Dive into an apricot and mustard glazed ham served with all the fixings. End off on a sweet note with our festive carrot cake, smothered in cream cheese icing and chantilly cream.
Tap Restaurant
Tap Restaurant in Surrey has an Easter Take & Bake for pickup on April 3 from 12 PM - 4 PM. The kit includes:
Spice Brined Turkey Breast
Smoked Gelderman Farms Ham
Olive Oil Focaccia Stuffing
Classic Mashed Potatoes
Brown Butter Roasted Cauliflower
Caraway and Dill Glazed Carrots
Roasted Turkey Gravy
Cranberry Sauce
Hazelmere Organic Farms Berry Trifle
Sun Catering
Sun Catering is offering an Easter Package: $175 for four people or
$120 for two people. Preorder by April 1.
Pick up days are on April 2nd and April 3rd, delivery limited.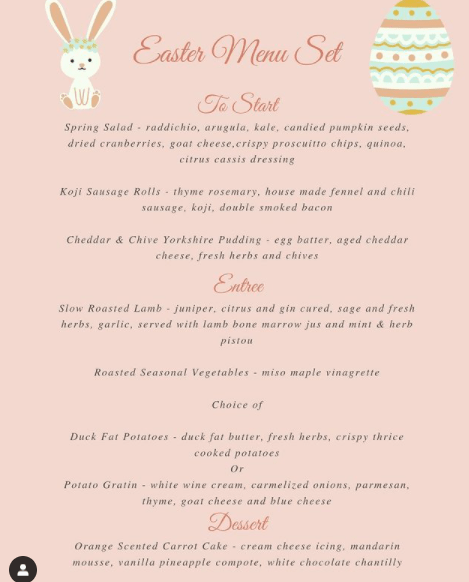 Homer St. Cafe and Bar
Homer St. Cafe and Bar is offering Easter Dinner to go for pickup on April 3 and 4 from 12 PM - 5 PM.
The menu includes:
Cheese & Charcuterie- Fennel salumi, chicken liver parfait, la sauvagine, manchego, house lavash
Maple dijopn glazed ham- Scalloped potatoes, honey glazed carrots, roasted cauliflower
Classic Carrot Cake- cream cheese frosting, candied walnuts
Bodega on Main
Bodega on Main has a few Easter offerings from April 2 - 5 from 12 PM - 6 PM.
The menu includes:
Easter Dinner for 2 ($80): Pan Y Aceite De Oliva, Olivas, Ensalada El "Caesar," Champiñones, Choice of Paella, Churros (4pcs), Bombon de Higos (2pcs)
Easter Dinner for 4-6 ($175): Pan Y Aceite De Oliva (2 orders), Olivas, Marconas, Ensalada El "Caesar", Champiñones, Pimientos De Padrón, Choice of 2 Paellas, Churros (4 pieces), Bombón De Higos (4 pieces)
Deluxe Easter Dinner for 4-6 ($250): Pan Con Tomate (2 orders), Olivas, Marconas, Tabla de Ibéricos, Ensalada El "Caesar", Champiñones, Pimientos De Padrón, Paella Senyoret (two paellas), Chuletillas De Cordero (6 lamb chops, no potatoes), Churros (4 pieces), Bombón De Higos (4 pieces)
Christine Catering Company Inc.
Christine Catering Company Inc. (Port Moody) is offering Easter Dinner to Go priced at $30 per person (minimum 2).
Pick up April 3rd or 4th by 12 noon. Order by March 31st by 3 pm.
Roasted Organic Boneless Turkey (5 oz or 3 slices)
Thickly sliced, tender white & dark meat, served with traditional gravy & cranberry sauce OR
Old Fashion Ham
with honey mustard glaze OR
Prime Rib (8 oz) (add $4 per person )
Cooked medium rare & served with gravy OR
Stuffed Portobello Mushroom (vegan)
With ratatouille of vegetables
Includes
Apricot, leek and sage bread stuffing (vegan)
Mashed of Yukon Gold Potatoes (can be vegan)
with roasted garlic and rosemary
Haricot Vert and Carrots (can be vegan)
with sweet butter
Chopped Salad (vegan)
with tangerine vinaigrette
Fresh Bread and Butter
Desserts
Apple Crumble (gluten-free and vegan) OR
Dark Chocolate Cake OR
Both with Chantilly Cream (not vegan)
Heritage Asian Eatery
Heritage Asian Eatery has created a dim sum feature of new menu items and classic favourites, available for takeout Easter weekend from April 2 to 4.
$69 Easter Dim Sum Package (Serves 2 - 3). Available for takeout only from April 2 - 4 from 11 AM - 3 PM.
Includes Heritage dim sum favourites and new items:
prawn dumplings (4 pieces)
truffle siu mai (4 pieces)
Heritage wings (12 pieces)
eggplant
chive prawn cake (4 piece)
xo radish cake
lotus leaf sticky rice
black sesame balls (4 pieces)
For larger households, they recommend the Heritage Family Feasts, available for groups of four to six people. The Family Feast needs to be pre-ordered one day in advance through the Heritage website.
Di Beppe
Di Beppe will be kicking off their annual polenta festival on April 1, running until April 30.
The featured dishes are available in a multi-course, prix-fixe option starting at $49 per person, or as à la carte dishes - perfect for families to enjoy together for a special meal over the long weekend.
The Festa della Polenta menu is available for dine-in only, reservations can be made online.
Easter Desserts & Treats Vancouver 2021
Buttermere Patisserie
Buttermere is introducing three variations of a 7-inch tall egg-shaped chocolate shell filled with assorted confections known as dragées.
These interactive Easter egg treats come in distinct shell hues and flavours: the Pastel Splash Egg, the Pearl Egg, and the Metallic Egg.
Made with 41% Alunga™ milk chocolate and feuilletine, crispy baked crêpe layers, the Pastel Splash Egg shell is most characteristic of Easter while the glimmering Pearl Egg shell is composed of 34% Zéphyr™ white chocolate paired with Oreo crumbs.
Dark chocolate lovers can elect for the galactic Metallic Egg which is made with Fleur de Cao™ dark chocolate and a caramelized hazelnut shell.
At $52 per Egg, each packaged Egg comes with a miniature hammer for a playful reveal.
Buttermere is releasing limited quantities available from March 17th to April 5th for pre-order now until April 1st or walk-in purchase at Buttermere Café (636 Main Street) during regular business hours.
East Van Roasters
Pay it forward this Easter by picking up adorable bean-to-bar chocolate treats from East Van Roasters (319 Carrall St., Vancouver) in classic spring-inspired flavours.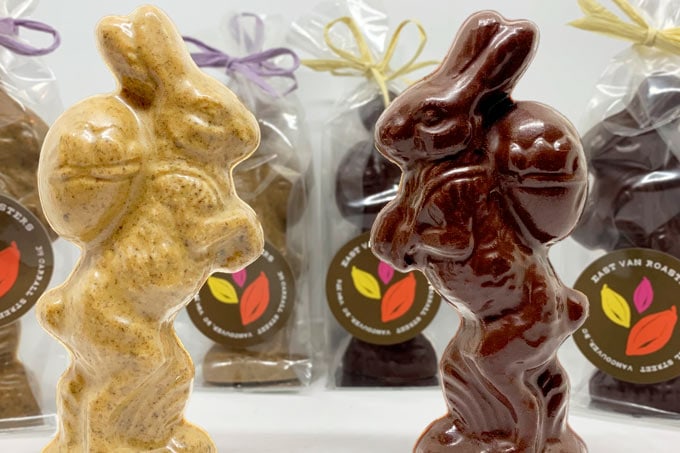 The 2021 Easter collection includes chocolate Bunny Buddies, boxes of delicate chocolate eggs, and vegan white-chocolate 'turnip' pops.
These artisanal chocolates are made using only organic, fair, and direct-trade cacao without refined sugar.
Every purchase you make from East Van Roasters directly benefits the social enterprise's peer-mentorship program that supports women living in the Downtown Eastside community who are reentering the workforce.
'Turnip' Pops, $3.50: Vegan coconut white chocolate sprinkled with toasted coconut, with 'turnip' tops coloured using spinach powder.
Chocolate Egg Box, $20 nine-pack:
Crispy Salted Caramel: half crispy organic brown rice in chocolate, and half buttery chewy caramel in a 70 per cent Madagascan chocolate shell.
Peek-A-Boo Lemon-Pistachio Praline: pistachio and lemon praline, sandy pistachio pieces, and candied lemon zest in white chocolate.
Cream Earl Grey: 70 per cent Peruvian dark chocolate egg filled with a creamy Earl Grey-infused Dominican Republic chocolate ganache.
Bunny Buddies, $16.50 two-pack: Also sold individually, available in-store only for $8.
Cookies & Cream Bunny: white chocolate studded with house-made cookie pieces.
Toffee Bunny: Solid 70 per cent Peruvian chocolate bunny with crunchy toffee pieces.
The 2021 Easter collection is available now at East Van Roasters, open from 12 PM - 5 PM Tuesday to Saturday, and online at eastvanroasters.square.site for advance ordering and Canada-wide shipping.
Rocky Mtn Chocolate
Rocky Mtn Chocolate's 2021 Easter Collection is available now and includes 20 original showpiece items and Easter basket essentials.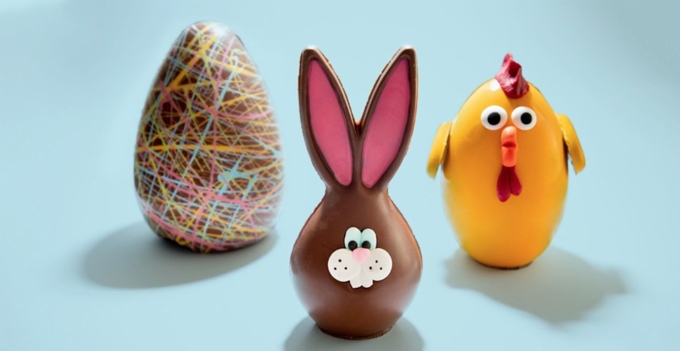 Shoppers can choose from an egg-ceptional array of creative springtime sweets, including designer chocolate eggs, novelty bunny suckers, milk chocolate foil eggs, chocolate bomb boxes, whimsical chocolate bars, and gift sets filled with handpicked seasonal confections.
New this year, Rocky Mtn Chocolate's Some Bunny is a Winner chocolate bunnies will offer sweet-toothed Canadians a chance to win a variety of decadent prizes.
Available for purchase in-store and online for delivery, these delicious 9 oz. milk chocolate rabbits have tasty gummy carrots and special prize coupons ranging from $3 to $100 in value.
Rocky Mtn Chocolate's 2021 Easter collection is currently available for purchase in stores across Canada and online until April 4.
Due to the fragile nature of certain chocolate showpieces, only select items will be eligible for cross-country delivery.
All of Rocky Mtn Chocolate's seasonal chocolate products are handmade in limited quantities, so customers are advised to purchase their Easter treats early to avoid missing out.
Pacific Institute of Culinary Arts
Merging time-honoured European traditions with a distinctly fresh and playful West Coast style, artisanal creations at the Pacific Institute of Culinary Arts include a pink-hued flamingo with rosewater mousse and chocolate sponge; an Easter bunny choux with strawberry cream and rhubarb jam; black forest cake with cherries; and hot cross buns featuring sweet spiced dough studded with candied lemon, orange peel and golden raisins.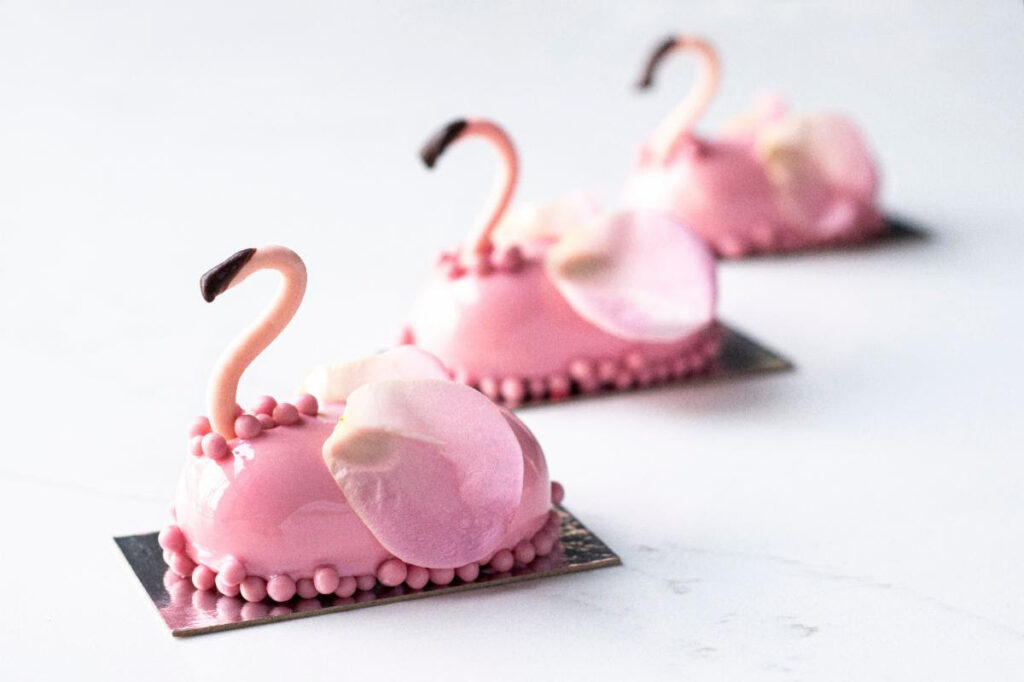 Custom cakes are also available with three days' notice in an array of sizes and flavours, such as strawberry shortcake, peanut butter caramel, or exotic mango mousse.
Temper Pastry
The Easter bunny has arrived at Temper Chocolate & Pastry in West Vancouver!
The European-inspired café and patisserie helmed by award-winning pastry chef Steven Hodge has just unveiled a new lineup of Easter-inspired confections and seasonal baked goods available in-store now.
Inspired by the enchanting characters and whimsical colours of springtime, Temper's signature Easter collection includes fresh-baked hot cross buns, chocolate mini eggs, Easter bunnies in dark, milk or white chocolate, and a pair of deluxe Easter showpieces.
Egg Carton Showpiece ($38) – a perfect centrepiece for Easter celebrations, this large-scale milk chocolate egg carton is filled with colourful chocolate eggs.
Egg Showpiece ($35) – Temper's signature dark chocolate Easter egg showpieces are available in blue, pink, green, orange, purple or yellow and are filled with dark, milk and white chocolate frictures.
Easter Bunny ($12) – available in dark, milk or white chocolate.
Mini Eggs ($9 / $12) – assorted mini eggs available in dark, milk and white chocolate.
Lollipops ($2.95 small / $4.25 large) – available in dark, milk or white chocolate.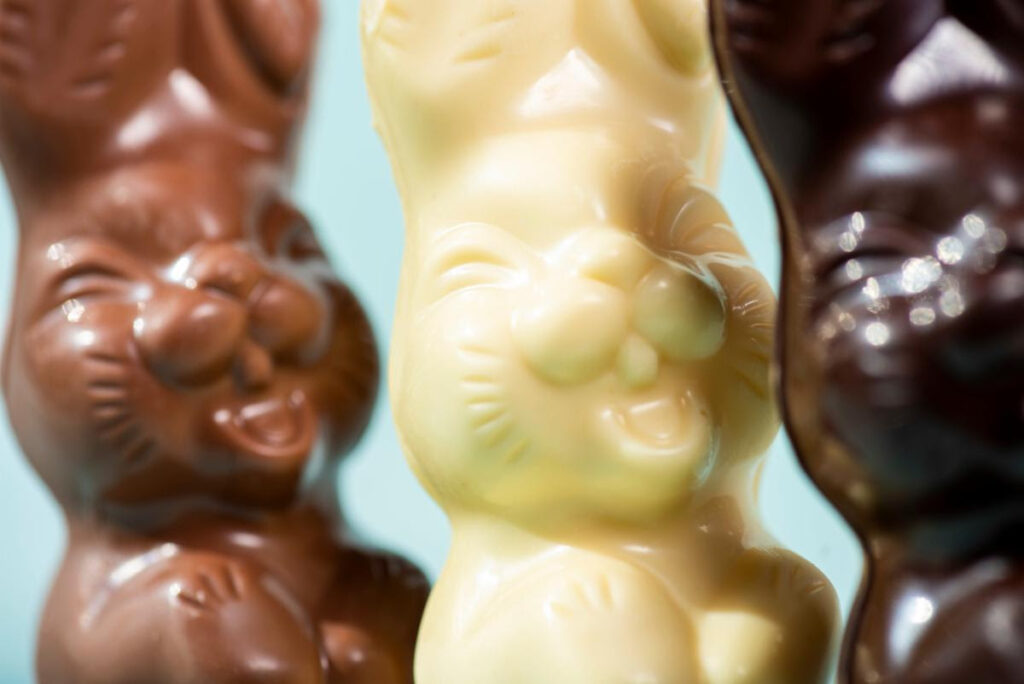 Hot Cross Buns ($3.25 single / $15 for half-dozen / $29 dozen) – made with seasonal spices, currents and candied fruit, these traditional Easter buns are topped with a classic cross in white icing.
For those looking to enjoy fresh, seasonal fare for breakfast and lunch, Temper has also launched a new daytime café menu featuring savoury sandwiches, salads and plant-based options.
Highlights include a Breakfast Biscuit Sandwich topped with egg, Two Rivers bacon, cheese, and tomato jam; Curried Chicken Sandwich made with Two Rivers roasted chicken breast, curry spiced mayo, apples, red onion and sultanas on a brioche bun; scratch-made Quiche Lorraine, and a Turkey BLT served on a house-made butter croissant.
The Bench Bakehouse
Spring is in the air, and The Bench Bakehouse is celebrating with a delicious array of seasonal goodies including freshly prepared, bake-at-home, and decorate-it-yourself Easter sweets.
From classic hot cross buns made with buttery, spiced brioche, to chocolate hot cross buns filled with Cacao Barry milk and dark chocolate, co-owner and baker Tracy Steele adds her creative, decadent spin to traditional delights for springtime festivities.
In addition to her skillfully prepared baked goods, some of Tracy's Easter highlights include: bake-at-home hot cross buns and croissants, Easter Stollen, passion fruit pavlova, and cheerful sugar cookies that are either hand decorated and ready to enjoy or packaged in a DIY kit for a creative afternoon at home.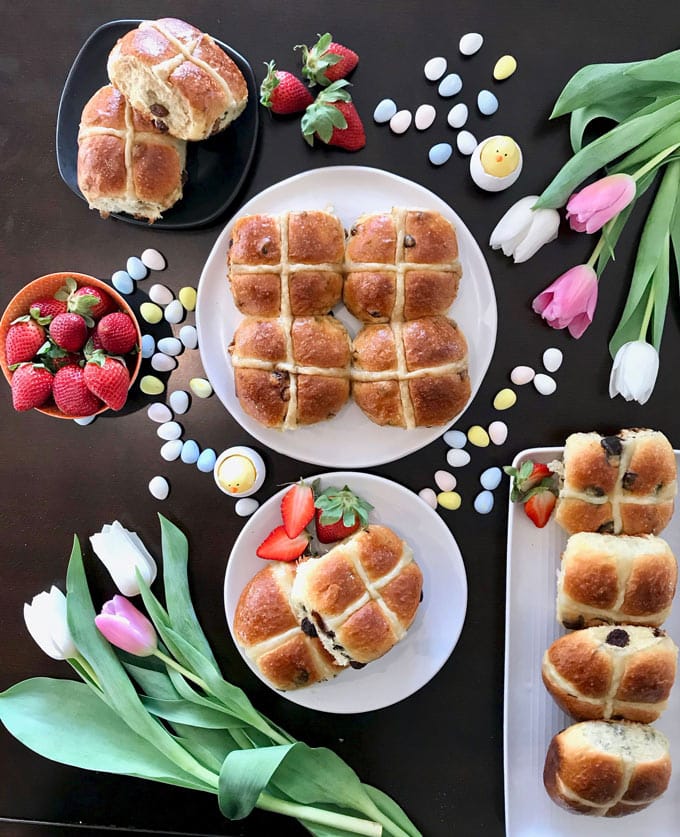 Traditional Hot Cross Buns, $4.25 each or $16 four-pack: classic brioche filled with raisins, apricots and house-made candied lemon and orange.
Chocolate Hot Cross Buns, $4.25 each or $16 four-pack: Made especially for those who prefer chocolate to candied fruit.
Bake-at-Home
Pull them from the freezer before going to bed, and these treats will be perfectly proofed the next morning ready to pop in the oven—perfect for Easter breakfast.

Hot Cross Buns, $16 four-pack: with spiced brown sugar glaze.
Croissants, $14 four-pack: made from scratch with high-quality butter.
Pain au Chocolat, $16 four-pack: filled with dark chocolate.
Easter Stollen, $20: Following a traditional recipe, The Bench's signature Stollen only comes around twice a year. Tracy's Easter version of this incredibly rich bread is studded with pistachios as well as rum-soaked apricots, cherries and cranberries then filled with made-from-scratch pistachio marzipan.

Cookie Kit, $30: The Bench's popular cookie kit includes six freshly baked cookies in three different Easter shapes, piping bags of brightly coloured icing, decorative sugar, and Easter M&M's.
Sugar Cookies, $5: Hand-decorated sugar cookies in bunny and egg shapes, each one completely unique and absolutely delicious.
Pavlova, mini $10 (serves 1-2); medium $35 (serves 4): A marshmallow-like meringue with a crispy shell, topped with passion fruit curd, whipped cream, and fresh fruit. Available April 1 - 4.
Goodies can be purchased in store, or pre-ordered online up to a week in advance at thebenchbakehouse.com/order-online.
Mon Paris Pâtisserie
Mon Paris Pâtisserie (4396 Beresford St., Burnaby) owner and pastry chef, Elena Krasnova, spreads springtime cheer with her charming chocolate creations and elegant viennoiseries available for in-store pickup and delivery.
In addition to special-occasion cakes and a seasonal selection of breakfast pastries including blackcurrant brioche and a cranberry and white chocolate milk bun, the Mon Paris 2021 Easter Collection features vibrantly coloured chocolate eggs, adorable chocolate ducklings, and an Easter cookie decorating kit.
Easter Pastry Box, $30 six-pack: An exclusive selection of exquisite pastries available only on April 3 and 4. The box includes Passion Fruit Croissant; Blueberry Puff, Blackcurrant Brioche, Cranberry and White Chocolate Milk Bun, Raspberry and Chocolate Double-Baked Croissant, and Ham and Cheese Croissant.
Hazelnut Mille Feuille, $60: six-inch cake, serves four to six. An indulgent Easter dessert made with layers of flaky buttery pastry, chocolate, and hazelnut, and topped with a chocolate Easter egg nest. Available April 3 and 4.
DIY Easter Cookie Decorating Kit, $25:10 freshly baked egg-shaped shortbread cookies, three piping bags of royal icing, and sprinkles in pastel Easter colours.
Chocolate Duckling Lollipop, $4: milk chocolate filled with raspberry caramel on a stick.
Springtime Chocolate Easter Egg, $19: four-inch milk or dark chocolate Easter egg with a smooth colourful shell, decorated with daisies, and filled with two signature truffles: Ruby Chocolate and Mango Passion Fruit.
Velvet Chocolate Easter Egg, $19: four-inch milk or dark chocolate Easter eggs with a colourful velvety-textured chocolate coating and white and milk Easter chocolates inside.
Fruit and Nut Easter Egg, $23: large eight-inch tall milk or dark chocolate Easter egg with a smooth chocolate shell in a choice of a solid colour or contemporary design, and filled with caramelized nuts and dried fruits.
Easter Bunny, $25: a handcrafted chocolate character made of milk chocolate.
Pastries and Easter treats are now available for takeout at Mon Paris Pâtisserie, and can be ordered in advance for pickup or delivery online at Monparis.ca/monparis-shop/.
Easter Pastry Boxes and Hazelnut Mille Feuille must be ordered in advance and are available for pickup and delivery on April 3 and 4.
Popina Canteen and Popina Cantina
Popina's famous Puffcream is all dressed up and ready for Easter. For a limited time only, Popina's freshly baked cream puffs, filled with a swirl of original-recipe Birchwood Dairy vanilla soft-serve ice cream, will be loaded with Mini Eggs.
Each one of Popina's signature Puffcreams is priced at $8 and are made with antibiotic-free, hormone-free Fraser Valley milk.
Now available at both Popina Canteen (Granville Island Public Market) and Popina Cantina ( Granville Island Net Loft)—but only until Easter and then it's gone.
Easter Things to Do in Vancouver 2021
Where to see Cherry Blossoms in Vancouver
It's a beautiful time in the city when cherry blossoms begin blooming around the city.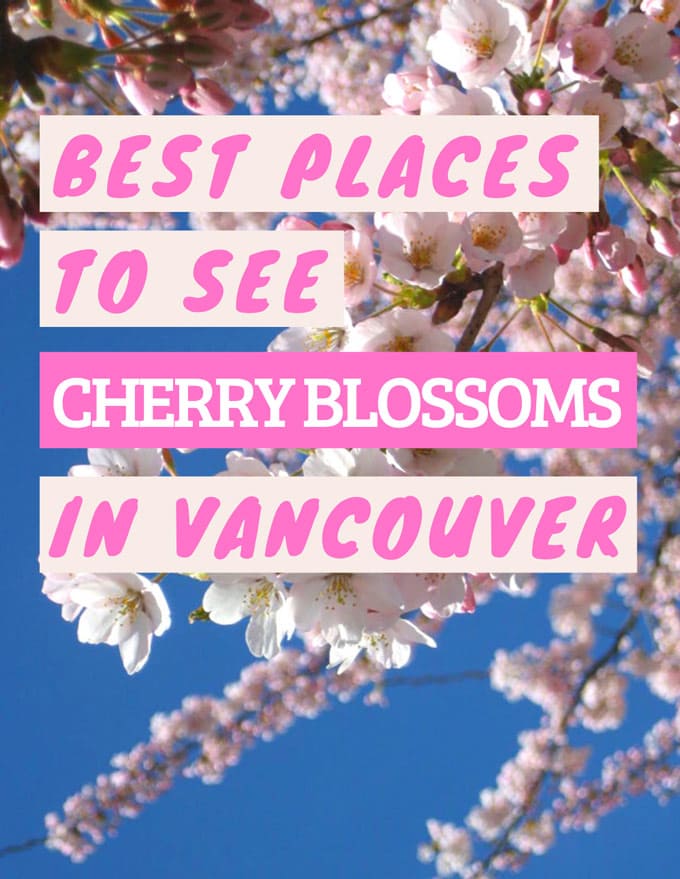 Check out my Cherry Blossoms Vancouver 2021 guide looking at the dates for cherry blossom season, history of cherry blossoms in Vancouver, number of different cultivars and the best places to see cherry blossoms in Vancouver.
Easter Vancouver 2021 Hotel Packages
Here are some hotel staycation ideas this spring in Vancouver.
Westin Bayshore
Treat yourself to the mini-getaway that you deserve and take advantage of the Eat, Stay, & Park offer at the Westin Bayshore.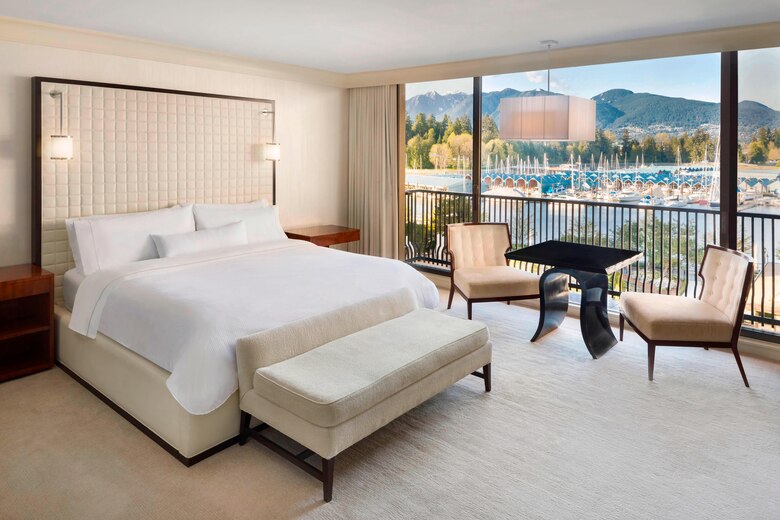 This deal includes an overnight stay at The Westin Bayshore, $50 of daily dining credit, and complimentary parking
Take advantage of what the harbourfront haven has to offer, with on-site spa, indoor pool, complimentary bike rental program, direct access to the Vancouver Seawall, and more.
Fairmont Vancouver Airport
Fairmont Vancouver Airport has created a unique, Mexico-inspired Vacation to Nowhere staycation package for would-be vacation goers looking to satisfy their travel cravings.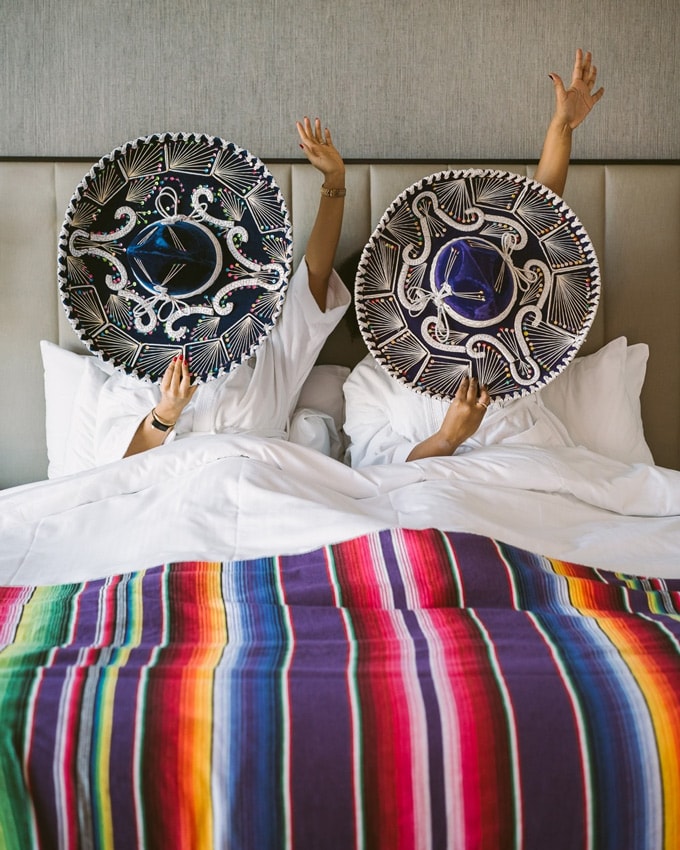 Guests who book this Vacation to Nowhere package will enjoy a Fairmont Signature Room decked out with themed décor, including a beach lounge chair with palapa umbrella and special touches couriered directly from Fairmont Mayakoba.
Enjoy "beach resort vibes" while enjoying some poolside fun with a two hour private pool reservation, complete with themed snacks and cocktails for two.
Easter Wines Recommendations
Saintly Rosé
With the warmer months on the horizon, the best wine to pair it with is a bottle of Saintly Rosé.
This angelic rosé is a medium-bodied wine and has aromas and flavours of strawberry, citrus, bergamot and rhubarb.
This wine is perfect to pair with a hummus plate or raspberry almond tart. MSRP: $17.95/750mL.
Kim Crawford Sauvignon Blanc
Kim Crawford Wines offer different varietals perfect for any holiday party, imported all the way from New Zealand.
Kim Crawford Sauvignon Blanc is vivid and refreshing and is the #1 selling wine in Canada; it pairs well with steamed clams or mussels with asparagus risotto, or grilled chicken. MSRP: $21.95/750mL.
About Easter Holiday: Dates, Food Traditions, Easter Egg Origins
Have you wondered how Easter actually became a holiday, or where its trademark bunnies and eggs came from?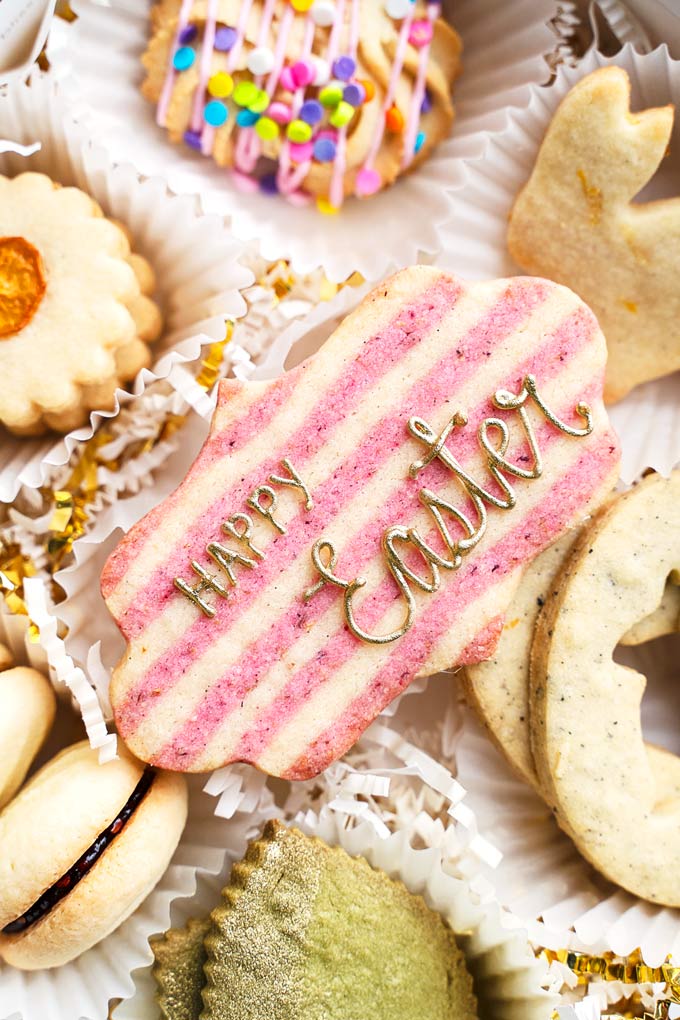 Check out my Easter Holiday post which looks at the origins of Easter, some of the traditions and a few fun facts on Easter Eggs and the Easter Bunny.
Easter Quotes, Wishes and Captions
Whether your Easter is all about fun, or a bit of fun mixed with the holiday's religious significance, here is a roundup of some Easter quotes, wishes and captions for that holiday Instagram post or greeting card.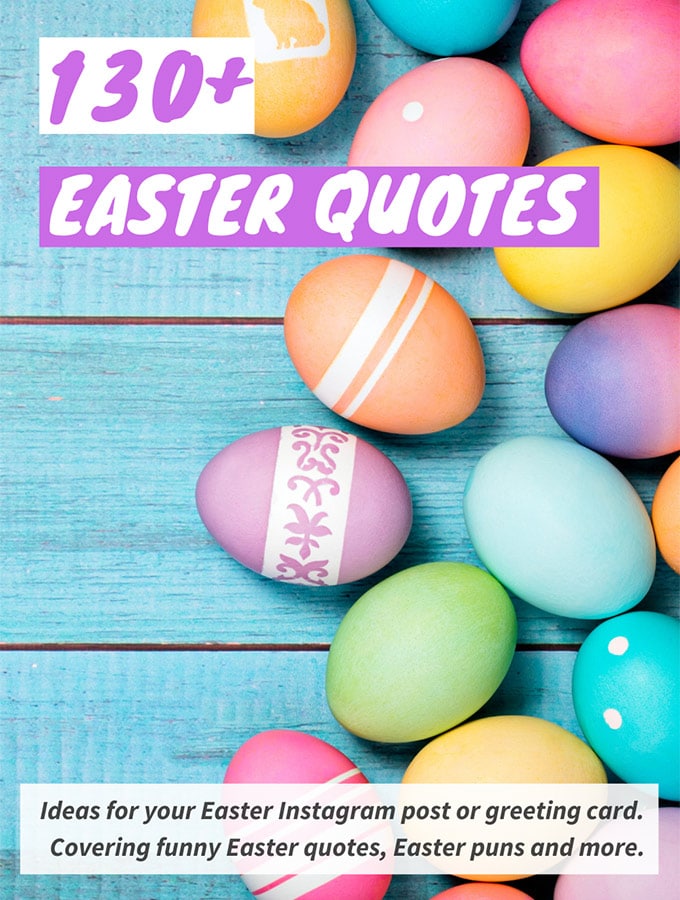 Some of the quotes I have in the post include:
Filling my basket with love and joy… and also chocolate. Lots of chocolate.
Biting the head off my chocolate bunny, but I won't bite you!
There's nothing better than a friend… except a friend with chocolate.
Free Easter Greeting Cards
If you're looking to send an Easter greeting card, check out Canva.com (referral link) for free Easter card templates and start designing.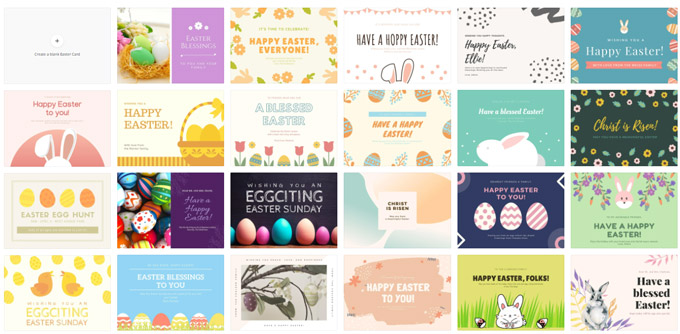 I have been using Canva for years and if you're new to Canva, please feel free to use my Canva referral link to sign up for free.
It's a great graphic design platform used to create social media graphics, presentations, posters, documents and other visual content.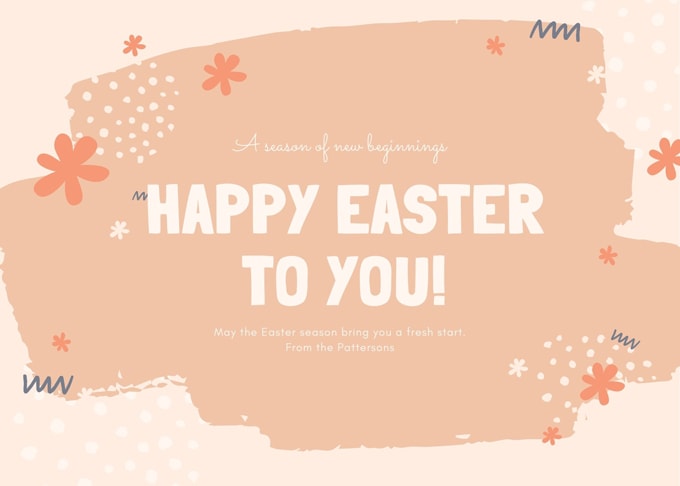 Even though there is a premium version, you can do A LOT on the free version.