If you're looking for a stress-free Easter get-together this year, here are some suggestions on where to get Easter meals to go in Metro Vancouver.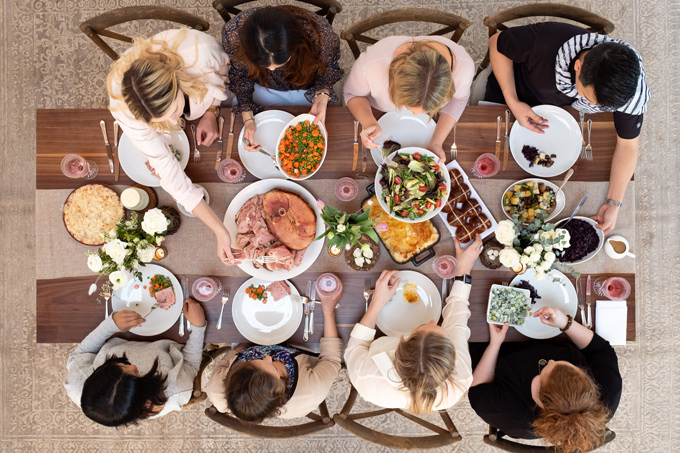 ---
Railtown Catering
Award-winning catering company, Railtown Catering, is once again offering Easter To-Go packages, available for pickup or delivery on Sunday, April 21 and Monday, April 22.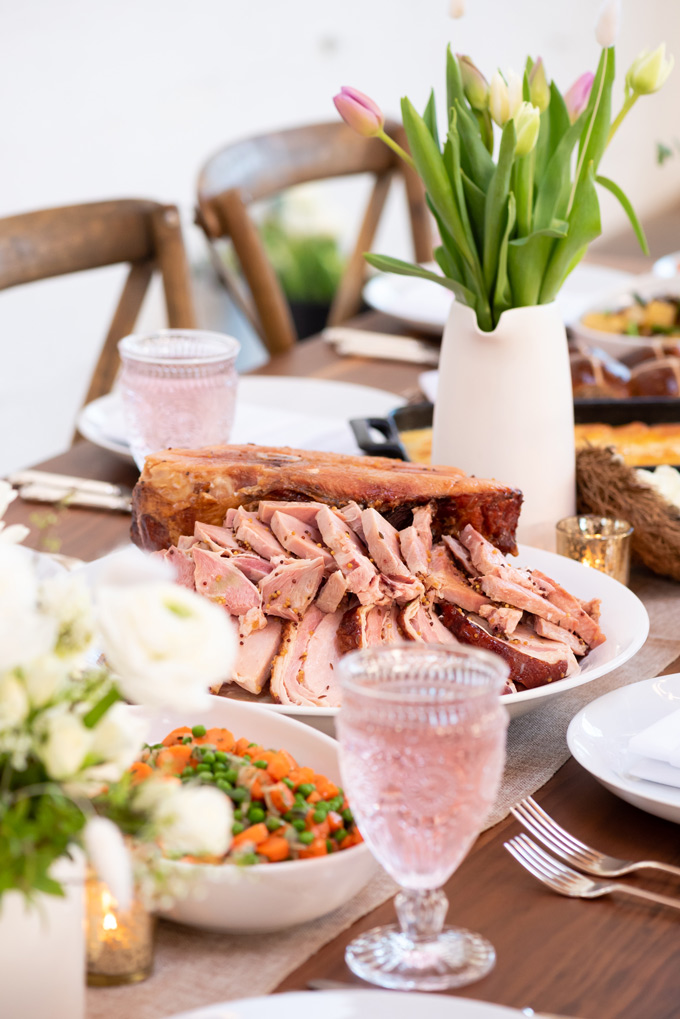 Perfect for intimate family dinners and larger gatherings, Railtown's hassle-free Easter To-Go packages are fully cooked and ready to heat and serve.
— Easter To-Go Menu —
Honey-Glazed Bone-in Ham with House-made Caraway Mustard (pre-sliced)
Organic Spring Greens with Asparagus, Haricots Vert, Teardrop Tomatoes, Marinated Artichokes, Toasted Almonds and Aged Sherry Vinaigrette
Cucumber Salad with Fresh Dill and Sour Cream Dressing
Scalloped Potatoes with Gruyère Cheese
Buttered Sweet Peas and Baby Carrots with Mint
Braised Red Cabbage
Roasted Root Vegetables with Caramelized Spring Onions, Wild Mushrooms, White Asparagus
Hot Cross Buns with Whipped Butter
Classic Rhubarb Crumble with House-made Vanilla Ice Cream
Packages are available in both small (four to six servings) and large (10 to 12 servings) sizes for $199 and $329 plus tax, respectively. Hot, ready-to-eat packages are also available for an extra charge of $30 for small packages and $50 for large packages. Those who are hosting a larger group can order additional side dishes on an a-la-carte basis.
Railtown Catering's Easter To-Go packages may be ordered online at railtowncatering.ca or by phone at 604-568-8811. All orders must be placed by 12 p.m. on Wednesday, April 17. Packages are available for pickup at Railtown Cafe's original location at 397 Railway Street in Vancouver on Sunday, April 21 or Monday, April 22 from 10 am – 5 pm, or by delivery for an additional charge.
---
Two Rivers Specialty Meats
Two Rivers Specialty Meats is offering a special Dry Aged Leg of Lamb that's available for order before April 10.  This leg of lamb serves 4-6 people and is ideal for your Easter Dinner.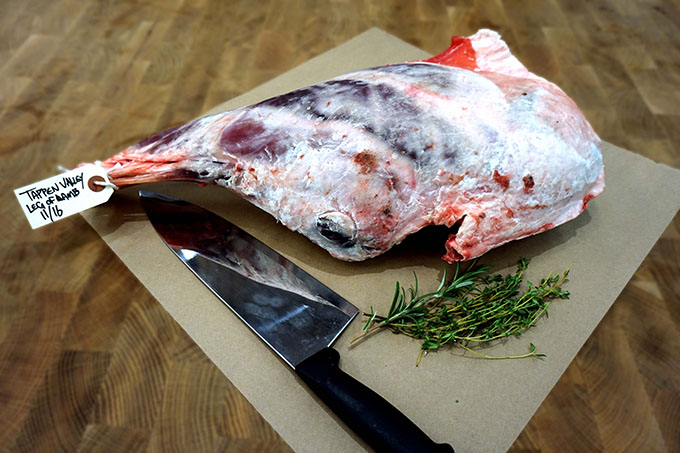 Two Rivers dry ages their meats in-house, in a carefully controlled environment. Similar to aged cheese or wine, dry aging gives meat a more robust, complex flavour. It also makes the meat more tender.
The temperature, humidity and airflow of the room are fastidiously monitored and maintained to protect the product and to encourage proper aging.

---
Juke Fried Chicken
Juke Fried Chicken brings back their popular Turducken Feast for pick-up exclusively at their Little Juke location (1074 Davie Street) on Saturday, April 20 and Sunday, April 21.

Juke's Easter Turducken Feast feeds 6-8 people and includes pre-sliced turducken — a three-in-one showstopper featuring roasted turkey, duck and chicken — accompanied by large sides of fried Brussels sprouts, herb-roasted potatoes, fennel pork and pistachio stuffing, Cacio E Pepe fried cauliflower, and country biscuits with whipped schmaltz as well as a nostalgic package of marshmallow Peeps.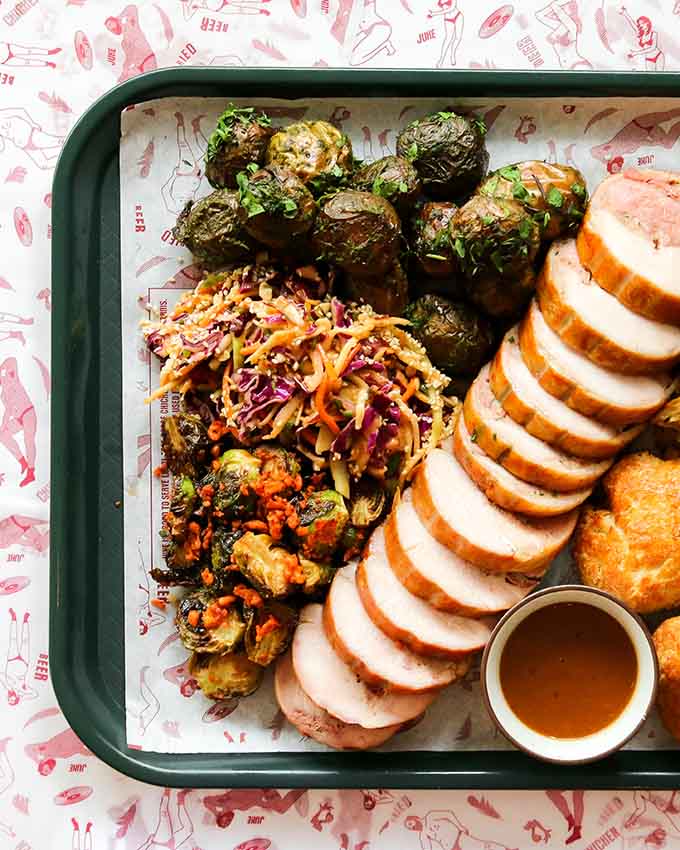 A limited number of Juke's Easter Turducken Feasts are available for $169 plus tax and can be ordered by emailing info@jukefriedchicken.com before noon on Wednesday, April 17. All orders will be ready for pickup at Little Juke (1074 Davie Street) from 11 am – 6 pm on Saturday, April 20 and Sunday, April 21.

---
Whole Foods
For Easter, Whole Foods offers a variety of different products to go including Maple-Mustard Ham Dinner for 8, Rack of Lamb, Spiral-Sliced Ham with Maple-Mustard Glaze and so forth. Check what is available at your nearest Whole Foods location.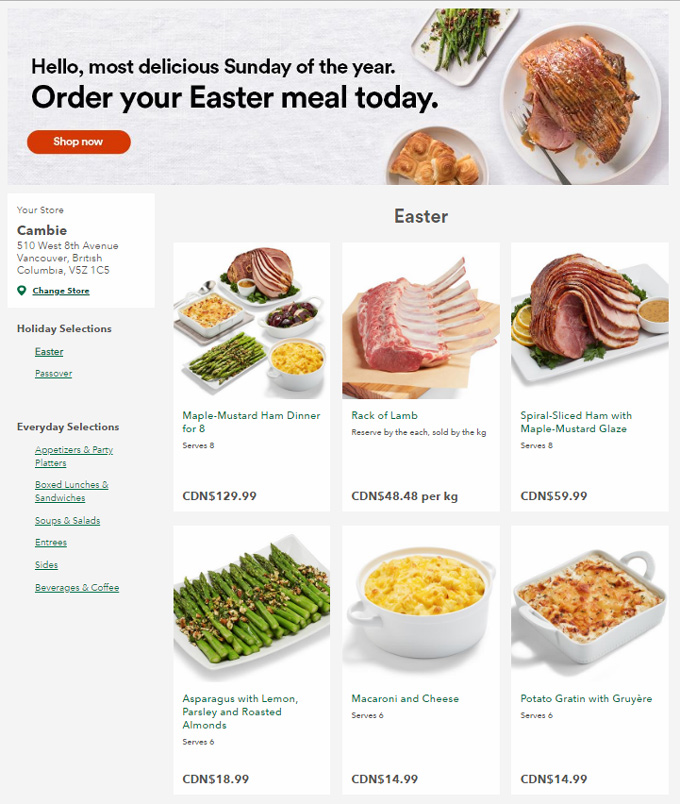 Related post: