Another Taiwanese bubble tea brand has just opened their first Canadian outpost in Vancouver. Chun Fun How Vancouver (春芳號) opened two weeks ago at 1067 West Broadway. They are currently open for pick-up, take-out and delivery.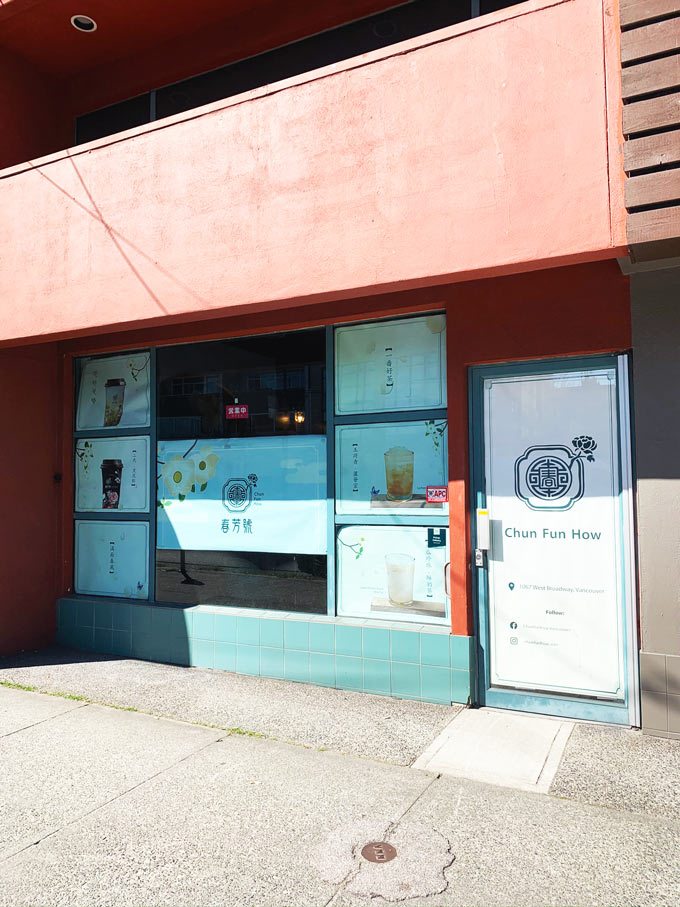 This post was first published on February 7, 2020 and updated on April 12, 2020.
Chun Fun How Brand Story
The brand originated from Taichung, Taiwan and has 15 locations in Taiwan. Locations abroad include one in Hong Kong and upcoming ones in Singapore and Indonesia.
Chun Fun How Vancouver Menu
Chun Fun How Vancouver drink series include Aloe Vera, Fresh Milk Tea, Sugar Cane, Milk Tea, Sweet Potato, Flavoured Fruit Tea, Winter Melon, and so forth. Drinks are priced around $4.50 – $7. Topping choices include pearls, grass jelly and aloe vera.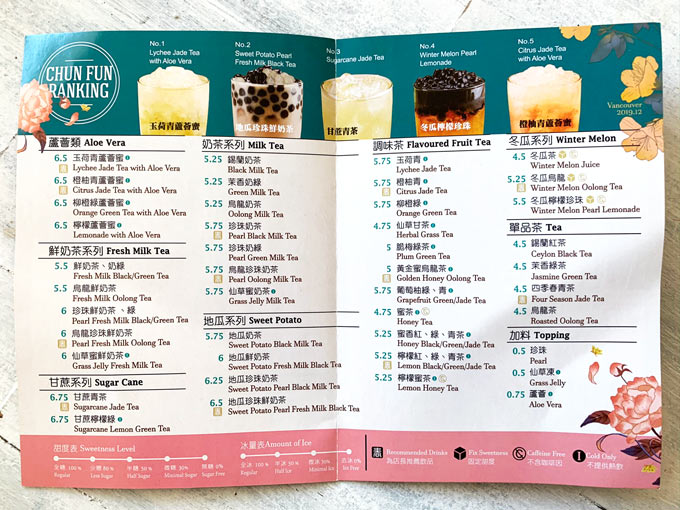 Drinks can be customized for sweetness level and amount of ice. Some drinks are designated to have fixed sweetness, be caffeine free or offered in cold format only.
Chun Fun How Top 5 Drinks
The top 5 drinks at Chun Fun How are:

Lychee Jade Tea with Aloe Vera
Sweet Potato Pearl Fresh Milk Black Tea
Sugercane Jade Tea
Wintermelon Pearl Lemonade
Citrus Jade Tea with Aloe Vera
Other recommended drinks are Pearl Fresh Milk Oolong Tea, Pearl Black Milk Tea, Pearl Oolong Milk Tea, Citrus Jade tea, Golden Honey Oolong Tea, Lemon Black/Green/Jade Tea, Wintermelon Oolong Tea, and Four Seasons Jade Tea.
Chun Fun How is one of the first Taiwanese bubble tea brands to offer the Sweet Potato Fresh Milk signature drink.
What I Tried
I bought three of their top drinks to try: Lychee Jade Tea with Aloe Vera; Sweet Potato Pearl Fresh Milk Black Tea, and Wintermelon Pearl Lemonade.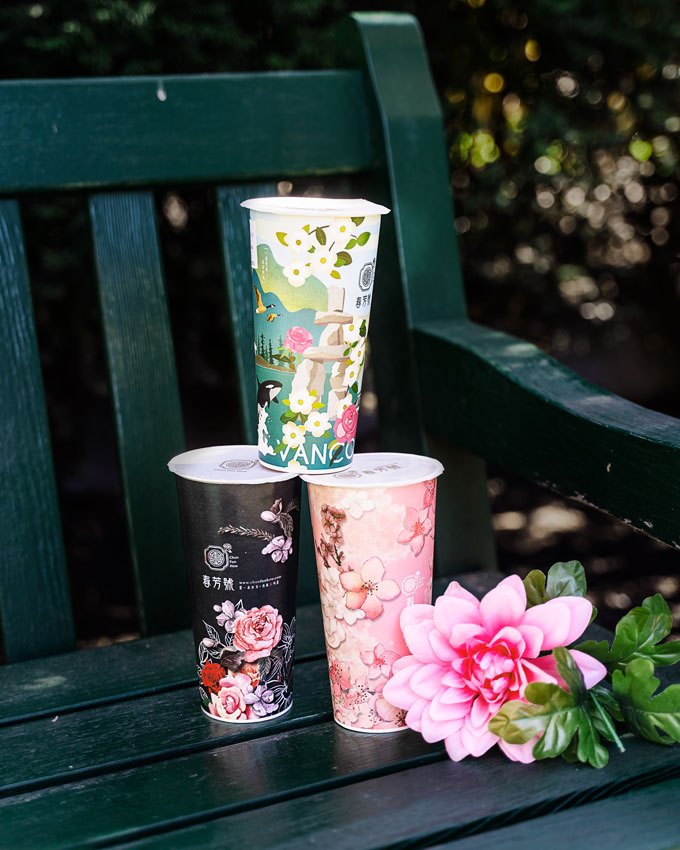 I really enjoyed Lychee Jade Tea with Aloe Vera which had a lovely fresh green-floral aroma, sweet flavor, and clean, delicate flavour. I also really liked the soft, jelly texture of the aloe vera (which I normally don't order as a topping).
The Wintermelon Pearl Lemonade tasted more of lemonade than wintermelon. The pearls were reasonably soft and chewy.
The Sweet Potato Pearl Fresh Milk Black Tea was OK. I had a tasting (as I'm lactose intolerant) and gave the rest to my family. It had a nice sweet potato taste combined with the richness of fresh milk.
Chun Fun How Fashionable Cups
Chun Fun How is also known for their fashionable cups featuring floral designs.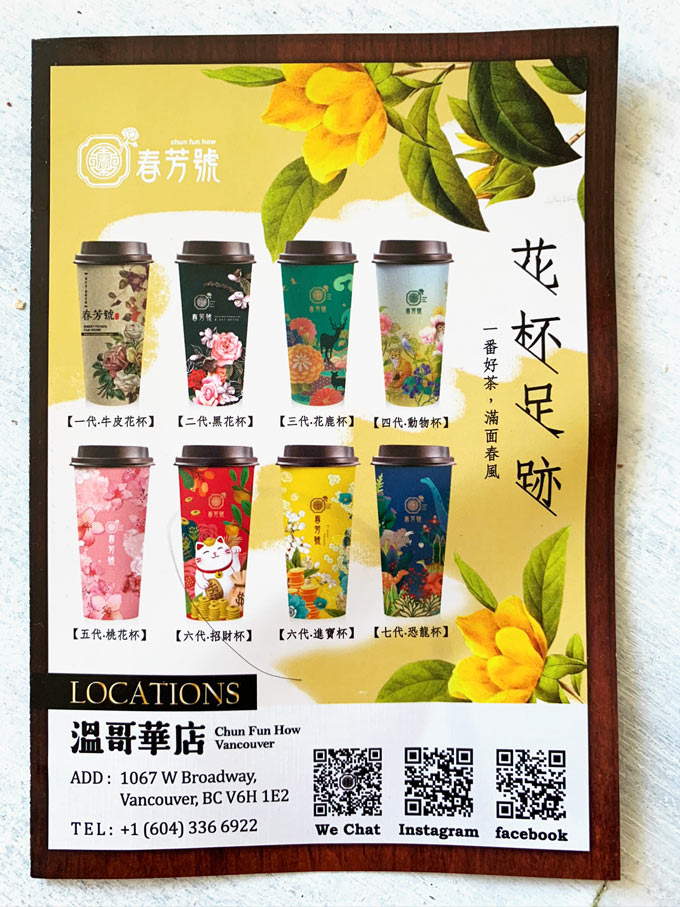 They have a lovely Vancouver-inspired design cup with notable landmarks including the Vancouver Lookout, Science World, the Inukshuk, the Lions Gate Bridge, Canada Place. There were also some animals on the design including a killer whale, a polar bear, sea otters, and Canada geese.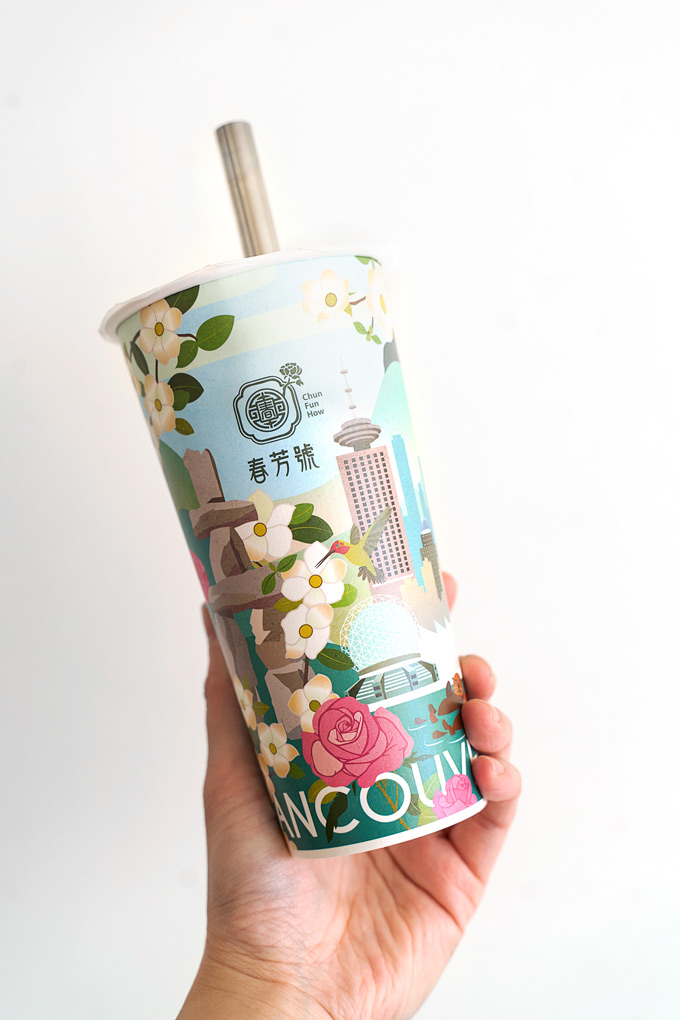 This cherry blossom design was quite pretty.
And another floral design. I guess if you buy multiple drinks, you could get different pattern cups.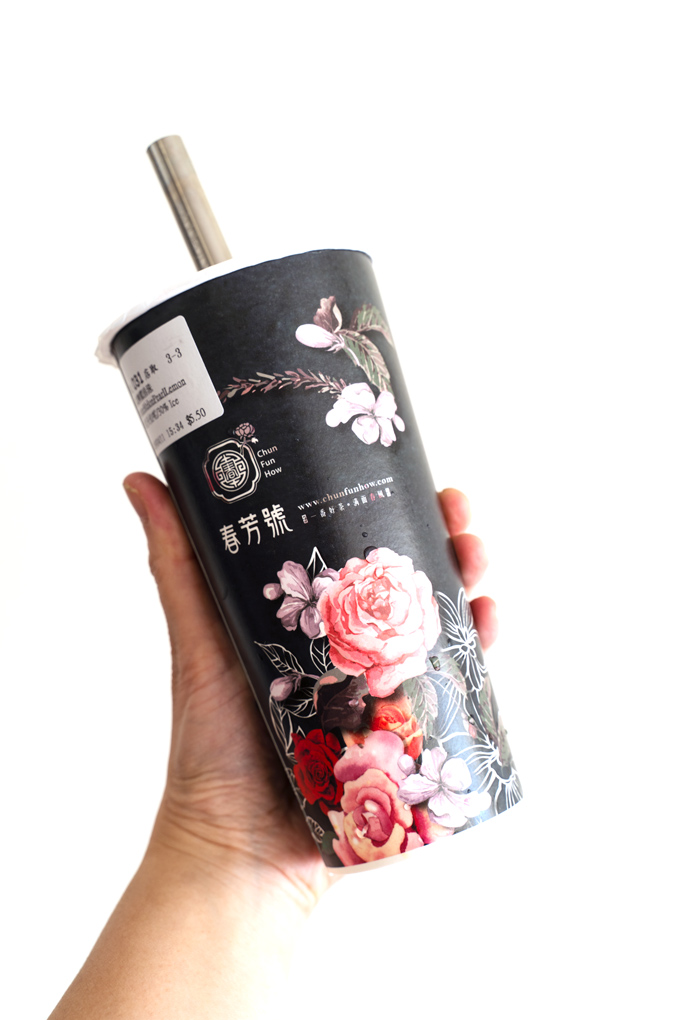 The takeout menu also features the Vancouver design cup as well as local landmarks.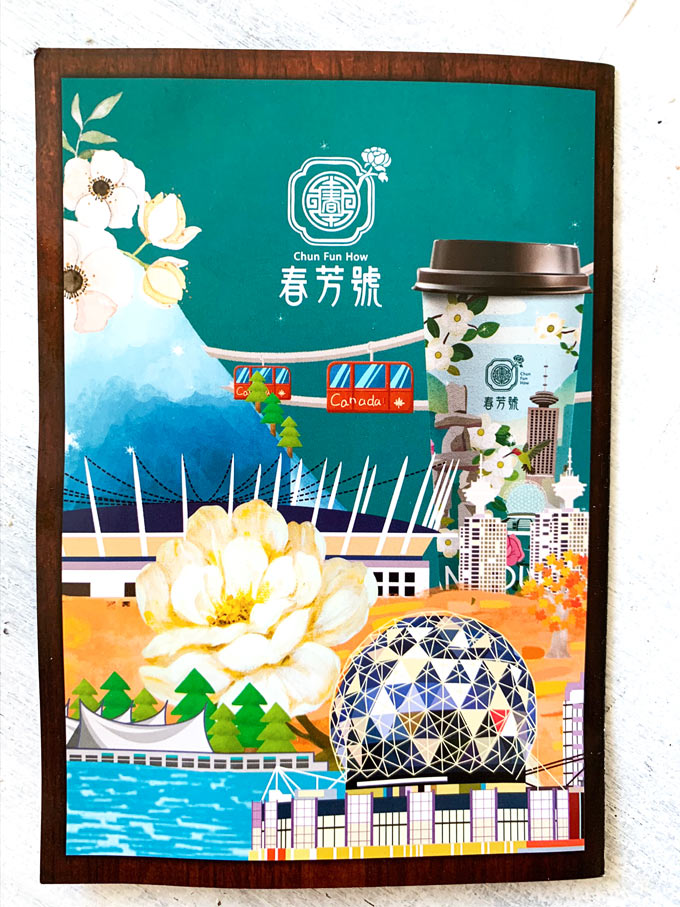 Chun Fun How Vancouver Interior
Inside Chun Fun How Vancouver, you'll find a very Instagrammable, beautiful floral mural.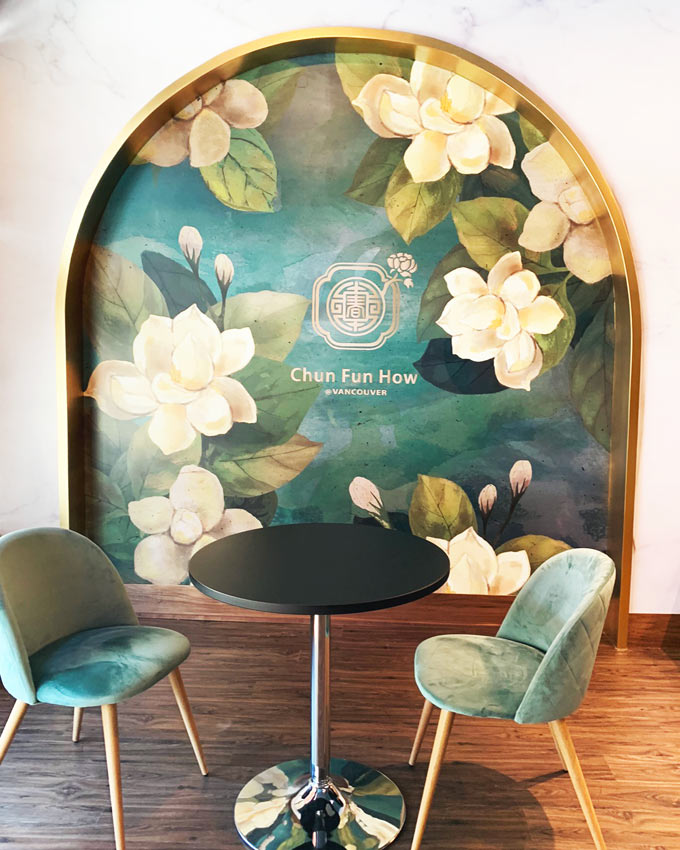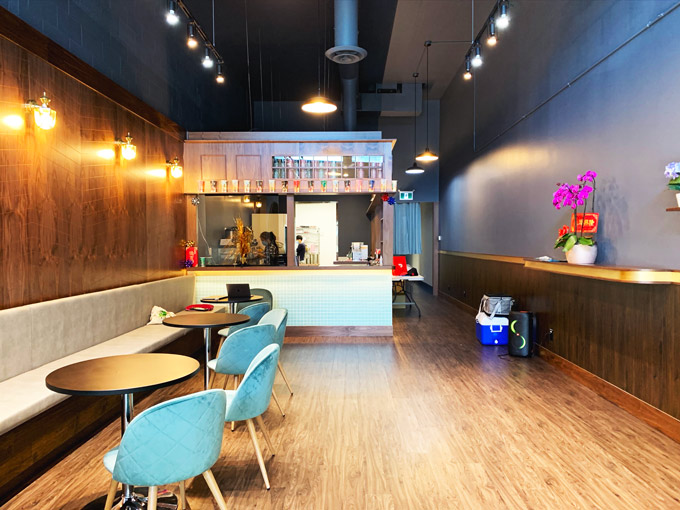 Overall Impression
I really enjoyed the Lychee Jade Tea with Aloe Vera drink and would be interested in trying more from the Aloe Vera series. I also want to try the Sugar Cane series as well as Flavoured Fruit Teas.
Chun Fun How Vancouver 春芳號
1067 West Broadway, Vancouver, BC
instagram.com/chunfunhow.van