The new CheSa's Bistro & Bar, located at 3235 W. Addison in Chicago's Avondale neighborhood, serving gluten-free Creole and Cajun cuisine, is a welcome addition to Avondale's burgeoning dining scene.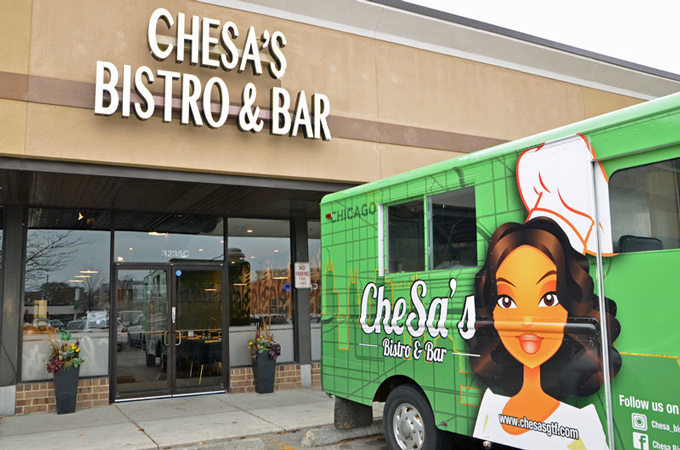 The first full-service restaurant from Owner/Operator and Chef Chesaree Rollins, it's an upscale, sexy, stylish gathering place that shows off Rollins' growing culinary skill and entrepreneurship
Rollins is not a new-comer to the food-service business.
She has earned a name for herself—and built quite a following—over the past 7 years with her two popular 100% gluten free CheSa's Gourmet Food Trucks & Catering that serve a varied menu of Creole and American.
But CheSa's Bistro & Bar takes Rollins' culinary and service vision to the next level, with creatively prepared and beautifully presented dishes that are as enjoyable as they are 100% gluten free.
Chef CheSa's dishes have been featured in media including Ebony Magazine, Chicago's Best , Chicago Tribune, Thrillist, RedEye, WGN – People to People, WCIU-The Jam, and the Black Women's Expo.
CheSa's Bistro & Bar Menu
The menu presents CheSa's creative take on New Orleans and Louisiana cuisine blended with contemporary American flavors.
Rollins has spent considerable time in New Orleans, and the region's food is her favorite cuisine because it is comforting, earthy, and offers a wide palette of flavors from which to work.
She diligently adapts her recipes to use only delicious gluten free ingredients.
The opening menu for CheSa's Bistro & Bar includes starters such as the signature Jumbo Lump Crab Cake Rolls, crab cake mixed with diced bell peppers and onions and deep fried to perfection ($18); Sausage & Cheddar Hush Puppies, fried golden brown hush puppies filled with pork andouille, pork sausage, cheddar and Parmesan cheese ($16/$28); Waygu Beef Sliders, buttery Waygu beef sliders on a garlic butter gluten-free bun with house aioli, arugula, and house cheese. ($12/$24).
Main dishes include Short Rib & Red Grits, lightly cooked homemade juniper purple grits with pepperjack cheese and a hearty cream sauce, topped off with a slow roasted boneless short rib ($35); Cajun Grilled Lamb Chops, four Cajun grilled lamb chops topped with sliced heirloom cherry tomatoes and pearlized onions, served with smothered red potatoes and leeks ($38); Cajun Mac & Cheese, made with five cheeses and also offered with a 10 oz. lobster tail ($15; add lobster +$20; available on Tuesday – Thursday only); and CheSa's Gumbo , a traditional gumbo with chicken, andouille pork sausage and shrimp and also offered with a 10 oz. lobster tail ($21; add lobster +$18).
Seafood offerings include Catfish & Jambalaya, mustard fried catfish fillets over jambalaya ($27/$36) and Red Snapper, garlic red snapper fillet sauteed with diced green and red bell peppers and onions over red beans and garlic rice ($43).
A favorite side dish is the Cajun Corn, with diced bell peppers and andouille sausage ($7).
Desserts include Peach Pockets, deep fried peach cobbler rolls with cream cheese sauce ($16); and Chocolate Lava Cake, chocolate cake with decadent chocolate center ($9).
Interior
The cozy and stylish 80-seat bistro welcomes diners with its chic contemporary black and gold décor, featuring a full bar, comfortable seating, and a private dining room.
Tables are adorned in black tablecloths, elegant and sophisticated.
Find out more at www.chesasbistro.com.