At Langley-based Central Park Farms, it's about helping the community make ethical and sustainable food choices. Central Park Farms specializes in non-GMO fed pasture raised chicken, pasture raised pork, grass fed beef, and farm fresh eggs from pasture raised hens. Believing in transparency over certifications, Central Park Farms opens farm doors and lets consumers see exactly where their food comes from, how it's raised, and who the farmers are behind it all. Growing from farm stand sales to farmer's markets, they have become a favourite of top chefs and restaurants throughout the Lower Mainland. Last night, I attended a very special farm-to-plate longtable media dinner at Central Park Farms with other partners in Langley to celebrate community and bounty of Langley.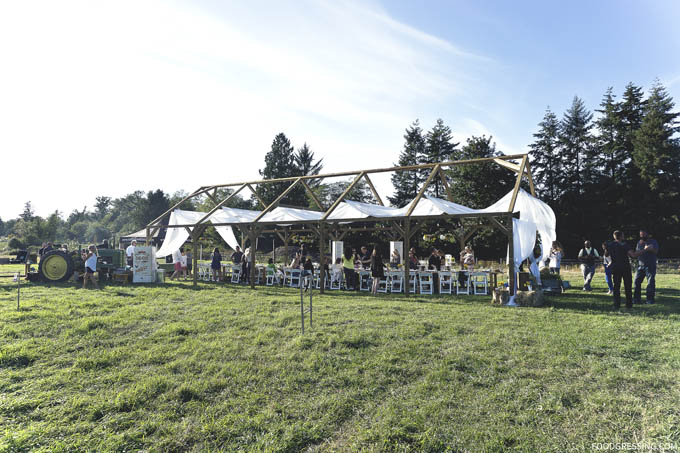 The evening started off with a tour of Central Park Farms featuring non-GMO fed, pasture raised chickens.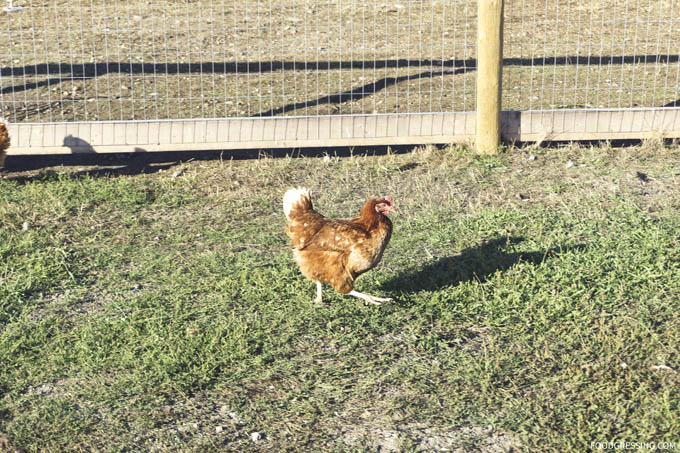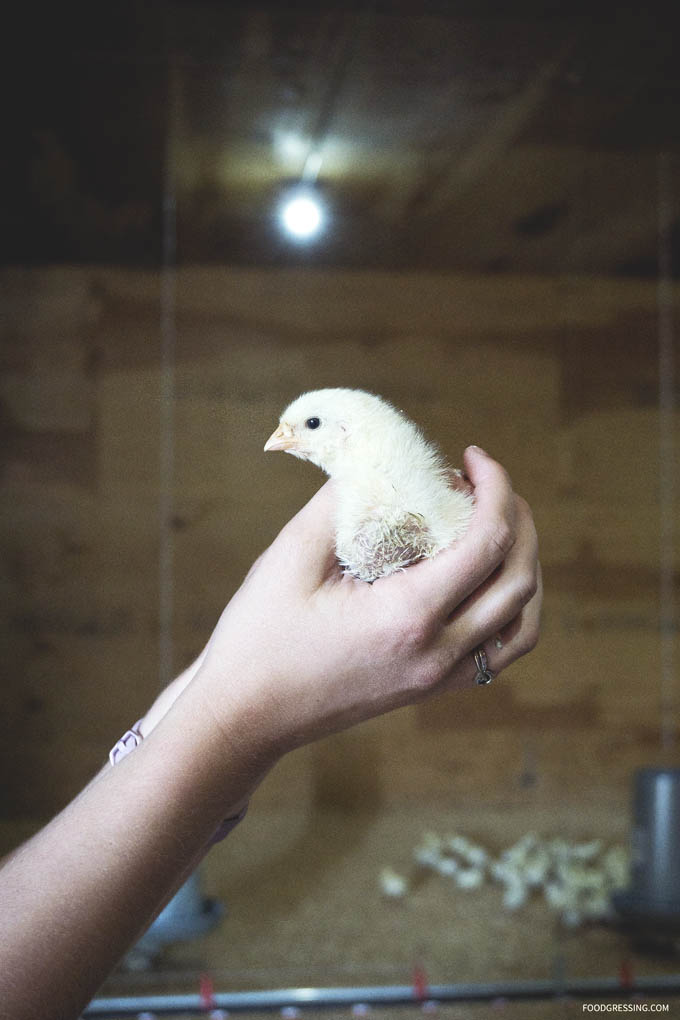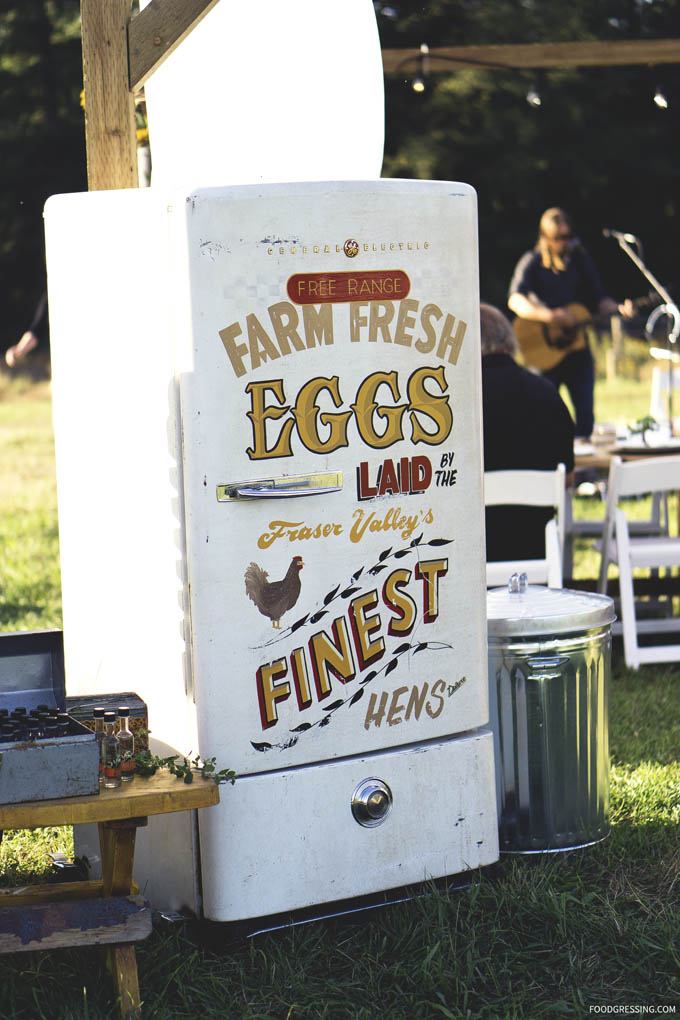 We then proceeded with some welcome drinks including a Root and Wings Distillery vodka-spiked lemonade. Root and Wings is the first and only Langley craft distillery; they opened in February 2017 with the release of their inaugural B.C. artisan spirit — Vital Vodka. Their distilled liquor has unique flavour profiles influenced by their own crops and natural spring water.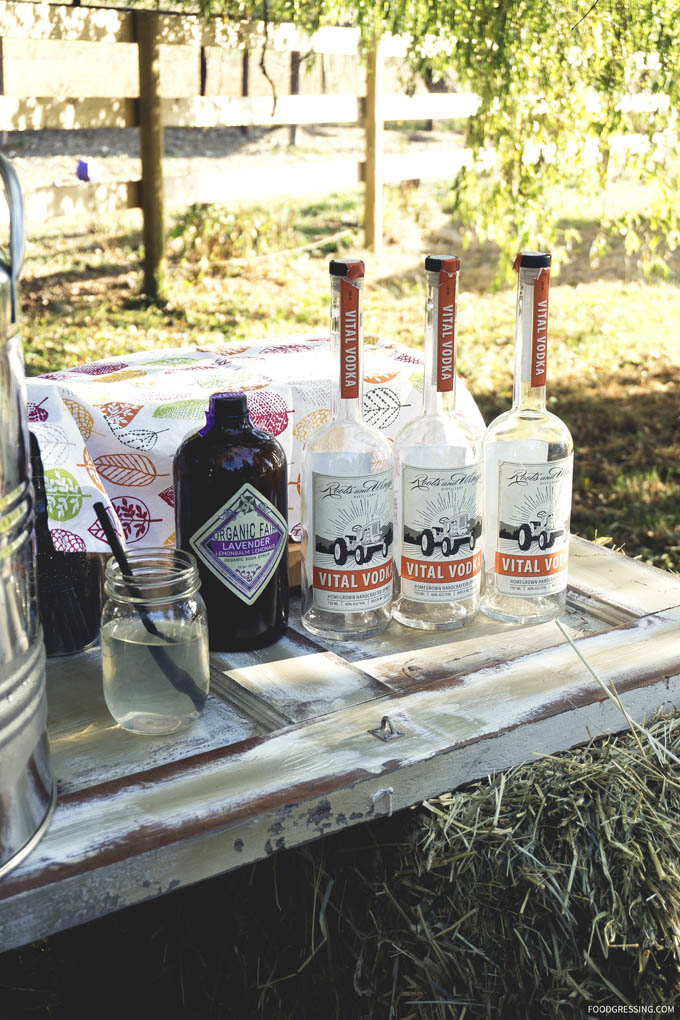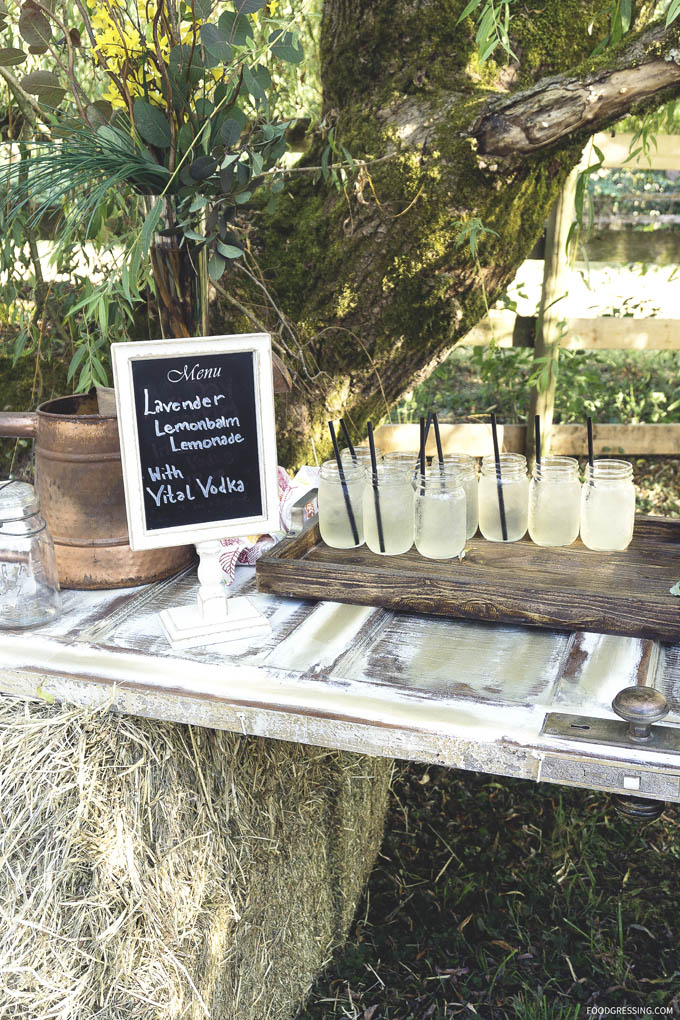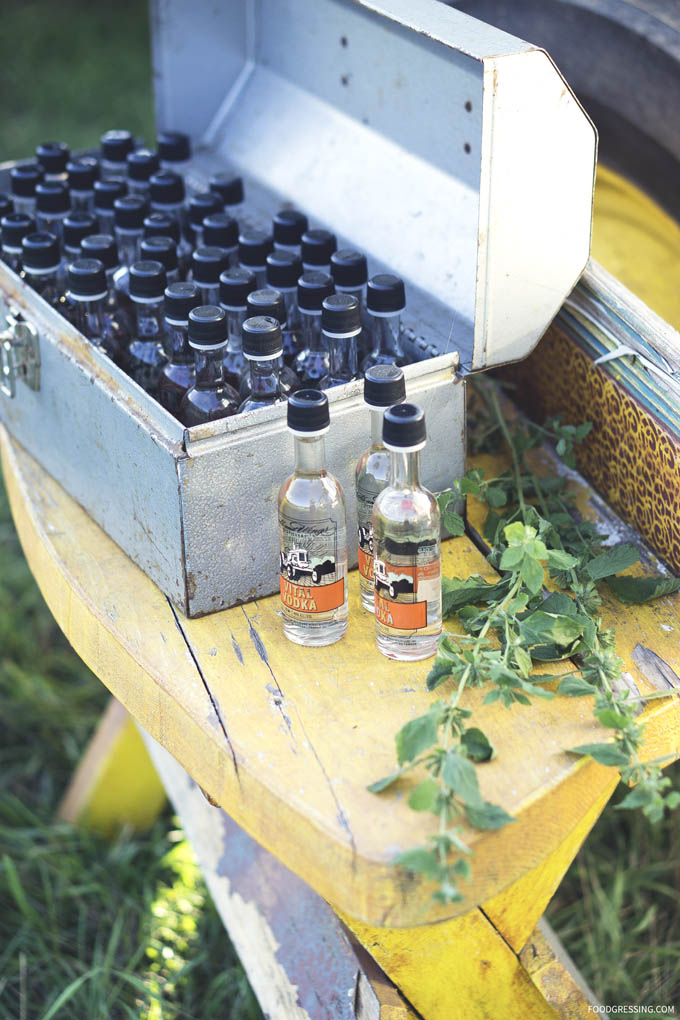 Honey Barbeque Central Park Farms pulled pork sliders with charred slaw on a fresh-baked brioche bun were served and they were delicious!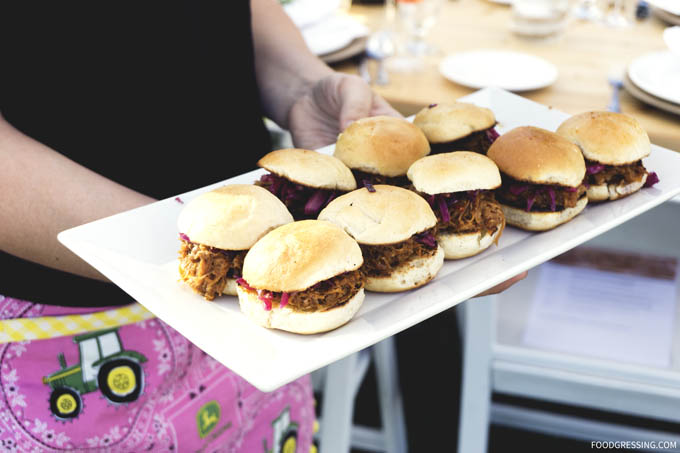 Abbotfsford-based mother-daughter team, Valley Weddings, supplied the decor pieces and staged this event. They have been providing custom décor and event coordination since 1999.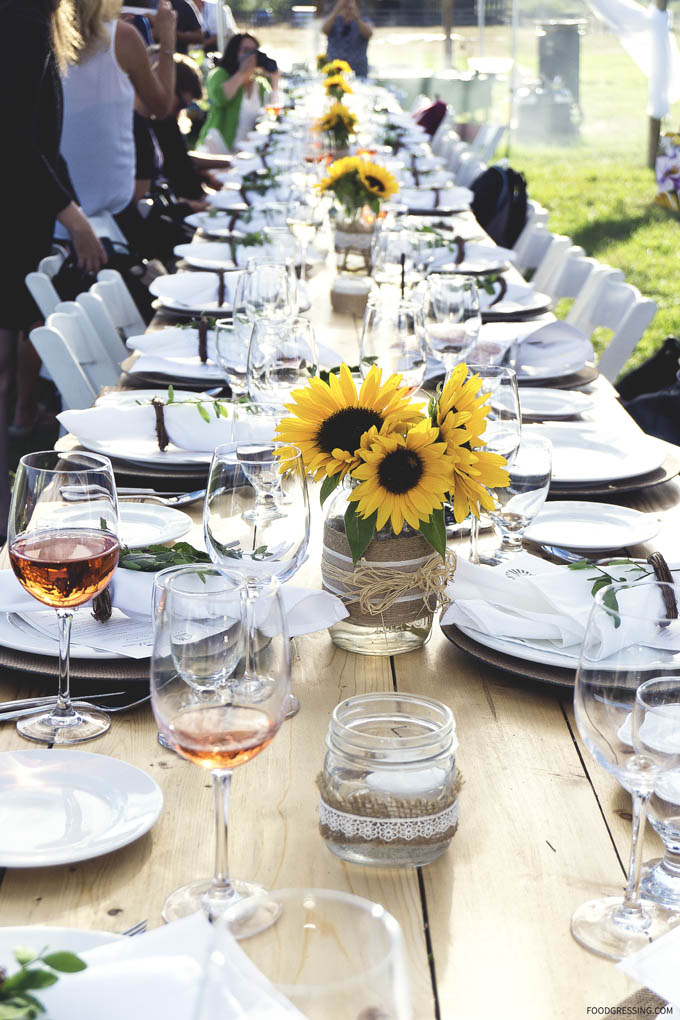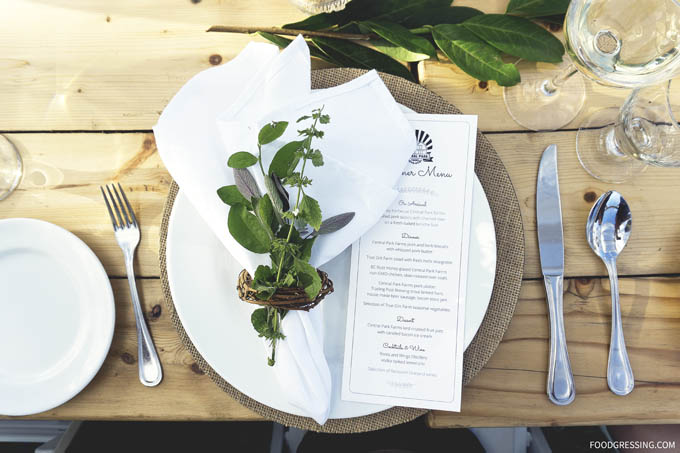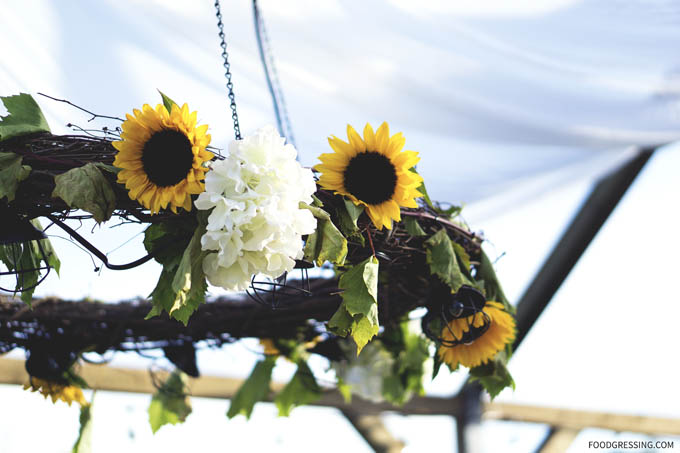 Our dinner was prepared by Chef Adrian Beaty who is passionate about working with farmers, working with the seasons, creating food that could give you a sense of time and place. Wine was flowing throughout dinner courtesy of Backyard Vineyards. Backyard Vineyards is a full production winery nestled in the countryside of South Langley, BC.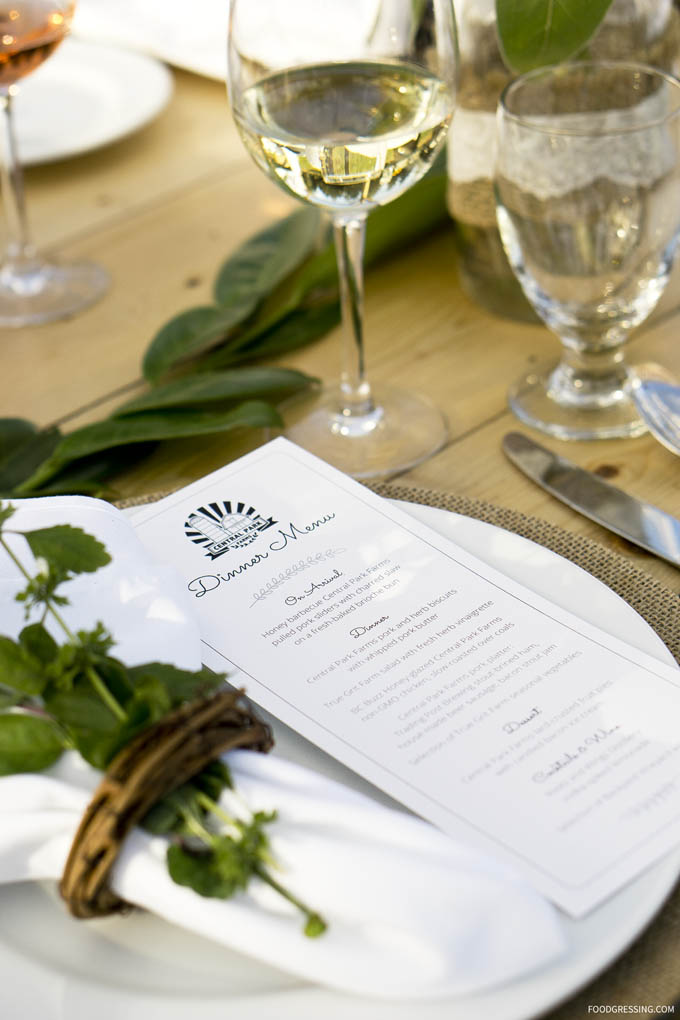 We indulged in several farm-to-plate dishes in a family-style. There was the Central Park Farms pork and herb biscuits with whipped pork butter.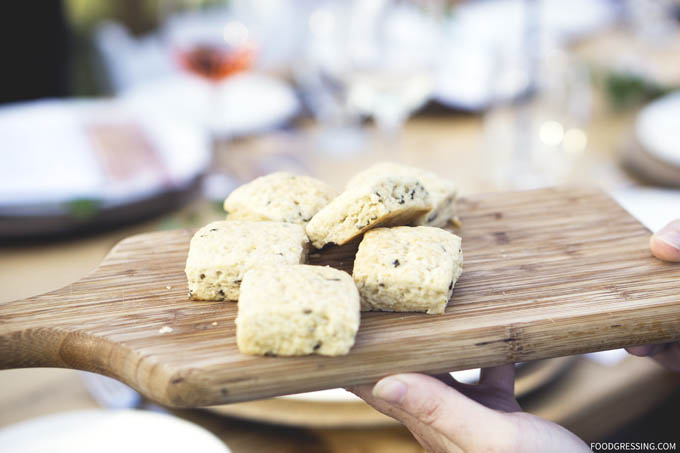 There were many True Grit Farm seasonal vegetables incorporated into the dishes. I loved the True Grit salad with fresh herb vinaigrette. True Grit Farm provides restaurants with high-quality microgreens grown using organic practices.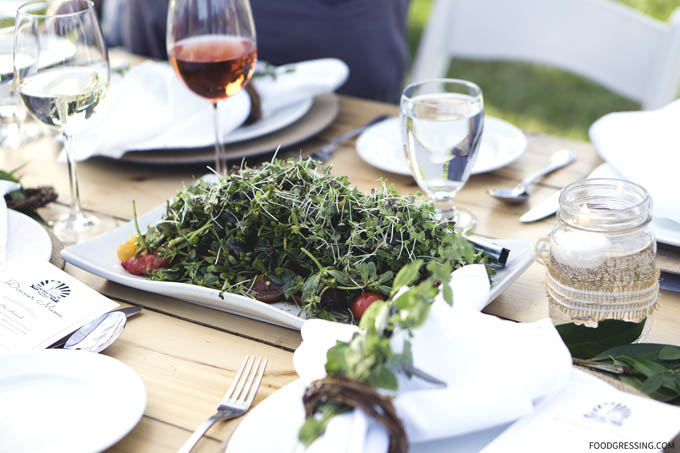 There was the BC Buzz Honey glazed Central Park Farms non-GMO chicken which was slow roasted over coals. BC Buzz Honey produces only raw honey, which is unpasteurized in order to ensure all the nutrients, enzymes, and antioxidants remain in each jar.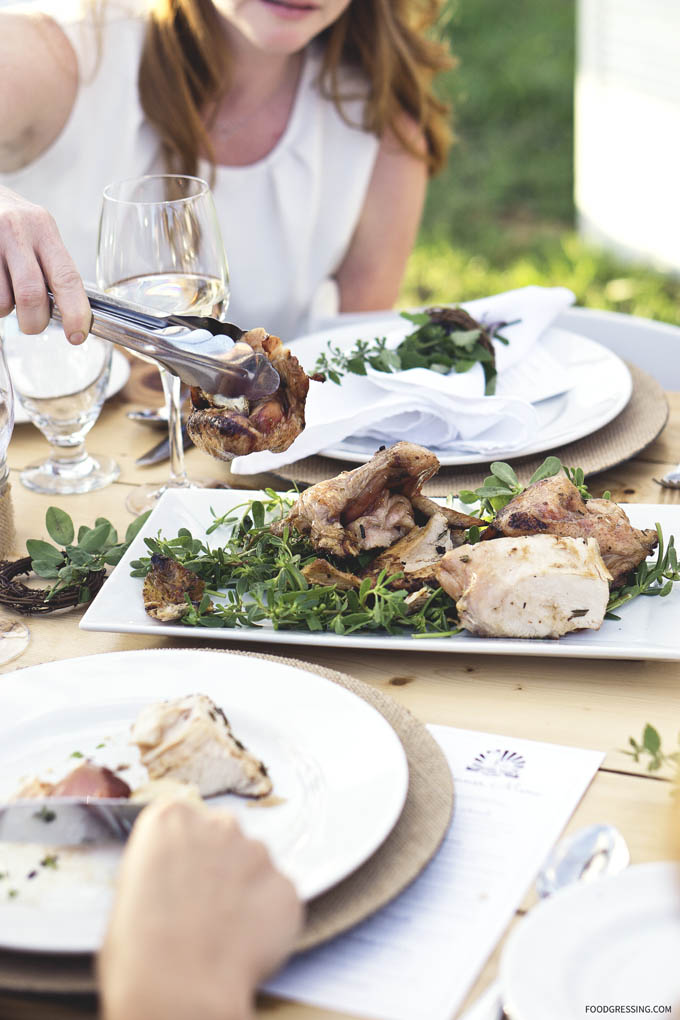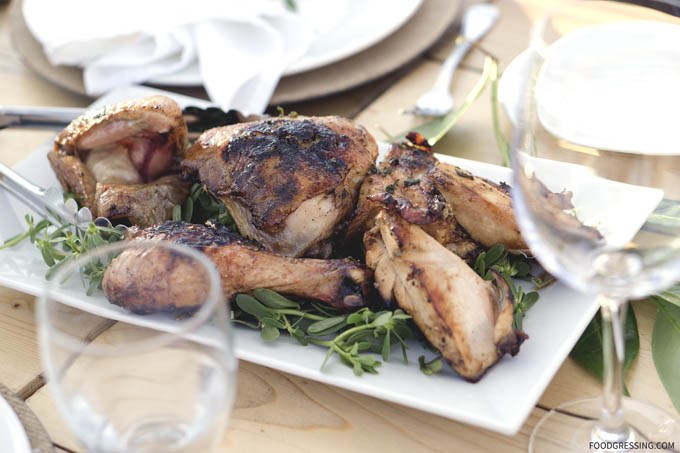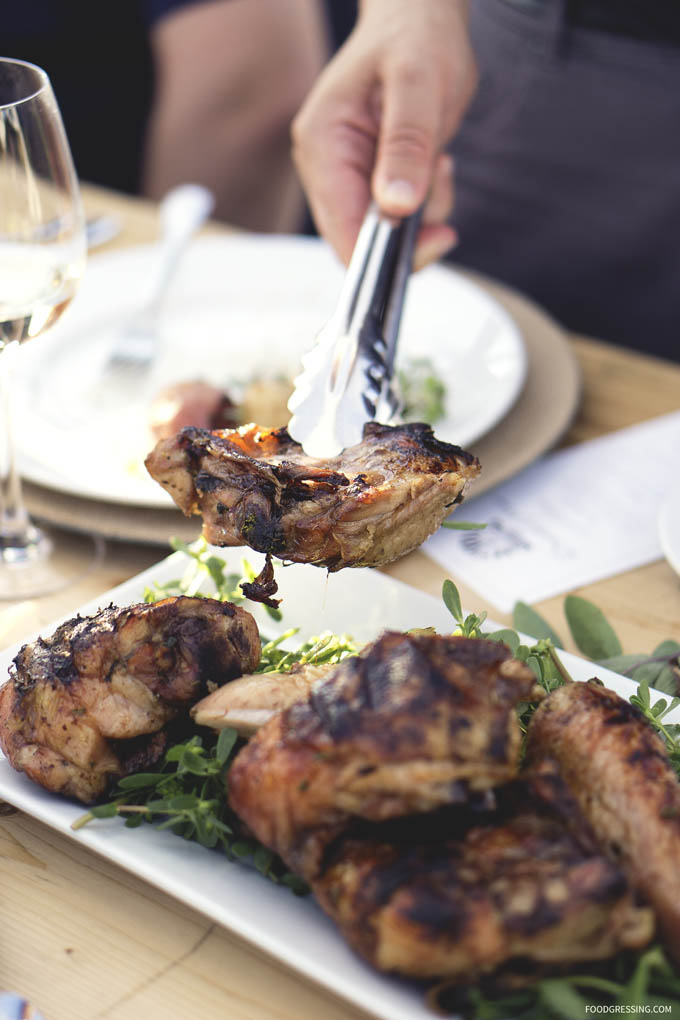 Attendees also enjoyed the Central Park Farms pork platter consisting of Trading Post Brewing stout-brined ham, house-made beer sausage and bacon stout jam. Trading Post Brewing is a modern day craft brewery that was born out of a passion for great beer and from our desire to serve the community they call home.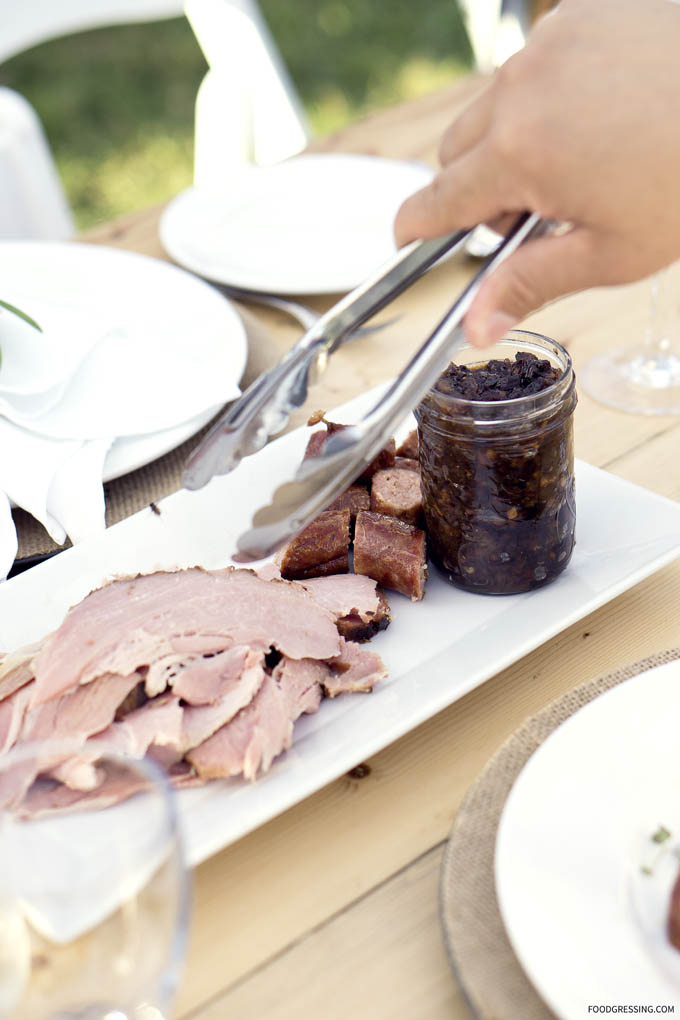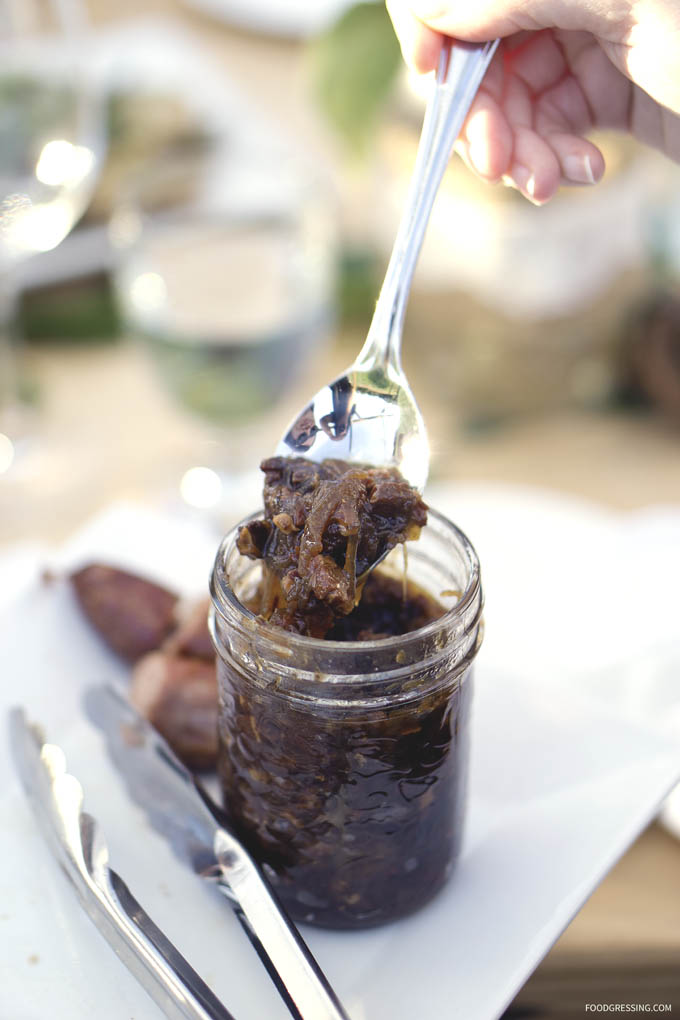 To finish off a fantastic meal, we enjoyed the Central Park Farms lard-crusted fruit pies with candied bacon ice cream.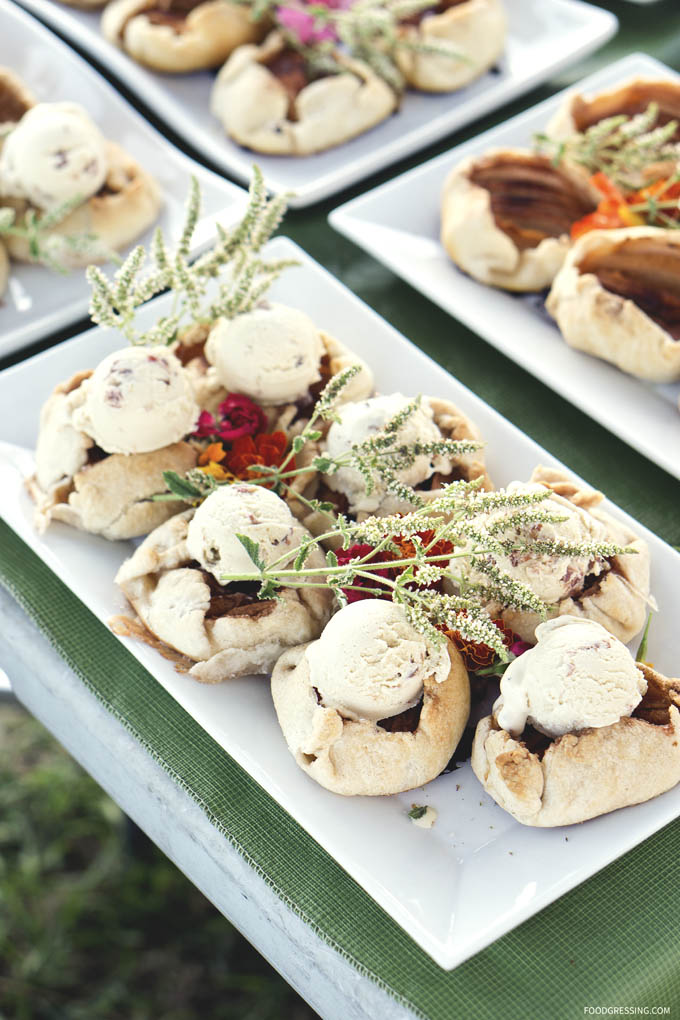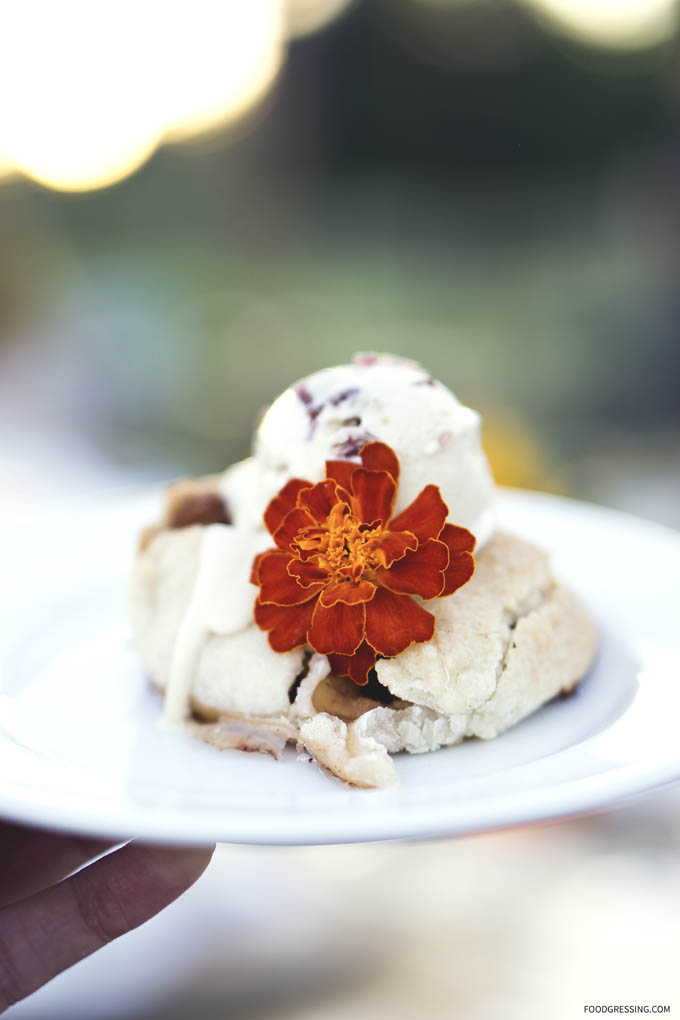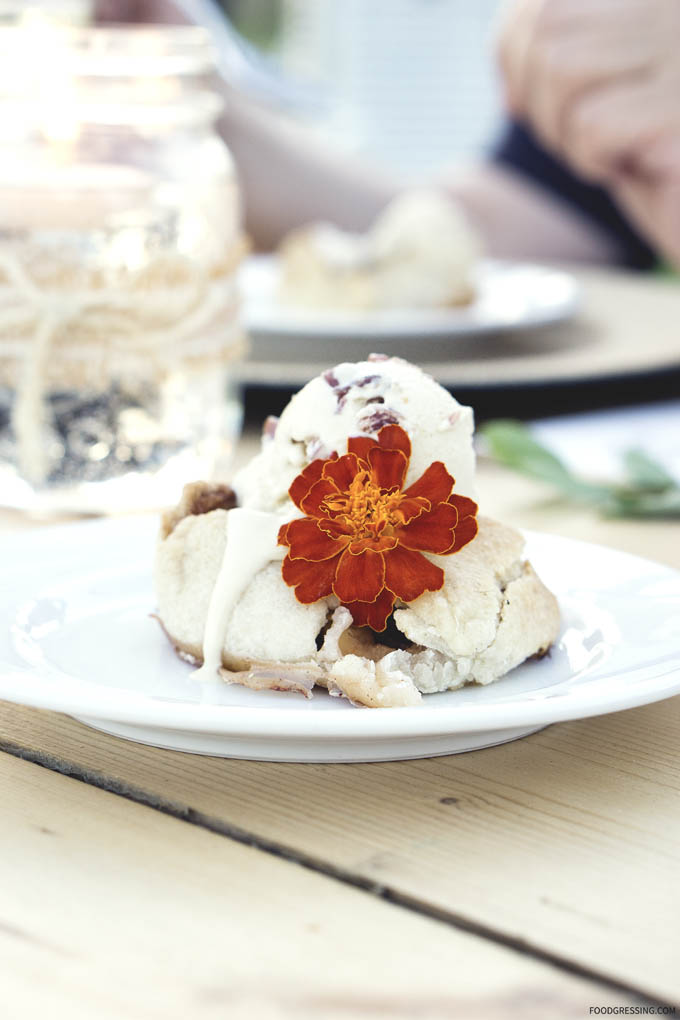 Ryan McAllister provided the musical entertainment for the evening. His Abbotsford band Dakona was signed to Madonna's Maverick records for 4 years where his songs charted on Billboard. He has performed thousands of concerts on five continents with artists ranging from Willie Nelson to Michael W Smith. He continues to write, tour and record and he recently won a Juno for his work as a producer.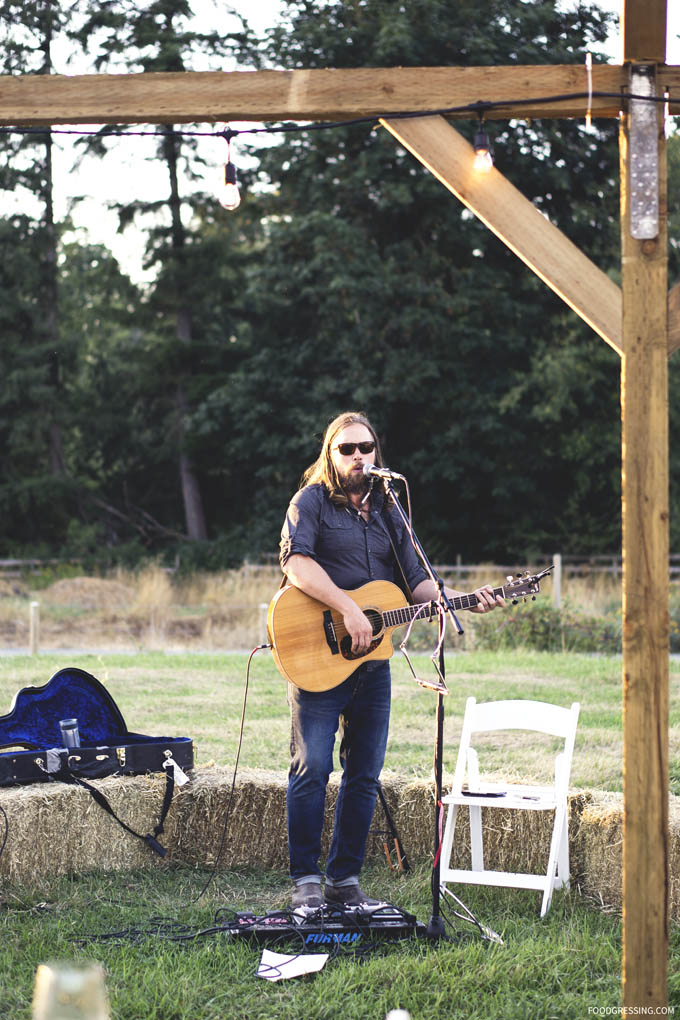 Thank you to Central Park Farms, Summer Dhillon, True Grit Farm, Backyard Vineyards, Chef Adrian Beaty, Roots and Wings Distillery, Trading Post Brewing, BC Buzz Honey, Valley Weddings, Desination BC, and Ryan McAllister for a beautiful evening!