With better weather ahead of us, you might want to make plans to visit Krause Berry Farms.  Last summer, my family and I enjoyed a few good sunny afternoons visiting Krause Berry Farms in Langley.  There's really something for everyone and it's a very family-friendly getaway from the city.  Krause Berry Farms has u-pick berry fields, a market, a bakery, an onsite estate winery, a restaurant and even a cooking school.  Here are some the highlights from my visits to Krause Berry Farms.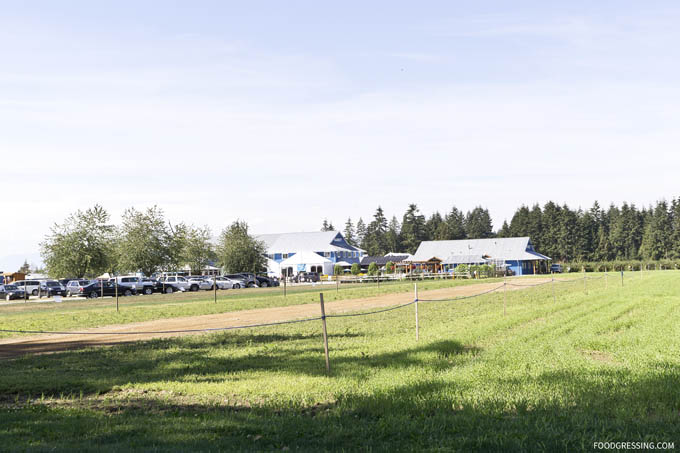 Note:  This is not a sponsored post.  The meal was not complimentary.  I did not receive any compensation or incentive to share about my experience.  The venue did not know that I am a blogger.
U-Pick Fields
Krause Berry Farms allows customers to pick their own strawberries, blueberries, raspberries and blackberries.  Check their website ahead of time to find which berries are in-season.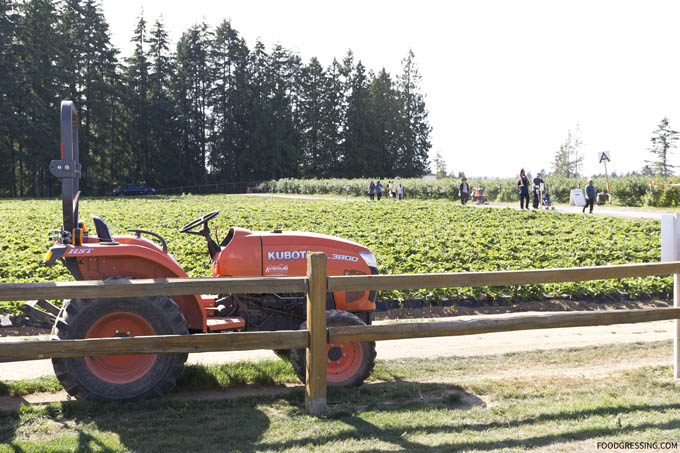 Estate Winery
Open on Saturdays and Sundays only, the estate winery offers wine tasting experiences.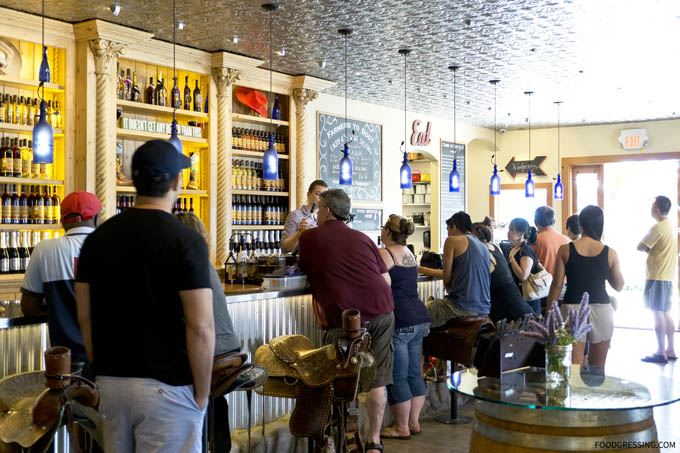 Places to Play
The Future Farmers at Work playground is conveniently located by the Porch Restaurant and is free for kids to enjoy.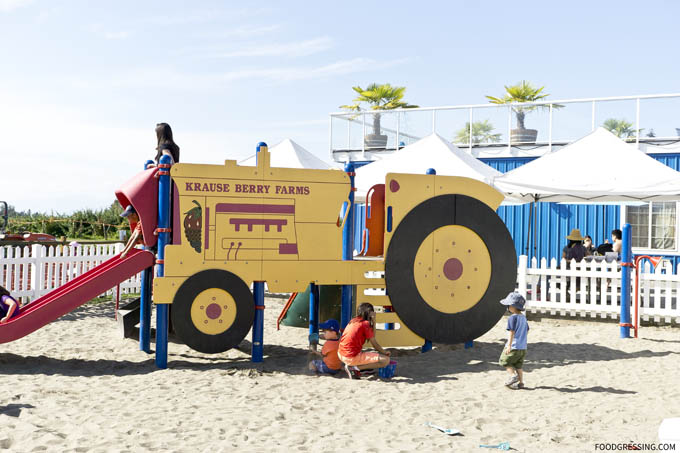 The Fresh Family Fun Field is paid admission entertainment area and features games for all ages and jumping pads.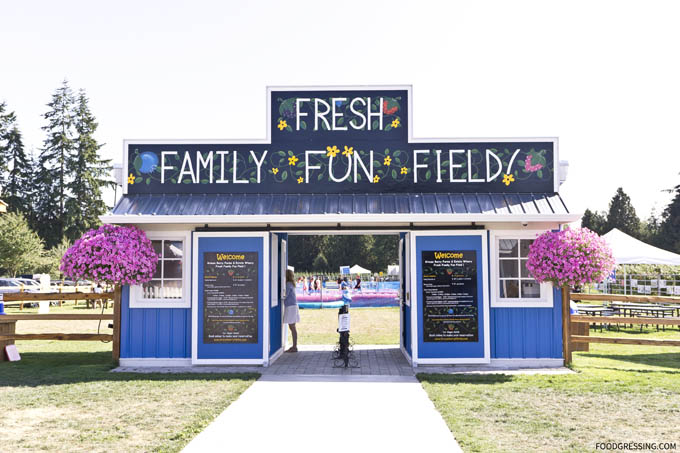 On weekends, a Summer Country Tractor Train ride is offered.  The cost was $2.00 per person.
Market/Bakery
The market at Krause Berry Farms has lots of cute, country-themed gifts and products made from fruits and vegetables grown on the farm.  They also have a bakery counter inside stocked with tons of delectable treats like cookies, fudge, shortcakes and more.  Be sure to check out the berry custard pies.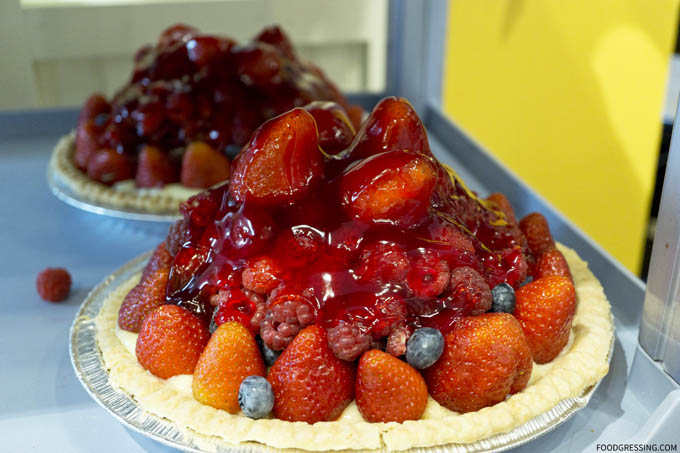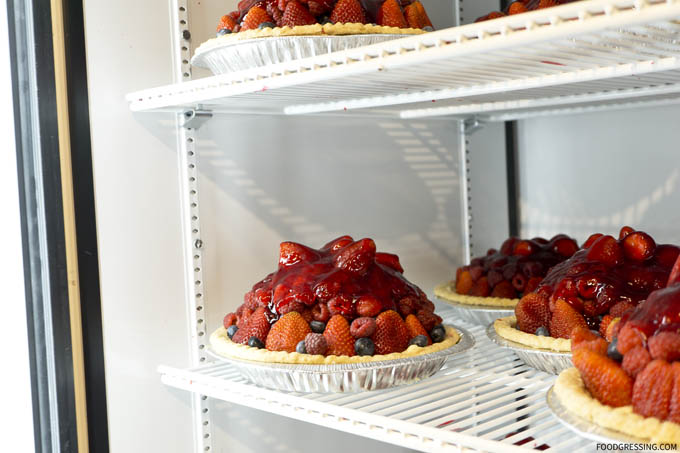 Places to Eat
The Porch restaurant is where you can find farm house favourites like old fashioned berry milkshakes, refreshing berry smoothies, roasted corn pizza, and farm made ice cream desserts.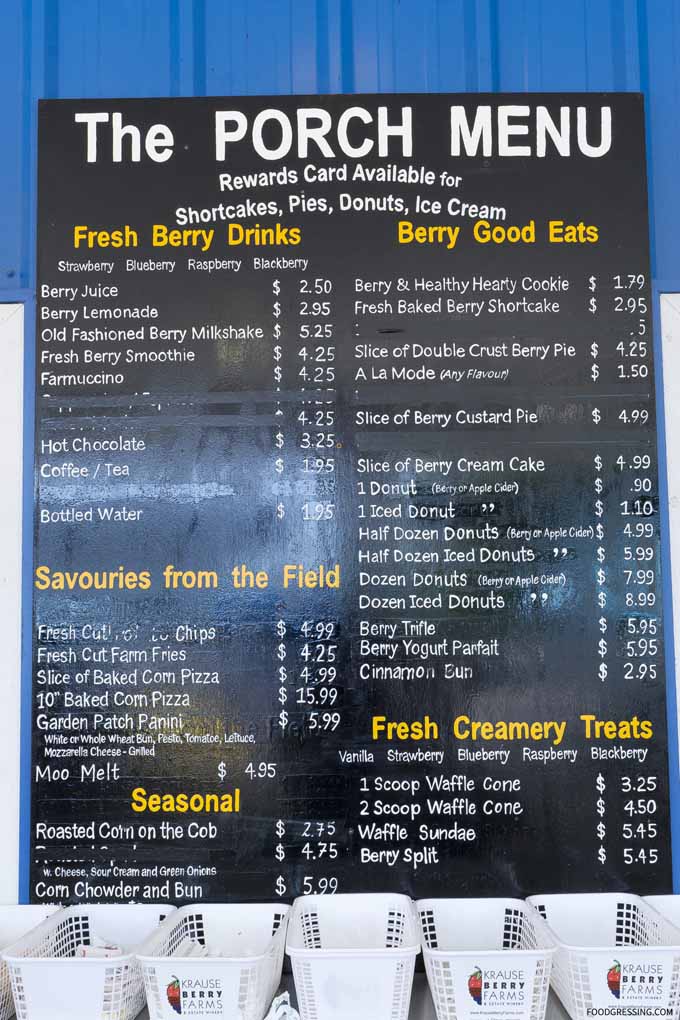 What We Tried
Over a few visits, my family and I tried the following:
Slice of Baked Corn Pizza ($4.99)
Corn Chowder & Bun ($5.99)
Slice of Berry Custard Pie ($4.50)
Fresh Berry Smoothie ($4.25)
Berry Ice Cream Sundae ($5.45)
2 Scoop Waffle Cone ($4.50)
The corn pizza was a cheesy, hot mess of deliciousness.  Loaded with cheese and corn, this pizza was hearty and tasty.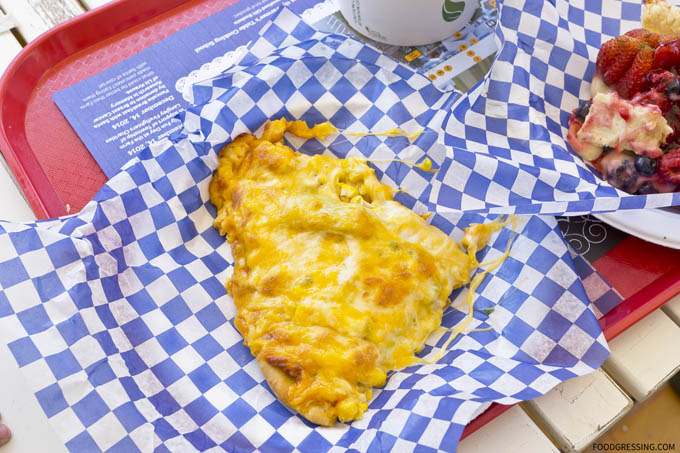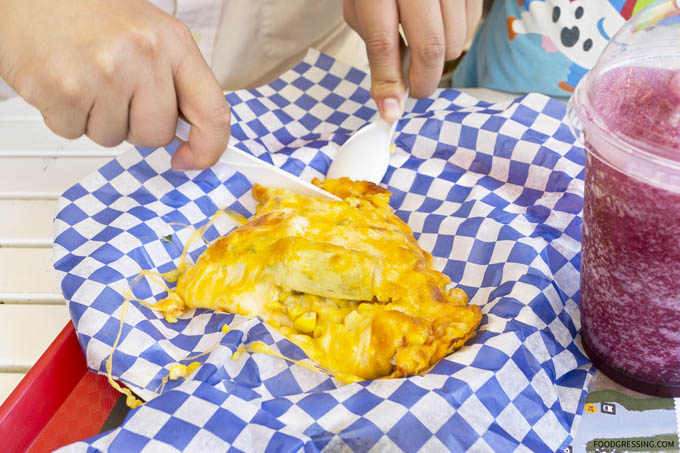 If you don't want to buy an entire berry custard pie, you can always enjoy a slice from the restaurant.  I love the amount of berry toppings given and the custard filling was at the right level of sweetness.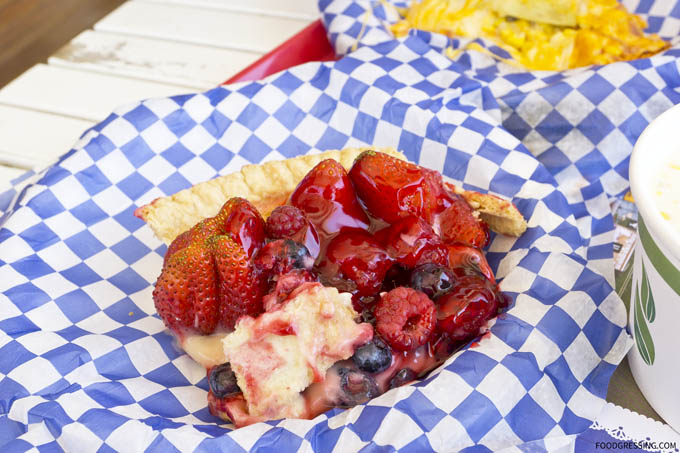 The corn chowder was rich, creamy and full of flavour.  Love the little bursts of sweetness from the corn kernels.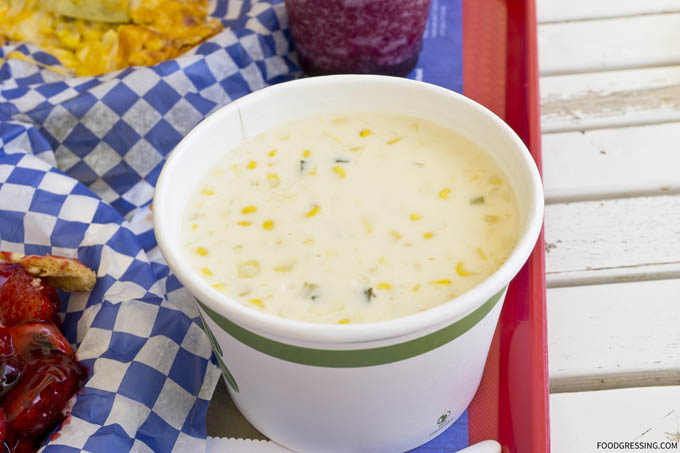 The strawberry smoothie was very refreshing on that hot summer afternoon.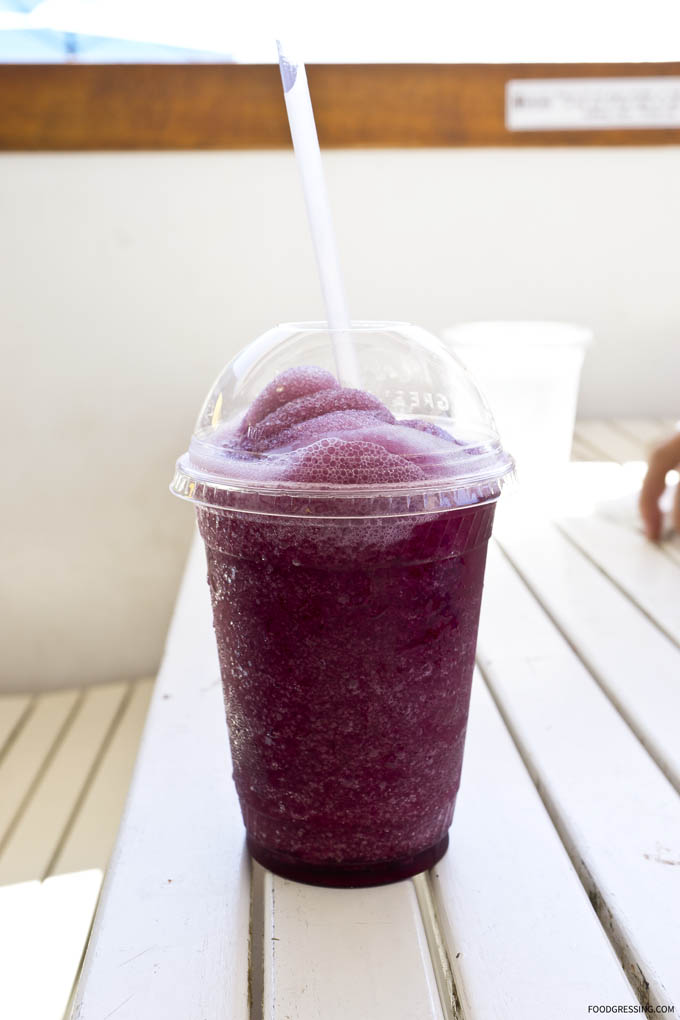 We enjoy some of the strawberry ice cream waffle cones but alas I can't find those photos to put them into this post.  The Berry Ice Cream Sundae was very delicious, refreshing and topped with whipped cream.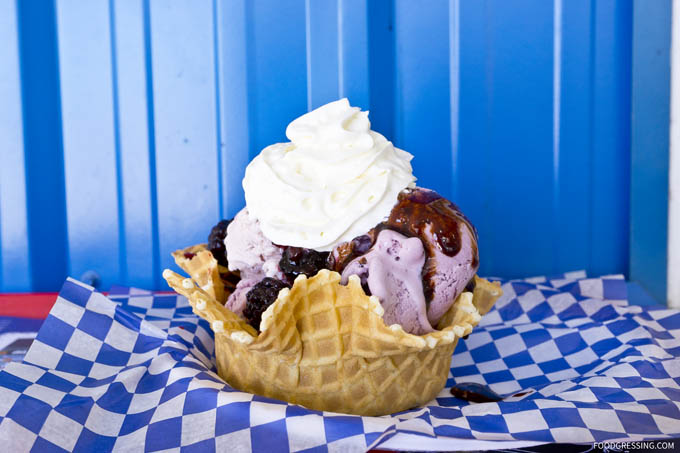 The KB Corral which is located between the Market and the Estate Winery is where you can find fresh hot berry waffles on Saturdays & Sundays.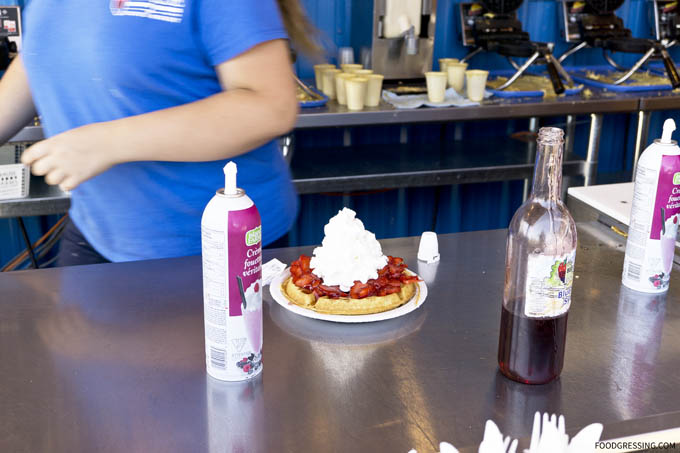 Overall Impression
There's so much to do and things to eat at Krause Berry Farms.  I highly recommend visiting them for a nice afternoon getaway.  My favourite eats were the ice cream, sundae, and corn pizza.  Rating: 5/5