A new gourmet sandwich cafe has just opened up in Downtown Vancouver.
Rising celebrity chef Chef Felix Zhou, formerly a partner at Heritage Asian Eatery and the Executive Chef at The Parker Restaurant and Beach Bay Café, has opened Bread x Butter Cafe inside Cathedral Place at the corner of Hornby and West Georgia.
The seasonal menu of locally sourced ingredients focuses on gourmet sandwiches created with freshly baked artisanal bread and the highest quality butter.
The cafe offers breakfast staples like avocado toast; egg salad sandwich; breakfast sandwich and more.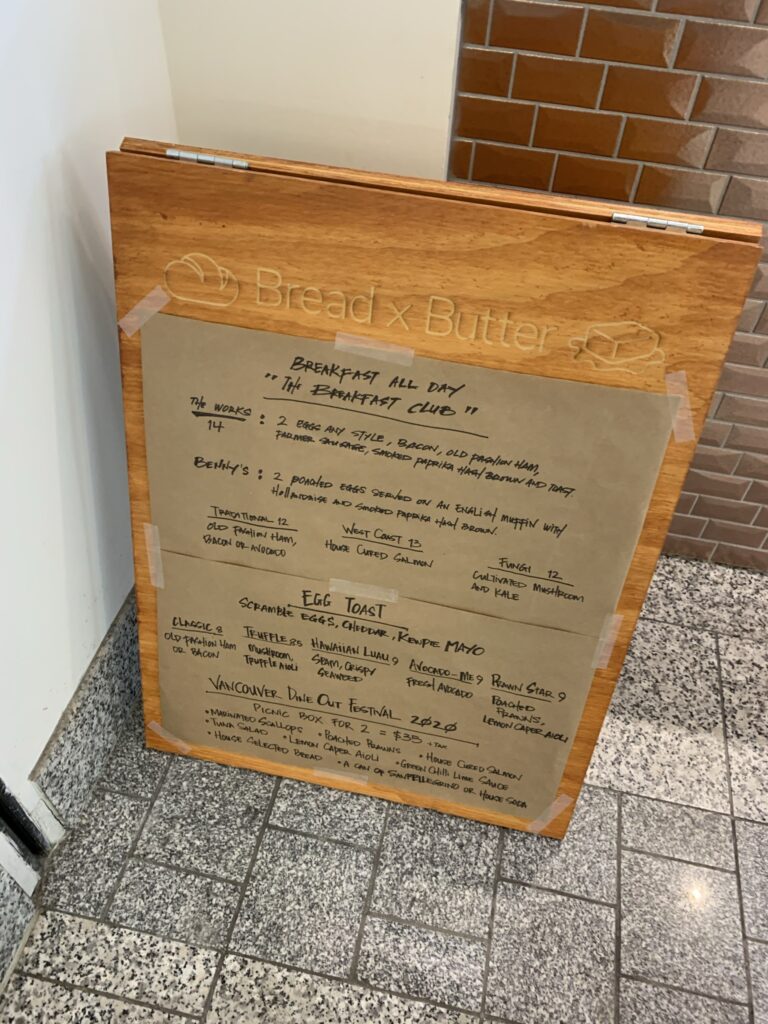 Some salad options include Roast Cauliflower Salad; Prawn Salad; Chicken Salad; and so forth.
Gourmet sandwiches include Roasted Chicken Baguette; Bocconcini Sourdough; Turkey Cranberry Sourdough; Salmon Nicoise Multigrain; Prawn Salad Multigrain and more.
For baked goods, there are plain croissants, chocolate croissants, banana loaves, muffins, cookies and more.
The coffee program is by JJ Beans Coffee with espresso-based drinks such as mochas, espressos, lattes, matcha lattes, and so forth.
The cafe had plans to be an upscale boutique venue for special events on evenings and weekends outside using the courtyard space. Chef Zhou mentions that there might be potential for popups and small scale events in the future.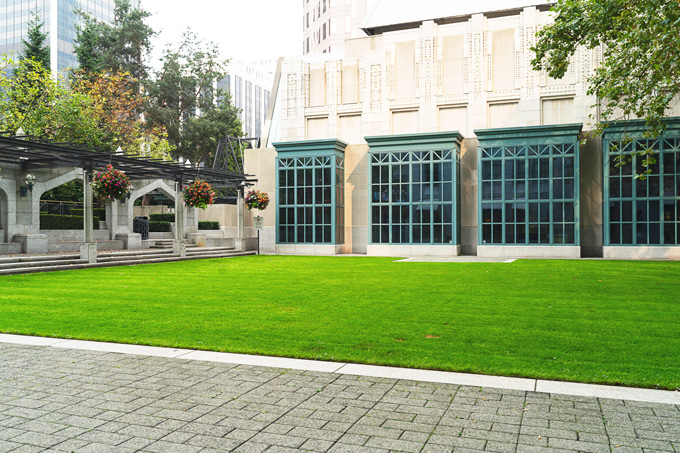 You can order ahead online for pickup via Ritual. The cafe is currently open for takeout with 3-4 dine-in seats and outdoor seating in the courtyard.
Edit: September 20, 2020. David (@pickydiner) and I decided to try out their Egg Toast options this past week and they were very good! We tried the following: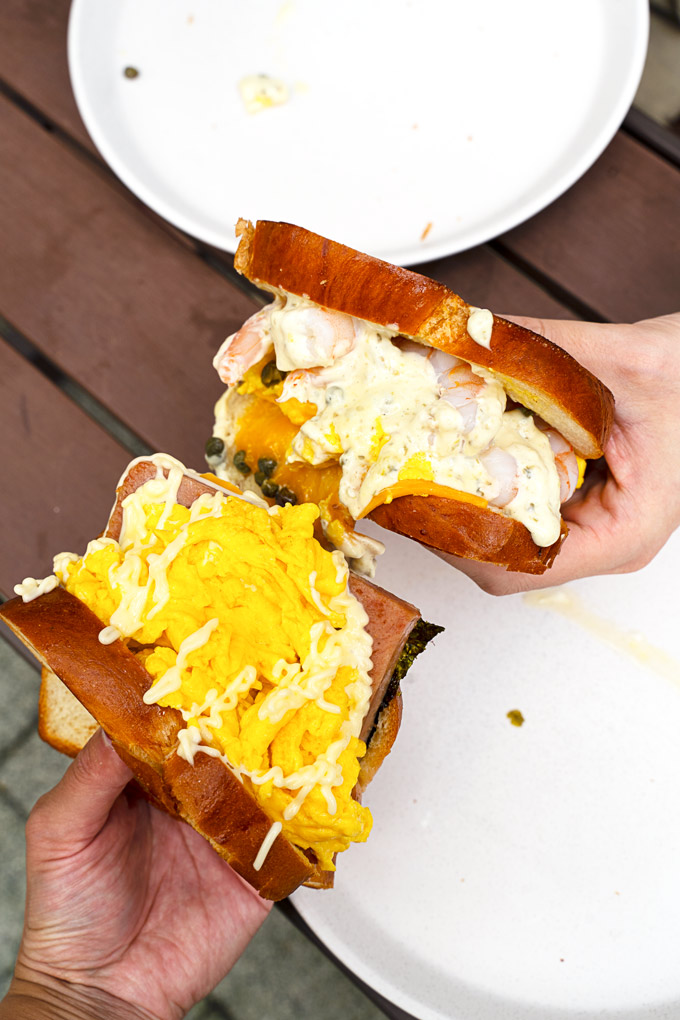 Hawaiian Luau featuring Spam, scramble eggs, cheddar, crispy seaweed, kewpie mayo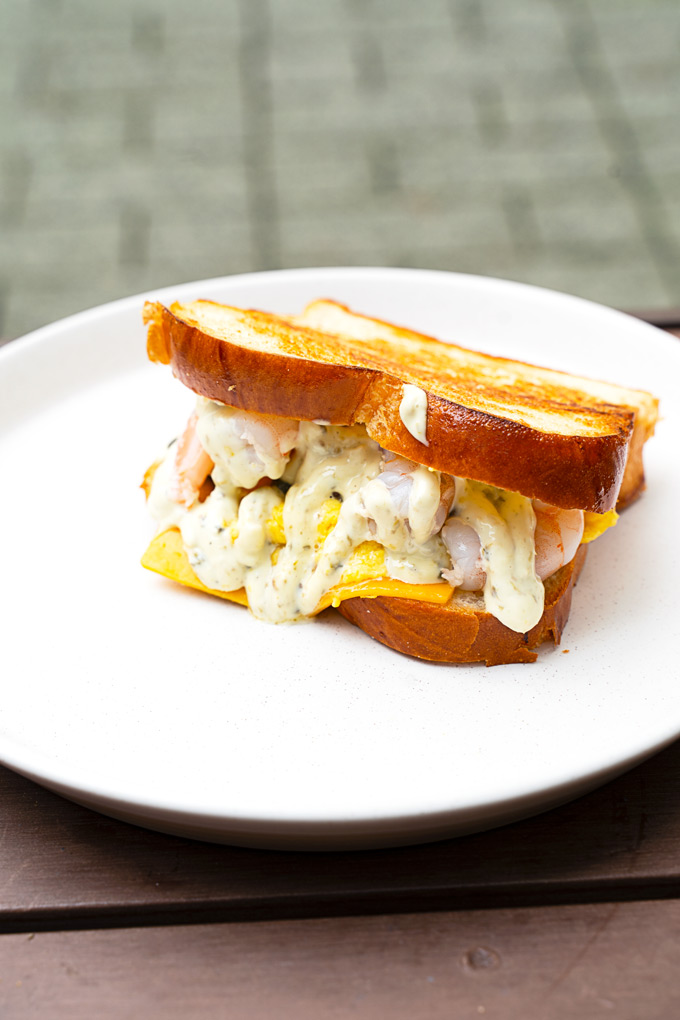 Prawn Star featuring Poached prawns, scramble eggs, cheddar, lemon caper aioli
Nice, light and fluffy scrambled eggs and soft toast. I liked that the sandwiches were not too heavy. The prawns were pretty bouncy.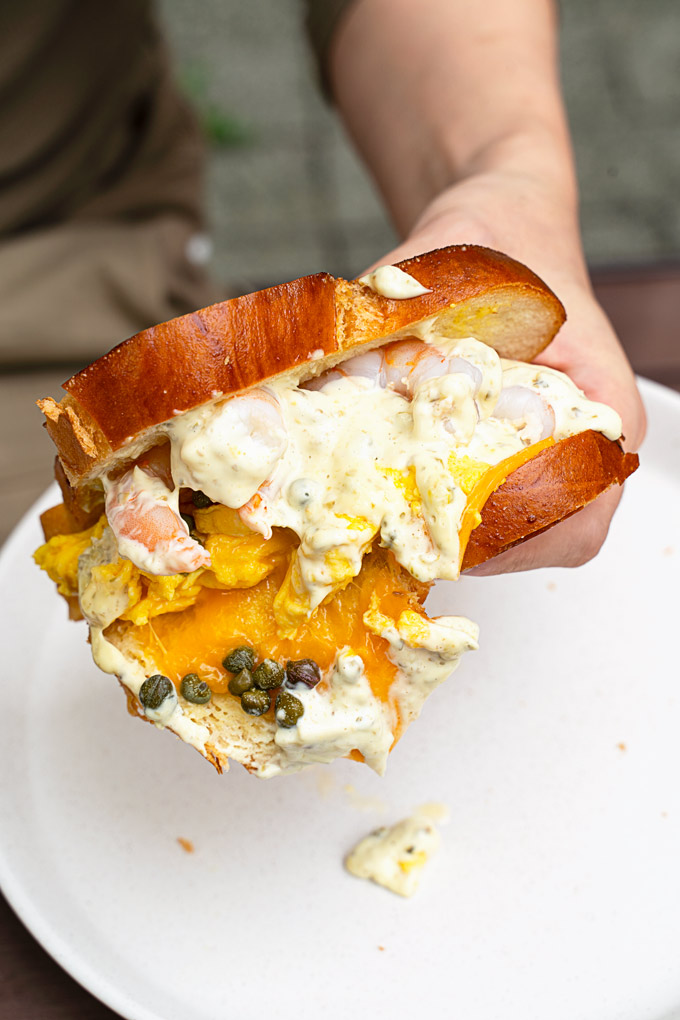 The cafe is currently is open 8 am – 3 pm Monday to Friday.
Bread and Butter
925 West Georgia Street
www.breadxbuttercafe.com