Amidst the concrete jungle that is Downtown Vancouver's Financial district is a hidden gem weekday lunch spot, Bovine Rice Bowls. Located at 118 – 1050 West Pender Street, Bovine Rice Bowls is a counter-service restaurant that offers contemporary pan-Asian comfort food rice bowls and weekly-rotating features.
---
Chef-Owned and Operated
Bovine is chef-owned and operated by Chefs Jeremy Lau and Peter Yau and was inspired by Jeremy's travels to Japan. They decided to open a rice bowl concept restaurant to Vancouver's dining scene and put their own spin on it.
Chef Jeremy Lau has been cooking in professional kitchens since 1997 and ran his first kitchen at the age of 20. He then went on a break for 7 years to work in R&D as a product developer for a local food manufacturer. This is his first venture with partner/owner, Peter Yau, who runs the front of house at Bovine.
---
Bovine Rice Bowls Menu
The rice bowls range from Roast Beef, Steak, Garden (vegetarian), and other rotating features like Tuna Tataki, Glazed Pork Belly, Tuna Poke, Hawaiian-Style Shrimp and so forth. The bowls are priced around $12 – $14 and for people who are feeling like a larger meal they offer extra-large bowls for the Roast Beef ($16) and Steak ($17). The beef they use is AAA Alberta beef and the rice is short-grain California rice.
---
What I Tried
At a recent media event, I was able to try several of their menu items.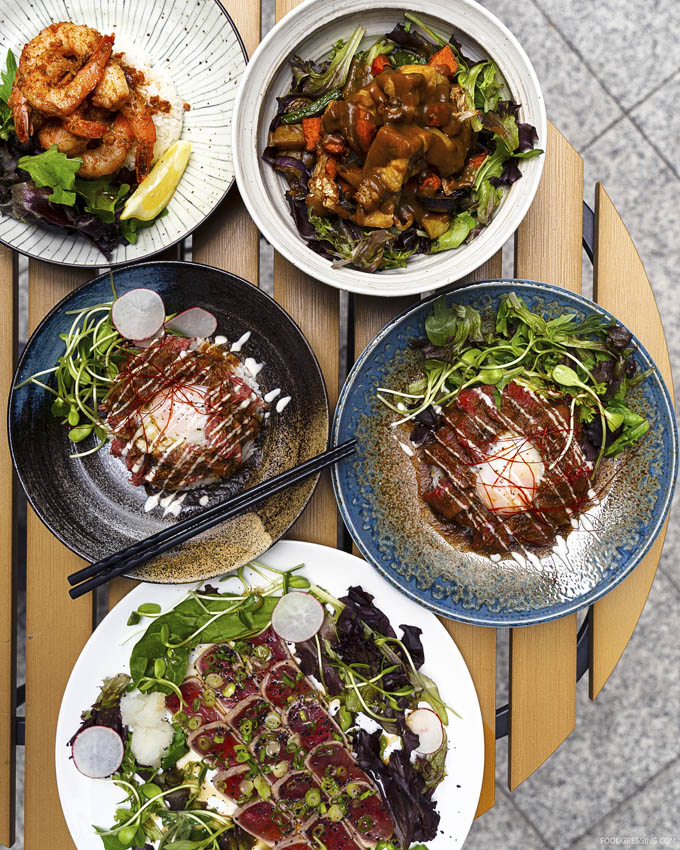 The Roast Beef Bowl featured a melt-in-your-mouth slow-roasted ribeye, 64 degree sous-vide egg, caramelized onion sauce, white sauce, sweet pea shoots on short grain rice.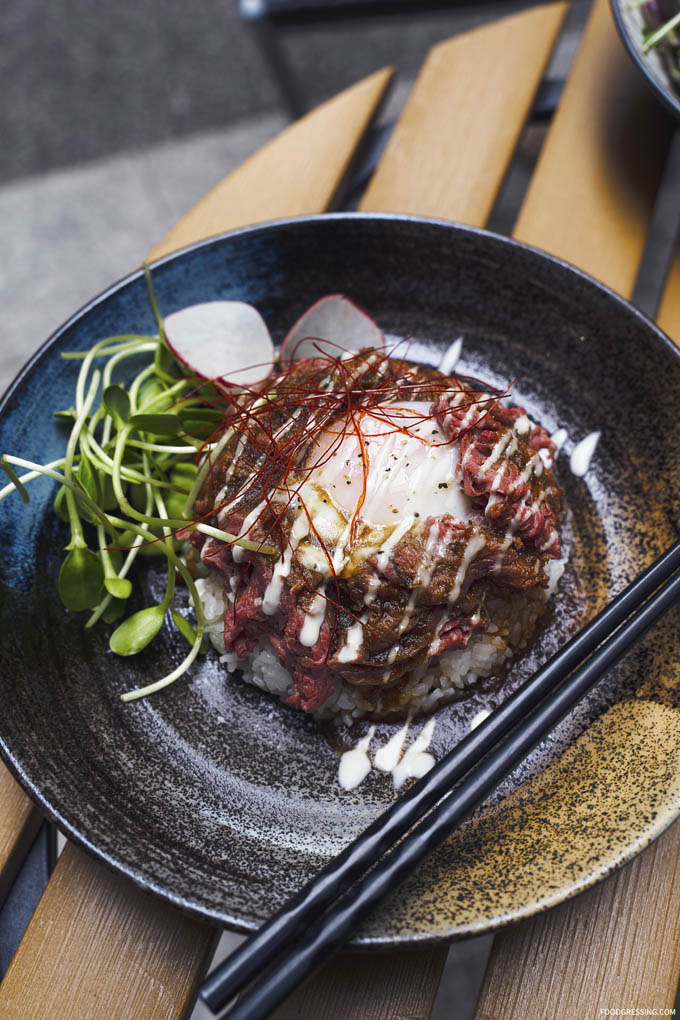 The Steak Bowl was also an appealing bowl with tender, flavourful marinated steak. It also came with a 64 degree sous-vide egg, caramelized onion sauce, white sauce, sweet pea shoots on short grain rice.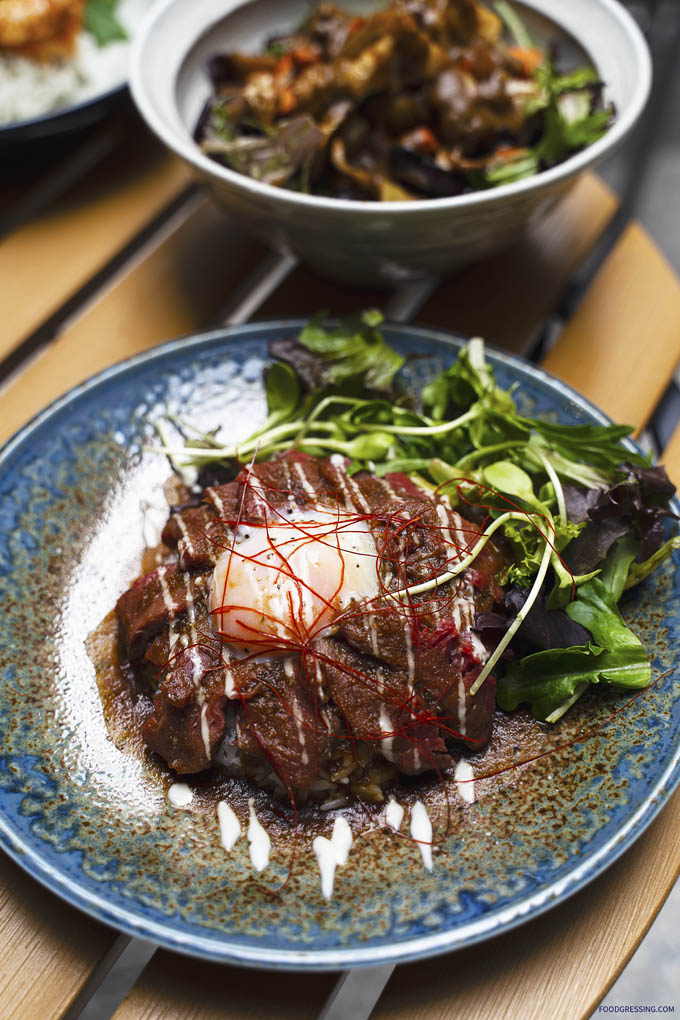 The Hawaiian-style shrimp bowls was a delicious rotating feature with bouncy, shrimp in a buttery sauce.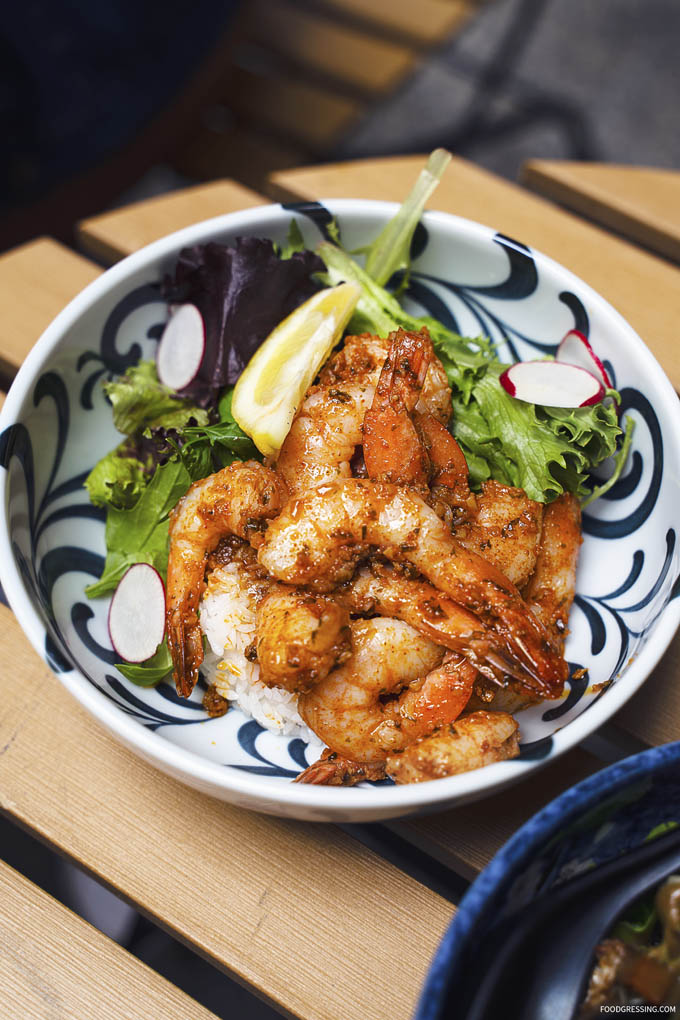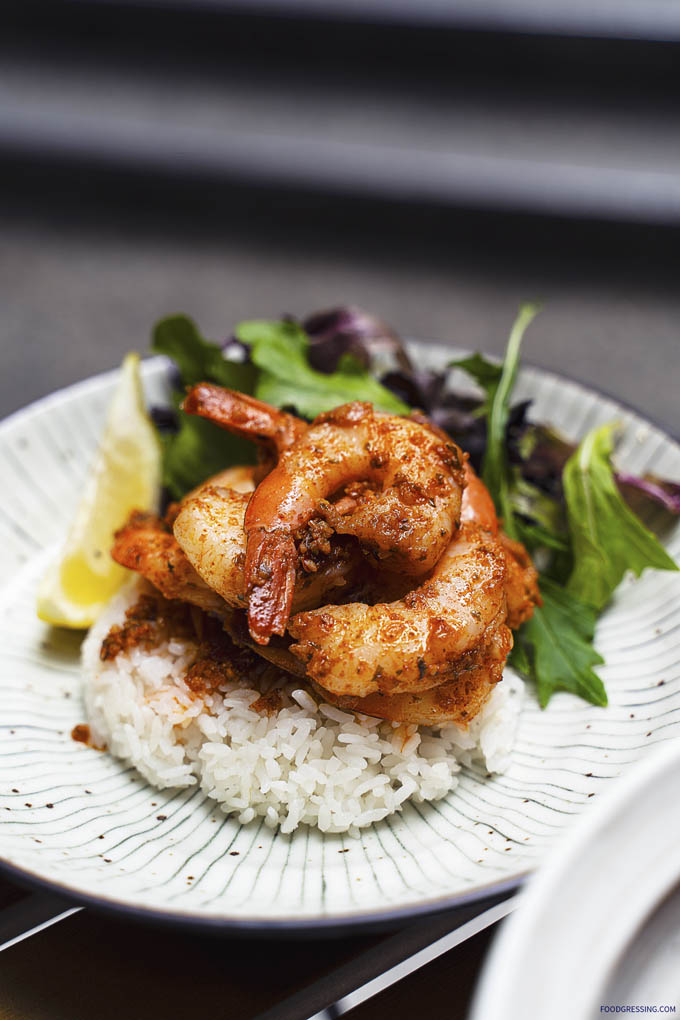 I loved the Tuna Tataki (also a rotating feature) which had perfectly seared tuna pieces and crispy garlic chips.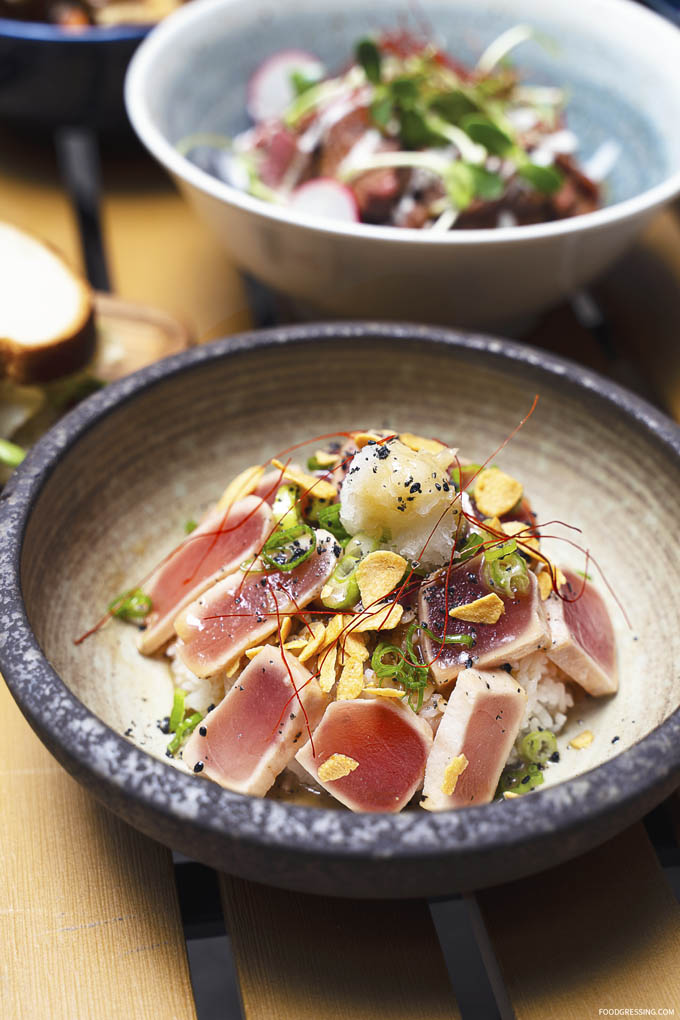 A tasty vegetarian option is the Garden Bowl with crispy yams, cauliflower, eggplant,l carrots, green beans and tofu on top of a Japanese curry.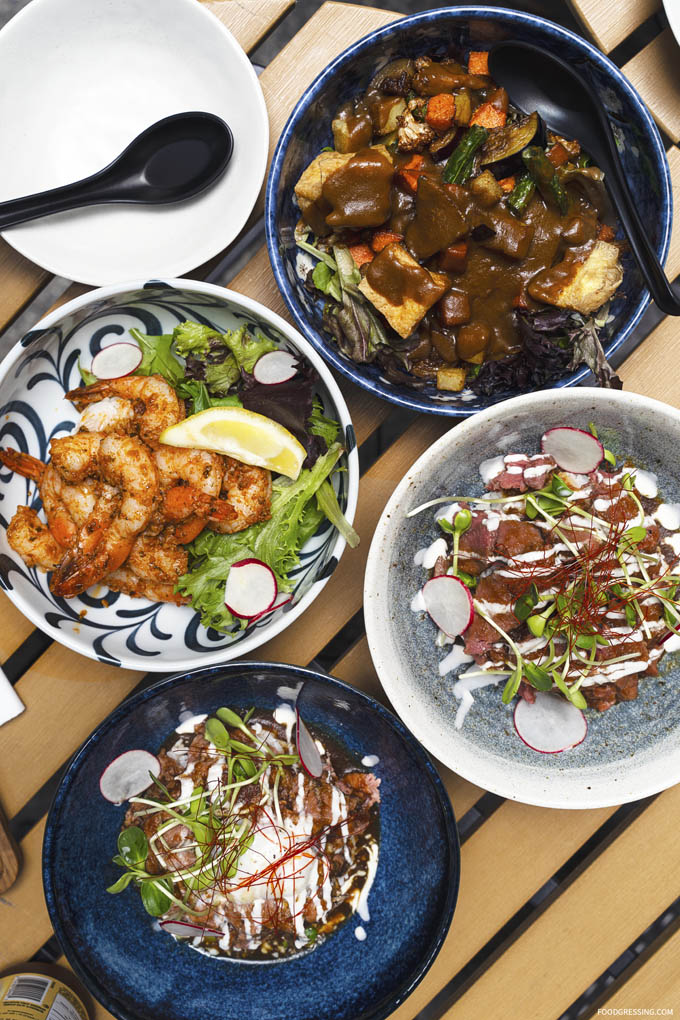 ---
One Year Anniversary Celebration Deal
On Wednesday, June 26, Bovine Rice Bowls will be celebrating the first-year anniversary by offering a special Roast Beef Sandwich. The sandwich features slow-roasted Canadian Ribeye, fried free-range egg, caramelized onion jam, horseradish kewpie, fresh cucumber, pickled watermelon radish, sunflower sprouts, Japanese-style milk bread by Fife Bakery) served alongside kettle chips for $12.
The first 30 customers at the restaurant on Wednesday, June 26 will receive a free Roast Beef Sandwich, no purchase necessary. To continue the anniversary celebrations, the sandwich will be offered at 50% off ($6) between Wednesday, June 26, to Friday, June 28 until supplies last.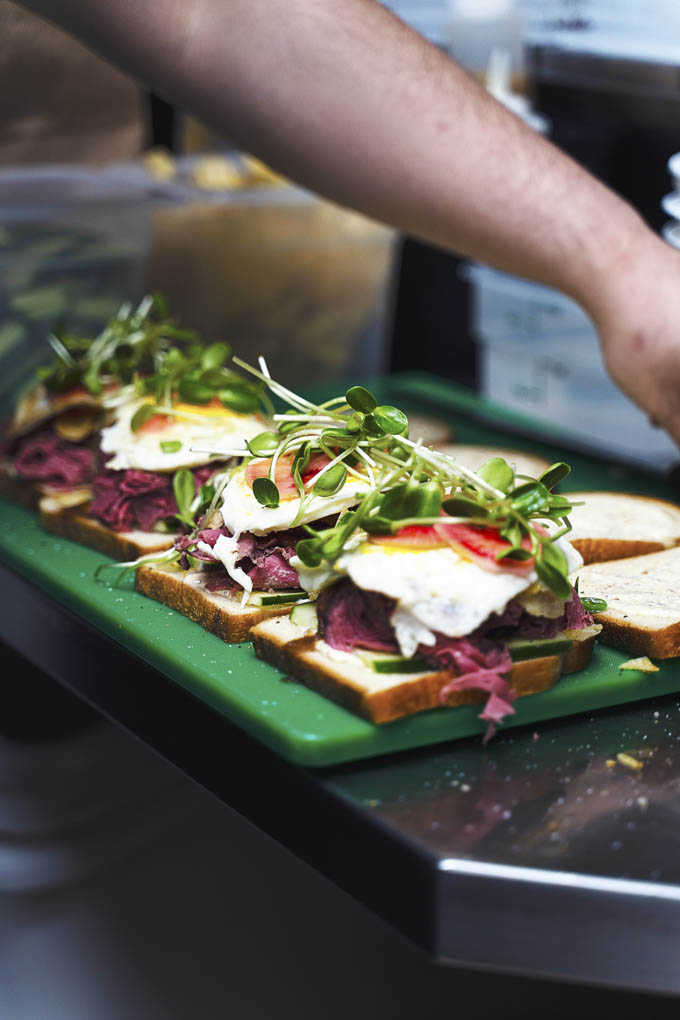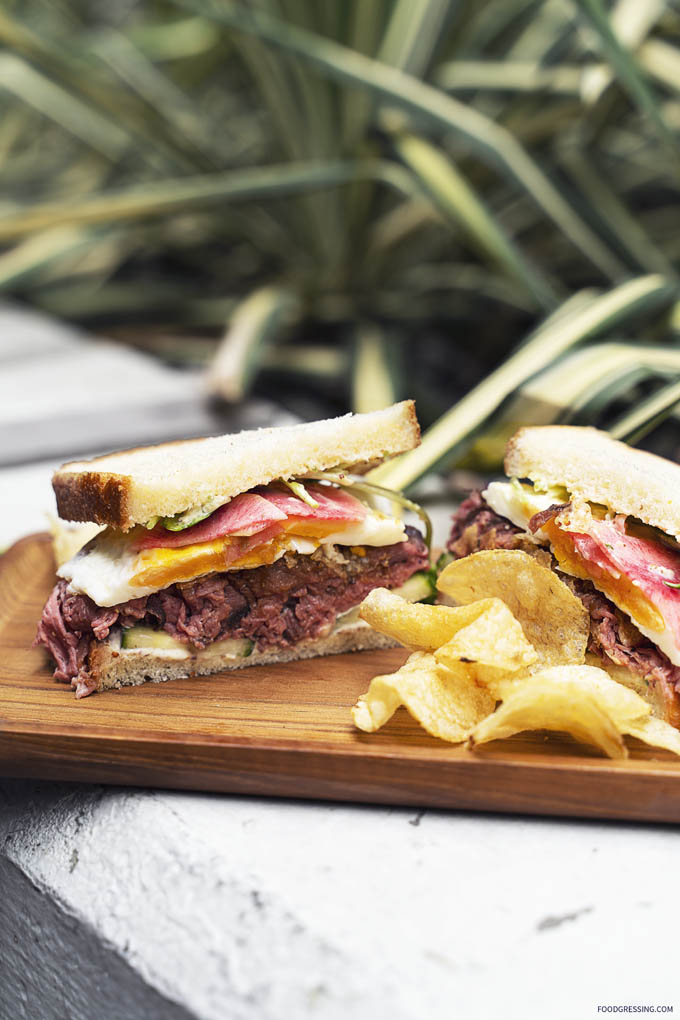 ---
Overall Impression
In general, I enjoyed Bovine's rice-bowl centric concept and found their menu appealing and approachable especially for the worker crowd. The food was tasty, hearty and not too heavy to render you too comatose for the afternoon work session. I tend to prefer seafood over steak so the Hawaiian-style shrimp and tuna tataki were right up my alley; they were delicious and I would definitely order them again. I would be interested in trying out other rotating features and would recommend them as a lunch spot in Downtown Vancouver.
Bovine Rice Bowls
1050 W Pender St unit #118, Vancouver, BC
www.bovinebowls.com