Montreal is an inspiring blend of old-European charm and modern North American metropolis. It is nothing short of captivating. The same dynamic can be found in Montreal's exciting food scene. Traditional bistros, old school bagel shops, and funky fusion restaurants all grow and flourish in the same space. If you're looking for a taste of Montreal's unique gastronomy, look no further than the list below. Here's a look at the Best Restaurants in Montreal for your next foodie adventure.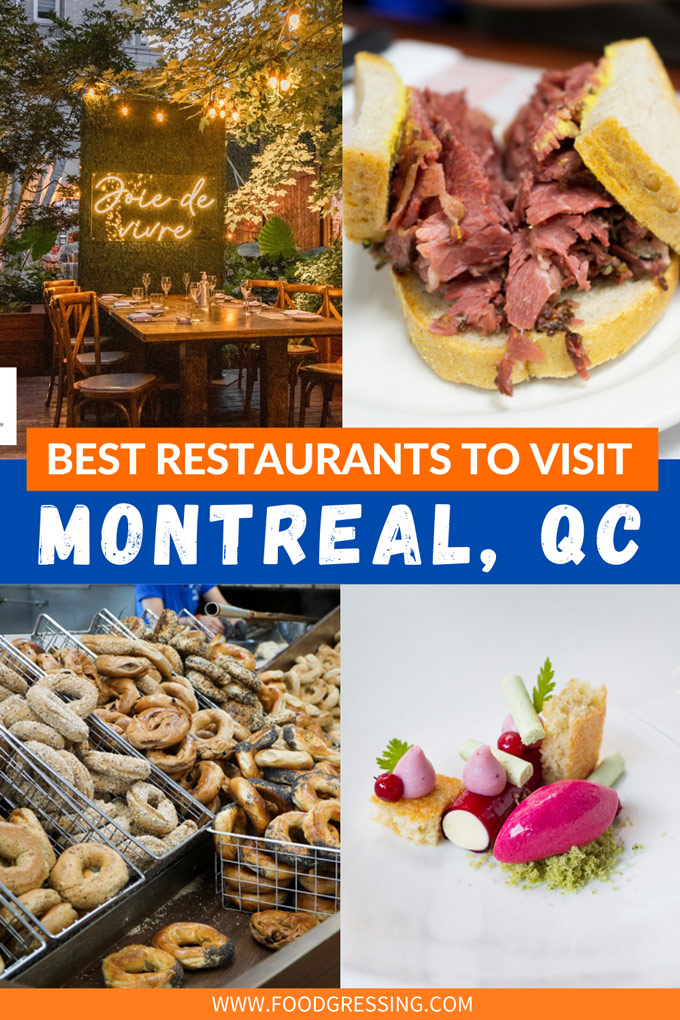 This list is not exhaustive and the restaurants are in no particular order.
Maison Boulud
The best hotel restaurant in Montreal is without a doubt, Maison Boulud.
It is located in the posh, Ritz-Carlton hotel and is owned and operated by legendary 3-Michelin-star chef, Daniel Boulud.
His elevated French menu is heavily inspired by his decades spent in New York City and the fresh, local and artisanal flavours of Quebec.
The food is soulful, refined, contemporary, and enjoyed in their fine dining setting which features a terrace overlooking Sherbrooke Street, a year-round greenhouse with a view of the open kitchen, and an inviting bar.
Their Foie Gras, Amaretto, Cherry and Fresh Almond Terrine is a classic.
The Ritz-Carlton, 1228 Sherbrooke St W, Montreal
Toqué!
Toqué is not only one of the most highly regarded, best restaurant in Quebec, but in the world.
It has been named on Canada's 100 Best list, Elite Traveler's Top 100 Restaurants in the World list, and has earned Forbe's Travel Guide Four-Star award since 2016.
Co-owners Christine Lamarche and Chef Normand Laprise are behind the accolades.
The duo solely pioneered the use of locally-sourced ingredients before it became the standard, which shows in the quality and freshness of their food.
Toqué! has been a pillar of Quebec's gastronomic identity for over 25 years as the menu is synonymous with gastronomy rooted in Quebec and its surrounding regions.
As for drinks, each season has five signature drinks that are handcrafted with homemade juices, syrups, and infusions.
A huge draw to the restaurant is the enormous wine list.
There are over 400 labels on the wine list and over 6,000 in the cellar.
Not all of the wines in the cellar are on the list because they may be kept for aging, tasting menus, or simply to support an evolving menu that values quality food and wine pairings.
Toqué! offers a tasting menu as well as delectable a la carte dishes such as Duck magret with white turnip boulangère, hedgehog mushrooms, rutabaga, Brussels sprouts, and blueberry poivrade sauce.
Not to be missed are their beautiful desserts like La Beurrasse goat's cheese cake with yuzu and lemon cream, hazelnut nougatine, thyme gel and meringue, beet reduction and ice milk.
900 Pl. Jean-Paul-Riopelle, Montréal
Schwartz's Deli
Shwartz's is a true Montreal landmark and iconic restaurant in the city.
It was founded in 1928 by Reuben Schwartz, a Jewish immigrant from Romania.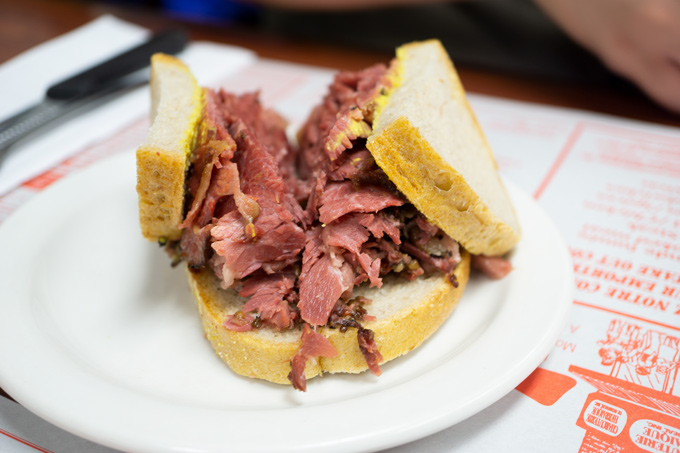 The restaurant remains the simple, white-tiled room it has been for 90 years.
It relies on its tradition of preparing smoked meat the old-fashioned way instead of adding glitz and glam to its dining room.
Unlike other delis who add chemicals, Schwartz's uses a secret blend of fine herbs and spices that marinate on the meat for 10 full days.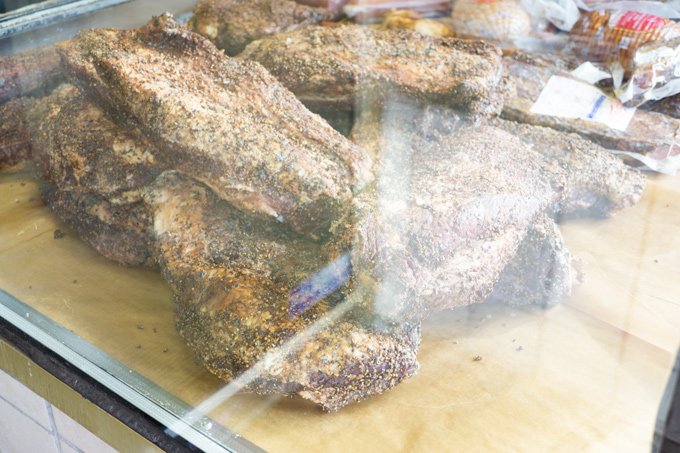 Sit down at one of the long dining room tables and enjoy their signature dish: smoked meat sandwich served on rye bread with yellow mustard.
3895 St Laurent Blvd, Montreal
Gibby's
It's not every day that you eat world class steak and seafood at an 18th century stable.
Gibby's has been a long-standing icon on the Montreal dining scene since owners Gibby and Allan open its doors in 1969.
Their dream was to share their passion for gourmet food.
The unique property in Old Montreal offers a luxurious dining experience, complete with historic stone walls, original beamed ceilings, cozy fireplaces, romantic lighting.
Guests are seated and served with complimentary oven fresh bread, crunchy dill pickles, croutons and bacon crumble.
At Gibby's, you can expect fresh plump chilled oysters, a large choice of the freshest fish and Gibbys' expertly aged delectable steaks, cooked to perfection.
Their knowledgeable staff can recommend the perfect pairings from their wine list.
298 Pl. d'Youville, Montréal
Joe Beef
Joe Beef is an old-school restaurant paying homage to Montreal's famous Joe Beef, otherwise known as Charles McKierman who was well known in the neighborhood for generously serving lower class laborers.
The spirit of McKierman lives on in its no-frill ambiance and mouth-watering dishes.
There are no white tablecloths, and the menu is written on a chalkboard; a stark contrast to how we typically imagine a French-style steakhouse to appear.
As one of the best restaurants in Montreal, Joe Beef's food has been praised by the locals as well as renowned chefs such as Anthony Bourdain.
Their minimalist presentation of classics such as foie-gras, tartare of raw duck, and venison will more than live up to your expectations.
2491 Notre-Dame St W, Montreal
Arthur's Nosh Bar
Arthur's Nosh Bar, a traditional Jewish deli, is one of the best restaurants in Montreal for breakfast.
Owners Raegan Steinberg and Alex Cohen opened the cozy neighborhood joint in honor of Raegan's late father and fellow foodie, Arthur.
They never imagined their small joint would have Montreal lining up and down the block for a seat at Arthur's Nosh Bar.
Feast on Jewish classics such as the McArthur, a chicken schnitzel sandwich on challah bread; the syrniki, a cottage cheese pancake; or a classic bagel breakfast sandwich with house smoked salmon, cream cheese and sliced tomatoes.
Their comfort food has been so astoundingly popular that husband-wife owners are even opening another restaurant in Montreal.
4621 Notre-Dame St W, Montreal
Estiatorio Milos
Milos is an elevated Greek restaurant serving the freshest available fish and seafood on the market.
In fact, it has been one of the leading high-end restaurants in Montreal since its doors opened in 1979.
The fish, purchased by Mediterranean fisherman and imported to North America, are displayed on ice and usually grilled whole.
The mastermind behind the one-of-a-kind seafood is Costas Spiliadas.
He grew up in Patras near the port which greatly influenced his passion for seafood.
His success at Estiatorio, his first restaurant, allowed him to expand his brand to Midtown New York, Athens, Las Vegas, Miami, and London.
Make sure to try his grilled octopus, lobster, or the salmon tartare.
5357 Park Ave, Montreal
Mon Nan
Established in 1982, Mon Nan is one of the longstanding, best restaurants in Montreal for Chinese food.
A blend of authentic and westernized Chinese dishes is served family-style at Mon Nan.
Their menu is enormous because of the many multi-course dishes you can choose from.
Local favorites include the Peking Duck Combos; Salt & Pepper Chicken Strips; and Shrimp Stir Fry with Chinese Broccoli.
Their delectable dishes are served in a dimly lit ambiance with mood changing lighting.
43 Rue de la Gauchetière E, Montréal
Bocadillo
You won't find tastier food for a better price anywhere in town.
Bocadillo serves authentic Venezuelan cuisine in a trendy venue.
Enjoy the bold flavors of the arepas or comfort of an empanaditas on the patio, overlooking the quaint neighborhood.
The atmosphere is a vibrant as the flavors. At night, live Latin music serenades from local artists fill the quaint neighborhood.
If you're gluten free, you won't have to miss out on the fun, the menu is 100% gluten free.
6918 Boul St-Laurent, Montreal
3677 Boul St-Laurent, Montreal,
Damas
There is not a single other restaurant with a comparable food and dining experience that at Damas.
This upscale Syrian restaurant is ranted and raved about by locals, foodies, and it even made Canada's Best 100 Restaurants list.
First impressions of the restaurant are the memorable décor.
The moody colors, lanterns, and beaded light fixtures are exquisitely stunning and unique.
However, the complex flavors of the sauces and the unusual spices are an equally lively experience.
1201 Ave. Van Horne, Montreal
L'Express
L'Express has become a sort of monument in Montreal.
For more than forty years it has stood as the city's premier French bistro, headed by acclaimed chef, Jean-Francois Vachon.
The preparation of all the French classics – croque monsieur, confit duck leg, steak tartare and more – are flawlessly executed and consistently delicious.
The ambiance is cool and romantic featuring a long wooden bar, auburn walls, and small tables.
While sitting in their dining room, you might be surprised that there are over 11,000 bottles tucked away under your feet in an underground cellar.
While the restaurant does not have a sommelier, their servers are exceptionally knowledgeable in helping your find the right wine to complement your meal.
3927 Saint Denis St, Montreal
Aux Vivres
The mission at Aux Vivres is to serve revolutionary vegan dishes that are both healthy and eco-friendly.
As the first vegan restaurant in Montreal in 1997, it stands as one of the best restaurants in Montreal for vegan cuisine.
What is most inspiring about the restaurant is the people behind its name.
It is evident in the history of leadership that this restaurant is more than a job, but a way of life. Current owner Michael Makhan began at Aux Vivres as a cook and dishwasher and within a few years, became a co-owner in 2001 and solitary owner in 2003.
With the help of his brother, the restaurant grew immensely, and more long-time staff have also moved into management roles.
With a work family like this, you know there is something special going on behind the scenes that is producing such amazing food.
Some of their most popular dishes include the dragon bowl, tempeh burger, and coconut bacon wrap.
4631 St Laurent Blvd, Montreal
Impasto
Impasto is one of the best restaurants in Montreal for Italian food.
Star chefs Stefano Faita and Michele Forgione collaborate to bring the best authentic Italian dining experience.
Their 54-seat restaurant has an open kitchen, bar seating, and an emphasis that every element of the dish being handmade, onsite.
That goes for the charcuterie and even the gelato.
Some highlights of the menu are the Gnocchi Di Ricotta; Linguine Con Tonno (with confit bluefin tuna, anchovies, capers, garlic, parsley, chili peppers); and Reginette Alla Norma (eggplant, tomato sauce, basil, ricotta salata).
Enjoy each of these specialized dishes in the comfort of the elegant and simplistic décor at Impaso.
48 Rue Dante, Montréal
Kazu
Kazu is one of the best restaurants in Montreal for Japanese food.
Cozy and intimate, this 20-seat restaurant is worth the guaranteed wait.
The ambiance is lively and busy but the staff are incredibly warm and welcoming.
Kazu is located downtown and serves soulful Japanese comfort foods such as ramen, homemade shrimp burgers, and a 48 hour pork bowl.
The small kitchen is run and owned by chef Kazuo Akutsu who prepares everything from scratch, such as his home-made tofu.
Pair dinner with a Japanese cocktail prepared with fresh fruits or choose a glass from the wine and sake menu.
For dessert, homemade ice cream made with no cream and no egg are served with unique flavored powder such as sake, green tea, plus, or kahlua.
1844 Saint-Catherine St W, Montreal
St-Viateur Bagel
The bagels at St. Viateur are famous because of their delicious quality.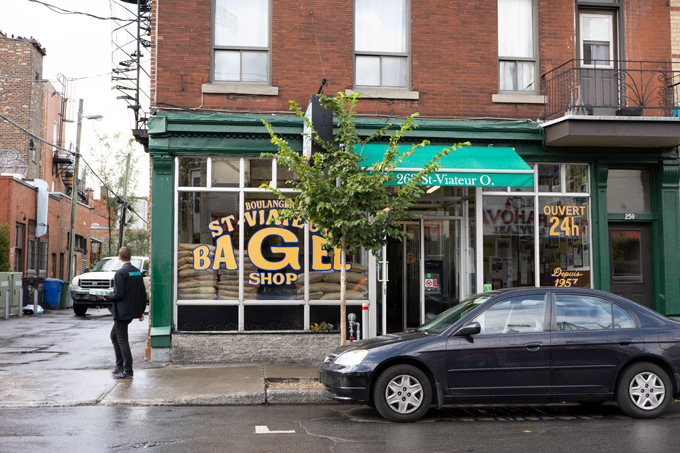 Their inspiring founding story began in 1953 when Myer Lewkowicz left his home country Poland and arrived in Canada.
Myer had survived the concentration camps and said all he dreamt about during that time was a piece of bread.
As fate would have it, he was given a job at a bagel bakery where he learned the trade and opened up his own shop a few years later.
Today's owner, Joe Morena, met Myer when he started working with him at the age of 15.
Eventually they became partners and today, Joe and his sons continues to honor Myer and his legacy.
The protected bagel recipe keeps customers lined out the door every weekend and the regulars coming back.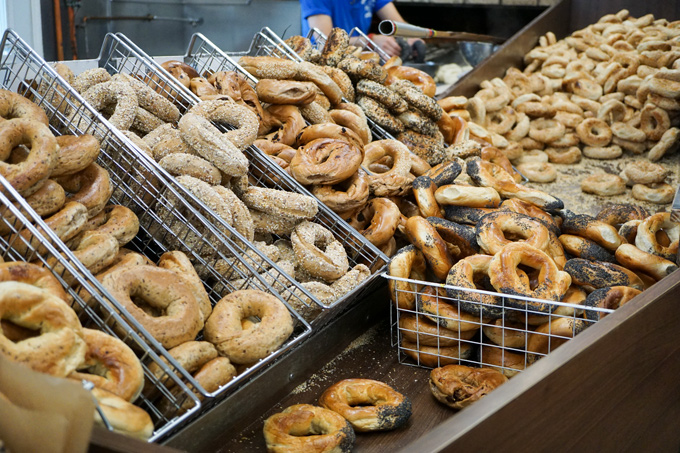 Whether you want a stand-alone bagel or a fancy bagel sandwich, you're in the right spot!
263 Rue Saint- Viateur O, Montréal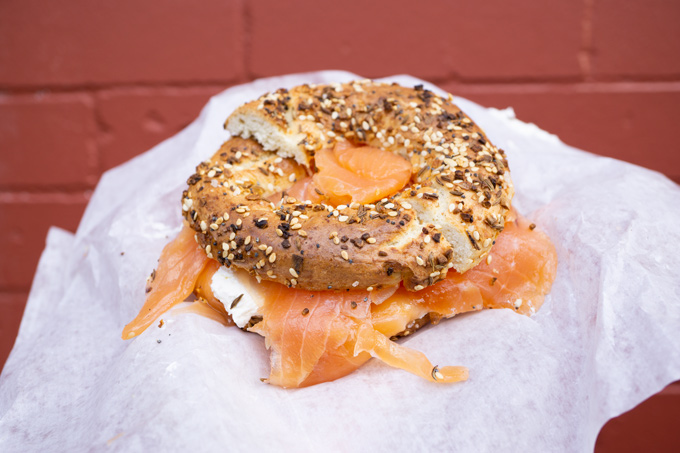 Pho Tay Ho
Pho Tay Ho is one of the best restaurants in Montreal for Vietnamese food.
Pho Tay Ho pays homage Vietnam's capital city of Hanoi and nearby neighborhood Tay Ho for the Hot Tay Lake region.
Pho is a classic Hanoi dish but often has a bit of a different flavor by district.
The food itself has all the authentic flavors of Vietnam and a menu that will transport you to some southeast Asian food stalls.
The Pho Ga (chicken) is a must but bun thit noung (grilled pork and vermicelli rice noodles) and Vietnamese spring rolls are a must.
6414 Saint Denis St, Montreal
Pumpui
Pumpui is known for being one of the best restaurants in Montreal for Thai food.
Pumpui specializes in Thai comfort foods, the kind of dishes you'll likely find on the streets of Bangkok but rarely make their way to a menu in the west.
Pak Boong, stir-fried morning glory, is one such example.
In the theme of authenticity, a lot of the dishes do not dull down the spices despite the French roots of so many locals.
Chef Jesse Mulder likes to do the unthinkable.
While you might expect his authentic Thai restaurant to be owned by a native Thai person, Jesse was inspired by his travels in Southeast Asia and the dishes he encountered.
He studied them extensively in his time there and came back to the Canada to open a wildly successful pop up Chak Wow which led to a full restaurant.
If you'd like a taste of the hype behin his food, go check out his Pad Thai or the green, red, or mussaman curry.
83 Rue Saint-Zotique E, Montreal
Dragon's Beard Candy
One unique food stop in Montreal that I have made and would recommend is Dragon's Beard Candy in Montreal's Chinatown.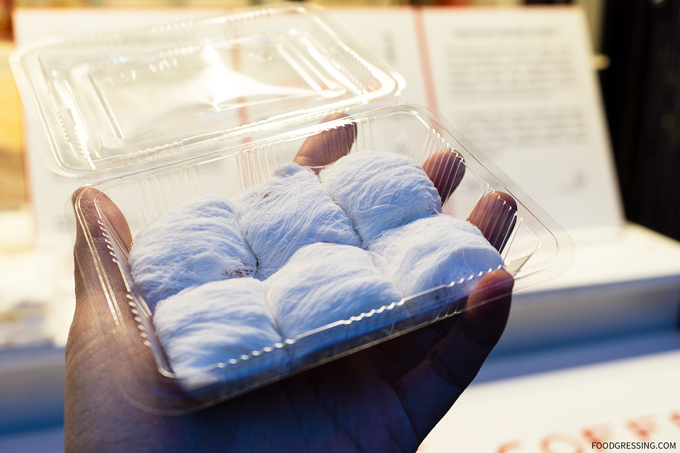 Making Dragon's Beard Candy – a sort of Chinese version of cotton candy but with filling – is a handmade art.
Dragon's Beard Candy dates back to the Han Dynasty in China.
Legend has it that an Imperial Court chef entertained the Emperor by showcasing the process of making the candy.
This involved stretching a dough made of rice flour and sugar into small, thin strands.
These strands resembled a dragon's beard and were sticky enough to literally stick to your face easily.
Hence, the candy was named Dragon's Beard Candy.
This Montreal shop is owned by Johnny Chin who makes the candy where customers can watch the process.
Aside from Dragon's Beard Candy, this store also sells fresh egg rolls, bubble waffles, sweet dumplings and bubble tea.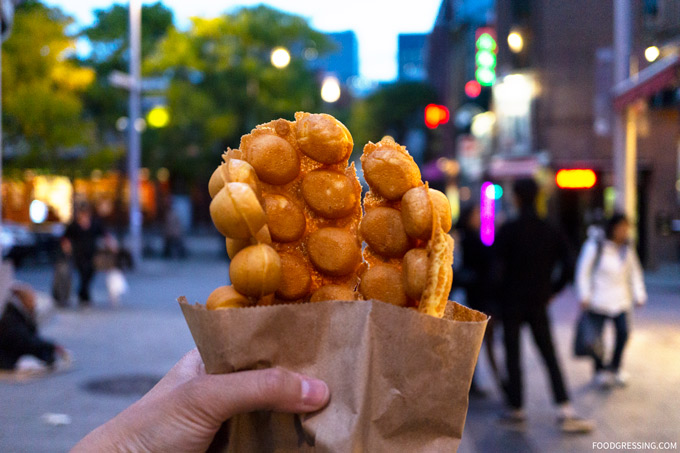 52 Rue De La Gauchetière O b, Montréal