Here's a look at the best late night food in Richmond BC 2022 covering restaurants that are open late and those that are open 24 hours. If you're looking for what to do in Richmond BC late at night, eating is a great option!
I am defining late night restaurants as those that are open until midnight or later.
24 Hour Restaurants Richmond
No.9 Restaurant
No.9 Restaurant at Lansdowne Centre (5300 No. 3 Rd #812) is one of the most longstanding restaurants in the city.
Open for 24 hours, No. 9 Restaurant offers an extensive menu of Cantonese-style dishes including Congee; Noodle in Soup; Dry Noodles; Shanghai Style Noodle in Soup; BBQ Meats; Fried Rice; Sizzling Hot Pots; Chow Mein; Baked Entrees and more.
Church's Chicken
Church's chicken (11580 Cambie Rd and 120-9100 Blundell Rd) are open 24 hours.
Late Night Sushi Richmond
KIZAMI Japanese Cuisine
KIZAMI Japanese Cuisine (8031 Leslie Rd) is a sushi joint in Richmond that is open Tuesday to Thursday and Sunday from 5pm – midnight and Friday/Saturday until 2am.
The offer sushi rolls, rice bowls, sashimi, oshi sushi, udon noodle bowls, salads, Japanese appetizers and more.
Koto Izakaya Sushi Robata
Koto Izakaya Sushi Robata (8171 Alexandra Rd) is open until midnight daily.
They have been known to offer late night specials on sushi, aburi sushi, hand cones, sashimi, rice bowls, hot pots, noodles, and more. Check with the restaurant for the latest late night menu.
Late Night Chinese Food Richmond
Silver Tower Cafe Restaurant
Silver Tower Cafe Restaurant (8500 Alexandra Rd #100) opens until 1:30 am daily.
They have an extensive Cantonese-style menu with Western dishes. You'll find items like Baked Pork Chop on Rice; Baked Spaghetti Bolognese; Curry Beef Brisket; Singapore Style Fried Vermicelli; Pan Fried Flat Rice Noodle with Sliced Beef; Deep Fried Prawns with Rock Salt and more.
Tian shi fu 田师傅
Tian shi fu 田师傅 (6111 No. 3 Rd) is open until 3 am daily.
Their most popular items are their skewers (like lamb, pork, pork intestine and more) as well as Lanzhou noodles.
Other items on the menu include Spicy Pork Rice Noodle; Stewed Lamb Rice Noodle; Braised Beef Rice Noodle; Braised Chicken Rice; Curry Beef Rice; Cucumber with Garlic; Spicy Mandarin Fish; Spicy Tiger Prawn; Grilled Eggplant and more.
Late Night BBQ Richmond
Happy Tree House BBQ
Happy Tree House BBQ (8171 Alexandra Rd #105) is open until 2 am daily.
They are best known for their BBQ series including Lamb Skewers; Angus Beef Kebabs; BBQ Chicken Wings; BBQ Chicken Skin; Ox Throat Skewers; Chicken Gizzards Skewers; Chicken Kebab; Chicken Heart Skewers; Spicy Pork Hock Skewers; Chicken Gristle Skewers and more.
Kanae Yakiniku 炙鼎烧肉
Kanae Yakiniku 炙鼎烧肉 (4231 Hazelbridge Way) has just launched a late night yakitori menu available from 9 pm – midnight daily.
Some of the options include Chicken Meat Ball; Chicken Wing; Chicken Liver; Chicken Thigh; Beef Tendon; Pork Wrapped Okra; Pork Belly with Cheese; Eggplant; Scallops; Zucchini; Unagi Cheese; Shiitake Stuffed Chicken and more.
Late Night Korean Food Richmond
Cocoru Beer & Chicken
Cocoru Beer & Chicken (2140-8391 Alexandra Rd; 210-3791 Bayview St) has two locations to satisfy your late night Korean Fried Chicken cravings.
They are known for their bone-in & boneless Korean fried chicken in flavours like Original; Yangnyeom (sweet, sour, spicy); Soy Garlic; Dakgangjeong (sweet and spicy).
Hanok Korean Restaurant
Hanok Korean Restaurant (8400 Alexandra Rd) is open until 1 am from Sunday – Thursday and 2 am from Friday – Saturday.
They offer modern and classic Korean dishes including traditional soups; stir fries; bibimbap rice bowls; udon dishes; and more. Their Japchae (stir fried glass noodles with beef and vegetables) comes highly recommended.
Late Night Bubble Tea Richmond
Bubble World
Head over to Bubble World (8368 Capstan Way #1318) for your late night bubble tea cravings. They are open until 1 am on Friday & Saturday and 12 am the rest of the week.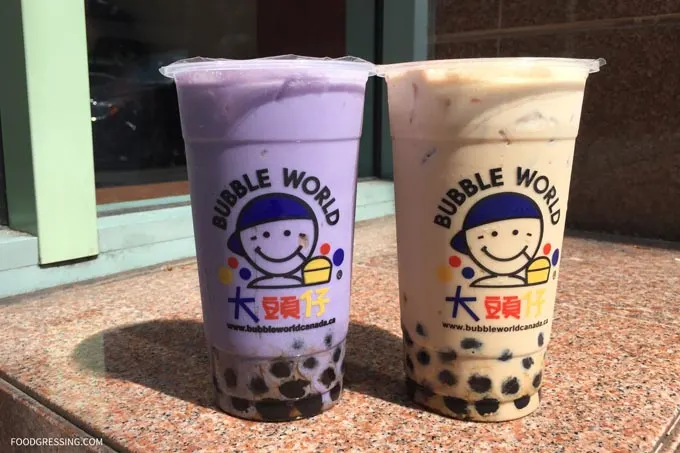 Looking for more late night eats? Check out this post for a late night restaurant in Vancouver.