As the capital of British Columbia, Victoria is filled with gardens, outdoor activities, seafront parks, and, you guessed it, many delicious brunch spots. After an early morning exploring the many neighborhoods, parks, or museums in Victoria, the best way to replenish your energy is to enjoy a relaxing and filling brunch. From chicken and waffles to bottomless mimosas, brunch in Victoria is always a great time. Keep reading to learn about 16 spots for the best brunch in Victoria, British Columbia.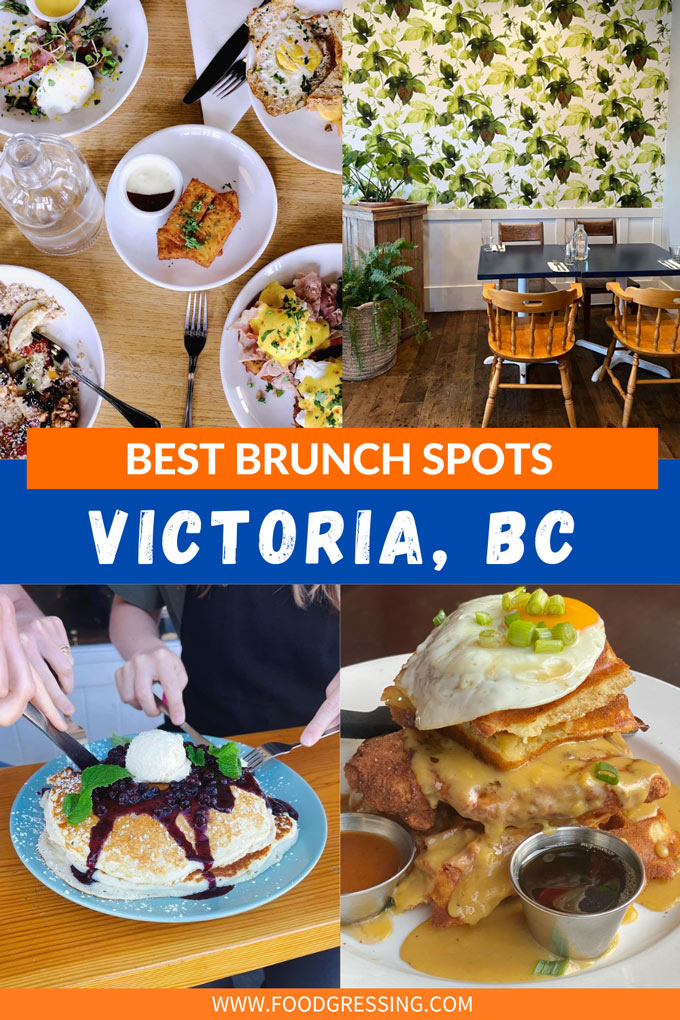 The Ruby on Douglas
Located adjacent to the iconic Hotel Zed, The Ruby on Douglas (3110 Douglas St) serves breakfast and lunch, but the real gem is brunch.
From omelets to bennies, breakfast tacos and poutine, there is plenty to choose from on the menu.
Some of the most popular items include the Fried Chicken and Waffle featuring sweet maple syrup poured over Southern Fried Chicken, on top of a buttermilk waffle slathered with our house chicken gravy; and the Duck Hash with braised and pulled duck, 2 poached eggs, Red Barn bacon, pickled onion and herb garnish.
Don't forget about The Ruby's brunch cocktail menu where the Brunch Punch, mojitos and mimosas are must-tries.
Nourish Kitchen & Cafe
Set in an 1886 Victorian-style heritage home, Nourish Kitchen & Cafe (225 Quebec St) couldn't be more charming.
While the inside features wooden tones, bay windows, natural light, and bold wallpaper, the outdoor patio boasts red brick tile and lots of greenery.
This eatery is committed to serving farm-fresh, seasonal ingredients, while partnering with local farms and suppliers.
While you're at Nourish, you can expect to encounter dishes like spiced oatmeal pancakes with fruit compote, whipped cream, real maple syrup, cacao and pumpkin seed sprinkles; fresh tahini kale and cabbage salad; and eggs benedict with golden sweet potato wedges; roasted spring veggies; farm greens; and turmeric cashew hollandaise.
The drink menu offers a diverse array of lattes; coffee and teas; and bone broths.
Sherwood
Another great spot for having the best brunch in Victoria is Sherwood (710 Pandora Ave) – a small bistro serving small plates, cocktails, and weekend brunch, is a fantastic setting for a chic and lively breakfast atmosphere.
With thoughtful interior design, showcasing sleek lines, an emerald green bar, and floor-to-ceiling windows, Sherwood feels trendy, yet classic.
If you come here for brunch, order a breakfast sandwich and Sherwood hashbrowns.
With a fried egg, bacon, potato crisp, and jalapeno on a toasted brioche bun, the sandwich offers just the right amount of spicy and crispy.
The hashbrowns are topped with a mixture of tarragon aioli and ketchup, creating a tasty spin on a breakfast classic.
If you don't have time to enjoy a complete brunch, the coffee bar is open seven days a week, specializing in carryout.
Spoons Diner
Checkered floors, retro colors, and intimate booth areas are just a few of the things that give Spoons Diner (2915 Douglas St) the environment of a vintage diner. And in between, you'll find some kitschy pop-culture decor at this best brunch in Victoria spot.
Outdoors, you will find an adorable, fenced-in patio with lime green chairs, umbrellas, and red tablecloths.
With generous portions, over-the-top indulgence, and even experimental creations, you won't go hungry or be bored dining at Spoons Diner.
This joint has a variety of eggs benedicts, and you can even build your own, choosing from various cheeses, meats, and vegetables.
Spoons also has different hash breakfasts, along with sweeter items like the Cinn City Cakes, a cinnamon bun pancake layered with sweet cream cheese.
Be sure to check the daily specials because you'll find some pleasant surprises like the Rib-A-Dilla Benny with chipotle lime braised short rib on top of two mini roasted corn, green chilli quesadilla with two poached eggs and traditional hollandaise.
Blue Fox Café
Blue Fox Café (919 Fort St) is another top restaurant in Victoria for brunch.
Their bright blue walls are adorned with funky art, kitschy knickknacks, and a line winding out the door and down the street of hungry patrons waiting for a table.
If you're lucky enough to score a table, the first sip of their organic coffee will prove the wait worthwhile.
Locals can't get enough of the fluffy omelettes, or one of more than ten varieties of eggs benny which have been voted best in the city.
The Orange del Sol with Double stack of pancakes, vanilla bean cream, fresh navel oranges, roasted pecans and tripe sec syrup is a heavenly indulgence.
These breakfast favorites are served all day alongside a lunch menu featuring juicy beef burgers, hand cut fries, or house-roasted pork quesadillas.
Fuego Old Town Eatery
Next on this best brunch in Victoria list is Fuego Old Town Eatery (1435 Store St) where brunch is served with plenty of spice in an unpolished, yet vibrant, setting.
You'll find an industrial and charming ambiance with a space that has exposed beams, worn shiplap, and rustic red brick walls.
This restaurant specializes in classic breakfast with a Mexican twist.
Menu highlights include the Fuego Benny, served with chorizo sausage and chipotle hollandaise.
The breakfast enchiladas feature corn tortillas filled with scrambled eggs, mushrooms and a little hot sauce which are baked with cheese and enchilada sauce, then topped with tomatoes, green onions and guacamole along with a side of refried beans.
Those with a sweet tooth would enjoy the Churro Pancakes with two fluffy buttermilk pancakes dusted in cinnamon and sugar, layered with caramelized apples and drizzled with chocolate sauce.
They also have a lot of vegan and gluten-free items like the Vegan Bowl with panfries, sauteed veggies, arugula, and sliced avocado.
Shine Cafe
Shine Cafe is a longstanding Victoria cafe having been around since 2004.
With their popularity as having one of the best brunch in Victoria, the restaurant has grown to have two locations in Victoria, one in Stadacona (1548 Fort Street) and the other in the downtown area (1324 Blanshard Street).
Expect to encounter brightly painted walls and a quirky atmosphere at both locations.
This cafe supports local suppliers and prepares every dish in-house, from scratch.
With a varied selection of eggs benedict, the highlight of this restaurant seems to be the hollandaise sauce.
While the original is a favorite, you can also try garlic-roasted, chipotle, and pesto hollandaise options.
The San Diego Benny is a crowd-pleaser, but for a good reason.
Avocado, grilled tomato, homemade salsa, chipotle hollandaise over cornbread is a winning combo.
If you have a sweet tooth, the Peachy Keen Pancakes with cardamom poached peaches and whipped cream is a good choice.
Shine also offers a variety of vegan and gluten-free options, so there is something here for everyone.
Karin's Vegan Brunch and Curried Coconut Carrot Soup are just some of the vegan options.
John's Place Restaurant
John's Place Restaurant (723 Pandora Ave) is the ultimate brunch spot for Canadian comfort food with a side of rustic comfort.
This longstanding eatery in Victora has been around since 1984 and serves a variety of sweet treats, like Belgium waffles, French toast, pancakes, and homemade bakery items, like bread and pie.
Wood paneling and sports memorabilia create a relaxed and homey atmosphere.
John's needs to be your next brunch stop if you love classic home-cooking.
Order the "Bat Outta Hell" meatloaf and eggs for the ultimate comfort food brunch.
With two thick slices of meatloaf, two eggs, and mushroom marsala gravy, along with hashbrowns and your choice of bread, this meal will keep you full all day.
Other notable favourites include the Chicken n Waffle Benny featuring a half Belgian waffle topped with a crispy chicken cutlet, country steak gravy, 2 poached free run eggs and their savoury hollandaise sauce.
Heron Rock Bistro
Heron Rock Bistro is open for brunch daily until 3 pm and has been a local favourite since 2005.
A cute bar area, a simple patio, and burnt orange walls give Heron Rock Bistro (435 Simcoe St) a casual cafe ambiance.
Indoors, you will find warm lighting, black ceilings, and flowers on the table, while the outdoor space offers refined picnic tables and neighborhood views.
With a plethora of benedicts, hash, and breakfast sandwiches, there's no way that you'll go hungry.
One of the must-try morning menu items is the Breakfast Poutine.
Housemade fries topped with gravy, cheese curds, bacon lardons, and a poached egg create a dish that exemplifies Canadian comfort.
Be sure to find out about the daily features. A mouthwatering Lamb Hash with Moroccan spiced lamb, tomato ragu, roasted peppers, cardamom yogurt, fresh mint, Kennebec potatoes, caramelized onions, and hollandaise might just pop up on the menu.
Top it off with a Caesar, Sunday brunch anyone?
Heron Rock Bistro is also open for lunch, dinner, and happy hour.
Sour Pickle Cafe
Sour Pickle Cafe (1623 Store St) boasts a colorful and unique space, perfect for a quirky weekend brunch.
Mirrors hung on the walls are accentuated by window boxes spilling over with flowers.
Exposed brick, bold colors, and distinctive art are just a few of the things that make Sour Pickle different from other brunch restaurants.
Only a ten-minute walk from Downtown Victoria, this cafe provides a variety of simple breakfast classics, like omelets, breakfast sandwiches, French Toast, waffles, pancakes, eggs, and bacon.
The Monte Cristo sandwich is a popular menu choice featuring ham, chicken and cheese with French bread dipped in egg and grilled to perfection.
Picnic Too
Picnic Too (1019 Fort St) serves internationally inspired food, fantastic lattes, and standard classics in the environment of an intimate and charming cafe.
This eatery seems to have healthier options than the usual brunch restaurant.
Smoothie bowls, breakfast salad, breakfast sandwiches with fresh greens, and various vegan and gluten-free options mean that healthy choices abound.
Picnic Too also serves espresso-based drinks, teas, kombucha, and smoothies.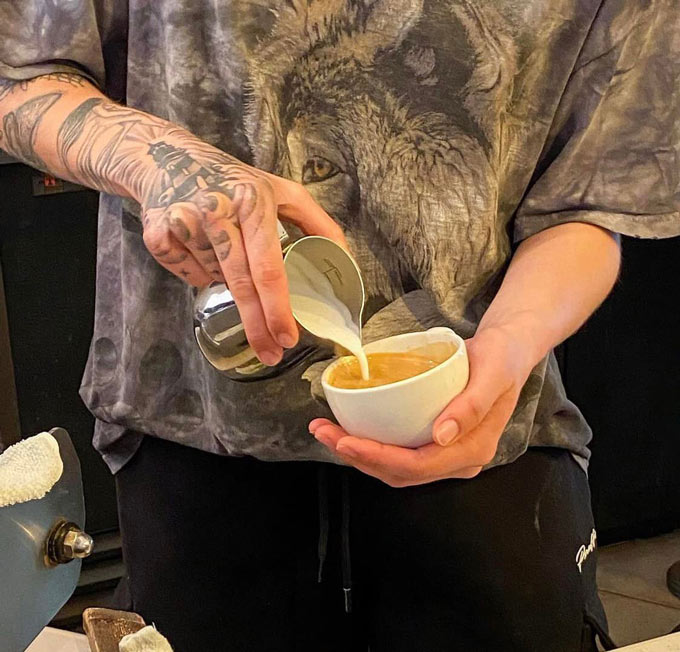 If you choose to sit inside, you will notice walls with bold patterns, a cozy bar, and earthy tones.
Outside, Picnic Too lives up to its name.
A fenced-in patio with mini picnic tables, green turf, and streetside views of the leafy neighborhood will make you feel like you went on a picnic.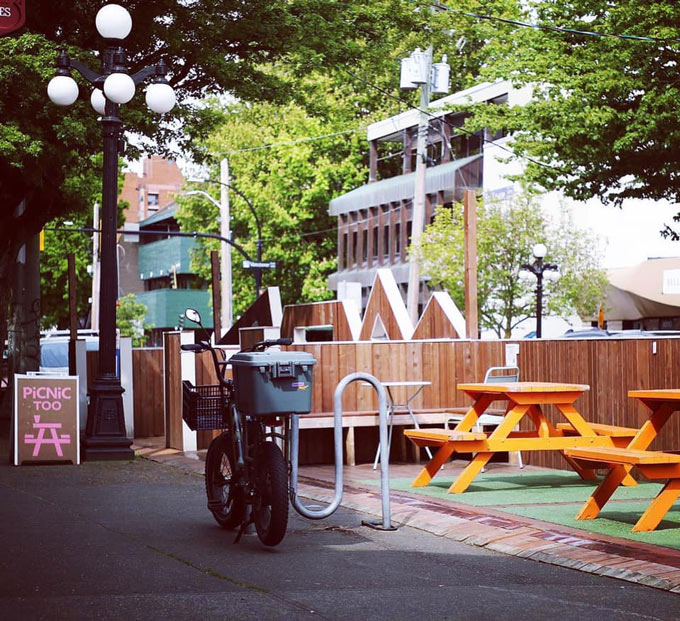 Fern Cafe and Bakery
Founded in 2018, Fern Cafe and Bakery (1-1115 N Park St) is cozy vegan café serving breakfast sandwiches, vegan egg scrambles, and poutine.
The bakery is ironically located in the Fernwood neighbourhood but named after it; rather, it was named after the owner's love for the Fern covered forest floors of Vancouver Island.
As the best (and only) all-vegan cafe, you won't be able to tell that these delicious staples are meat- and dairy-free.
The bakery portion is also a highlight.
The Big Bad Cinnamon Bun is a must-try, and some say this is the best cinnamon bun in town, even against non-vegan bakeries.
Their lemon-curd stuffed donut is also a customer favourite.
If you go to Fern Cafe for lunch, you can order vegan burgers, mac and cheese, and chicke-un.
A go-to favourite for those who prefer a sweeter brunch dish is are the fluffy buttermilk pancakes topped with blueberry compote, real maple syrup, and vanilla icing.
The chalkboard menu, bakery items on display, and drop-down light fixtures add to the charm of this adorable cafe.
Shanzee's Biscuit Cafe
If you love biscuits, you need to go to Shanzee's Biscuit Cafe (529 Pandora Ave).
This restaurant's claim to fame is that they allegedly serve the best biscuits and gravy in Victoria.
With various biscuit and gravy dishes, their reputation might be accurate.
You can order biscuits and gravy topped with eggs, cheese, garlic grits, bacon, fried chicken, jalapenos, or Louisiana sausage.
You also can't go wrong with the Biscuit Benny with poached eggs and housemade hollandaise. Served with crispy hashbrowns and fruit.
While the food is fantastic, the atmosphere is just as great.
Arched windows, exposed brick, natural light, and quaint decor give the space a cozy and charming character.
Bard & Banker
Another notable place for the best brunch in Victoria is Bard & Banker (1022 Government St).
There you will find a Scottish-style brunch, complete with kilt-clad servers and live music.
Located in the middle of Downtown Victoria, this beautiful pub boasts a classic interior with crown molding, thoughtful interior design, and warm lighting.
The outdoor cobblestone patio is equally as lovely; enjoy a delightful brunch while relishing in downtown sidewalk scenes.
Breakfast is served daily from 7:00 am, early bird happy hour 9:00 am to 11:00 am and brunch served 7:00 am to 2:00 pm weekends.
You'll find the classic standard English breakfast with two eggs any style, smoked bacon, pork sausage, black pudding, house baked beans, tomato, mushroom, potato has, toasted bread.
Other choices include avocado toast, breakfast scrambles, French Toast and so forth.
Come here with a group of friends to enjoy a mimosa tower, which comes with a bottle of prosecco and your choice of orange, grapefruit, cranberry, or pineapple juice.
Frankie's Modern Diner
Frankie's Modern Diner (910 Government St Unit 38) serves comfort food, with homemade staples and handcrafted cocktails.
Patterned booths, eclectic lighting, and the tiled bar area create a homey interior with a contemporary edge.
You can order plenty of breakfast staples, like eggs benedict, breakfast sandwiches, hash, and omelets.
Must-try menu items include the Chicken and Waffle, drizzled with a rosemary syrup, and the Churro-Style French Toast.
Look out for their brunch features. You'll find delectable dishes like the Steak Poutine Hash featuring a a sliced 7 oz steak, house made hashbrowns, mushrooms, carmelized onions, cheese curds, two poached eggs all topped with horseradish hollandaise and gravy served on the side.
There's also the Meatball egg frittata served with hash browns and toast.
This restaurant also has several gluten-free and vegan options.
If you're a fan of mimosas, Frankie's is a must-do; the $6 mimosas are too good of a deal to pass up.
All jams and salad dressings at Frankie's are homemade, and the orange juice is freshly squeezed.
Belleville's Watering Hole & Diner
Who doesn't love brunch on a patio? Belleville's Watering Hole & Diner (427 Belleville St) is the ideal spot for fans of outdoor brunch in Victoria.
All orange furniture and umbrellas, along with enchanting string lights, create a playful atmosphere for Belleville's patio area.
Morning happy hour runs from 9 am to 12 pm every day, so you can day-drink while enjoying classic brunch fare. Some favourites include the Classic Caesar, Blood Orange Margarita and The Crannnntastic.
Along with breakfast classics, you can order unique items like the breakfast grilled cheese, which comes with bacon, cheddar cheese, and eggs on sourdough.
Another menu favorite is the Bacon Duo, featuring Belgian waffles, topped with candied bacon and bacon salted caramel sauce.
There's also The Kulwinder with 2 samosas (either lamb & goat cheese, tandoori chicken or vegetarian) topped with 2 poached eggs, tika masala sauce and pineapple chutney.
With decent-sized portions, no one leaves Belleville's hungry.
Homemade baked goods, breakfast sandwiches, and espresso drinks are just a few of the treats that you can grab on the go.
Bear & Joey Cafe
Located between Downtown and Fairfield, Bear & Joey Cafe (1033 Cook Street) was created with Australian influences in mind.
Serving coffee, brunch, and drinks, Bear & Joey is an interpretation of Sydney's coffee culture.
Marble tables, baby pink patterned walls, green seating, and gold accents, like mirrors and lighting fixtures, create a chic hangout.
High ceilings and airy decor give Bear & Joey an atmosphere of elevated ambiance.
This eatery has an uncomplicated menu, prioritizing quality over quantity.
Brunch offerings include porridge, French toast, and a breakfast sandwich. This eatery also has a selection of cold-pressed juice, kombucha, organic teas, and lattes.
The menu is labeled with gluten-free, vegan, vegetarian, and dairy-free options, so those with allergies and restrictions can rest easy.
For a light brunch in a beautiful and vibrant setting, Bear & Joey Cafe is an excellent option.
Visiting Victoria, BC Canada? Check out my other posts: