Did you know that Victoria, the capital of British Columbia, ranks second in North America for the most restaurants per capita? Victoria may not be Canada's largest metropolis, but it is a foodie's dream destination. Here is a roundup of the Best Restaurants in Victoria 2022.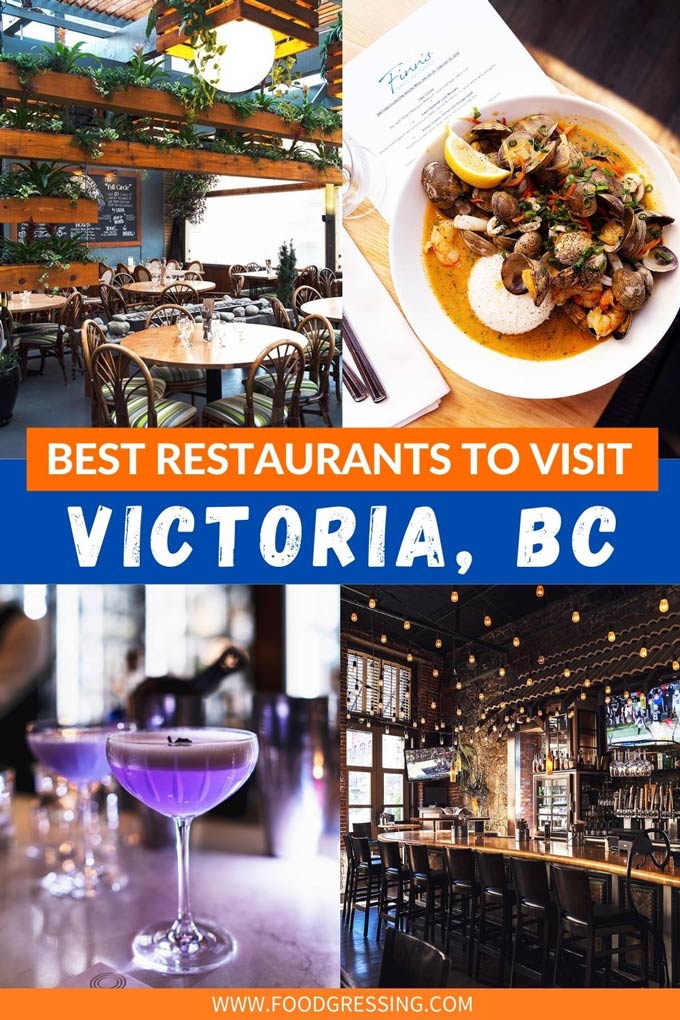 This port city is surrounded by coastal waters, rich farming regions, and an abundance of mountainous wildlife. There's local oysters, crab, and sockeye salmon as well as grapes for wine and barley for the craft brewery scene.
When combining these rich, local flavors with a range of multicultural influences, you get a truly unique culinary experience which is best enjoyed at the restaurants featured on this list.
The restaurants are listed in no particular order.
10 Acres Bistro
Located steps from Victoria's Inner Harbour, 10 Acres Bistro + Bar offers a West Coast dining experience showcasing the freshest foods from Vancouver Island along with the finest seasonal produce, meats and eggs direct from their farm on the Saanich Peninsula.
Some highlights of their local and sustainable menu include 10 Acres Half Roasted Duck with 10 Acres Farm fig chutney; Pan Seared Halibut with 10 Acres Farm winter squash; and 10 Acres Farm Roasted Beets with smoked yogurt, arugula, walnut dukkha.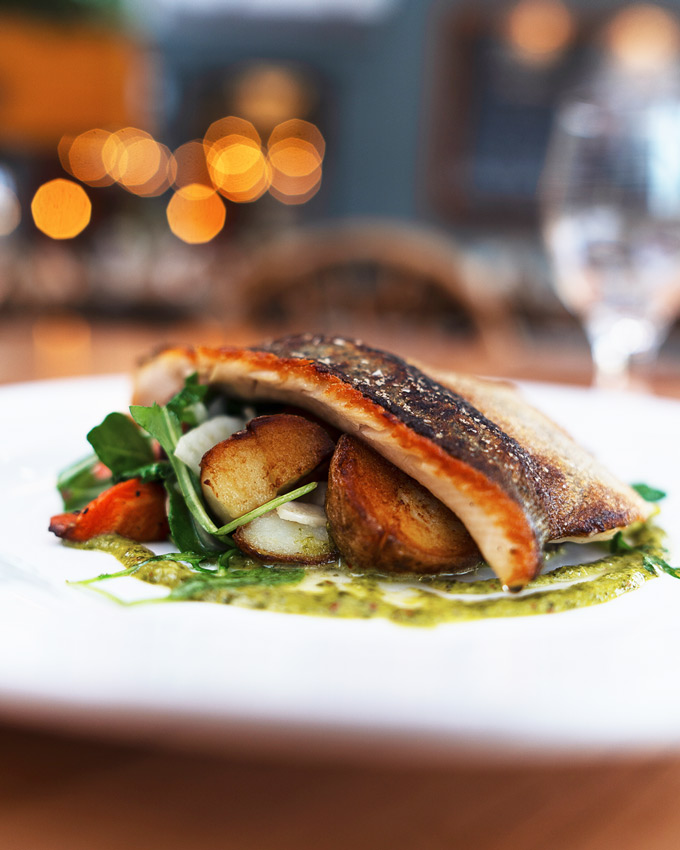 Visit them for dinner, lunch, Happy Hour, and weekend brunch.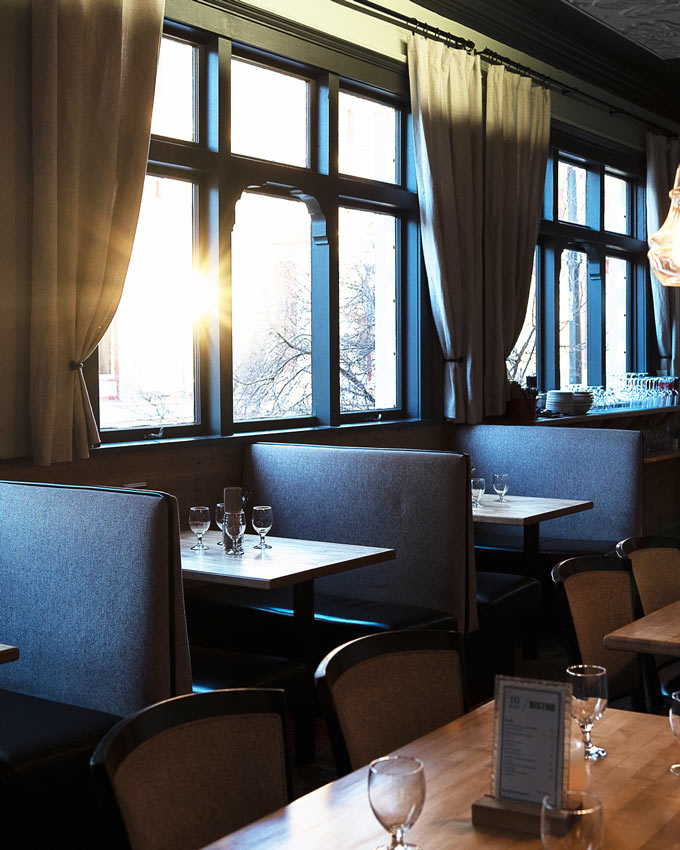 611 Courtney Street, Victoria
Tea at the Empress
One of the most sought after classic foodie experiences in Victoria is afternoon tea at the Fairmont Empress.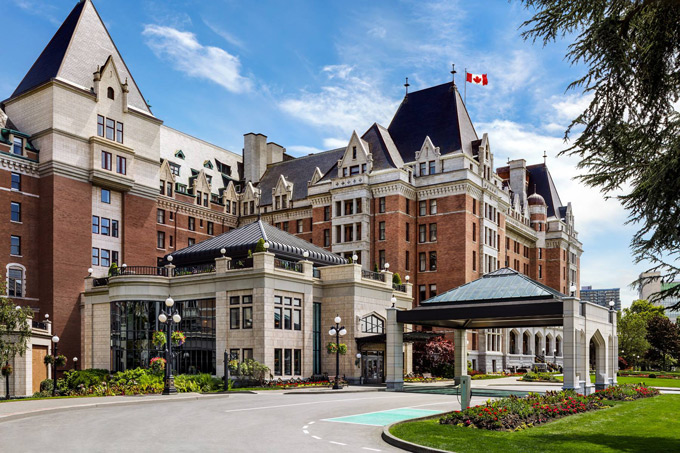 On your tea tiers, you'll find a menu featuring fresh, locally sourced ingredients.
The strawberry jam for their freshly baked scones is made in-house from local berries, honey from their own bee hives and lavender from their rooftop garden.
The teas are ethically sourced from the top tea producers in the world.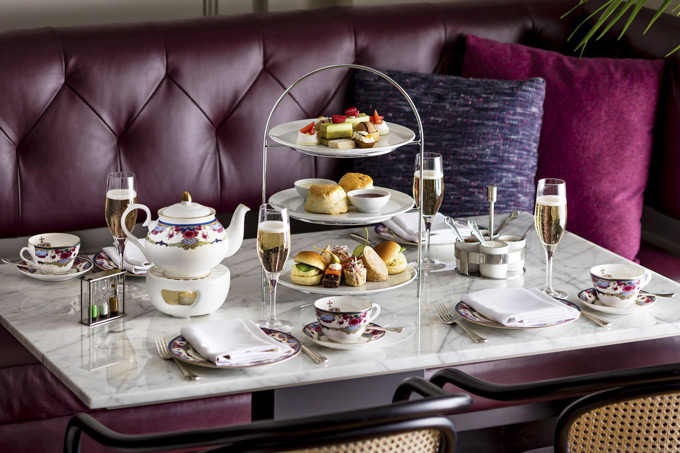 721 Government St, Victoria
Il Terrazzo
Il Terrazzo is a romantic Italian restaurant with an ambiance and menu that has been charming locals for over thirty years.
From the vines and flowers draping the red brick walls, to the fireplaces and candlelit tables, the dining room has a moody air of rustic elegance which is perfect for special occasions and date nights.
The northern Italian menu offers traditional dishes with a flare of pacific northwest flavors and an internationally acclaimed wine list.
Whether you order one of the homemade pastas, a seafood dish, or a wood-oven roasted meat or pizza, there's something on the menu for everyone.
555 Johnson St, Victoria, BC
Little Jumbo Restaurant and Bar
Little Jumbo is where you will find prohibition style ambiance, cuisine, and finely crafted cocktails are inspired by the best bars in New Orleans, Austin, and Seattle.
Even the name is a tribute to the 1966 Little Jumbo Saloon in New York which was owned by the 'father of American mixology', Harry Johnson.
Every six weeks a new set of original and inventive cocktails grace the menus and are served with charcuteries and small sharing plates.
These include the house made pasta with mushrooms and crème fraiche, the beef tartare, or the pan seared halibut with lemon, asparagus, and pearl couscous.
Down the Hall, 506 Fort St, Victoria, BC
Finn's Harbourfront Restaurant and Oyster Bar
Finn's Harbourfront Restaurant and Oyster Bar is one of the best restaurants in Victoria for seafood.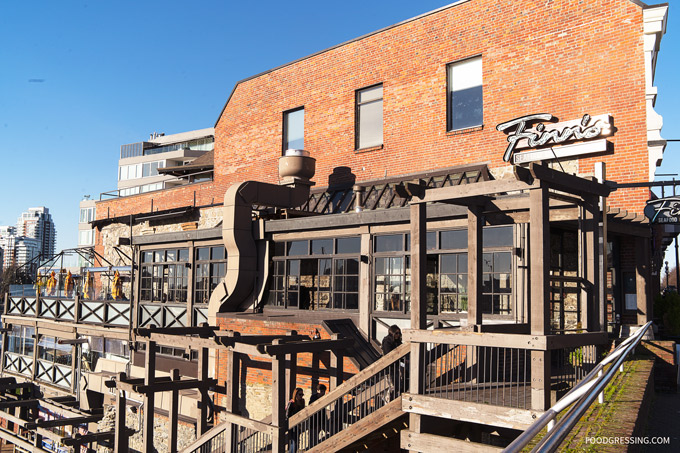 Located in an 1882 heritage building, Finn's menu features sustainably caught seafood, AAA steaks and chops cut in house, as well as a selection of fresh causal fare.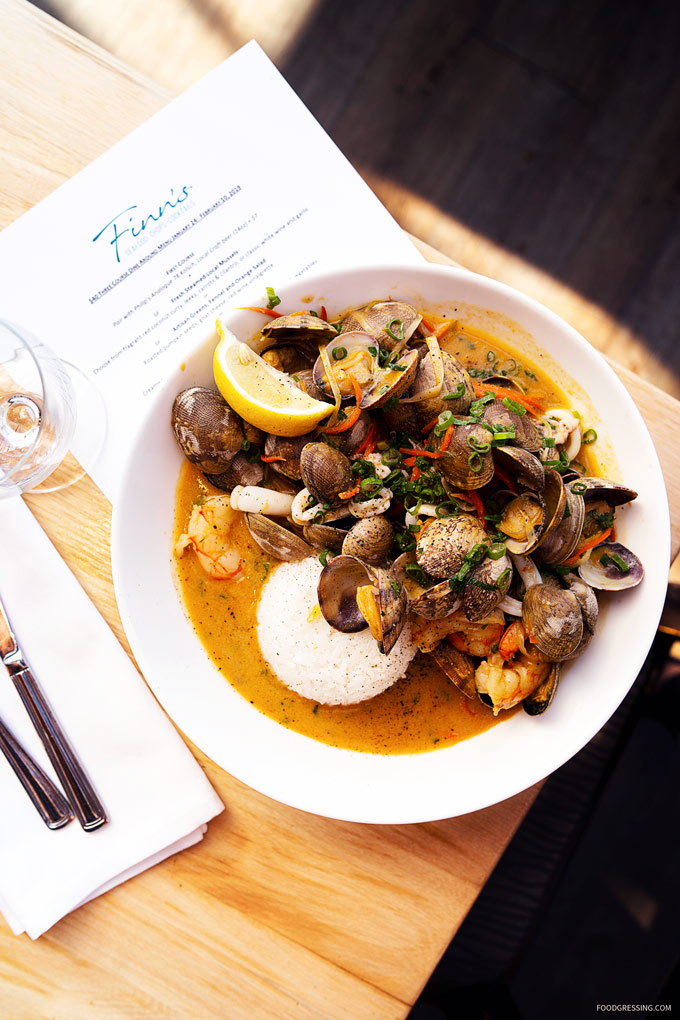 They are also known for their classic cocktails, served strong and cold, and featuring 3 oz martinis shaken or stirred at your table.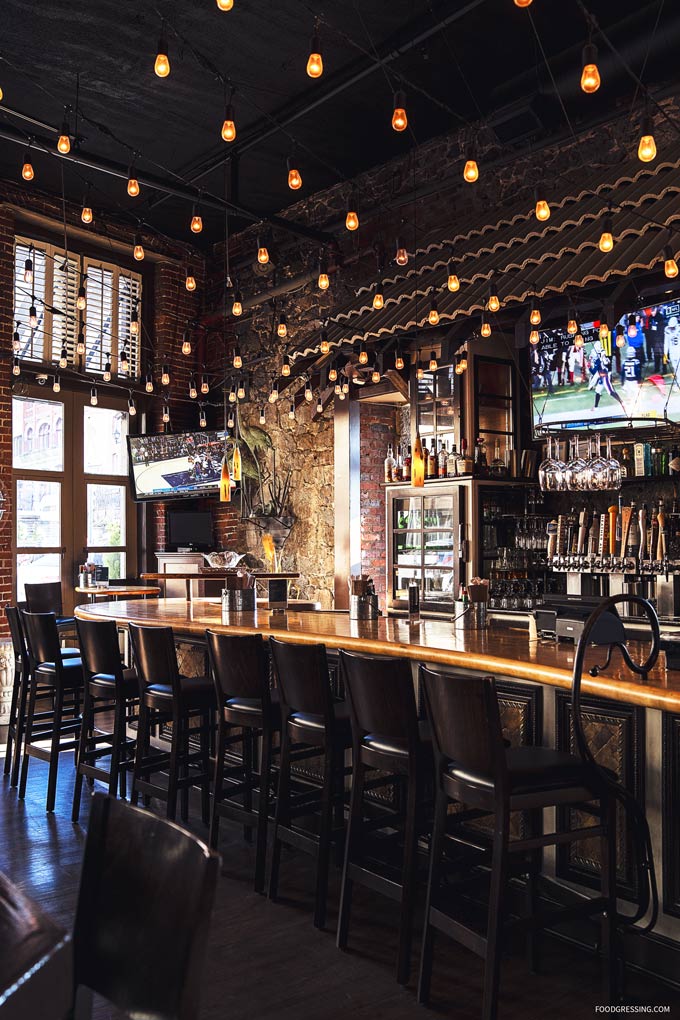 1208 Wharf St, Victoria
Pagliacci's
Since 1979, Pagliacci's has provided timeless meals from the recipe book of co-owner Alan di Fiore's mother.
When they first opened, word spread fast of the homemade focaccia bread and cappuccinos which were not yet popular amongst Victorians in the 70's.
Decades later, Pagliacci has become one of the best restaurants in Victoria serving Italian cuisine serving lunch, dinner, and weekend brunch.
While the live music and large variety of pastas, burgers, sandwiches, and soups may draw in the crowds, Pagliacci's customer-first, welcoming atmosphere is what has created their fiercely loyal customer base.
Stop by for a bite of their famous cheesecake and a down to earth meal that will taste like home.
1011 Broad St, Victoria, BC
Hank's *A Restaurant
You truly won't find another restaurant quite like Hank's.
The music is loud, the drinks are strong, and the art on the walls consist of Pearl Jam posters.
With only three tables and six bar stools, you'll feel much more like you're eating in your friend's kitchen than at an established restaurant.
Their unconventional style expands into their service—the chefs deliver your food—and their lack of phone which means you won't be able to call ahead for a reservation.
As for the food, the kitchen operates more closely to a food lab, concocting playful, innovate specials that are expertly cooked to perfection.
On any given day you may find dishes such as the Wagyu beef short rib pastrami with creamed cabbage and dried Okanagan cherries; or the ginger-ale-braised lamb neck with fried rice and beans topped with an egg.
1001 Unit G2a, Douglas St, Victoria, BC
Courtney Room
Old world meets new at The Courtney Room in Victoria, B.C – an extension of The Magnolia Hotel & Spa's award-winning boutique hotel experience.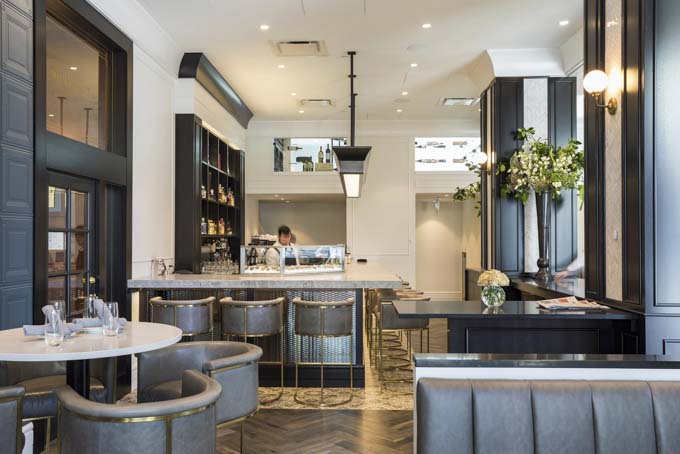 The Courtney Room is a modern dining space where locals and visitors alike can enjoy genuine hospitality and a menu that honours both land and sea, showcasing Pacific Northwest ingredients with classic cooking techniques.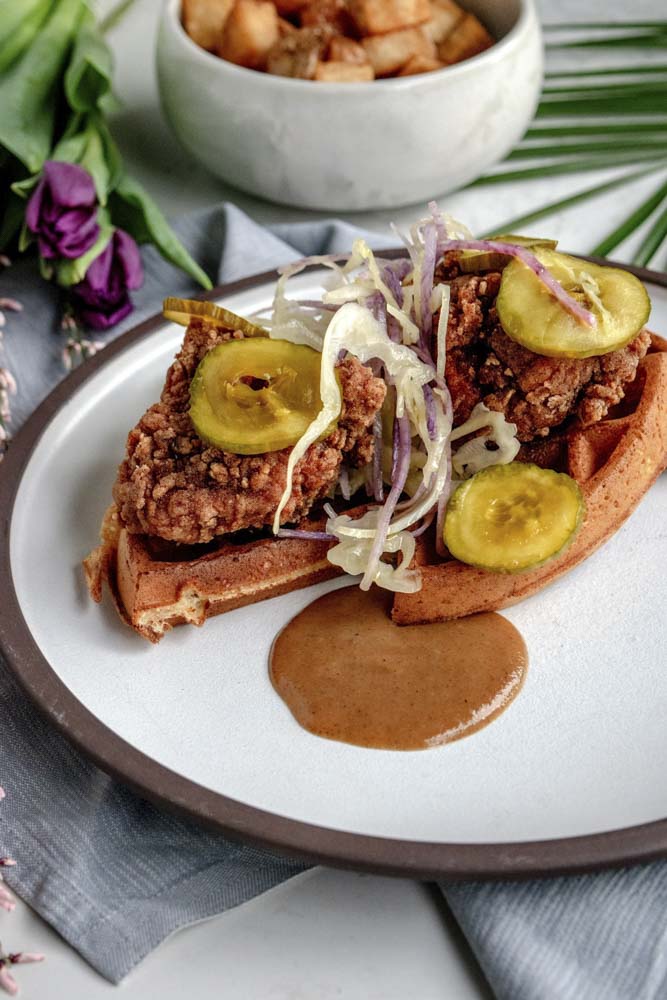 Gather at the bar for fresh-shucked oysters, unwind with friends over sharing plates in the lower brasserie, or savour an elevated experience in the upstairs dining room with impeccably prepared local seafood, steak and fine wine.
619 Courtney St, Victoria
John's Place Restaurant
John's Place has been a household name among Victorian locals for more than thirty years.
One visit to John's and it will become your new regular breakfast stop as soon as you sink your teeth into their famous eggs benedict or the delicious Belgian waffles.
Every dish is prepared with top quality ingredients such as real butter, homemade sausages, and seasonal fruit.
If you're headed there for the award-winning breakfast, give the build your own omelette a try—there's over 30 ingredients to choose from!
If John's is your dinner destination, you'll love the southwest meatloaf or the Longhorn Dinner, consisting of tender slices of slow roasted beef brisket, Texas whiskey barbeque sauce, cornbread, and creamy mashed potatoes.
723 Pandora Ave, Victoria, BC
Café Brio
In case you haven't touched up on your Italian lately, brio translates to liveliness, spirit, and vivacity—characteristics that have launched Café Brio into a top-rated, highly acclaimed spot amongst Victoria's best restaurants.
The venue is intimate but garners a distinctly Italian atmosphere with its villa-style dining room, warm terra cotta tones, and candlelit tables.
The menu is prepared with locally raised ingredients and everything, including the bread, desserts, and pastas, is made in-house and entirely from scratch.
Each dish is expertly prepared and served with simple, light sauces to enhance the natural flavors of the dish and paired with a local vintage wine.
944 Fort St, Victoria, BC
Brasserie L'Ecole
Located in a Chinatown heritage building, Brasserie L'Ecole is a former Chinese school turned award-winning French restaurant.
The ambiance of the main dining room is distinctly Parisian with candlelit tables and elegant brick walls covered in historic French posters.
Chef Sean Brennan and sommelier Marc Morrison pair an impressive wine list with modern French classics to create robust plates on an ever-changing menu.
Visitors rave about the steak frites cooked in truffle oil, the rockfish, and local oysters.
Do keep in mind, this is a highly sought-after venue that does not accept reservations, so you'll likely become well acquainted with the imported Belgian and French beers at the bar.
1715 Government St, Victoria, BC
Frankie's Modern Diner
Frankie's is a cozy, contemporary diner where friends and family can gather and feast on delicious comfort food inspired by the Italian mother of local owner, Frank.
If tasting the family recipes aren't enough, personal snapshots of Frankie's life remind customers that this is a family joint, despite being the largest restaurant downtown.
Whether you stop by for breakfast or a late-night snack, Frank's Modern Diner has the down to earth meal you're looking for.
Their exceptional flavor is a result of an entirely homemade menu made of locally sourced fare.
At dinner time, enjoy pastas, pizza, or a local favorite, the meatball Stromboli served with a homemade sauce.
Wash down your meal with freshly squeezed juice or a local draft beer, house wine, or retro cocktail.
910 Government St Unit 38, Victoria, BC
Ithaka Greek Restaurant
Ithaka is one of the best restaurants in Victoria for Greek cuisine.
Their story exemplifies the passion, dedication, and talent that has kept Ithaka amongst the highest rated in the city.
Ithaka's origins are traced back to 1969 when the Adamopoulos family opened a restaurant serving Canadian classics.
However, locals soon became more interested in what Greek grandmother Maria was serving at the family dinner table than what was listed on the menu.
When the next generation took over in 2004, Maria's grandchildren moved her to Victoria to share their exceptional style of hospitality and authentic Greek favorites.
To say their cuisine was well received would be an understatement.
The lunch menu features a delicious variety of Mediterranean classics including the flambéed goat's cheese and dry ribs, Greek pita wraps, and skewered meats.
The dinner menu adds heartier dishes such as the rack of lamb and souvlakis to seafood and pastas.
716 Burdett Ave, Victoria, BC
The Tapa Bar
At The Tapa Bar, you'll find a diverse menu of Spanish inspired specialties served on small shareable plates.
Not only are the dishes packed with flavor, but the vibrant décor and Spanish music create a lively and eclectic atmosphere.
Savor your meal on the heated patio or take it indoors; either way there's something on the menu for everyone, including vegan and gluten-free options.
The large variety of tapas include vegetarian, seafood, chicken, and pork.
Must-try tapas include the Pollo al Ajillo, a marinated chicken wing fried in garlic butter sauce, or the Halibut Tostada topped with grilled pineapple salsa and a crisp corn tortilla.
They do have larger entree items such as pastas, thin crust pizzas, and Cubanettes which resemble an open-faced sandwich (but can also be served on rice).
620 Trounce Alley, Victoria, BC
Green Cuisine Vegetarian Restaurant
As one of the best restaurants in Victoria for vegetarian cuisine, the Green Cuisine offers a healthy, wholesome, and 100% plant-based meal.
Their menu offers a wide selection of natural and organic ingredients inspired by a blend of international flavors.
The restaurant itself is a charming, brick-lined building with cozy seating and buffet style service.
There is undoubtedly a dish for everyone's taste, including soups, sandwiches, a salad bar, pizza, hot dishes, and desserts.
Squeeze as much of the tempeh, falafel, cornbread, and chocolate cake onto your plate as possible and wash it down with fresh juice or their homemade kombucha.
While all the food at Green Cuisine is delicious, locals gush over the richness and flavor of the large dessert menu.
560 Johnson Street #5 At Market Square's Courtyard, Victoria, BC
Tractor Everyday Healthy Foods
Tractor Everyday Healthy Foods is one of the best restaurants in Victoria for a casual meal.
Tractor is where you can go to nourish yourself with fast, fresh and creative fare made with sustainably sourced ingredients.
Their seasonal menus feature bowls, salads, soups, stews, sandwiches and sides prepared on-site in their bright, open-concept kitchen.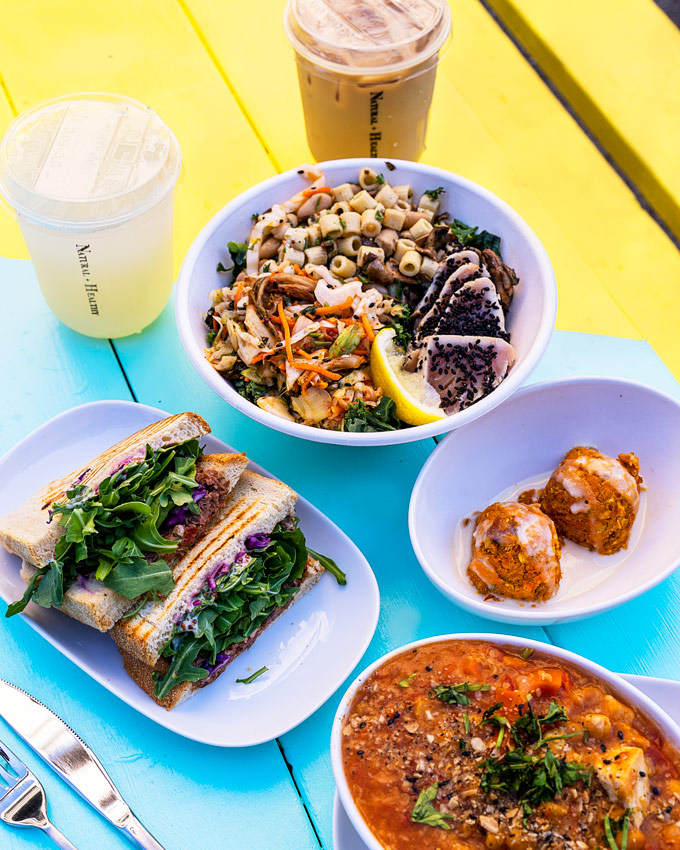 Tractor Victoria is open for breakfast, lunch and dinner daily for dine-in or takeout.
805 Government St, Victoria
Nobu Japanese Tapas
Nobu is inspired by the Izakaya experience—a Japanese version of an informal eatery resembling an Irish pub or Spanish tapas restaurant.
The mission is to provide a casual, homey space for friends and family to gather for food, drinks, and good company. At Nobu, the dishes are characteristically Japanese but served in a Spanish style.
These Japanese tapas include a variety of chicken, pork, vegetarian, and seafood dishes that arrive at the table on small, shareable plates.
Add in a few sushi rolls and there will be something at the table for everyone.
If for any reason your party prefers to order their own entrées, there is also a large selection of salads, soups, and ramen.
No visit to a Japanese style pub is complete without a glass of sake or a drink from the cocktail, wine, and beer menu.
Fishhook
For West Coast seafood with a twist, check out Fishhook for sustainable seafood with Indo-French influences.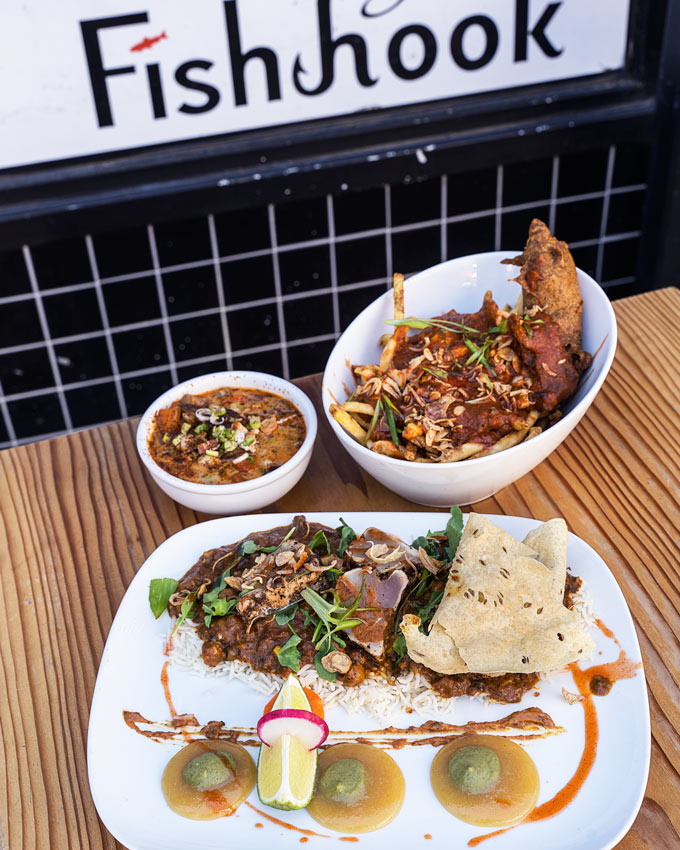 I can personally recommend the Tikka-seared Oceanwise tuna served over curry and golden basmati rice.
The poutine with masala fries, cheese curds, pekora Oceanwise cod, sweet-tomato curry is amazing.
Also popular is the the Fish Hook Chowder made with Spicy thyme chili roasted potato, coconut milk with smoked fish broth and wild fish confit.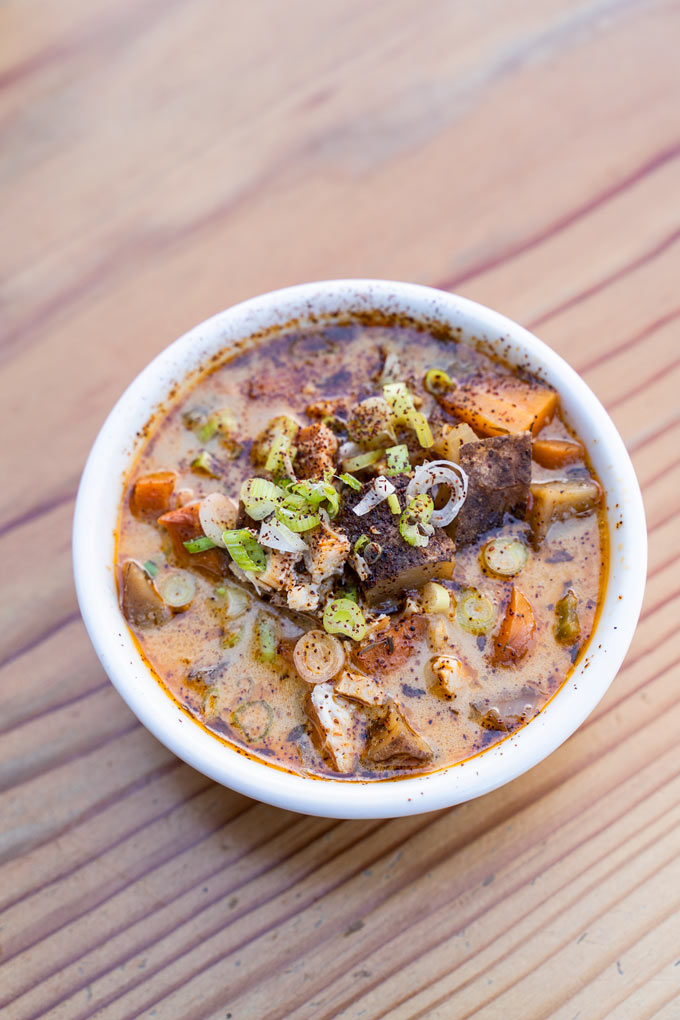 805 Fort St, Victoria
The Pink Bicycle
The Pink Bicycle is one of best restaurants in Victoria for an awesome burger.
It's easy to underestimate the place given its laid back, indie appearance and hole in the wall vibe, but The Pink Bicycle's award-winning burger is famous among locals and tourists alike.
Their menu features a whopping fifteen varieties of burgers made with local ingredients and served on a toasted sesame bun from the bakery next door.
Enjoy a classic cheeseburger or venture out to try a more innovative recipe inspired by international cuisines or local fare.
Examples include the maple salmon burger, or the Vietnamese style Banh Mi Burger.
If you've got allergies or dietary restrictions, Pink Bicycle serves gluten free buns and vegetarian patties and vegan cheese.
While the burgers are indisputably delicious, the sides are equally delectable.
From Mac N' Cheese sticks and onion rings, to truffle fries and poutine, the Pink Bicycle will surely be your new favorite spot to grab a burger.
1008 Blanshard St, Victoria, BC
White Heather Tea Room
Another top place to enjoy a charming afternoon tea in Victoria is at the White Heather Tea Room.
They offer delectable scones, sweets and savouries in their afternoon tea sets available for dine-in or takeaway.
They are also open for lunch where you can enjoy sconewiches, tea sandwiches, salads and daily features.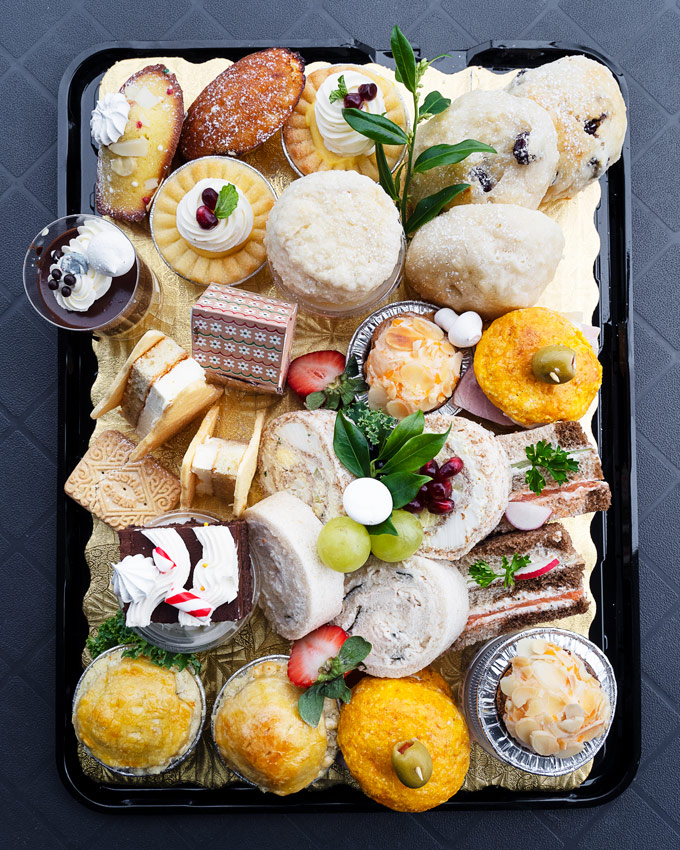 1885 Oak Bay Ave, Victoria, BC
Blue Fox Café
Blue Fox café is one of the best restaurants in Victoria for brunch.
Their bright blue walls are adorned with funky art, kitschy knickknacks, and a line winding out the door and down the street of hungry patrons waiting for a table.
If you're lucky enough to score a table, the first sip of their organic coffee will prove the wait worthwhile.
Locals can't get enough of the "very fat French toast," the fluffy omelettes, or one of more than ten varieties of eggs benny which have been voted best in the city.
The Orange del Sol with Double stack of pancakes, vanilla bean cream, fresh navel oranges, roasted pecans and tripe sec syrup is a heavenly indulgence.
These breakfast favorites are served all day alongside a lunch menu featuring juicy beef burgers, hand cut fries, or house-roasted pork quesadillas.
919 Fort St, Victoria, BC
Spinnakers Gastro Pub
If you are a beer lover, you must visit Spinnakers, Canada's first brewpub which opened in 1984.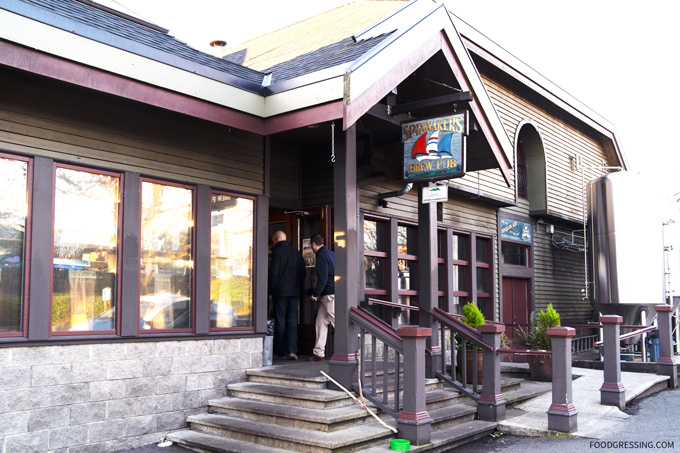 They were also an early advocate of the local food movement and have partnered with over 35 local farmers and producers who supply them with fresh, local foods all year long.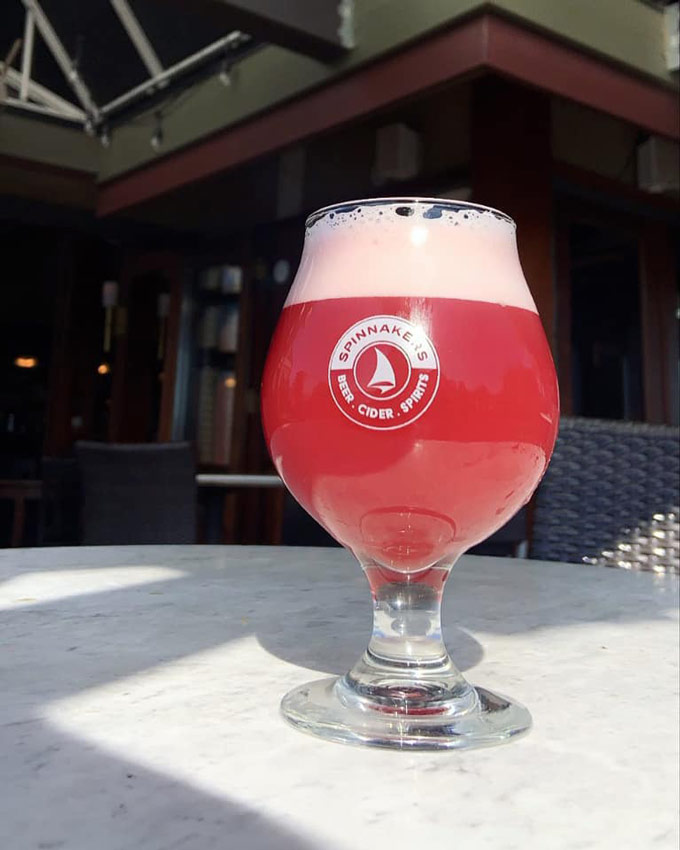 Some of their beer recipes date back 30 years, with cutting-edge styles such as sours and barrel-aged beers, daily casks and ciders made on-site.
Aside from their beer focus, Spinnakers is one of the best restaurants in Victoria for breakfast with classic breakfast options,, benedicts, frittatas, French Toasts and more.
Breakfast is served from 9am -12pm daily.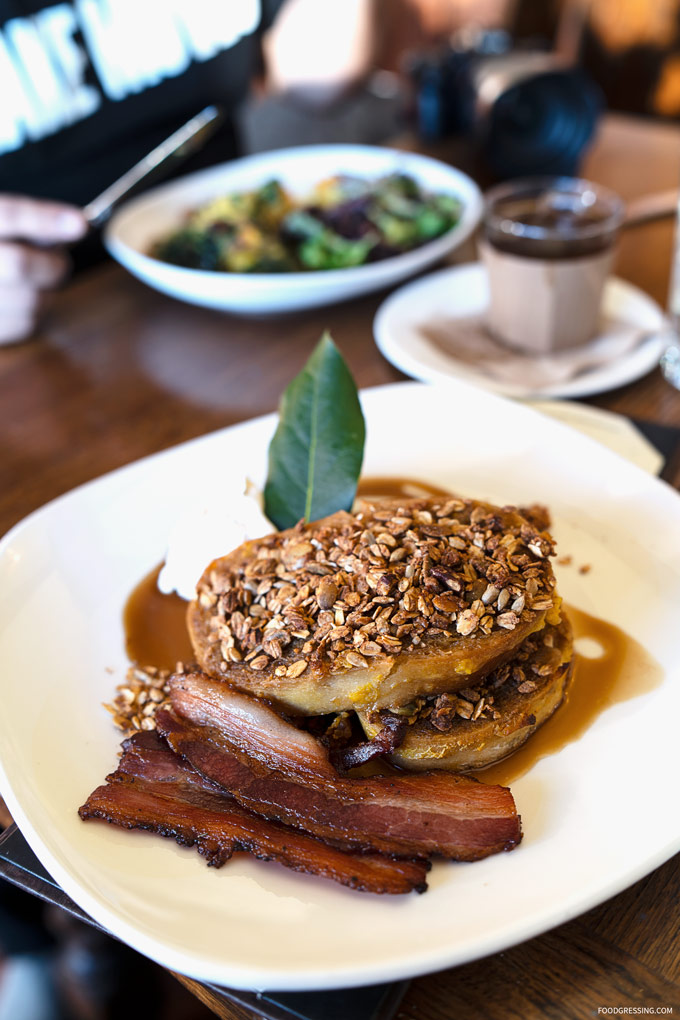 308 Catherine St, Victoria, BC
Be Love
Be Love is one of the best restaurants in Victoria for vegan cuisine showcasing recipes with love and care for the community and the environment.
At first glance, Be Love might appear to be a standard French or Italian restaurant because of the elegant ambiance and candlelit mood.
However, this chic restaurant is entirely vegetarian, and the menu offers upscale lunch, brunch, and dinner items that are innovative and classy.
The restaurant is owned by brother and sister duo, Joe and Heather Cunliffe, who were inspired by the childhood meals that emerged from their family garden.
Now, Heather creatively constructs seasonal menus that feature rich, nourishing dishes such as the crispy pumpkin ravioli or the local favorite: the Green Bowl which is a mixture of greens and rice that are topped with avocado, toasted cashews, and Thai coconut green curry.
1019 Blanshard St, Victoria, BC