Looking to satisfy your brunch cravings with a mile high stack of maple syrup drenched flapjacks or pipin' hot crispy chicken and waffles? Toronto's neighborhoods are brimming with inviting brunch spots, and I've narrowed it down to the best. Check out this roundup of the restaurants serving the best brunch in Toronto.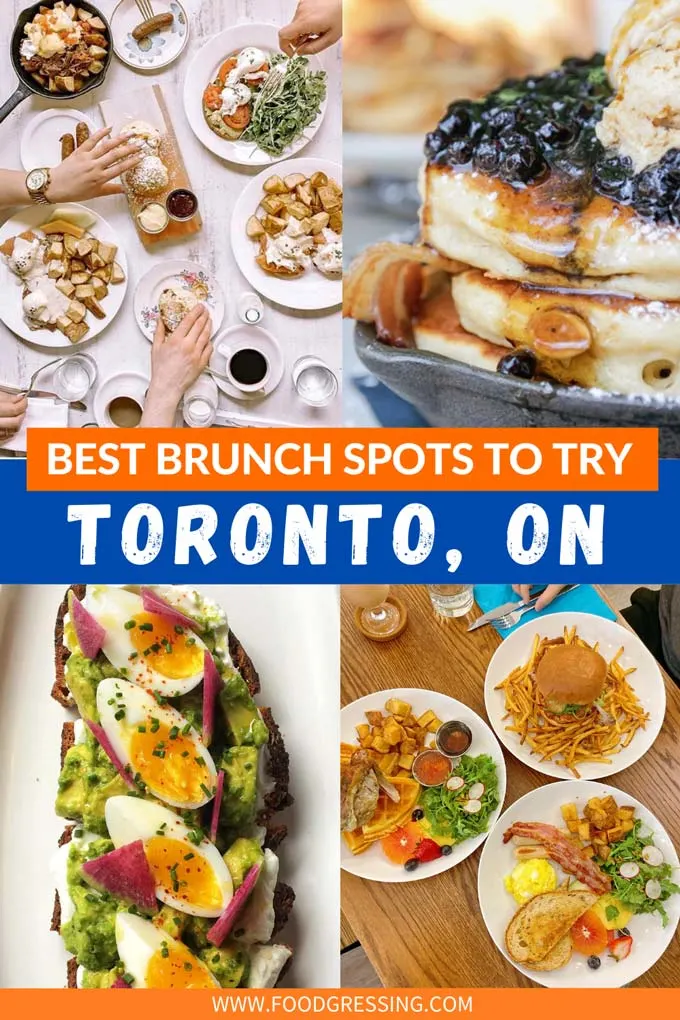 Old School
You can't miss the bright blue façade of Old School's (800 Dundas St W) street corner location in Toronto's Little Italy.
This beloved diner is known for their all-day breakfast and American comfort foods that are sure to evoke feelings of nostalgia.
Their mission is to serve wholesome, feel-good food in a welcoming neighborhood setting – reminiscent of a mid-twentieth century establishment when eating out was fun, approachable and most importantly, accessible.
Think Leave it to Beaver with a little rock 'n roll.
Old School's signature dish is their Blueberry Hill Pancakes that are supposedly the highest stack of flapjacks you'll find in Toronto.
You'll also find a variety of classics with clever names like Benny & the Jets for the eggs benedict, Notorious B.I.G Mac Burger, or the Easy-E Breakfast with eggs, beans, fries, and bacon.
Return of The Mac & Cheese is also super yummy featuring a homestyle skillet of Mac & Cheese, aged cheddar and Old School Creamy Béchamel.
The Morning After
The Morning After (88 Fort York Blvd) is a trendy brunch spot serving heaping plates of hangover cures in a fun, upbeat setting.
They offer a variety of eggs benedicts like the "Too Much Smoke" topped with Montreal smoked meat, swiss cheese, and mustard cream sauce and the "Get Me To The Greek" featuring two poached eggs on an English muffin topped with avocado pico di gallo, feta crumble, and olive tapenade.
The restaurant also offers exclusive cereals from around the world. Be sure to check with your server what's available.
There's also the "i'm toast" which is an avocado toast with whipped goat cheese, hard-boiled egg, arugula fennel and pickled radish.
The "still fried" is a savoury favourite with boneless fried chicken on a Belgian waffle topped with gochujang maple syrup.
To top off a lively atmosphere and mouthwatering menu, The Morning After creates some of the most creative drinks in town.
The Unicorn Latte is worth the trip alone, topped with colorful cream and vibrant cereal.
Sisters & Co
When the best friend trio and founders of Sisters & Co (887 Dundas St W) opened their doors in August of 2019, their location in Trinity Bellwoods quickly became one of the hottest brunch spots in the city.
Locals love their white-tiled, modern-industrial aesthetic and refreshing take on brunch dishes.
Their menu features uniquely Asian sweet and savoury fare alongside traditional breakfast foods that are prepared with a modern twist.
A must-try on the menu is the signature Spicy Oxtail Stew made with a family recipe.
Other popular options on the menu include the Chicken Katsu Sandwich (crispy panko fried chicken on milk bread) and Bulgogi Beef Fries (Bulgogi Beef, carrots, mozzarella on French Fries).
They also have quite a selection of pancakes from Earl Grey, Carrot Cake, Blueberry, Chocolate Chip, Cinnamon Bun and more.
Fran's Restaurant and Bar
Fran's (20 College St, 200 Victoria St) is a landmark diner in Toronto, serving customers since 1940.
While the restaurant expanded throughout the city during the 1940's and 1950's, this famous diner remains a family-owned business with a dedication to the traditional diner experience.
The interior showcases quite a bit of kitschy décor and reminiscent furnishings which are sure to leave you feeling nostalgic.
Since the restaurant is open 24 hours a day, you'll always have a spot in Toronto for some home-style breakfast.
The menu is filled with traditional plates like the eggs Florentine, French toast, and their legendary Banquet Burger.
MIA Brunch Bar
Next on this roundup of best brunch in Toronto is MIA Brunch Bar (2140 Yonge St) which offers the ultimate lounge experience in Toronto.
Find a spot on the patio overlooking the city and the all-black painted storefront.
Out back, you'll find a second patio that is shaded by treetops strung with twinkling lights.
The menu is filled with elevated plates like the French Smoked Salmon Omelette, Crunchy French Toast, Portobello Mushroom Burger and more.
You'll find the menu is extremely inclusive, offering vegetarian and vegan specials and even the Hello Keto! item for guests following keto diets.
For drinks, there are light and refreshing cocktails, ciders, wines, and of course, a freshly brewed cup of coffee.
Smith
Smith (553 Church St) is the perfect blend of cozy breakfast joint and chic, elevated restaurant.
This eclectic local favorite is found in a stunning, three-story brick building in The Village.
The Victorian style architecture adds character and charm through arched doorways and windows, intimate seating in unique nooks, and rustic, odd-end décor to match.
A highlight is the outdoor patio found tucked in back with couch-like seating and glowing lights strung overhead.
Their menu changes frequently and range seasonally. Everything is made in-house including the breads, sauces, preserves, and ice creams.
The kitchen is also known for consistently perfecting the classics.
Some highlights of their menu include the Strawberry Cheesecake Pancakes (strawberry compote, toasted graham & cane sugar crumble, vanilla cream drizzle, Chantilly cream); Huevos Rancheros (two poached eggs, black bean & chili sauce, guacamole, sour cream, aged cheddar); and Smith Ruben (corned beef, sauerkraut, pickles, Russian dressing, rye bread).
Good Fork
Why not change things up and opt for a Middle Eastern inspired brunch at one of Toronto's most famous brunch spots, Good Fork (1550 Dundas St W)?
You'll find the interior modern and spacious with contemporary Middle Eastern design influences throughout.
The menu is packed with utterly delicious combinations of small, shareable plates and larger entrees.
Popular dishes include the Fried Halloumi, Blueberry Halva Pancakes, or the Spanish Hash.
For beverages, the bottomless drip coffee and fresh hibiscus iced tea are irresistible.
However, there are also plenty of cocktails, beers, and ciders to choose from as well.
O'Somae
Duck lovers better get in line, because O'Somae (357 Broadview Ave) has every combination of duck you can imagine – Duck Confit Poutine; Duck Benny; Duck Confit & Waffles; and even a Duck Confit Burger!
While this popular protein graces the menu often, foodies will enjoy a plethora of elevated dishes with non-traditional ingredients from local farms.
In addition, O'Samae is one of a handful of Toronto restaurants taking part in brunch boxes.
Each of these boxes come packed with all your favorite menu items and are best enjoyed picnic-style or at the park.
Avocado Toast Box; Chicken & Waffles Box; Farmer's Breakfast Box; and Crab Cake Benny Box are just some of the options.
If you do choose to eat onsite, make sure to snap a picture in front of their famous wall mural by artist Adrianne Chan.
Lady Marmalade
At Lady Marmalade (265 Broadview Ave), you'll find a delicious all day breakfast menu.
Some highlights of the menu are the Moroccan Scramble; Cheddar & Spinach Waffles; and A.M. Poutine.
Their signature bennys include the Salmon Benny; Braised Beef Benny; Mango Benny and even a B.Y.O.B. or Build Your Own Benny option.
For something sweet, the Bread Pudding with fruit, berry coulis and Ontario maple syrup is absolutely out of this world.
The interior of the restaurant is warm and inviting with neutral, earthy tones, natural sunlight, and greenery overhead.
Whether you're looking for a brunch spot with friends or a cozy spot to start your day, at Lady Marmalade you can expect to be greeted by friendly staff and a warm cup of coffee or freshly squeezed juice.
Evviva Breakfast and Lunch
Evviva (25 Lower Simcoe St) is a sleek eatery with a huge brunch menu.
When we say there's something on the menu for everyone, we're talking meat lovers, vegans, light and healthy fare, comfort foods, something savory, and something for your sweet tooth.
Evviva doesn't stop at just a few vegan options either.
An entirely separate plant-based menu has everything from the build your own [tofu] omelette to the famous Vegan Slam Platter and more.
For the carnivorous diners, you definitely won't be hurting for choice.
The sizable menu is filled with grilled meats, waffles, sandwiches, salads, and egg classics.
Lastly, this is one of the most kid friendly brunch locations in Toronto.
With a dedicated kids menu and plenty of healthy plates your kids will enjoy, Evviva truly has the most inclusive menu around town.
Petit Dejeuner
Inside the brick-lined walls of Petit Dejeuner (191 King St E, Toronto) is the sweet aroma of Belgian-Canadian comfort food made from local family recipes.
Petite Dejeuner has been serving brunch in Toronto since 2002.
As you can imagine, the Belgian waffles are amongst the best in the city, but the menu also delivers savory breakfast sandwiches, crepes, French toast, and omelettes, too.
Their selection of specialty juices, coffee, and tea are entirely refreshing.
Not to mention, you'll find a few beer selections on tap and red and white wines.
Fig's Breakfast and Lunch Restaurant
Fig's (344 Queen St E) is an East Downtown hidden gem that is best known for their wide variety of perfectly prepared Eggs Benny.
They've got Vegetarian eggs benedict with feta cheese, spinach and tomato; Julienne style with beef sirloin; Rueben-style with corned beef and Swiss cheese; Royal eggs with smoked salmon, spinach, tomato and dill; California benedict with avocado, spinach, and tomato to name a few.
In addition to eggs benedict, Fig's serves up a wide variety of brunch classics like Belgian waffles, pancakes, French toast, burgers, sandwiches, salads, and specialty dishes.
You'll also find a range of hot and cold beverages including fresh squeezed juices, coffee, and tea.
Almond Butterfly Bistro
At Almond Butterfly Bistro (794 Dundas St W), you won't have to wait until the weekend for a taste of their delicious brunch menu.
Their scrumptious desserts, signature cocktails, and traditional breakfasts are served seven days a week until 5 PM.
They've curated a short and simple list of dishes that are wildly delicious and made with fresh local ingredients.
This includes the Traditional Breakfast (with the option to make it vegan), the Farmer's Breakfast, the Pancake Stack, a Smoked salmon Bagel, and Avocado Toast (Feta & Cucumber; Vegan Harmony Avocado; Avocado & Salmon) – that's it!
However, the sides are a bit more varied with options like the chorizo sausage, smoked salmon, Mexican-style beans, and Cajun home fries to name a few.
For drinks you'll find fresh-squeezed juices, seltzers, coffee, cocktails, wine, and beer.
Early Bird Wine + Coffee
Early Bird (613 Queen St W) inspires simple, healthy breakfast plates packed with flavor and natural ingredients.
Their easygoing ambience and colorful plates offer an alternative to the heavy, overly processed and sugar-packed foods so often found on brunch menus.
At Early Bird, you'll find dishes like the Mortadella Sando, Falafel Burger, or the Cacio O Pepe Beans.
Additionally, there are several smaller plates with vegetables variations or hummus.
Their dedication to clean food and natural ingredients extends to their beverages as well.
The drink menu features exceptional coffee made with beans from the most renown roasters in the world.
Similarly, their wines are both natural and made with minimal chemical and technological intervention for the smoothest and most flavorful tastes possible.
Eggsmart
Eggsmart offers a casual dining experience with a vibrant ambiance and modern twists on the classic breakfast.
You'll find an affordably priced menu filled with seemingly endless items to choose from, including the signature egg skillets, Eggsmart bennies, famous poutines, and their famous four egg omelette.
These classics have not only found their way into the hearts of Toronto's locals, but across Canada with over 45 locations total.
This beloved chain has turned its success across the country into an opportunity to use its platform for social responsibility.
The company holds their suppliers and local farmers to high standards in regard to animal welfare, energy conservation, and reduced waste.
Brunchin
Brunchin (335 Yonge St) is a unique, street food style brunch concept by owners Monica Navas and Ralph King.
Chef Ralph is the genius behind the menu which can be found at Downtown Toronto's World Food Market. Here, "shacks" are lined outside and filled with vendors serving local and international cuisines of every culture and style.
With the success of their first shack came a second shack and a new and improved menu with added coffee and juice options.
Speaking of menus, at Brunchin you'll find a variety of classics, benedicts, omelets, wraps, and sandwiches.
The Spicy Chicken Masala Melt, Guaca Toast, and Brunchin' Montreal Benny with corned beef, poached eggs and a mini pancake base are undeniably delicious and can be enjoyed in a unique and fun environment.
Saving Grace
Saving Grace (907 Dundas St W) is a quintessential neighborhood eatery made famous by their loyal local customer base and the city's best French toast served with caramelized bananas.
This quaint establishment has a bright, airy ambiance and limited yet intimate seating.
It may be small and simple, but you should also expect to find lines of eager diners waiting outside as soon as the doors open.
While the restaurant is known for their ever-changing chalkboard menu filled with unique ethnic dishes, there is one menu item that seems to always make the cut and that's the Eggs Rajasthani.
This Northern Indian dish is a spicy mixture of scrambled eggs, tomato, red onion, chili powder, chana masala, and paratha for scooping.
OEB Breakfast Co.
Calgary-founded OEB Breakfast Co has become one of the best breakfast/brunch chains in Canada and they have just opened their first location in Toronto (125 E Liberty St).
This chef-driven, locally owned concept serves gourmet dishes, complemented with lighter cuisine and vegan alternatives.
Among their signature menu items are the Traditional Benny (egg benny's served on a butter croissant with brown butter hollandaise with choice of artisan-style old fashioned rosemary ham or Canadian back bacon) and the Fresh Toast Trifle (Brioche, lemon curd, market berries, pistachios, torched pavlovas).
In addition, they provide an array of delectable breakfast poutines, such as the Soul in a Bowl, which is made with duck fat-fried herb potatoes, Saint Cyrille curds, slow-cooked bacon lardons, and brown butter hollandaise. The Soul in a Bowl is one of my all-time favourite OEB offerings.
OEB takes pleasure in using high-quality products and collaborating with local suppliers.
You might also like my roundup of Best Restaurants in Toronto.