Here are places in Metro Vancouver (Delta, Langley, Maple Ridge, Richmond, Surrey) and the Fraser Valley (Abbotsford & Chiliwack) where you can go berry picking this year.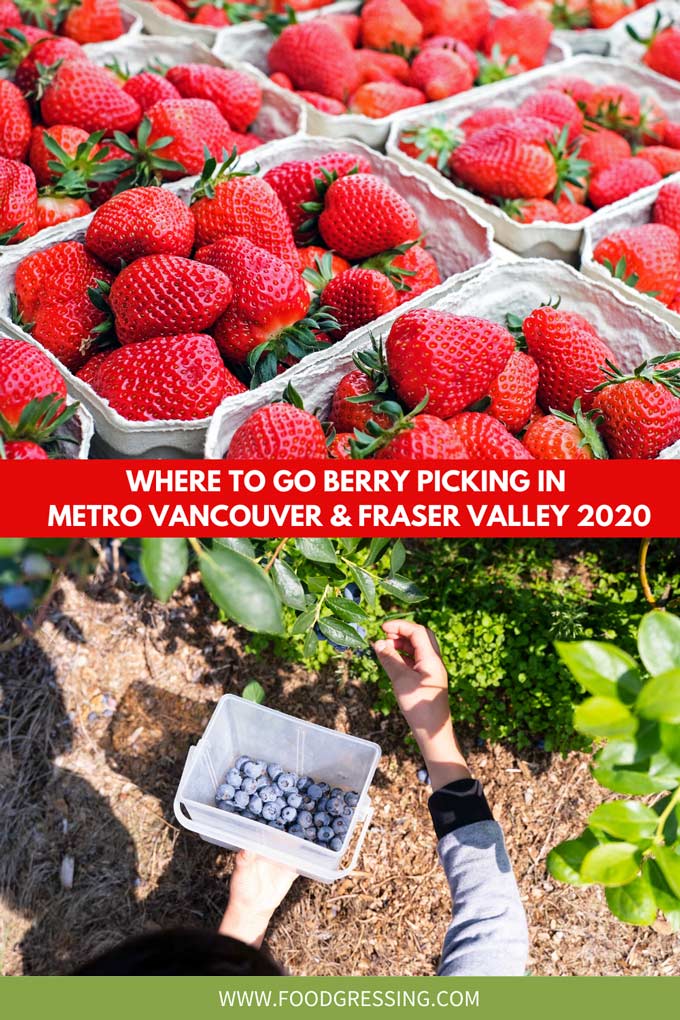 The list below is organized by geographical location of the farm. Please visit each farm's website or social media profile to find out the hours of opening, protocols, pricing and types of berries offered.
Any additions to the list? Please connect with me at [email protected] or on social media @foodgressingcom.bigscoots-staging.com.
METRO VANCOUVER
Delta
Bancy Farms
5050 36 Ave, Delta, BC
bancyfarms.webs.com
Best Choice Blue Berry Farm
5415 104 St, Delta, BC
www.bestchoiceblueberry.wixsite.com/bestchoiceblueberry
Didar Berry Farm
5580 104 St, Delta, BC
www.didarberryfarms.com
Emma Lee Farms
2727 Westham Island Rd, Delta, BC
emmaleafarms.com
Westham Island Herb Farm
4690 Kirkland Rd, Delta, BC
www.westhamislandherb.ca
Langley
Driediger Farms
23823 72 Ave, Langley City, BC
www.driedigerfarms.com/en/home/
John And John's Berry Farm
4015 244 St, Langley City, BC
www.facebook.com/pages/category/Farm/John-and-Johns-farm-1991400064420640/
Krause Berry Farms & Winery
6179 248 St, Langley Twp, BC
www.krauseberryfarms.com
On The Go Farms
4093 216 St, Langley City, BC
www.onthegofarms.ca
Weller's Blueberry Farm
26097 84 Ave, Langley City, B
wellerblueberryfarm.ca
Maple Ridge
Formosa Nursery
12689 203 St, Maple Ridge, BC
www.formosanursery.com
Pitt Meadows
Doremi Blueberry Farm
20006 Old Dewdney Trunk Rd, Pitt Meadows, BC
www.doremiblueberryfarm.com
McDonald Blueberries
19054 McQuarrie Rd, Pitt Meadows, BC
www.macdonaldsblueberries.com/
Richmond
CanWest Farms
13051 Blundell Rd, Richmond, BC
www.canwestfarms.ca
Surrey
Surrey Farms
5180 152 St, Surrey, BC
www.surreyfarms.ca
FRASER VALLEY
Abbotsford
Maan Farms & Estate Winery
790 McKenzie Rd, Abbotsford, BC
www.maanfarms.com
Blueberry Junction
28473 Huntingdon Rd, Abbotsford, BC
www.blueberryjunction.ca
Bumbleberry Farms
31580 Huntingdon Rd, Abbotsford, BC
www.bumbleberryfarms.ca
Funk's Blueberries
30075 Downes Road, Abbotsford, BC
www.funksblueberries.com/
KBF Farms
39800 No. 3 Rd, Abbotsford, BC
www.kbffarms.com
Taves offers a unique opportunity to u-pick goji berries. Read more about it in my post about Taves Farms goji berry picking.
Taves Farms
333 Gladwin Rd, Abbotsford, BC
www.tavesfamilyfarms.com
RussLynn Blueberry Farm
28494 Townshipline Rd, Abbotsford, BC
www.russlynnblueberries.ca
Wilems Berry Farm
33736 Vye Rd, Abbotsford, BC
www.willemsberryfarm.ca
Chilliwack
Country's Edge Blueberry Farm
200 Columbia Valley Rd, Lindell Beach, BC
www.facebook.com/countrysedgeblueberryfarm
Klaassen Farms
51211 Chilliwack Central Rd, Rosedale, BC
www.chilliwackblueberries.com
Yarrow Elderberry Farm
44497 Vedder Mountain Rd, Chilliwack, BC
www.yarrowelderberryfarm.com
---
Helping Links