The Visit Lauderdale Food & Wine Festival – formally known as the Greater Fort Lauderdale Food & Wine Festival – will take place January 9-15, 2023, boasting an impressive lineup of Signature Events taking place during an epic week-long festival offering culinary events for 'Everyone Under the Sun.'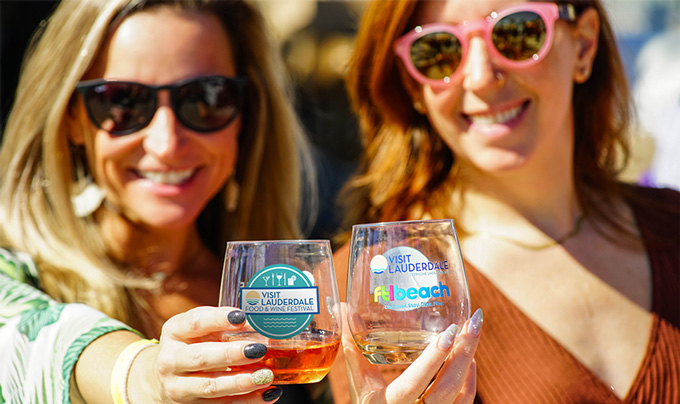 A New Look, A Bigger Vision
Unveiling a new name and logo is just the beginning for the Visit Lauderdale Food & Wine Festival.
Guests can expect more exemplary talent, elevated signature events and access to the most talented epicurean visionaries of our time.
The talent alone could sooth the palettes of the most discerning foodie fanatics and culinary connoisseurs during the weeklong line-up.
Through a variety of events and the Grand Tasting, guests can indulge in the culinary creative delights of renowned chefs – past events have featured: Chef Chris Miracolo of The Restaurant People; Chef Jorge Montes of Sazoned; Master Chef winner Chef Shaun O'Neale; Chef Josie Smith-Malave of Bubbles + Pearls; Chef Rino Cerbone of Heritage; and Chef Fulvio Sardelli with Sardelli Italian Steakhouse to name a few.
To set a little more sizzle to the pan, more chefs will be announced each month joining the already robust lineup of culinary creative minds.
A Taste of What's to Come
Consider the events below an appetizer to the full course menu soon-to-be-served by the Visit Lauderdale Food & Wine Festival.
These Signature Events will ultimately be complemented by an Educational Series, Cooking Demonstrations, Intimate Chef Driven Dining Series and more, all soon to be announced.
Guests can shake things up at a master mixologist showdown during Bar Fight! A Spirited Competition. – presented by the Fort Lauderdale Downtown Development Authority – hosted on Wednesday, January 11, 2023 at 7 p.m. at Rooftop @1WLO.
This event will put local mixologists in a head-to-head, no-holds barred matchup that will declare the 'Official Cocktail of DowntownFTL.' Tickets to this ultimate shakedown start at $65 per person.
Taking the classic poolside BBQ to a level of luxury and epic showdown of pitmaster skills is the Poolside BBQ Battle – also presented by the Fort Lauderdale Downtown Development Authority – at Hyatt Centric Las Olas on Friday, January 13, 2023 at 7 p.m.
All smoke and no mirrors here, as pitmasters showcase their best BBQ creations in a quest to be crowned 2023 Poolside BBQ Battle Champion.
Tickets for this showdown start at $75 per person.
Foodies with a taste for more variety can feast their eyes (and fill their stomachs) at The Grand Tasting on Saturday, January 14, 2023 from noon-4 p.m. at the famed Las Olas Oceanside Park.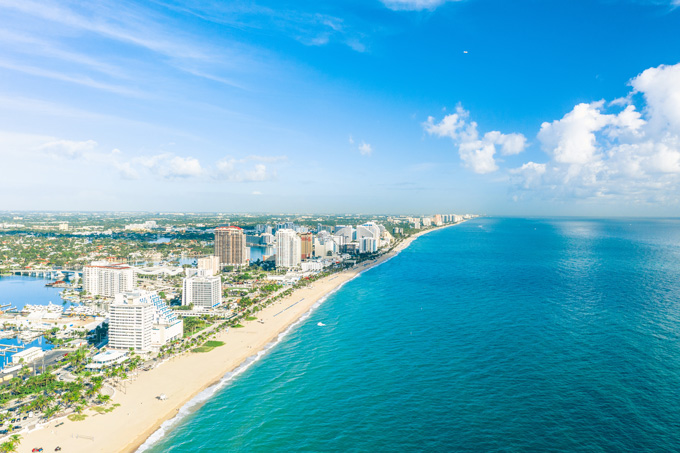 This beachside culinary celebration features 4 hours of unlimited bites and sips, cooking demonstrations, live music and some good-old-fashioned culinary competition with VIP tickets starting at $110 per person and General Admission tickets starting at $55 per person.
Rounding out the week-long epicurean excitement is the Picnic in the Park presented by Joe DiMaggio Children's Hospital on Sunday, January 15, 2023 starting at noon at Las Olas Oceanside Park.
Future foodies (aka the kiddos) and parents alike will enjoy a curated lineup of food trucks, hands-on culinary classes for all ages, cooking demonstrations, live entertainment, a Kid's Zone, and local artisan vendors.
Admission in complimentary.
The Cause
Cooking for a cause is an understatement when considering the Visit Lauderdale Food & Wine Festival dedicates its entire week-long program in support of Joe DiMaggio Children's Hospital (JDCH).
Joe DiMaggio Children's Hospital will receive a portion of all proceeds from the seven-day culinary experience.
Joe DiMaggio Children's Hospital is one of the region's leading pediatric hospitals, offering a comprehensive scope of healthcare services and programs in a child-friendly atmosphere.
It is a full-service, pediatric hospital that treats minor illnesses, trauma-related accidents and some of the most complex medical conditions.
Tickets Information
To purchase tickets for any of the events, please visit: www.VLFoodWine.com or follow us at @VLFoodWine on Facebook and Instagram (#VLFWF).