World Vegetarian Day on October 1st commemorates the joy, compassion, and life-enhancing possibilities of vegetarianism. WoodSpoon, the newest culinary innovation in NYC and service to getting a home-cooked meal at one's doorstep, offers a variety of vegetarian/vegan dishes from passionate, home chefs. Here's a Vegan Chorizo Quesadilla recipe from Home Chef Charles Davis at WoodSpoon.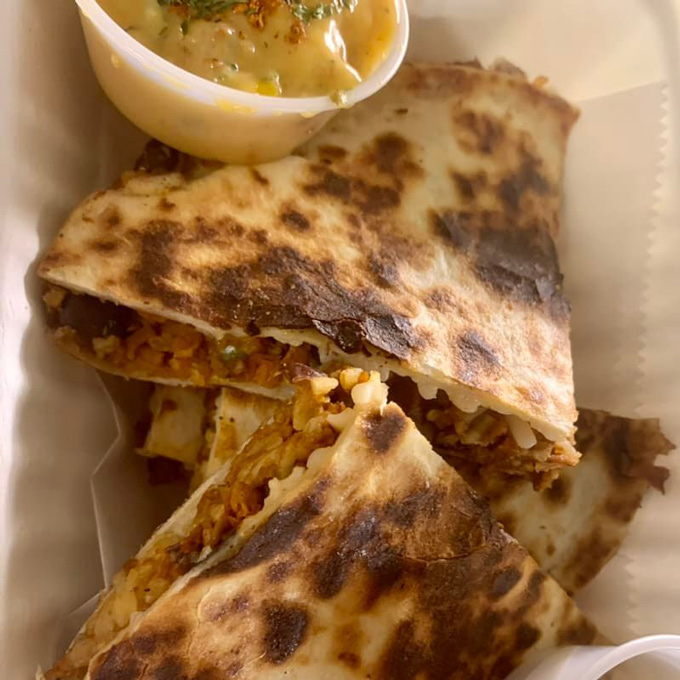 Vegan Chorizo Quesadilla Ingredients:
10 servings
flour tortillas (6g protein each)
1 can black beans (6g protein)
1 can corn (1g protein)
1 cup of jasmin rice (4g protein)
1/2 teaspoon garlic powder
1/2 teaspoon onion powder
1/2 teaspoonpaprika
1/2 teaspoon cilantro
salt to your liking
1 soy chorizo (8g protein)
1 soy based crumble (9g protein)
1/2 red bell pepper finely chopped
plant based mozzarella
Instructions
In medium skillet add oil over medium heat, add bell peppers and sauté until they become translucent.
Add soy chorizo, soy crumbles and seasonings and continue cooking until brown.
Once the crumbles and chorizo become brown add black beans, corn, and jasmine rice.
Continue cooking for 5 minutes until everything is mixed together.
In a separate skillet add light oil over medium heat add one tortilla into pan.
Add shredded vegan mozzarella onto the tortilla and then add your chorizo mixture, next add more vegan mozzarella and your other tortilla on top to cover.
Allow the vegan mozzarella to melt about 5 minutes or until bottom of tortilla is golden brown then flip your quesadilla.
Allow the vegan mozzarella to melt on the other side for another 5 mins or until tortilla is golden brown and remove from pan-cut your quesadilla into four pieces and enjoy!