Vancouver Foodster's Tasting Plates made its way to Coquitlam for the first time last month.  Attendees visited a selection of restaurants in the Coquitlam area centered around the Skytrain line between Lincoln station south towards downtown.  Here's a look a recap of the evening.
Disclosure:  I attended the event as media.  All food and drinks were complimentary.
Papparoti
Originating from Malaysia, Papparoti is known for their coffee bun which is freshly baked every 20 minutes.  Their buns are soft, light and fluffy and have a crispy top layer of coffee caramel.  For the event, we tried their signature coffee caramel coated bun, a coconut rollie (a soft and flaky croissant-like texture pastry with young coconut filling jam) and had a choice of either an ice blended signature chocolate, signature karak tea, or freshly brewed JJ Bean Coffee.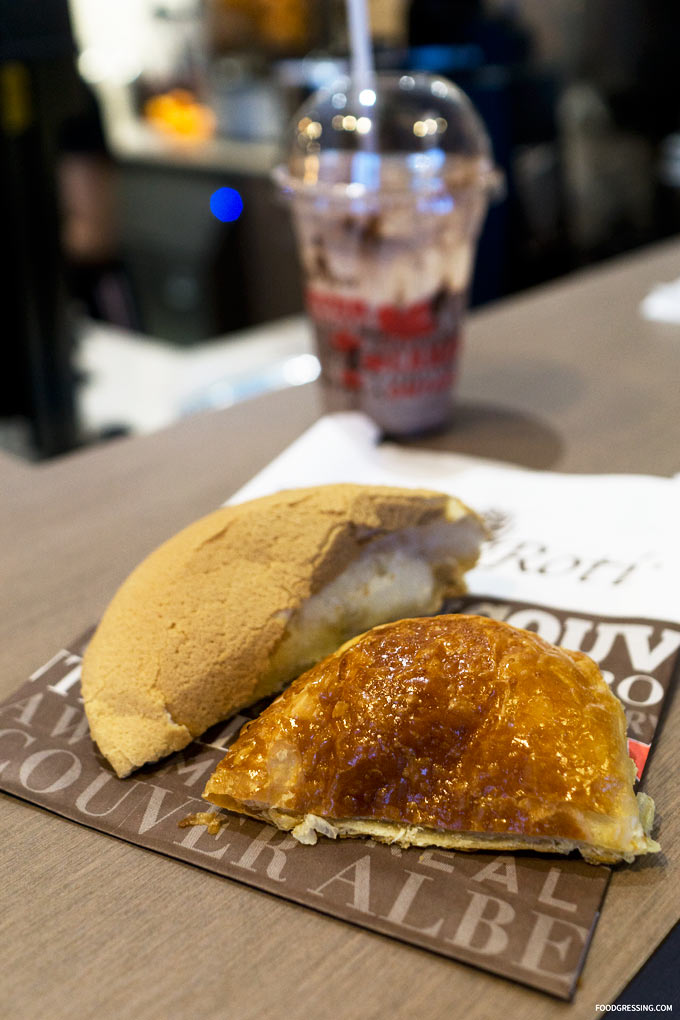 Address: 1196 Pinetree Way, Unit 100, Coquitlam
Website: www.papparoti.ca
Seoul Truck Street Food
Located inside Henderson Place Mall as a stall within a food court, Seoul Truck Street Food specializes in Korean snacks.  We tried the K-Town Sandwich, which is a soft bun filled with crispy Dak-Gang-Jeong (Korean Fried Popcorn Chicken), either Red Pepper Spicy, Soy or Garlic flavoured.  We also tried their fried Ddeok-Ko-Chi (rice cakes) which came in two flavours: red (sweet & spicy sauce) or yellow (cheddar cheese sprinkled with sugar).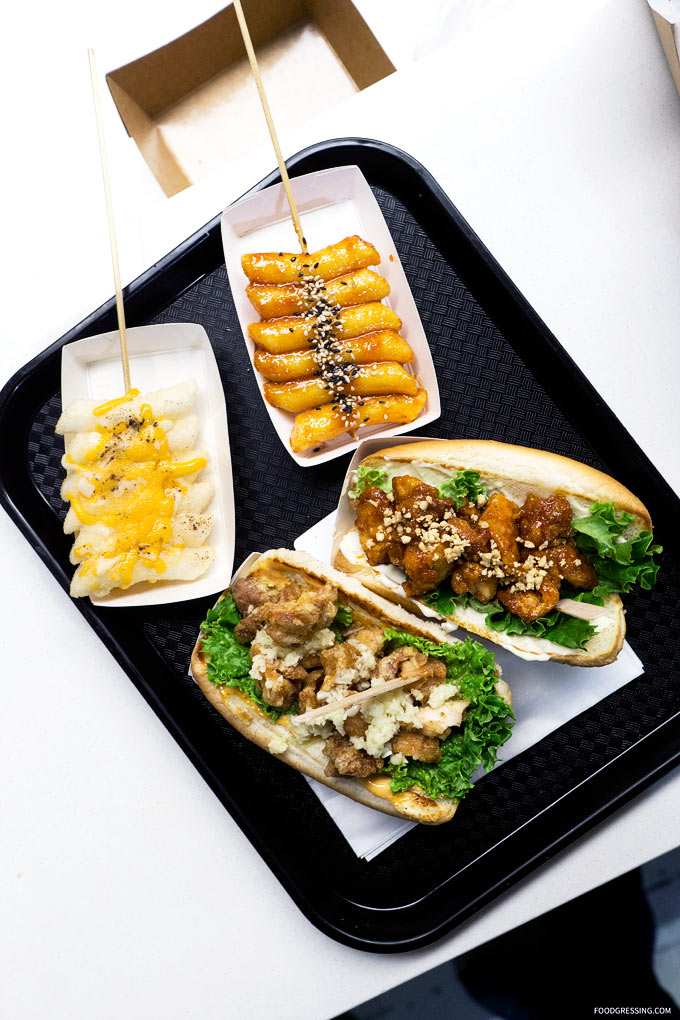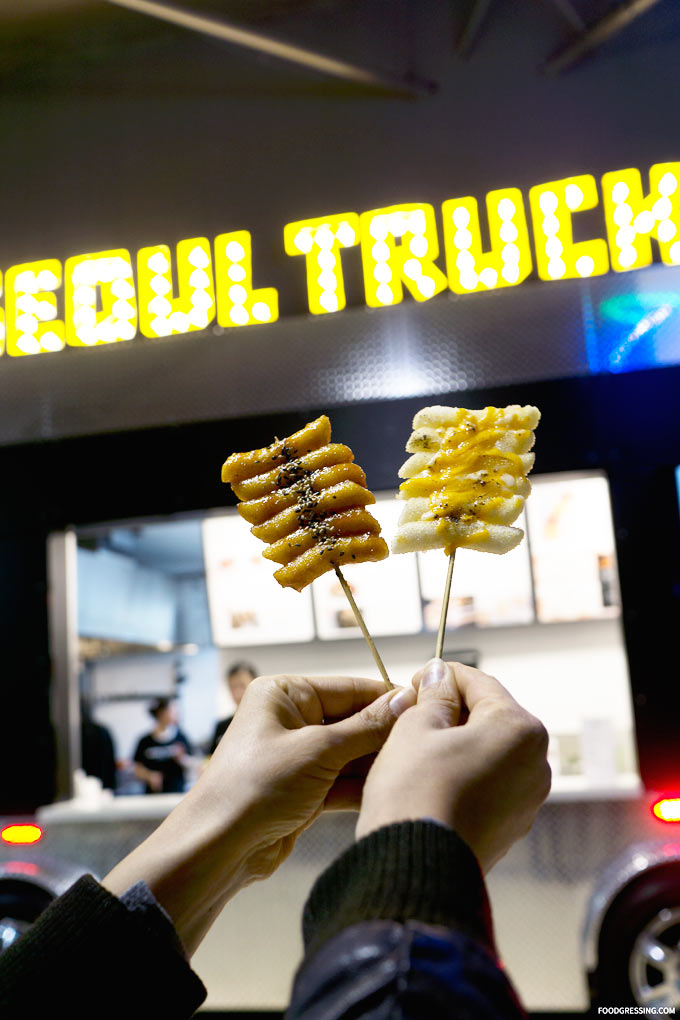 Address: Henderson Place Mall; Unit 2082-1163 Pinetree Way, Coquitlam
Instagram: @seoultruckstreetfood
Kulinarya
The third stop was a Filipino restaurant called Kulinarya.  There we tried lumping shanghai (spring roll), pork bbq skewer and rice noodles in a takeout box.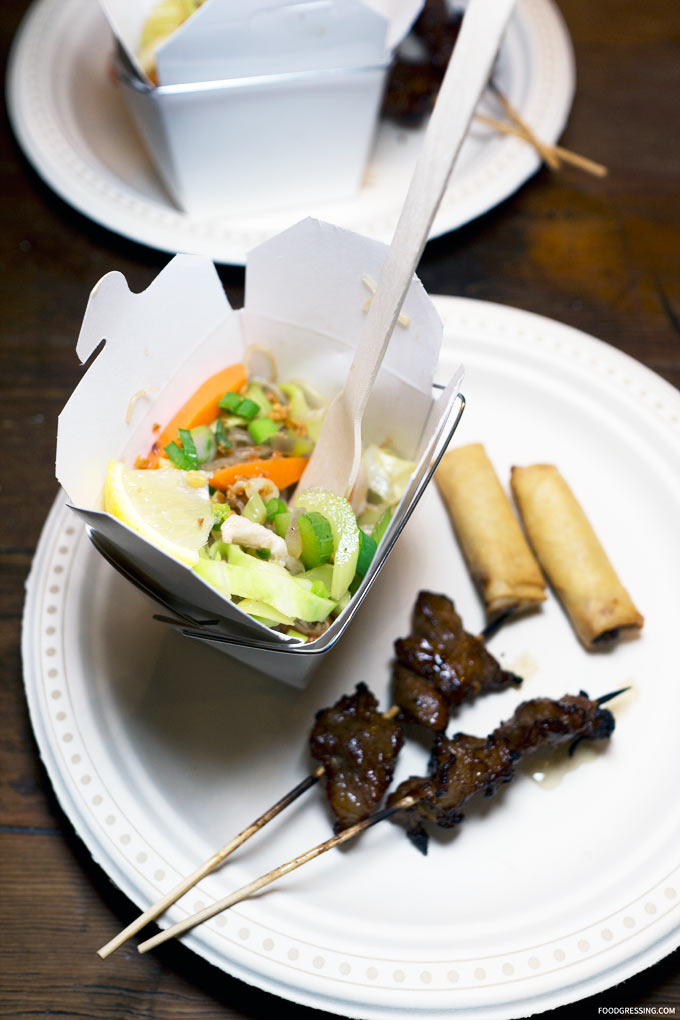 Address: 2922 Glen Dr, Coquitlam
Facebook: @Kulinarya
Polito's Latin Cafe
We then proceeded to Polilto's Latin Cafe which serves Salvadoran cuisine as well as other dishes inspired by other Latin regions including Colombia, Venezuela, and Mexico.  We had the mini pupusa, an El Salvador dish featuring thick handmade corn tortilla with filling and paired with "curtido" cabbage slaw and savory tomato sauce.  There was also the vigorón which is a traditional Nicaraguan dish consisting of a cabbage salad made with curtido, yuca, and chicharrones, and then all wrapped in a banana leaf.  Lastly, we enjoyed the Columbia-inspired patacone which was a deep-fried plantain topped with assorted vegetables and seasoned meat.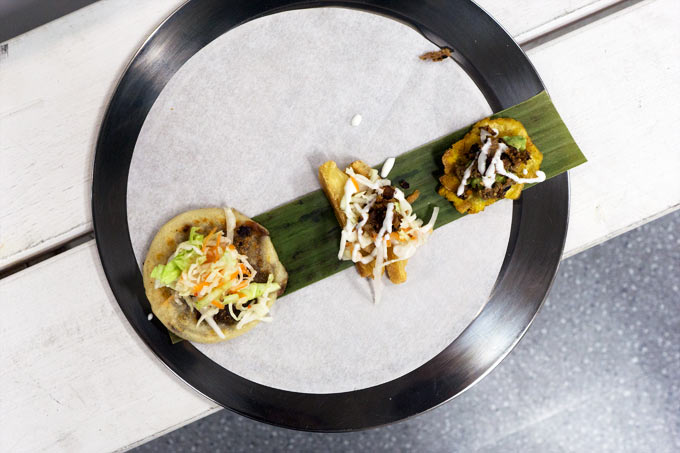 Address: 942 Westwood St, Coquitlam
Website:  politoscafe.ca
Mariner Brewing
We ended the evening at Mariner Brewing which produces a range of modern and classic craft beers.  There we received a tasting flight of four of their beers from the following selection: Northeast IPA, Golden IPA, Cream Ale, Berliner Weisse, Night Sky Mocha Stout, and Horizon Pale Ale.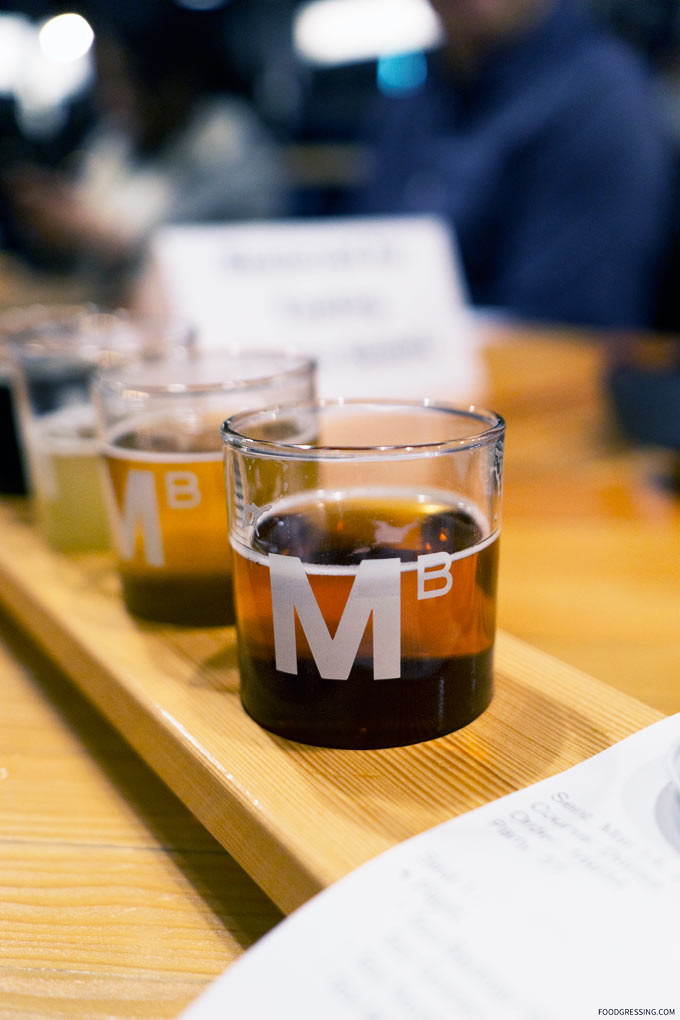 Address: H-1100 Lansdowne Dr, Coquitlam
Website:  www.marinerbrewing.ca
For more information on future Tasting Plates events, visit tastingplatesyvr.com