Here's a look at Valentine's Day Chicago 2022 featuring special offerings by restaurants, things to do and hotel packages.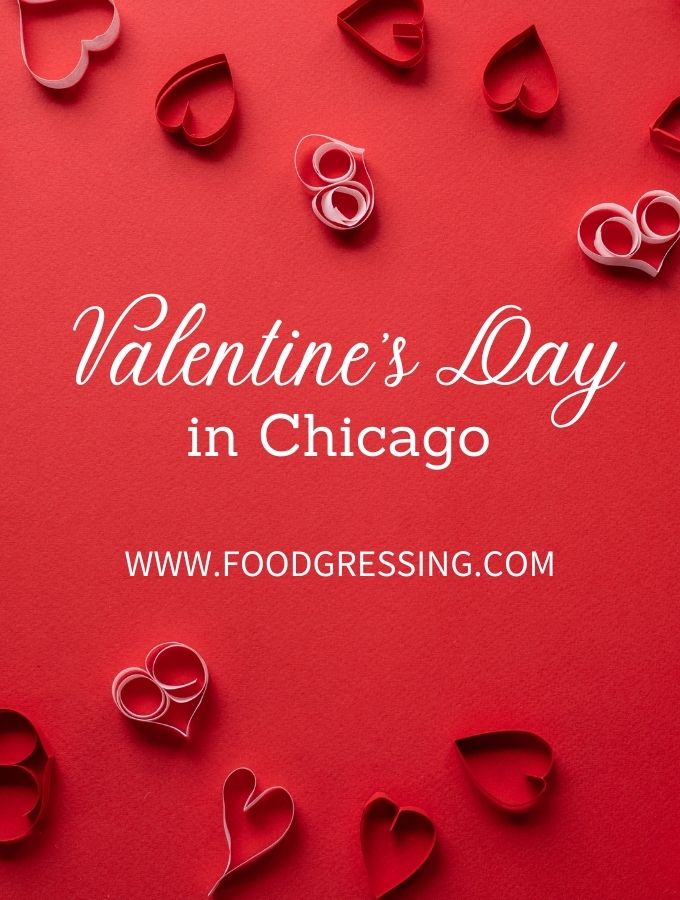 Valentine's Day 2022 is Monday, February 14, 2022.
If you are a business that wants to be featured, please email me a ready to copy and paste excerpt of your offerings.
Valentine's Day Chicago 2022: Restaurant Special Menus
Cite
Cite is offering an ALL INCLUSIVE rooftop view experience with their Valentine's Day Package which includes entry to their exclusive Valentine's Day Private Experience on the 70th Floor; Stunning 360 Panoramic Views of the city of Chicago, Lake Michigan, The Harbor and Navy Pier; wonderful service; and a 4 course prix-fixe menu. Priced at $140 per person.
The Kitchen American Bistro – Chicago
The Kitchen American Bistro – Chicago is taking reservations for February 14 from 4 pm – 8:30 pm and offering their a la carte menu.
Devereaux
Devereaux is offering a St. Valentine's Day Chalet available for booking on February 11, 12, 13 and 14 from 4 pm – 10 pm. Priced at $200 per person.
This experience features a warm chalet for two under the stars on a premier rooftop in Chicago. Reserve your own romantic nook for two hours at Devereaux.
They will feature an extended bubbles list for the night as well as a savory menu by Stephen Gillanders and special desserts for the night by the chocolate-whisperer herself, Tatum Sinclair.
Each chalet has blankets for you to cuddle under and a firepit to warm up by that keeps the chalet 20-30 degrees warmer than the temperature outside.
Smyth
Smyth is offering a special prix-fixe menu of $285 per person for Valentine's Day. They are taking reservations for February 14 from 5 pm – 8:45 pm.
Joe's Seafood, Prime Steak & Stone Crab – Chicago
Enjoy a Valentine's Day Dinner for Two on Saturday, February 12 – Monday, February 14. The menu includes: Shrimp Cocktail, Caesar Salad, two 6 oz. Filets & two 10 oz. Lobster Tails, Jennie's Mashed Potatoes, Creamed Spinach, Key Lime Pie and a bottle of Giuliana Prosecco. All items will be cold-packed with reheat instructions provided. Priced at $249.95 per package (serves 2). Reserve here.
RPM Seafood
Enjoy a Valentine's Day wine dinner with RPM featuring selections from Veuve Clicquot. Master Sommelier Jill Zimorski will be on hand to discuss the champagne – that expertly pair with dishes such as Cured Salmon Carpaccio, Winter Black Truffle Risotto and more. Dinner will begin at 7pm inside RPM's event space at 317 N. Clark.
Reservations for February 12 and 14 at 7 pm. Priced at $225 per person.
Cured Salmon Carpaccio
Trout Roe, Meyer Lemon
"Yellow Label", Brut, NV
Black Winter Truffle Risotto
Acquerello Rice, Bruna Alpina Parmigiano Reggiano
"Gold Label", Brut, 2012
Roasted Heritage Chicken
Wild Mushroom Ragout, Seared Foie Gras
"Rosé", Brut, NV
Dark Chocolate Marquise
Pistachio, Toasted Coconut
"Sweet", Demi-Sec, NV
Gussie's Handmade Italian
Gussie's Handmade Italian is taking reservations for February 14 from 5 pm – 9:30 pm.
Aji
Aji is offering 14 courses of nigiri sushi, including an appetizer and dessert. Some allergies and dietary restrictions may be accommodated. $200 per person. Seatings at 5 pm, 7 pm and 9 pm on February 14.
TenGoku Aburiya
Celebrate Valentine's Day with our Omakase Kaiseki at TenGoku Aburiya.
Enjoy a specialty aperitif and a 7-course menu specifically made to celebrate this lovely day. Priced at $200 for two people. Seatings are between 4:15 PM – 8:15 PM on February 14.
Volo Restaurant Wine Bar
Join Volo for a romantic Wine Lover's Valentine's Day in Volo's #1 Hidden City Patio for exceptional food, boutique wines, and fine spirits. Priced at $85 per person.
Enjoy Chef/Partner Stephen Dunne's Multi-Course Prix Fixe Menu and optional hand-picked wine pairings by Volo Wine Director Jon Young from our curated list of over 40 boutique wines, plus a full bar with craft beers and classic cocktails… all available a la carte.
Volo will close at 11pm after the last seating concludes. Food menu selections will be requested in advance via email once your reservation is confirmed.
Nico Osteria
Nico Osteria is offering a Valentine's Day prix-fixe priced at $95 per person.
Amuse bouche
Kusshi oyster with horseradish and sour melon
Or
Stracciatella bruschetta, black truffle, onion and balsamic
1st
Cold smoked hiramasa, mustard green pesto, pine nuts, agromato, panko
Or
Farm beets, poached in elderflower liqueur, gorgonzola, red endive, apple
2nd
Lobster agnolotti, walnut, lemon, pecorino, basil gremolata
Or
Gnocchi, broccolini, ricotta salata, cerignola, parmesan reggiano
3rd
Rack of lamb, salt baked celery root, truffle, aerated butter sauce, risotto
Or
Branzino, braised leeks, smoked chicken and chili jus, fregola, saffron and chili sauce
4th
Lady and the Tramp
Oriole
Oriole is offering a tasting menu priced at $350 – $390 on February 14 from 5 pm – 9:30 pm.
Pizzeria Portofino
Pizzeria Portofino is taking reservations for February 14 and offering a Valentine's Day package to go (Pizza & Pasta for 2 – $75 or Pizza, Prosecco & Floral – $115).
BOKA
BOKA is offering a 9 Course Tasting Menu. Tickets for this 3 hour dining experience are available from 4:30 pm through 10 pm on February 14. Wine Pairings are also available to enhance your experience, or you can enjoy cocktails from the expert bar team. Priced at $205 per person.
Temporis
Temporis is offering a Valentine's Day menu from February 12 – 14. Reservations available from 5 pm – 9 pm. Priced at $250 per person.
Saint Emeric
Enjoy a perfect night at Saint Emeric. Five-course prix fixe tasting. Intimate private seatings.
Different act each night. Offering February 12, 13, 14, and 15. $195 per ticket. 7 pm performances.
The Peninsula Chicago
The Peninsula Chicago is offering the following:
Valentine's Afternoon Tea is offered Friday, February 11th through Monday, February 14th with seatings at 2:30 pm and 4:30 pm and includes a glass of Rosé Champagne for $125 per person, excluding tax and gratuity. Live entertainment will be provided.
Reserve a four-course dinner in The Lobby restaurant for the perfect romantic celebration this Valentine's Day. This special menu is available on Monday, February 14th, 2022 and includes an Oyster amuse, followed by choice of Diver Scallop or Roasted Cauliflower Steak for the first course. Entrée choices include Short Rib or Butter Poached Lobster or Herb Parisian Gnocchi. Dessert rounds out the romantic dinner with choice of Strawberry Pavlova or Caramelized Milk Chocolate Custard. The à la carte menu will also be available. Priced at $148 per person. Reservations for February 14 from 5:30 pm – 8:30 pm.
The Aviary
Celebrate Valentine's Day at The Aviary with an exclusive 5-course cocktail experience, paired with bites and champagne. Priced at $185 per person. Reservations for February 14 from 5 pm – 11:15 pm.
Bloom
Bloom is offering a 2-hour 8-course chef's tasting menu.
You will be sat at the beautiful chef's counter where you can watch the kitchen put together all of their signature dishes throughout the night.
The 8-course menu will be a combination of share and individual plates, consisting of signature dishes along with some new items that will only be available to you.
Tortoise Supper Club
Tortoise Supper Club is taking reservations for February 14 from 4:30 pm – 10 pm.
Carnivale
Carnivale is taking reservations for Valentine's Day weekend (February 11 – 14) from 4 pm – 10:15 pm.
Somerset
Chef Stephen Gillanders at Somerset (also of S.K.Y. and Apolonia) has created multiple featured items to celebrate your sweetheart, including but not limited to a 5-Course Tasting Menu for $125.
Ditka's Oakbrook Terrace
Ditka's Oakbrook Terrace is taking reservations for February 14 from 11 am – 9 pm.
Oaken Bistro + Bar
Celebrate Valentine's Day with your loved one in Oaken Bistro + Bar in Lake Forest with a special prix fixe Valentine's Day three-course meal from Executive Chef Kristen Burman. Priced at $55 per person.
Available during dinner service Friday Feb 11th, Saturday Feb 12th, and Monday Feb 14th.
Glass of Bubble
Crispy Shiitake Mushroom Wontons; ginger-lemongrass consomme
Salmon Wellington: shrimp and spinach mousse, citrus tarragon beurre blanc
Flourless Chocolate Cake and house-made chocolate truffles, white chocolate, mixed berry gelee
St Clair Supper Club
St. Clair Supper Club is offering a 4-course dinner featuring their signature prime rib and more. Reservations for February 14 from 5 pm – 9:30 pm. Priced at $165 per person.
Crab Cellar's Unlimited Lobster Experience
Crab Cellar's Unlimited Lobster Experience is offering Unlimited Steamed Maine Lobster, Blue Crab Dip & Cocktail Shrimp – Dining In (Two Hour Reservation). Priced at $95 per person. Reservations on February 14 from 4 pm – 7 pm.
Loon
Loon is offering a prix-fixe 13-15 course dinner menu on February 11 and 12 at 7 pm. Priced at $195 per person.
Roister
Roister is offering a 4-course prix-fixe dinner on February 14 from 5 pm – 9:30 pm. Priced at $145 per person.
Virtue Restaurant and Bar
Virtue Restaurant and Bar will be offering a three course meal price at $92 per person. Reservations for February 14 from 4 pm – 9 pm.
First Course-(choice of) Roasted Oysters or Pickled Sugar Beets
Second Course-(choice of) Honey Mustard-Kissed Salmon or Filet Mignon
Dessert Strawberry Cheesecake & Chocolate Truffles
Includes a bottle of McBride Sisters Brut Rosé
Uvae Kitchen & Wine Bar
Uvae Kitchen & Wine Bar will be offering a special 5 course prix-fixe dinner or order off their regular menu. Reservations for February 14 from 5 pm – 9 pm.
Meson Sabika
Meson Sabika in Naperville is offering a four course prix-fixe menu at $69.95 per person plus tax and gratuity.
The dinner includes a combination plate of one cold tapas, two hot tapas and a choice of entrée, followed by two desserts tasting.
Kindly note there would be a non-refundable deposit of $10.00 at the time of reservation.
il Porcellino
il Porcellino is offeirng the following:
Valentine's Burrata Lasagna Kit: Once your kit arrives, uncork the bottle of Chianti and enjoy fresh-baked Focaccia and Prime Beef Meatballs while you assemble and bake a pan of our signature Burrata Lasagna. Finish the meal with our homemade Tiramisu for dessert. The Valentine's Day Burrata kit serves two – four for just $99.95 (plus tax). Available for pickup on February 11 – 14.
Valentine's Dinner For Two: Let the il Porcellino chef team do the cooking for you this Valentine's Day with a curated dinner for two. The menu features Freshly Baked Focaccia, Prime Beef Meatballs (marinara, parmesan cheese), Italian Salad (salami, red onion, provolone, fennel), Rigatoni alla Vodka (classic tomato cream), Barolo Braised Short Rib (barolo wine reduction, garlic whipped potatoes), and Strawberry Cheesecake (fresh strawberries). All orders must be placed by 12pm the day before your chosen pick up day. Pick up is 12pm-5:30pm on February 11 – 14. Reheating will be required for some dishes; instructions will be provided. No substitutions or modifications please.
Brindille
For ONE DAY ONLY, Chef Carrie Nahabedian's French Afternoon Tea will be available for pickup on February 13. This special tea service will include a selection of exotic teas, scones, crumpets and jam, pastries, finger sandwiches, and much more. Please note, one order is $160 and serves two people. Reserve here.
Publican Quality Meats
This Valentine's Day, Publican Quality Bread's James Beard Award winning baker, Greg Wade, is bringing back the delicious triple chocolate panettone with dark chocolate, caramelized white chocolate, & tart cherries. Treat yourself this holiday or make it the perfect gift for a loved one.
Sugar Bliss
Sugar Bliss offers a wide variety of baked goods including morning pastries, cupcakes, cake pops, French macarons, brownies, cookies, and more. Sugar Bliss bakes everything on-site and from scratch using only the highest quality, natural ingredients, such as European Cocoa, Nielsen Massey vanilla, and real fruits. You can put in a preorder for Valentine's Day.
HUB 51 and BEN PAO
Gather together with the ones you love most and join Hub 51 along with your date for the evening, Mr. Black Brand Ambassador himself, Steve THE Bartender, for a night of cocktails inspired by everyone's two best friends, coffee and a strong drink. The virtual class will take place on February 10, 2022 at 7 pm. A Zoom link will be provided two days prior to class via email. You can pick up your kit at Hub 51 located at 51 W. Hubbard at the time you selected on Tock.
Each cocktail kit servers two people and will provide you with everything you and a friend need to make a total of 6 cocktails (3 per person).
Leña Brava
Celebrate Valentine's Day with your sweetie at home. Pickup this custom al a carte menu from Leña Brava to create your romantic dinner for two. Don't forget to add a bottle of bubbles or a Baja wine! Each entrée serves two, orders must be received by Wednesday, February 9th at 9PM. Pickup on February 12.
Grapes and Grains
Grapes and Grains is offering the following on February 14 from 5 pm – 9:15 pm.
3 course dinner
Champagne Toast
Charcuterie Plate
Ribeye
Chocolate Strawberry
One glass of house wine (red or white)
Beatrix
Fun for the whole family, order Beatrix's Valentine's Day Cookie Decorating Kit that includes:
6 Valentine's Day themed sugar cookies
4 icing bags (red, pink, white and blue)
sprinkles
The kit costs $17.95, plus tax and is available for pick-up on Tuesday, February 8 – Monday, February 14 from 10:00AM-7:00PM. Order by 12:00PM one day prior to your desired pick-up date. Available for delivery.
Reserve by location:
Flowers
The Flower Hustler
The Flower Hustler is taking preorders for Valentine's Day flowers for pickup or delivery.
A Tree Grows in Brooklyn
Looking for beautiful unique flowers and gifts for Valentine's Daiy? Come visit Chicago's newest boutique Flower Shop located in Bucktown, Chicago's fastest growing trendy community! "A Tree Grows in Brooklyn", 2001 N. Oakley Ave., Chicago, 773-384-0393, is excited to celebrate its first Valentine's Day as their retail division of a very popular wholesale business just opened its the doors to the public a mere eight weeks ago.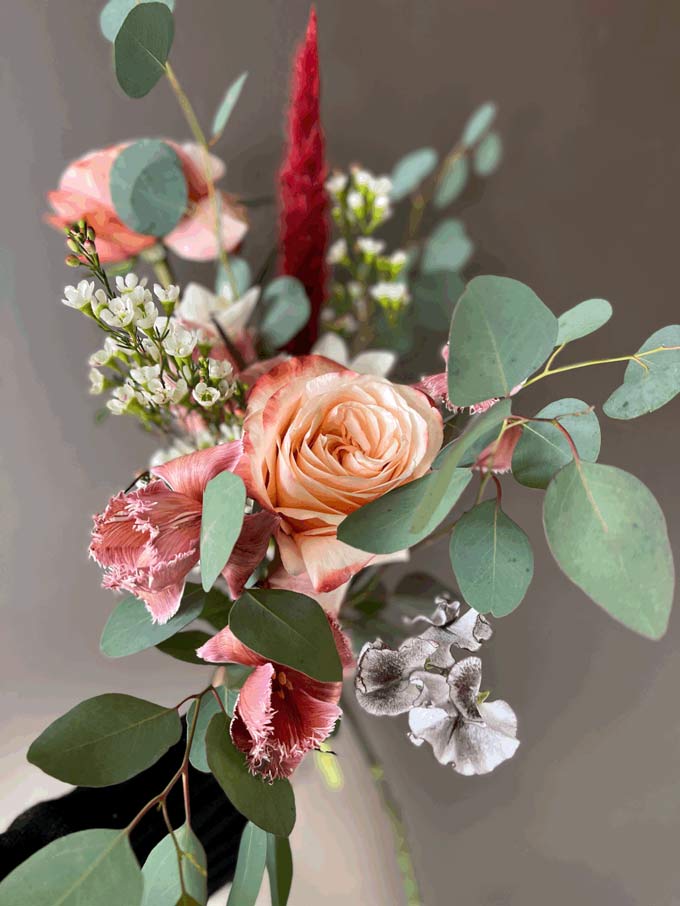 No significant other? Not to worry, Ananda is selling special Selfie Bouquets for $45. Go ahead and treat yourself, you deserve it! Selfies are available throughout Valentine's weekend. Why not pick up a flower bouquet for the most important person, yourself? And, while your at it, snap a photo, tag it with #ATreeGrowsinBrooklyn, and post it to your favorite social media account.
A Tree Grows in Brooklyn offerings include handhelds, vessel arrangements, two designs three price points and "mini handhelds" which will be available all weekend long, pre-orders recommended but not necessary.
Best Romantic Restaurants in Chicago
Check out my roundup of the most romantic restaurants in Chicago for your next date night or anniversary celebration.
Valentine's Day Quotes and Captions
If you struggle to find the right words to say on Valentine's Day, check out my list of 120+ Valentine's Day Quotes.
You'll find Valentine's Day quotes for him, for friends, for singles, for boyfriend, for girlfriend and more.
I also have a list of the best Instagram captions about love to complement your picture with your spouse, partner, family member, friend, or anyone else you love.