Iconic Wineries of British Columbia in partnership with Science World at TELUS World of Science proudly presents Uncorked: A Celebration of the Science of Wine, a new wine-themed event unlike any other.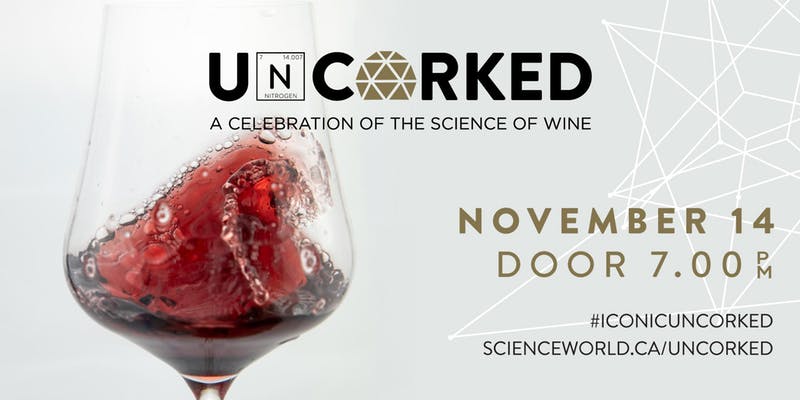 On Thursday, November 14th, for one night only, internationally acclaimed winemakers, viticulturists and chefs from Iconic Wineries of British Columbia will showcase the science, craftsmanship and terroir that make Okanagan wines so extraordinary.
'Uncorked: A Celebration of the Science of Wine' will transport guests into the world of fine winemaking with fun, hands-on activities, and interactive seminars as we "uncork" the science behind the incredible wines we all enjoy.
Attendees will have the opportunity to interact with winemakers and viticulturists; learn about the science of winemaking via seminars, interviews and Q&A sessions; and — best of all — taste exceptional wines from the most exciting wineries in the Okanagan Valley, including:
Guests will have an opportunity to sample fine wines from each winery paired with culinary delights by Chef Patrick Gayler from Mission Hill's Terrace Restaurant, named by Travel + Leisure magazine as 'One of the Top 5 Winery Restaurants in the World.'
Chef Neil Taylor will present culinary offerings from CedarCreek's new Home Block Restaurant, nominated by enRoute magazine as one of 'Canada's Best New Restaurants' in 2019.
Seminars taking place throughout the evening include:
Synthesis: The Science of Blending Wine
Blending helps to create distinctive wines with complex texture and flavours that reflect specific varietals and vineyards and, of course, are a pleasure to drink. Learn about the decisions that are made during blending and try it out yourself!

Evolution: The Science of Aging Wine
Wine changes continuously as it moves from grape to bottle and even within the bottle. We will learn about the various techniques and vessels used to age wine and how with the passage of time, each result in different aromas and flavours that characterize a fine wine.

Innovation: Technology and the Modern Organic Vineyard
Learn how precision organic farming and the use of state-of-the-art technology, such as drones in the vineyards, enables winemakers to produce wines of exceptional quality.

Terroir: The Science of Soil
Ancient volcanic and glacial soils, combined with the unique climate of the Okanagan Valley, make this one of the last great undiscovered wine regions in the world. See and taste how the multitude of soil types found throughout the valley impact the vines, resulting in incredible wines with distinct character.
Additional attractions include a sparkling wine lounge, silent auction, blind tastings, and more hands-on activities developed by the Science World team.
Tickets are available now for $89 from scienceworld.ca/uncorked. Proceeds will support Science World's On the Road program, which last year brought live science performances to 41,500 students throughout BC who otherwise might not have had a chance to visit TELUS World of Science.
---
Uncorked 2019: A Celebration of the Science of Wine
Thursday, November 14
7–10 pm
Science World at TELUS World of Science
1455 Quebec Street, Vancouver
Tickets $89 from scienceworld.ca/uncorked