T&T Supermarket is opening a new location at Willowbrook Shopping Centre. T&T Supermarket Langley has a Grand Opening on Friday October 22 and there is a soft opening for T&T Rewards Members on October 21.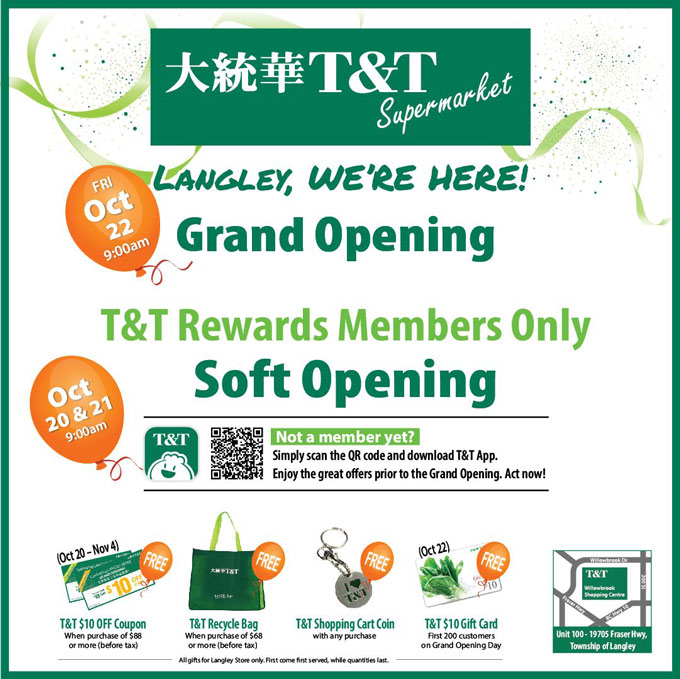 NOTE: The post above says soft opening on October 20 but they had to delay by one day due to building inspection. Soft opening on October 21.
Here are the T&T Supermarket Langley Grand Opening promotions:
Receive a $10 T&T coupon with purchase of $88 or more (before tax).
Receive a T&T eco-friendly bag with purchase of $68 or more (before tax).
Receive a shopping cart coin with every purchase.
First 200 customers on Grand Opening Day October 22 receive a $10 T&T gift card.
Not a member yet? Visit their website at www.tntsupermarket.com or scan the QR code on the image to sign up.
T&T supermarket is the largest Asian supermarket chain in Canada, operating stores in BC, Alberta and Ontario.
T&T supermarket was founded in Vancouver in 1993 and is now led by second generatio successor and CEO, Tina Lee.
T&T is located at 100 – 19705 Fraser Hwy, Township of Langley.