Smooth. Creamy. Luscious. Rich. Those are the reasons why I love cheesecake. Trees Organic Coffee is known as the go-to place in Vancouver for an amazing piece of cheesecake In fact, it is their passion to make the best cheesecake Vancouver has to offer. I was curious about just how good the Trees Organic cheesecakes are so I ventured to Downtown location for some cheesecakegressing.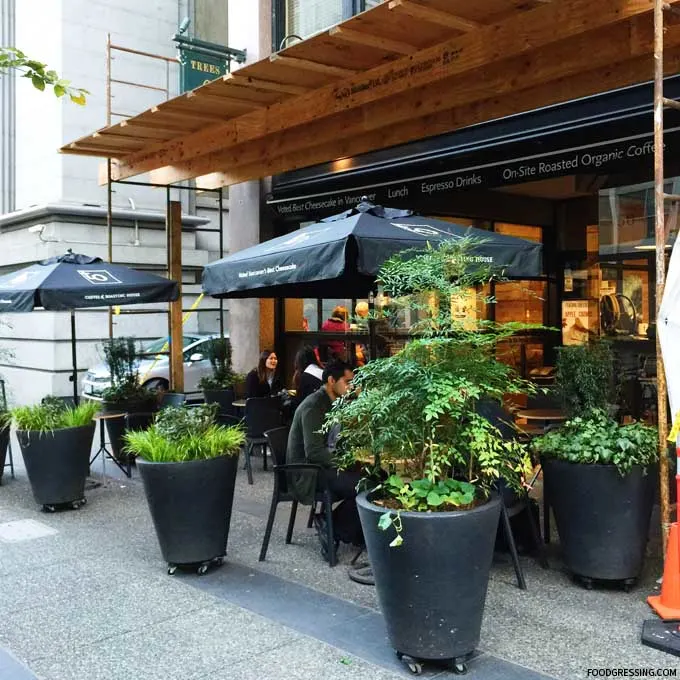 European Style Café
Trees Organic has such a laid back vibe that it makes it an ideal place to meet a friend for coffee or pass time on a rainy afternoon. There is ample seating indoors with some covered seating outside.
They serve 100% organic and fair trade coffee, cheesecakes (more on that later), pastries and sandwiches. On Friday nights, they even have live music from local talent playing various styles including rock, jazz, blues and pop.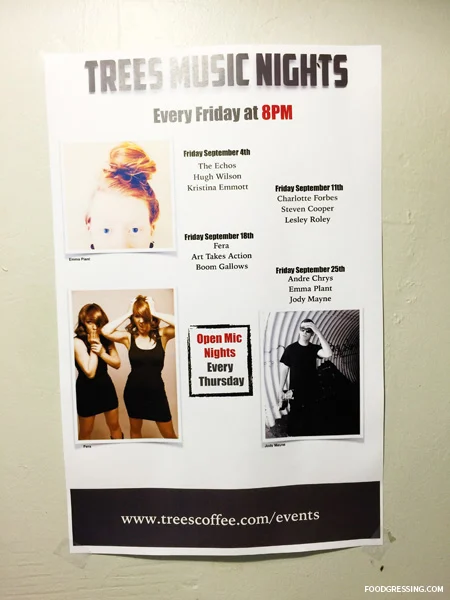 What I Tried
New York, blueberry, mocha and key lime are just some of the cheesecake flavours offered at Trees Organic. The cheesecakes cost $7 per slice for regular flavours and $7.50 for premium. You can also order whole cheesecakes in 6″, 8″ and 10″ sizes. I found the slices to be decently sized for the price such that you could easily share it with someone. You might think twice, however – it's so good that you might just eat the entire slice by yourself…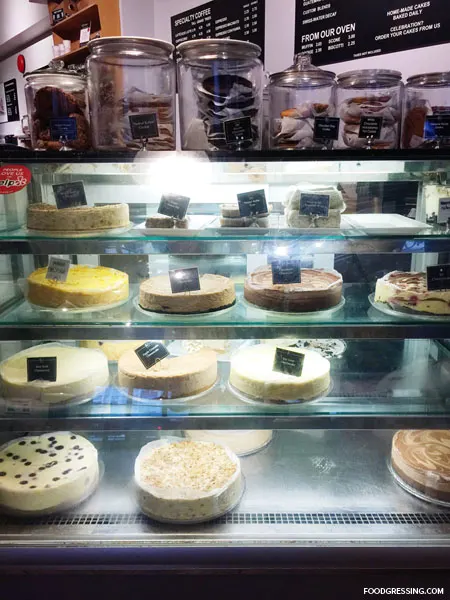 On my first visit to Trees Organic in Downtown Vancouver, I applied an Entertainment coupon to my order for 50% off (up to $5). Another customer in front of me also had a coupon so there were no issues in using it. I ordered their award-winning raspberry white chocolate cheesecake with a latte. The texture was velvety smooth and creamy with just the right amount of sweetness and raspberry and white chocolate flavour.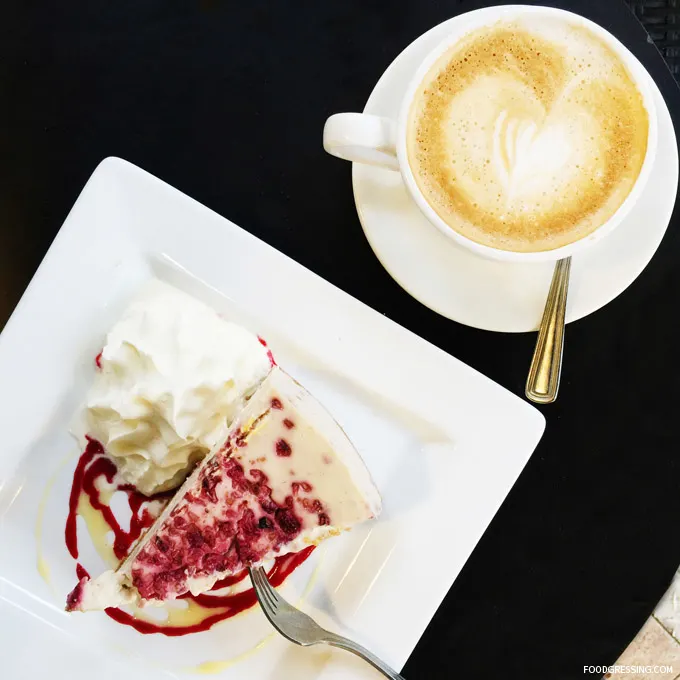 The following time, I ordered the scrumptious September feature: apple crumble cheesecake. I really loved the graham cracker basee of the cheesecake which was so wonderfully crumbly. The texture was just perfect being rich and luscious. The use of Granny Smith apples in this cheesecake gives it a bit of a tangy taste. The drizzle of caramel sauce was the perfect finish.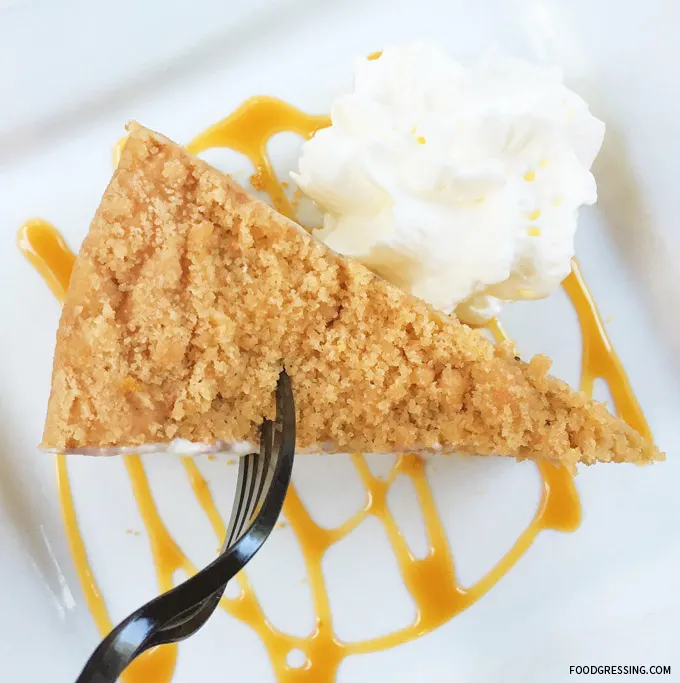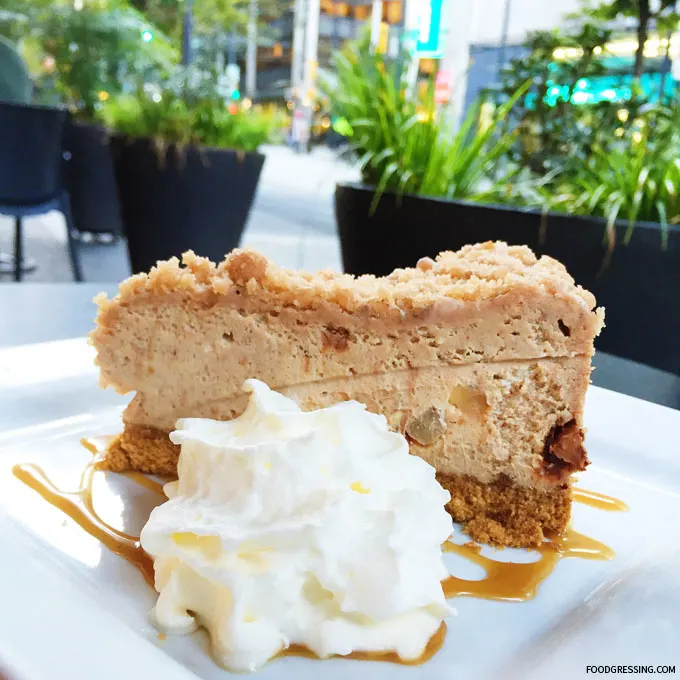 Overall Impression of Trees Organic Coffee
Trees Organic Coffee makes some pretty darn good cheesecake. I've only tried two flavours (raspberry white chocolate and apple crumble) but will be looking to try more. The vibe at the Downtown location is very relaxing which makes it a great place to reconnect with an old friend, to have a casual date or cozy up on rainy afternoon. Rating: 4/5
Website: http://treescoffee.com
Facebook: @treescoffee
Twitter: @TreesOrganic
Instagram: @treescoffee