If you are enroute to Whistler or visiting the Sea to Sky Gondola, you might just consider Mag's 99 Fried Chicken and Mexican Cantina for a bite to eat. This locally owned eatery in Squamish serves up some cheap Mexican eats that leaves you fully satisfied. I went to Mag's for the first time recently after an afternoon of hiking at the Sea to Sky Gondola. Mag's is highly rated on both Zomato and Yelp, and my experience there gave me insight as to why it is so popular.
Off Ninety-Nine
Mag's 99 Fried Chicken is conveniently located just off Highway 99 (like their name suggests). Mag's is easy to find by look for their its bright yellow exterior. It is also located next to a Shell station. Others have noted that Mag's occupies the space of a former KFC/Tacobell.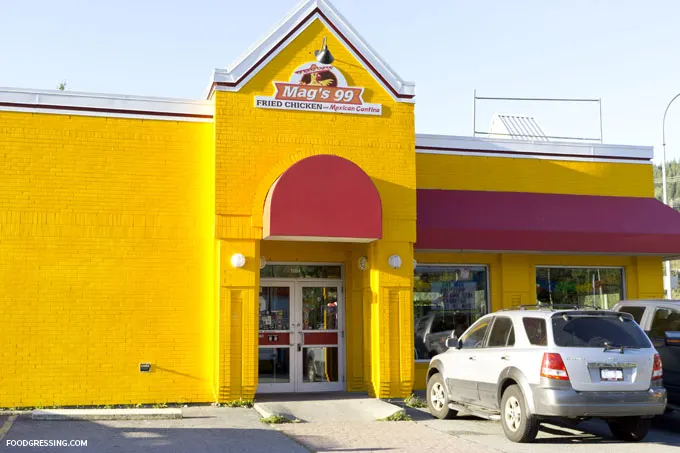 Mag's Menu
Aside from fried chicken, Mag's tasty array of Mexican eats include tacos, burritos, quesadillas, taco salads, hurraches, and chimichangas. Meatarians can indulge in free-run chick or slow-cooked beef and pork. They also have gluten-free and vegetarian options including falafels and refried beans. Mag's Burrito Maximus is "over 1 pound of love" while their Chimichanga Loco is a "deep fried burrito sent from God to please humanity." Everything is inexpensive with items costing around $10 or less. For a higher-resolution photo of the menu, click here.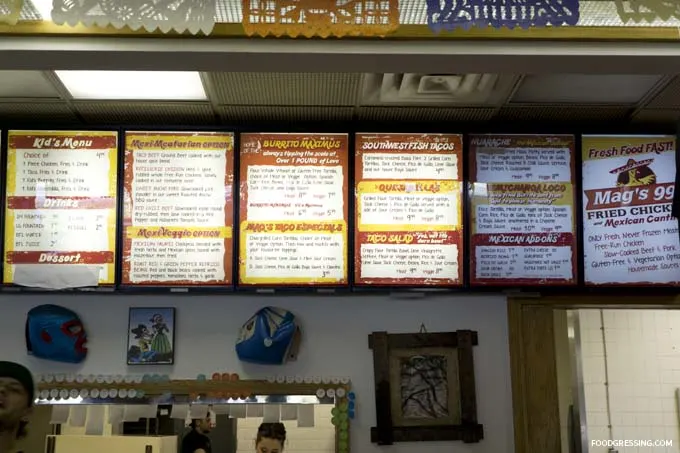 The Decor
The unique decor inside Mag's certainly adds character to the place. I was really inspired to photograph them because they looked so interesting. Where do I begin? To start, I noticed some lucha libre references with the wrestling masks hanging underneath their menu and strung from above as well as in a collage on the wall.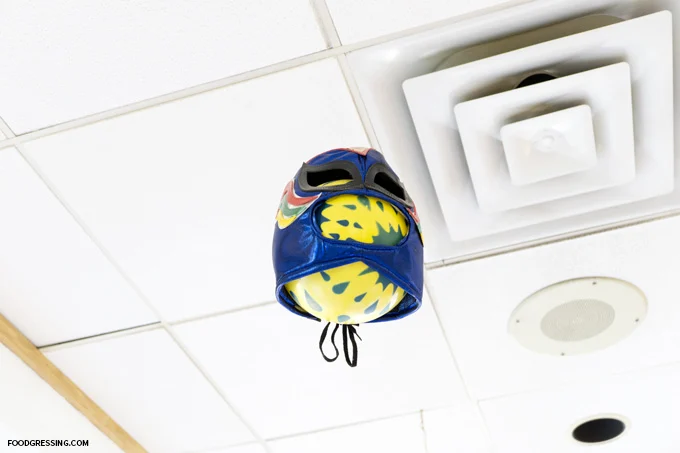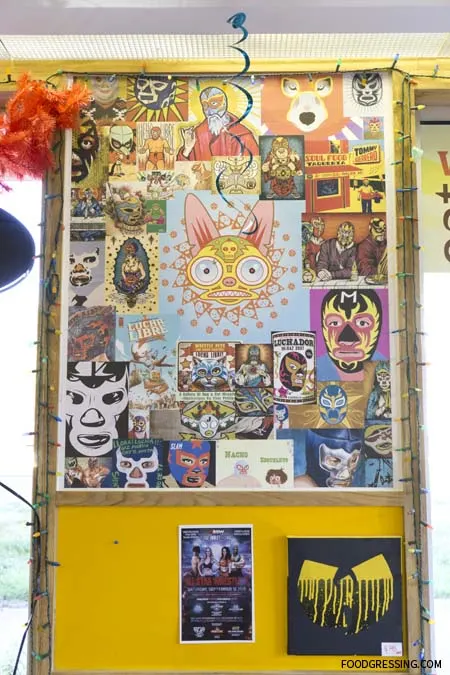 Some Mexican woven dolls overlook the dining area.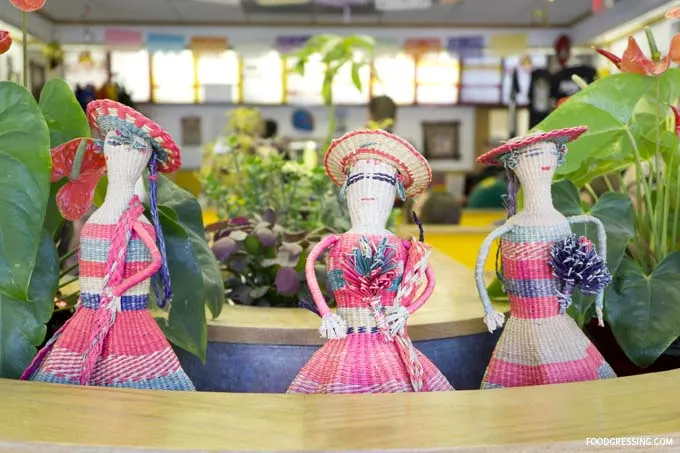 Finally, we have some Day of Dead art prints rounding out the interesting decor.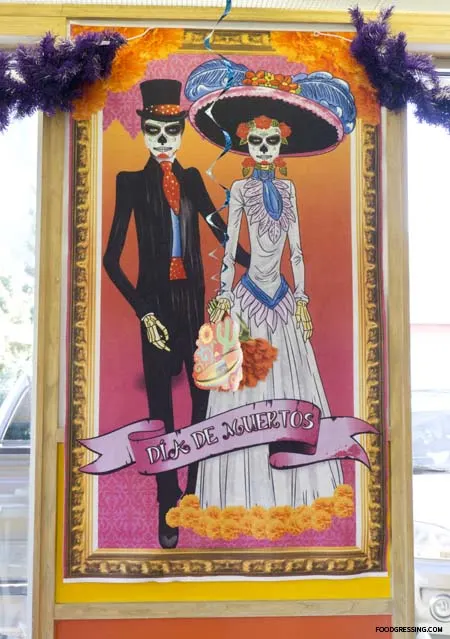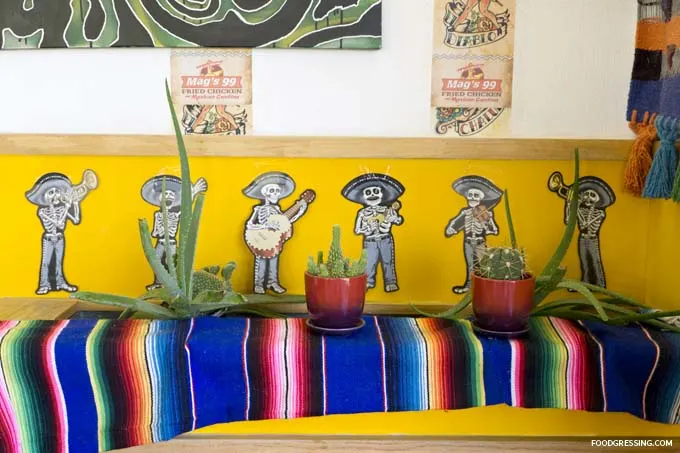 The seating inside is typical of a fast-food joint with booths and tables. It was formerly a KFC/Taco Bell after all!
What We Tried
The restaurant was busy and we opted to get takeout which seems to be a very popular choice. I was given a number after paying and waited around the counter with other hungry customers for take-out.
We had two tacos on chargrilled corn tortillas which were each for $3.99. First was the slow-cooked red chili beef with red pepper and Habanero tomato sauce. Next was the slow-roasted sweet ancho pork in roasted BBQ sauce. There are two options for toppings: jack cheese, lime slaw, and mint sour cream or jack cheese, pico de gallo, baja sauce and cilantro. We tried them, respectfully, on the tacos. The tacos were deliciously juicy and flavourful, with both slow-roasted meats tasting on the sweeter side.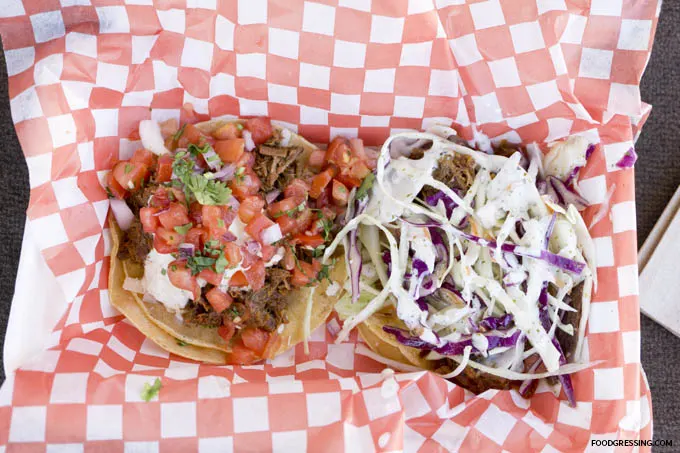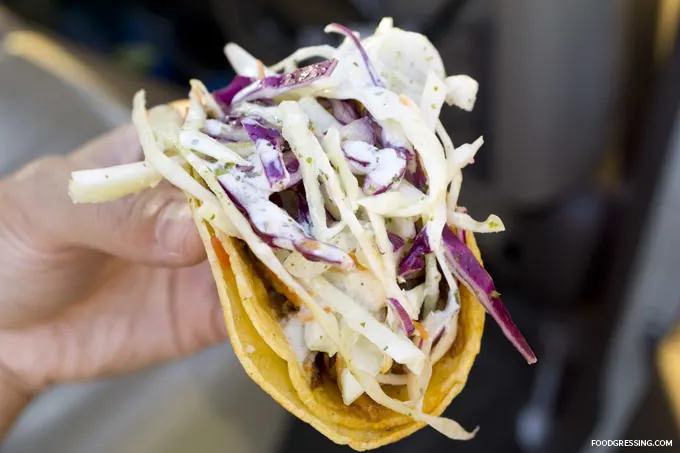 We also had the falafel option for the hurrache also known as the "Mexican Sandal." It came with a fried masa patty, beans, pico de gallo, jack cheese roasted 5 chilli sauce, lettuce, sour cream and guacamole ($8.99).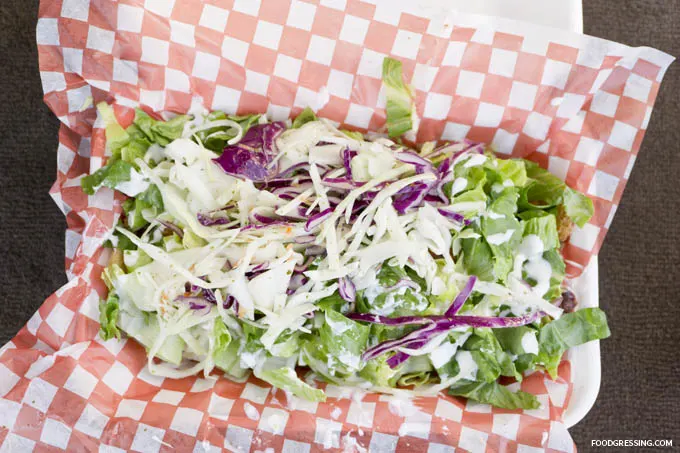 At first look, it looked like a large salad but fortunately I found the falafel and masa patty. The hurrache was a "messy good" – that is a mish mash of ingredients thrown into a takeout container with really no distinct flavours but still confusingly tasty.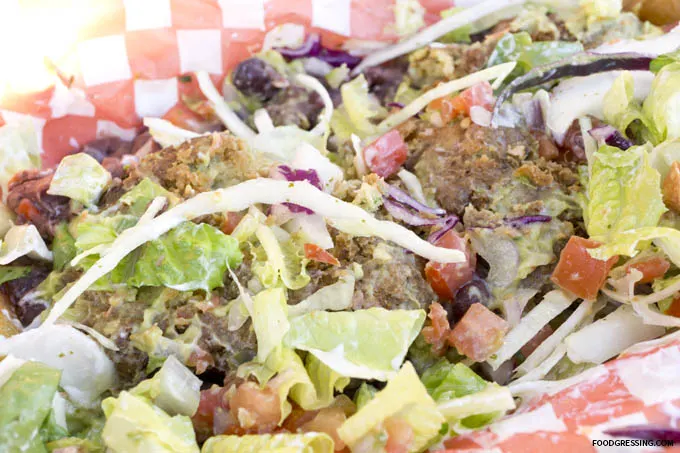 Overall Impression of Mag's 99 Fried Chicken
I would love to return to Mag's again on my next trip down the Sea to Sky highway. It's fast food at its finest – messy, tasty and filling. The interesting Mexican decor inside Mag's adds to the overall experience. Takeout is very popular and you might be in a for a wait if the restaurant is busy. Rating: 4/5
Facebook: Mags99-Fried-Chicken-And-Mexican-Cantina
For more Squamish eats, see other posts with the tag Squamish.