Chinatown's Torafuku was recently nominated by Air Canada enRoute magazine to be Canada's Best New Restaurant for 2016. This modern eatery, located at Main between Prior and National, is the brick and mortar restaurant of the popular food truck, Le Tigre (see review here). My experience with Le Tigre was just so-so in that the items I tried were too heavy, but I still enjoyed the bold, pan-Asian flavours. So when I saw a Travelzoo deal for Torafuku, I jumped at the chance to try the restaurant. I made a reservation for my friend and I to go right when they opened at 5:30 pm on a Tuesday night.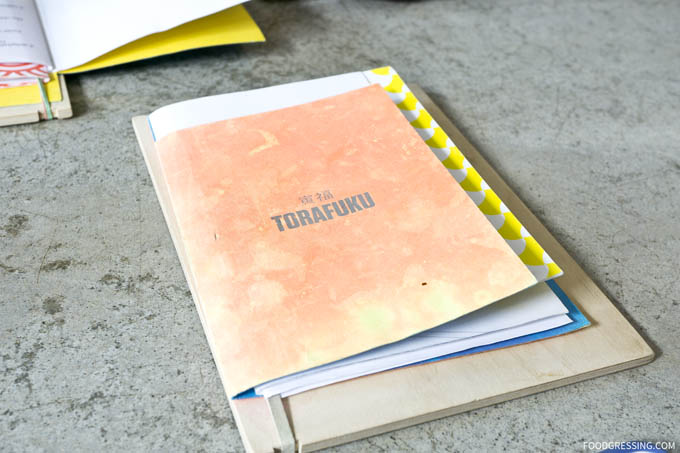 Utilitarian Interior
I was rather impressed with Torafuku's unique interior and I found an article in Dezeen which describes the vision behind the design. For Torafuku, Canadian architecture studio Scott & Scott chose materials that are used primarily for their utility – either in their raw state or of a basic construction standard. This was in line with the restaurant's beginnings as a food truck where the chefs built their business to what it is today.
The restaurant has also an open kitchen with a kitchen viewing bar. Other seating options include a few two-person tables, four-person booths and one large concrete communal table.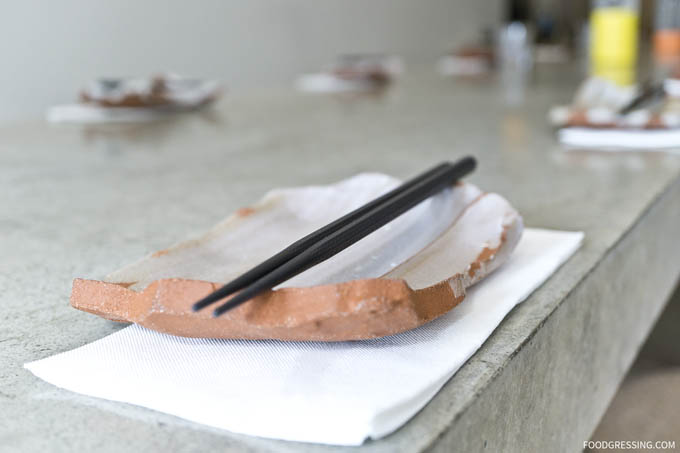 Torafuku Menu
Torafuku's menu is organized into "snacks," "shared plates," and "sweet treats." It's all about tapas-style, small plates so if you're not into that Torafuku is not for you. The menu is a fun-read in itself. The names of the dishes are creative and engaging – it certainly makes you want to try everything. Some fun ones include Fetty Wap (fettuccine, catch of the day seafood, sorrel, tomatoes, crab velouté) and Miso Corny (hickory smoked corn, miso butter, and togorashi) to name a few. Prices seem reasonable for small plates at slighter fancier eatery: "snacks" are $3-$12; shared are "$13 – $16"; and "sweet treats" are $6-$7.
What We Tried
The Travelzoo deal was $39 (regular $66) for dinner for two including two "snacks", two "shared plates" and one dessert to "sweet treats" from the menu. We ordered the following:
Cocktails

People's Cocktail ($9 – Happy Hour pricing)
Feature Cocktail ($9 – Happy Hour pricing)

Snacks

Rye So Messy Chicken Wings ($12)
Quack Addict (8)

Shared Plates

Dr. Octopus and Mr. Tuna ($15)
Give A Dog A Bone ($16)

Desserts
Cocktails
Since we were there for Happy Hour, we received $2 off our cocktails. I had the People's Cocktail (Beefeater gin, cucumber, Elderflower, ginger, lemon) which was very refreshing. The cucumber flavour was nicely pronounced. My friend had their feature cocktail (Brandy, benedictine, pear ,lime and prosecco) which I sampled and found to be citrusy.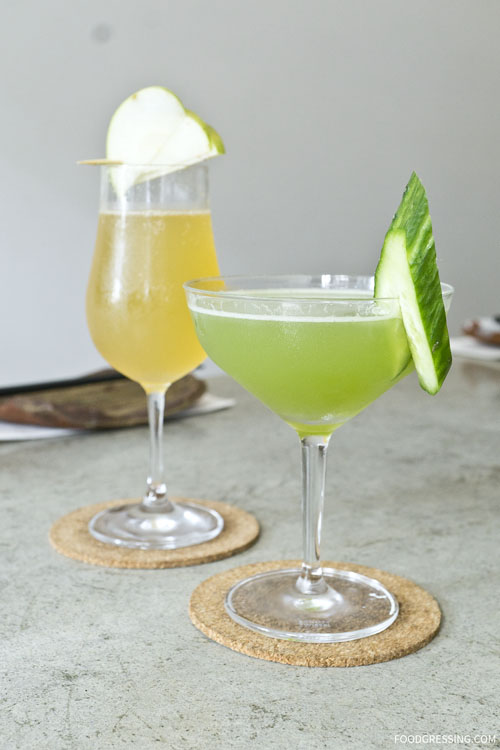 Snacks
The Rye So Messy Chicken Wings made with a rye and gochujang marinate, mango glaze, ramen crumble, and KFC sauce was a good start. The breading was nicely crispy and packed extra crunch from the ramen crumble. The various sauces created a mouthful of flavour explosion – tangy with a bit of heat. The meat was nicely moist and tender.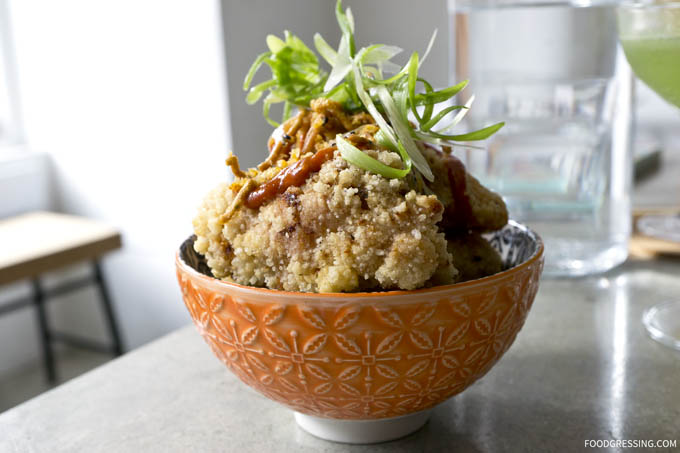 The Quack Addict was oh-so addictive. It doesn't say on the menu, but they're actually spring rolls but "cooler." These springs rolls had BBQ duck, water chestnuts, enoki mushrooms, scallions, carrots, and topped with gastrique, crispy capers, and house made plum sauce. I normally wouldn't order spring rolls at a restaurant (seems too ordinary) but these ones were creative and crazy good. The spring roll wrap was very crispy and the house made plum sauce had just the right combination of sweet and sourness.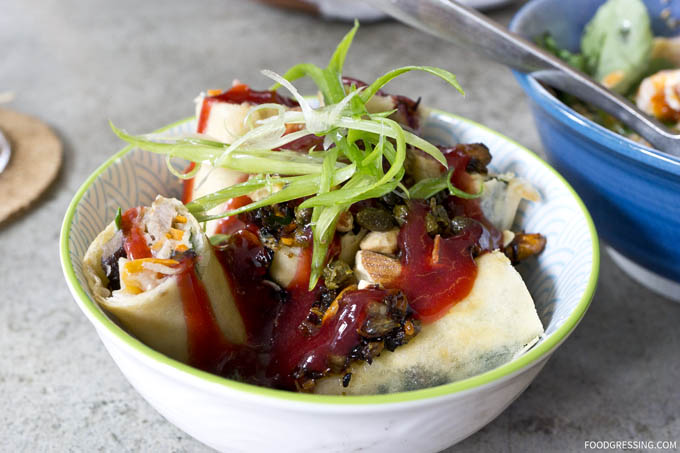 Shared Plates
The Dr. Octopus and Dr. Tuna was an octopus and albacore tuna poke salad with pickled veggies, pine nuts, sesame, house made spicy sauce, torched miso mayo, and flavoured rice. The octopus and the tuna seemed to have contrasting textures: chewy versus tender, respectively. This was yet another dish that was bursting with flavours. One great thing about ordering this salad is that it comes with rice! A bit of a way to make the meal overall more filling.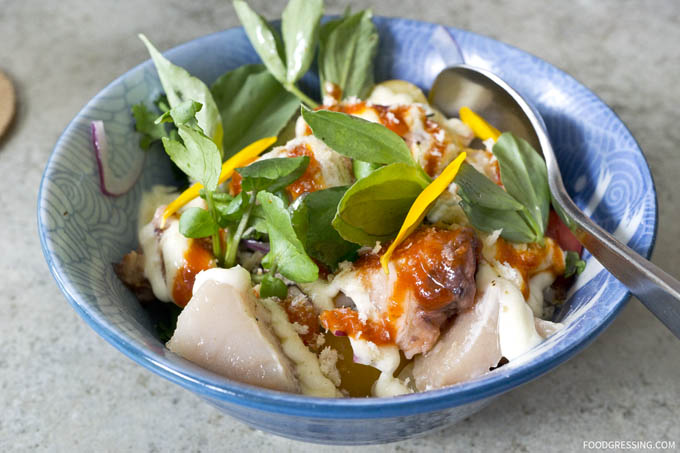 The Give A Dog A Bone was definitely interesting with lots of different flavours and textures. The beef luc lac was my favourite part of the dish as it was very flavourful with just the right amount of sweetness. The crispy potato noodles gave the dish a fun crunch. There were also some carrots and peas, which were tender but still crunchy, and a luscious carrot purree. I loved pairing the purree and the beef luc lac together – absolute heaven.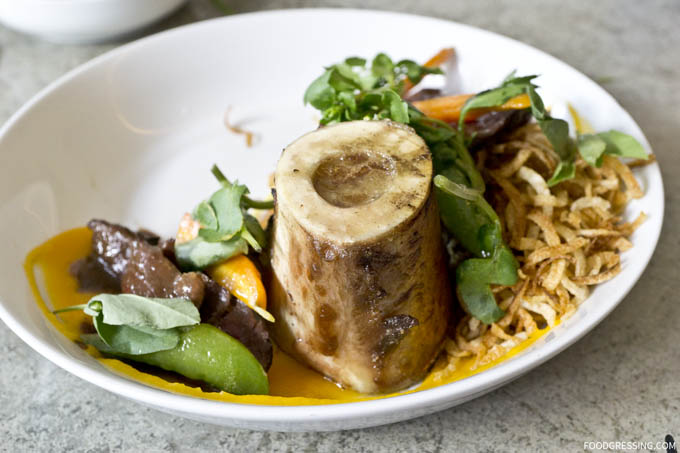 The smoked bone marrow wasn't enjoyable for me. Too oily and spongy for me. We managed to scoop it out with the handle of the spoon.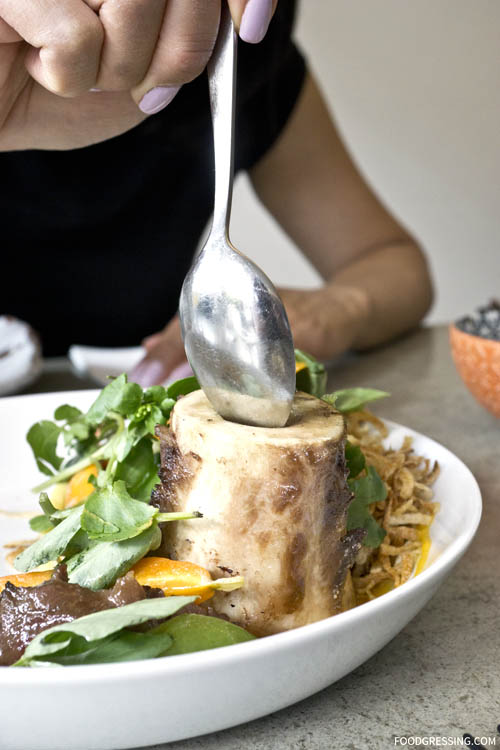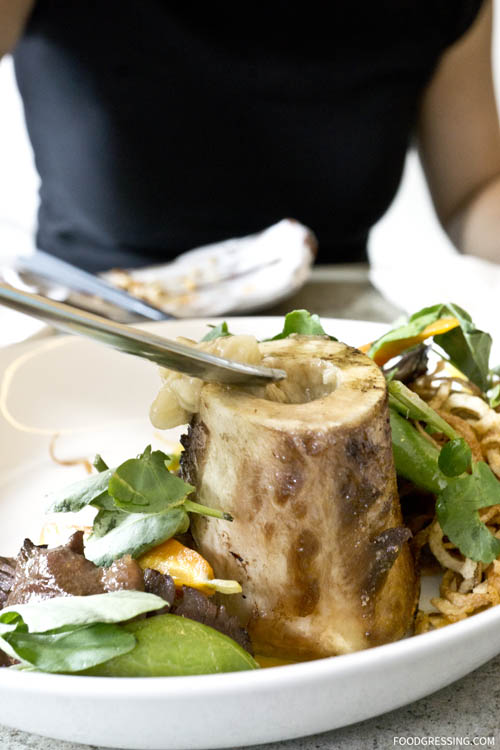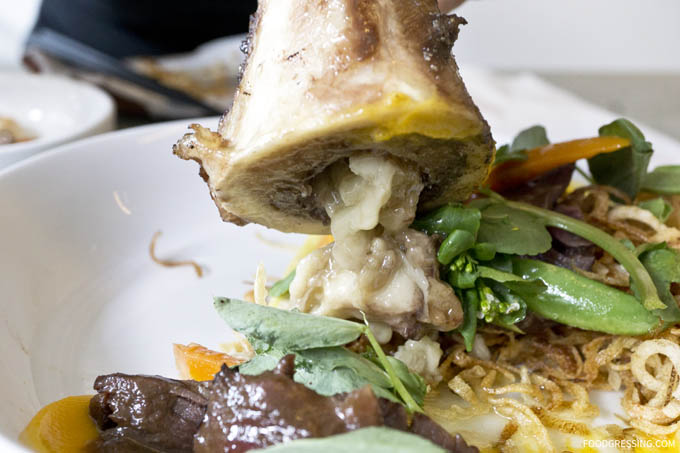 Dessert
To finish off a fantastic meal, we had The Bullwinkle Show which had a smooth and silky dark chocolate mousse, a crispy hazelnut chocolate wafer, raspberries, blueberries and passion fruit foam.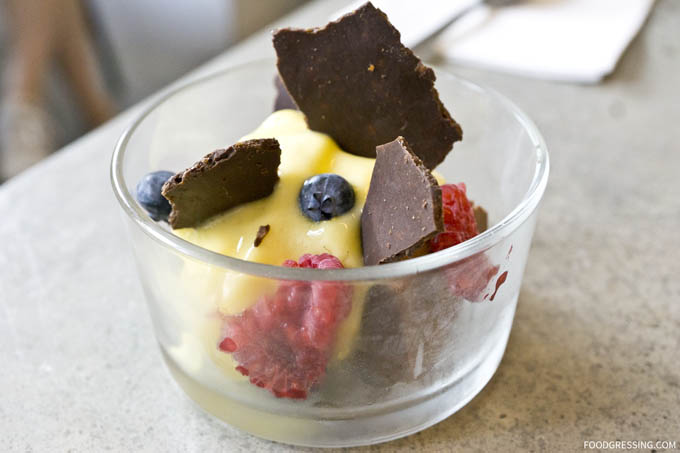 Service
Service was solid and quite attentive for a restaurant that was packed on a weekday night. There were quite a few people waiting for a table as well.
Overall Impression
All in all, a solid and memorable dining experience at Torafuku. Portions were small as expected but I didn't leave hungry nor did I need a supplementary meal. Lots of creative dishes with bold flavours and fun presentation that will leave you lingering for more. I can see why they would be nominated as Canada's Best New Restaurant! Rating: 4/5
Website: www.torafuku.ca