You'll want to visit The Amazing Brentwood restaurants and food court as this new Burnaby destination has launched a new dining experience for guests.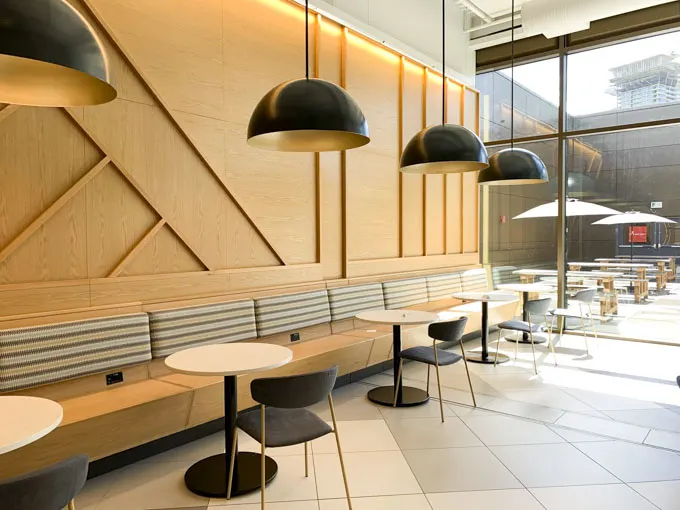 You'll find new local restaurants opening as well as TABLES, their newly envisioned food court which redefines casual dining with their range of offerings.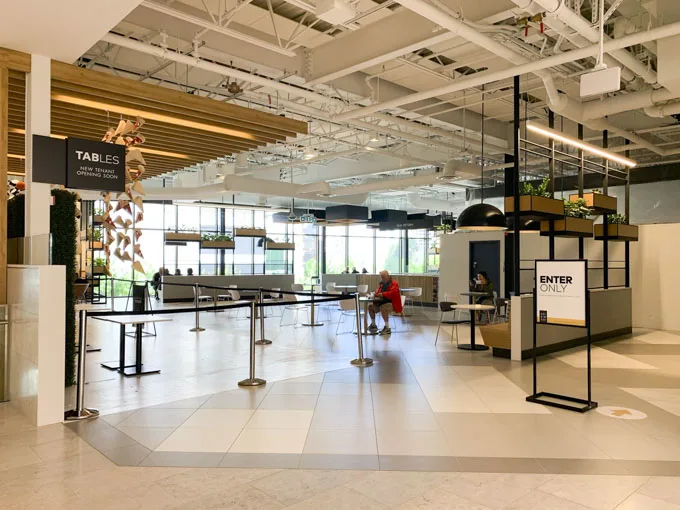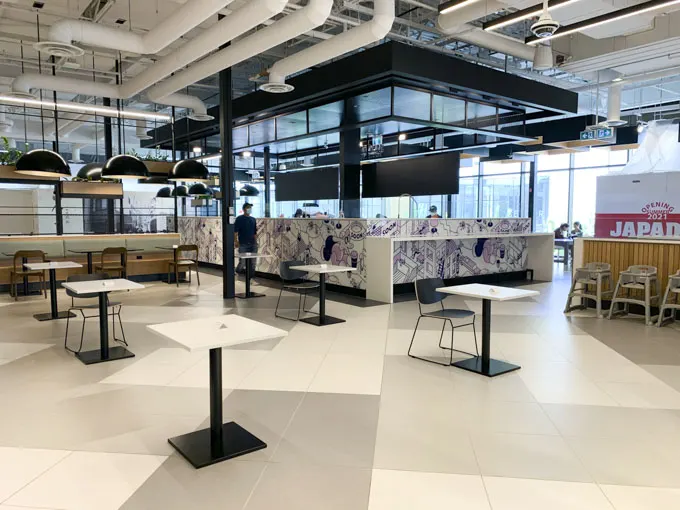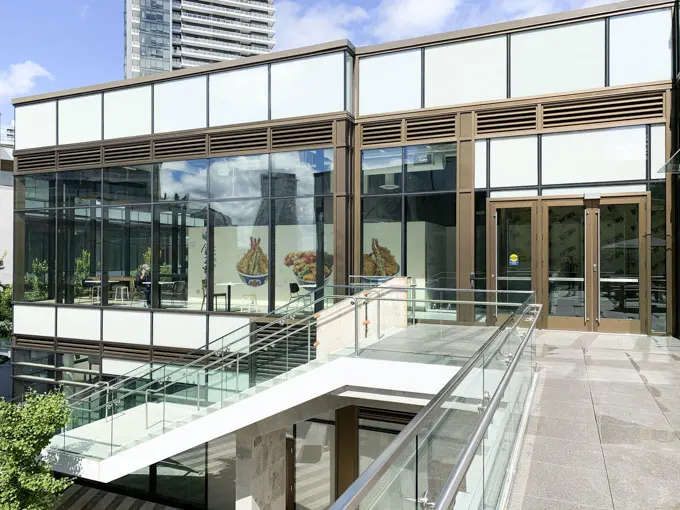 The Amazing Brentwood Restaurants and Food Court Vendor List
The Amazing Brentwood restaurants and food vendor options include coffee, desserts, grab & gos, specialty dining and more.
Here is a list of dining vendors that are at the food court and elsewhere in the mall. Not all vendors are currently set up. Some are set up as stand alone restaurants at The Amazing Brentwood.
Basil Box
Bella Gelateria
Bubble Waffle
Cazba
Chatime – NOW OPEN AT TABLES
Chef Hung – NOW OPEN AT TABLES
Parsley Berlin Style Doner-Kebab
DQ | Orange Julius
Freshii
Bona Fide BBQ
Glorious Bao
Go Grill
Gram Café & Pancakes
Hello Nori
International News
Japadog
Kaneko Hannosuke
La Taqueria
McDonald's
My Toan – NOW OPEN AT TABLES
Neptune Seafood
OEB Breakfast Co.
Pizza Garden – NOW OPEN AT TABLES
Presotea
Purdy's Chocolatier – NOW OPEN AT TABLES
Saboten – NOW OPEN AT TABLES
Small Victory
Soon Coffee – NOW OPEN
Starbucks
Steve's Poke Bar
Thaigo -NOW OPEN AT TABLES
Tim Hortons
Yugo – NOW OPEN AT TABLES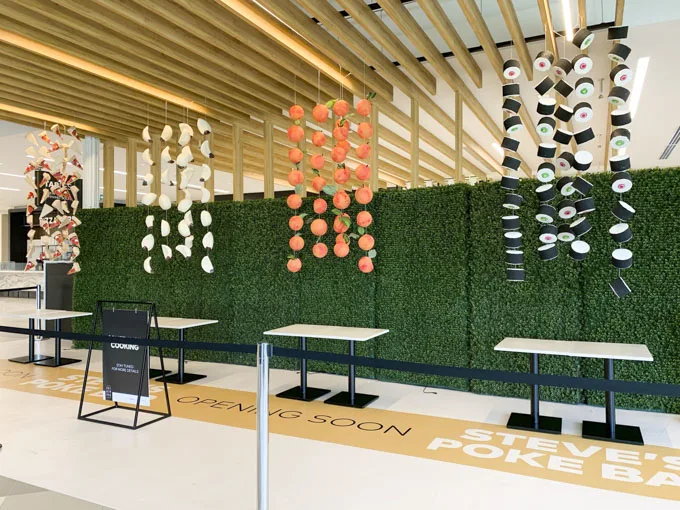 The Amazing Brentwood Food Court Location
TABLES is located on Level 2, accessible from the Grand Lobby as well as the Interior Centre.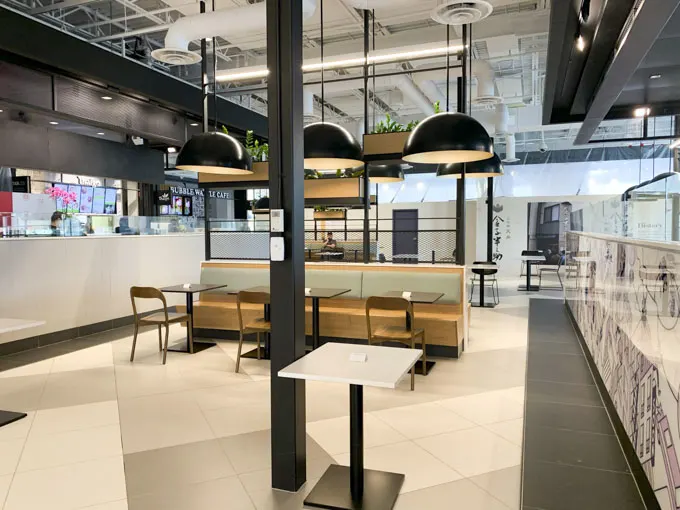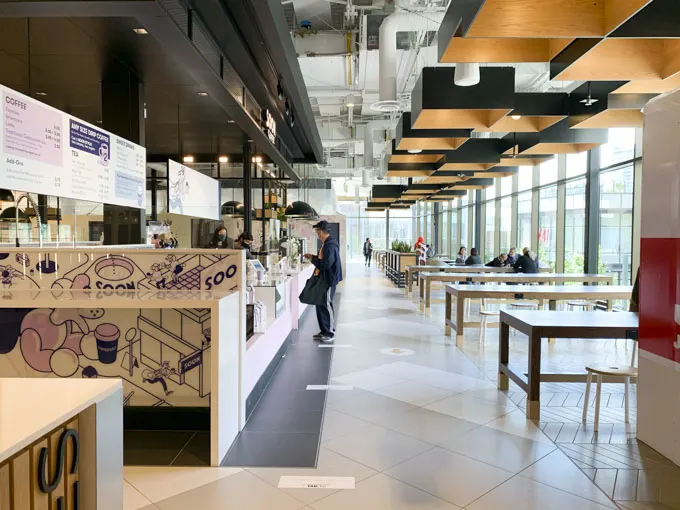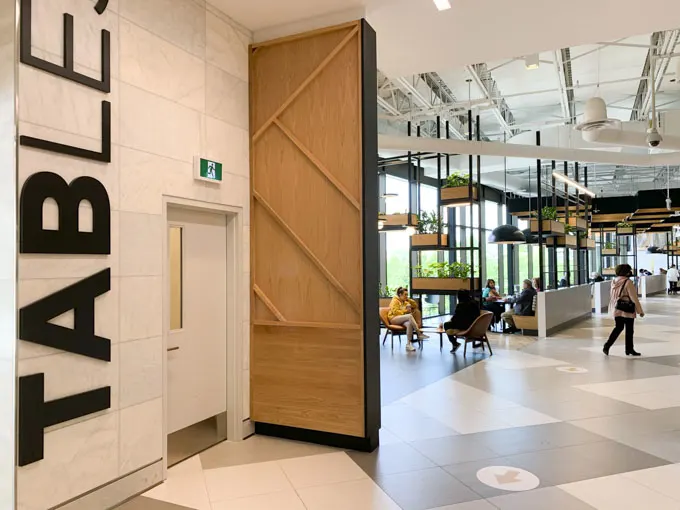 You'll find plenty of seating area indoors and outdoors where you can sit back and relax and enjoy your meal.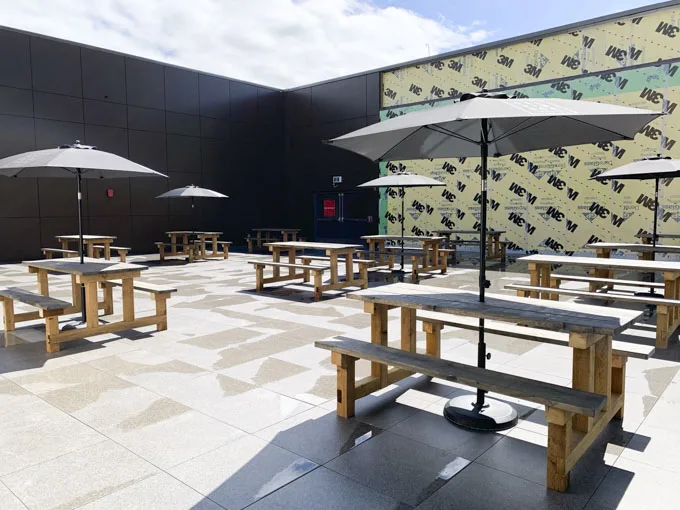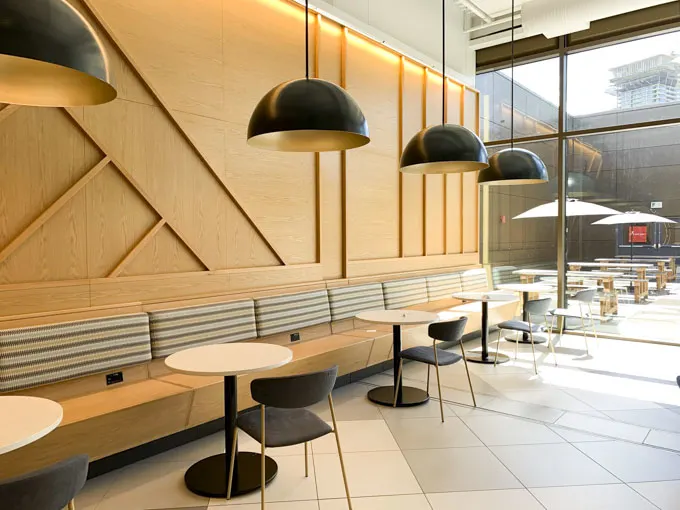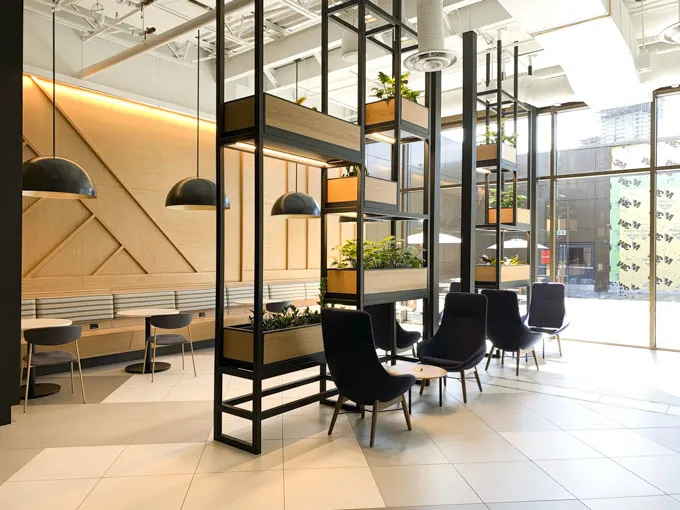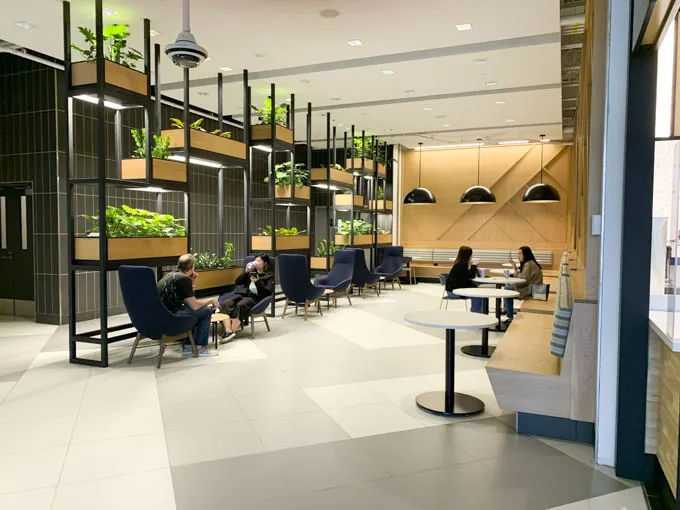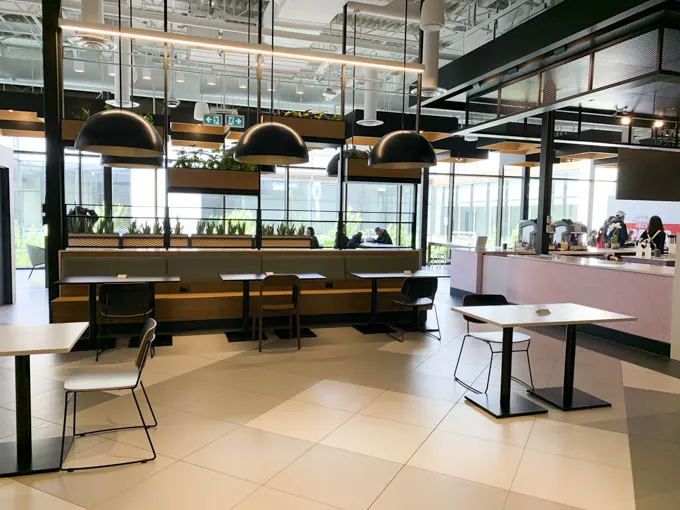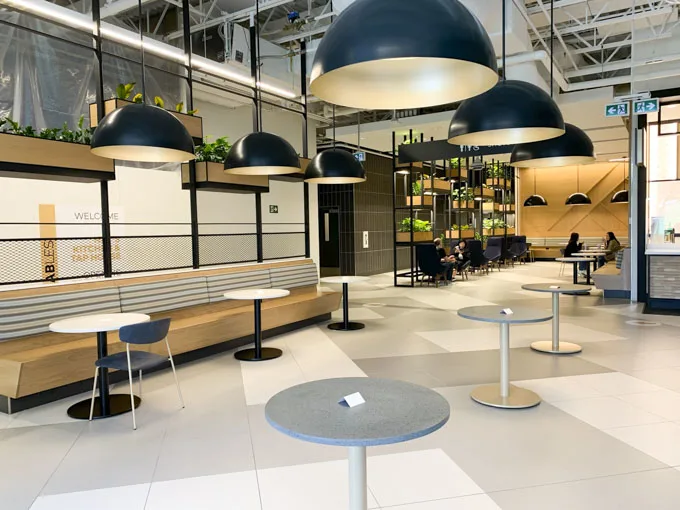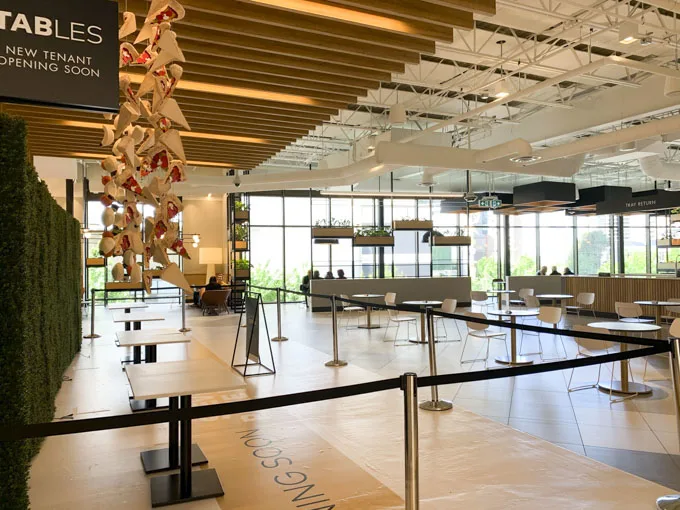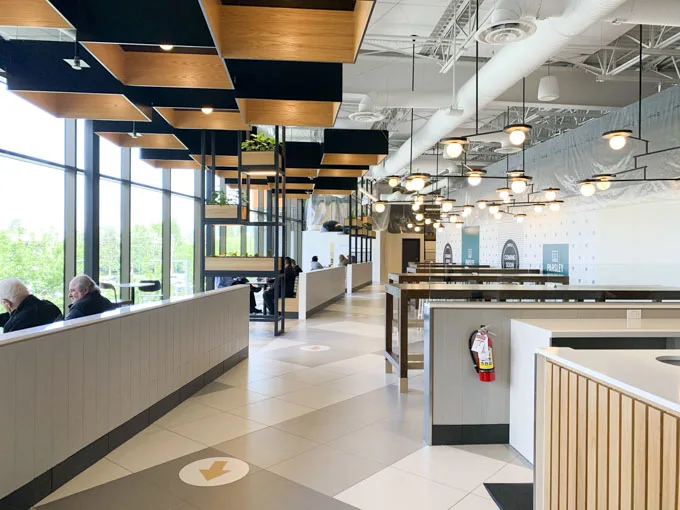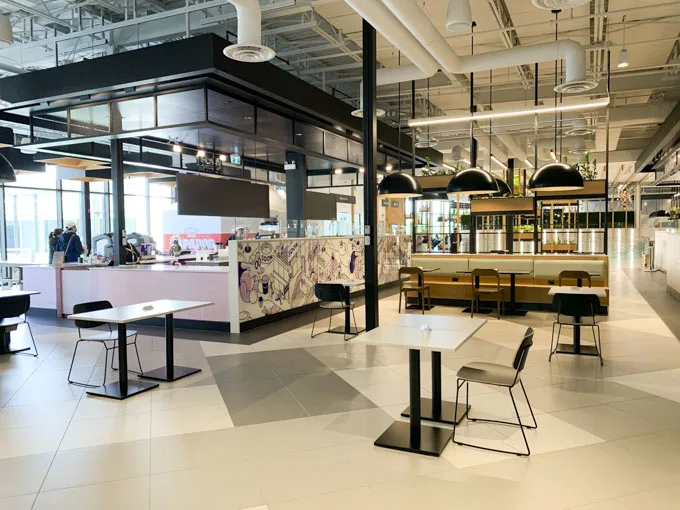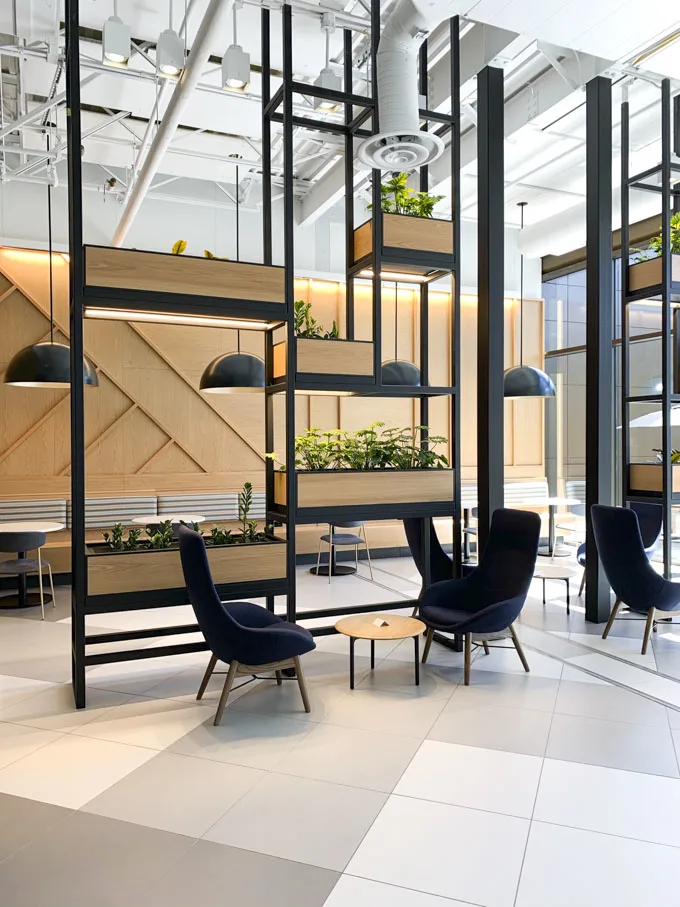 A look at some of The Amazing Brentwood Restaurants at the Food Court
Soon Coffee
Order a quick latte, their famous $2 any size drip or grab a bag of beans for home. Soon Coffee's got some of Vancouver's best too – baked fresh Dope Bakehouse croissants, dozens of Lee's famous donuts, vegan baking from To Live For, and fresh pressed juices from The Juice Truck.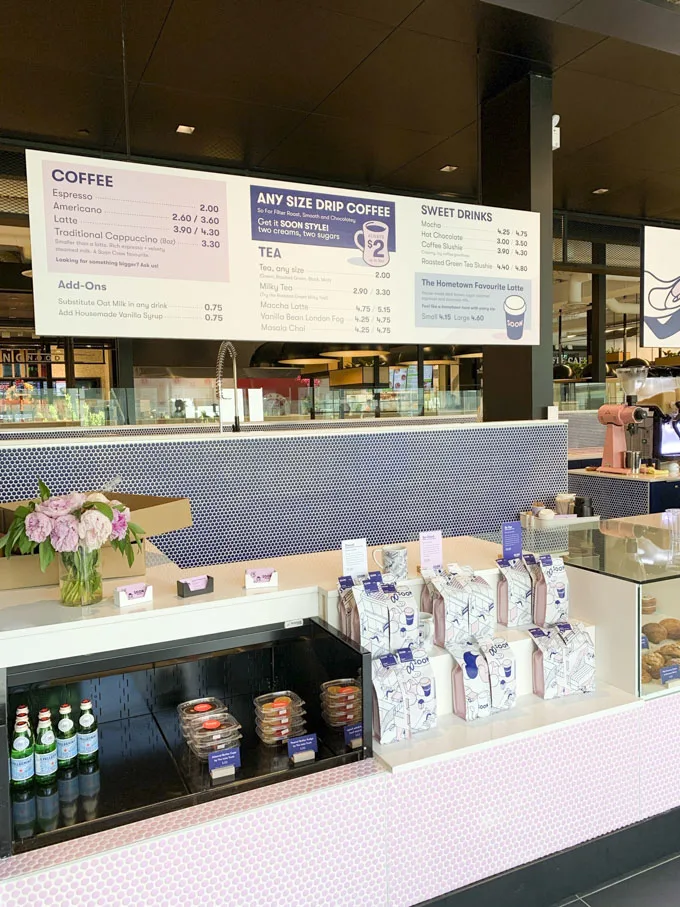 Thai Go
Thaigo brings an unique appeal with combining traditional Thai cuisine with new-world design and flavours. Enjoy an assortment of classic made-to-order pad thai and fried rice dishes, crafted from fresh, delicious ingredients.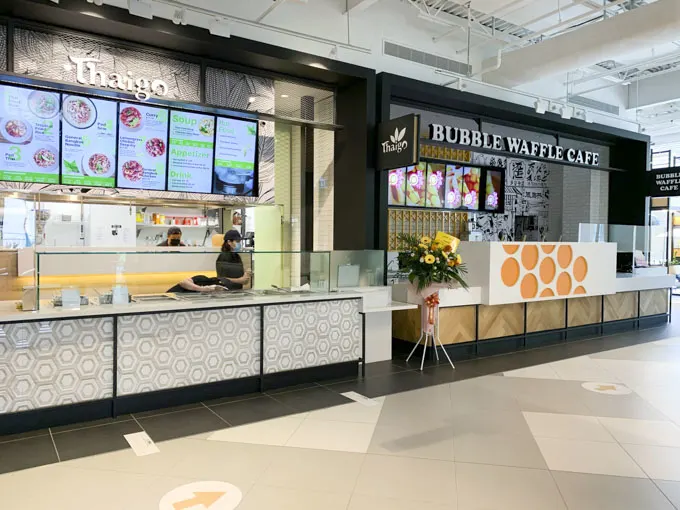 Chef Hung
Indulge in a vast selection of noodles, rice, and specialty snack dishes including their renown signature recipes created with only the finest premium cuts of beef at Chef Hung.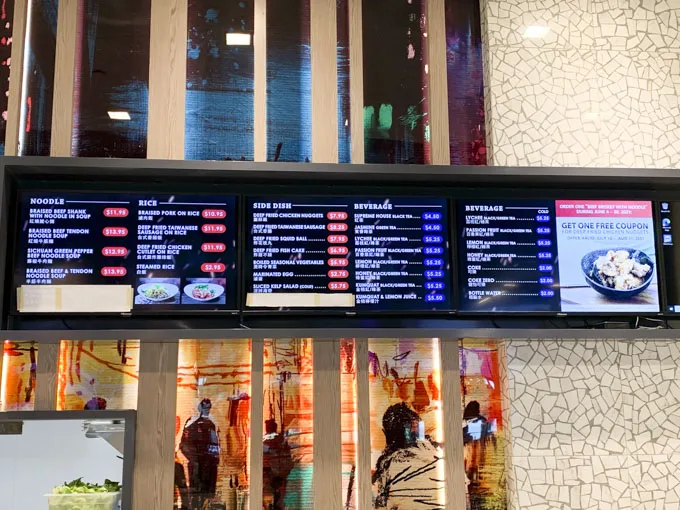 Bubble Waffle Cafe
At Bubble Waffle Cafe, find all popular street snacks like Curry fish ball, egg waffles, rice noodle roll, stinky tofu, fish soup noodle combo, fruit drinks, tapioca drinks and more.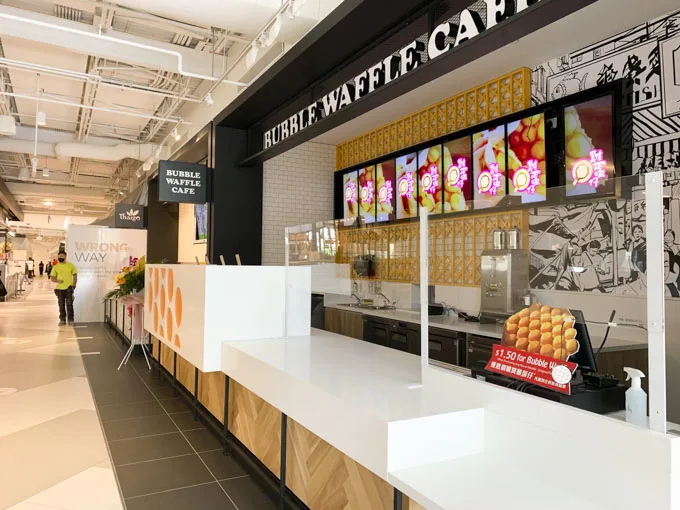 Kaneko Hannosuke
Kaneko Hannosuke specializes in tendon – meal of tempura served over a bowl of hot rice.
Chatime
Chatime has a wide selection of drinks organized by category including Milk Tea, Fresh Tea, Smoothie/Slush, Chatime QQ, Refreshing Juice, Fruit Tea, Mousse and more.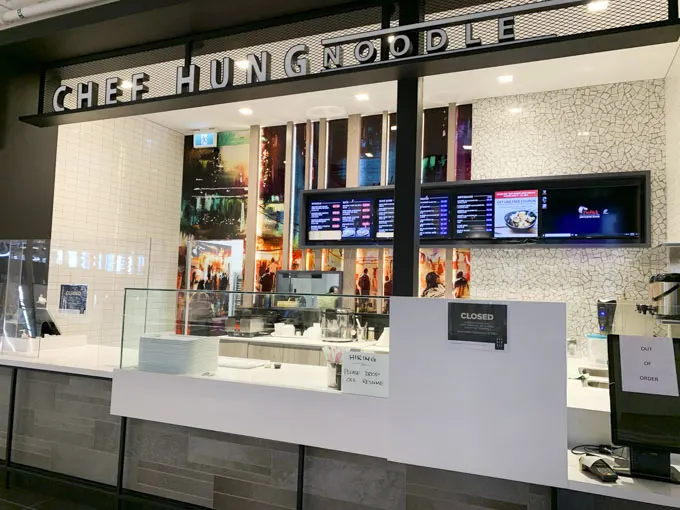 Yugo Roll and Bowl
A new and never-before-seen food court concept from Japanese-French fusion Restaurant Yugo. Their exciting and eclectic menu features interesting combinations with high quality ingredients such as wagyu, foie gras, and black cod.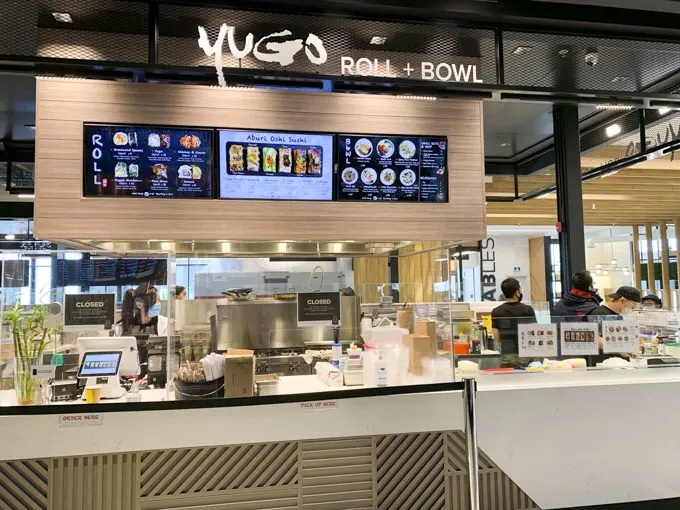 Bona Fide Chinese BBQ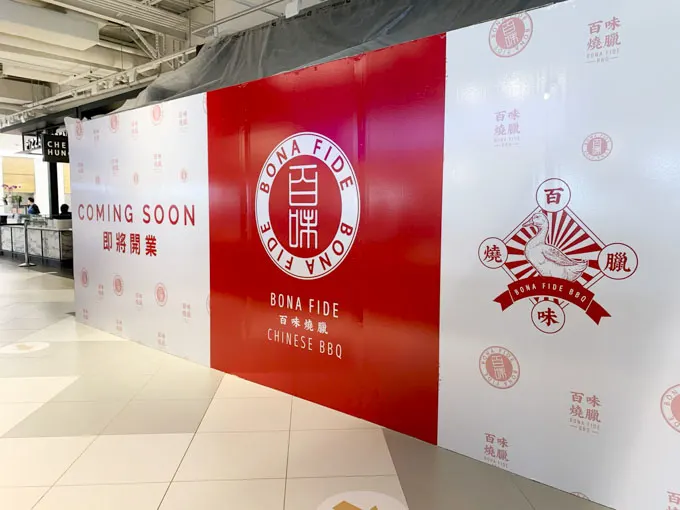 Pizza Garden
Authentic Neapolitan pizza made to order and baked to perfection in an Italian open fire oven using only the highest quality ingredients and toppings sourced direct from Italy or local BC farms.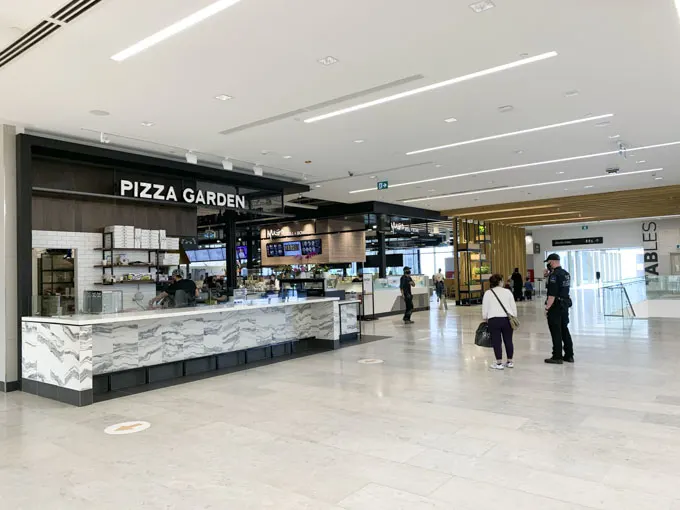 Saboten
Dedicated to serving the best Tonkatsu, deep fried pork cutlet, Saboten has flourished into one of the largest Tonkatsu chains with over 500 locations globally.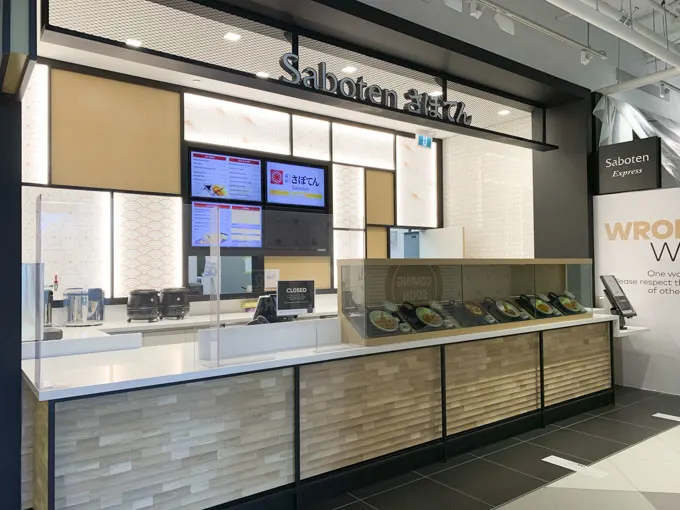 Gazba Persian Grill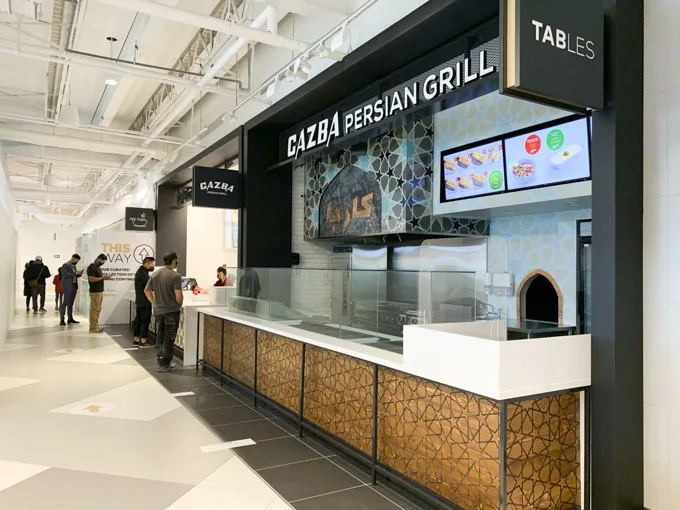 The Amazing Brentwood Food Tray Stations and Cleanliness
Tray return stations have been set up.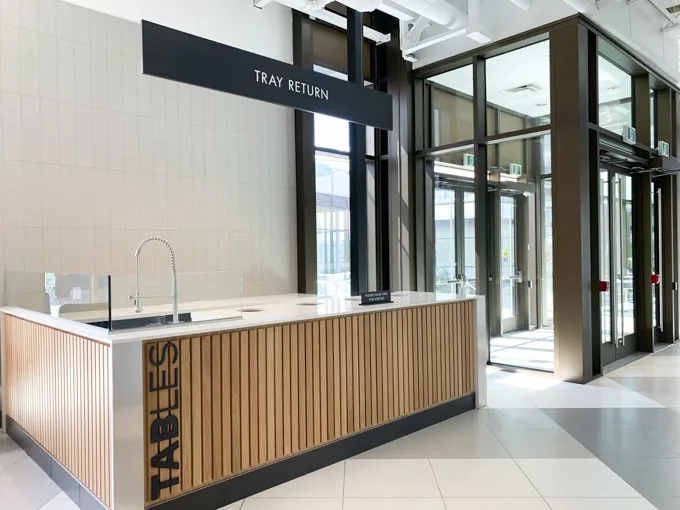 Cards are left on tables to indicate sanitized tables.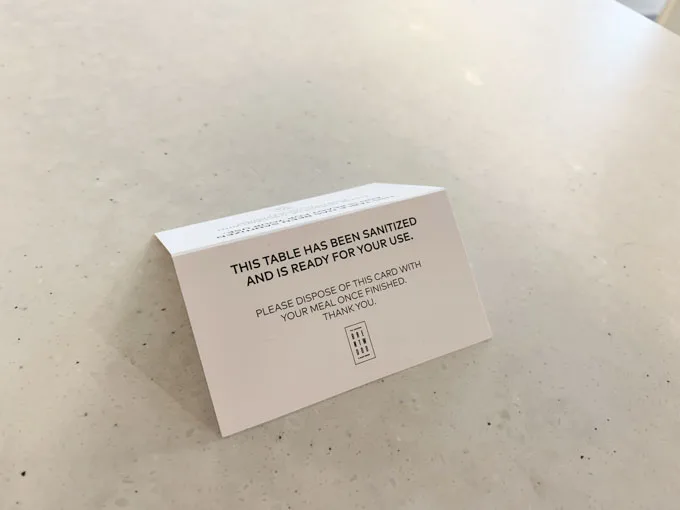 To learn more, visit theamazingbrentwood.com/dine/