Newly opened in the West End at Davie and Bute is Teature Tea Lounge, a dessert spot serving tea-infused treats as well as cocktails. I had seen photos of their desserts on Instagram and was curious about them since they are in my neighbourhood. A few weeks ago, I visited them twice to try out a few offerings. I intended to visit them just once with enough content to share about it in a post but it turned out that I needed to return a second time (more on that later).
Note: This is not a sponsored post. None of the food in this review was complimentary. The restaurant did not know that I am blogger.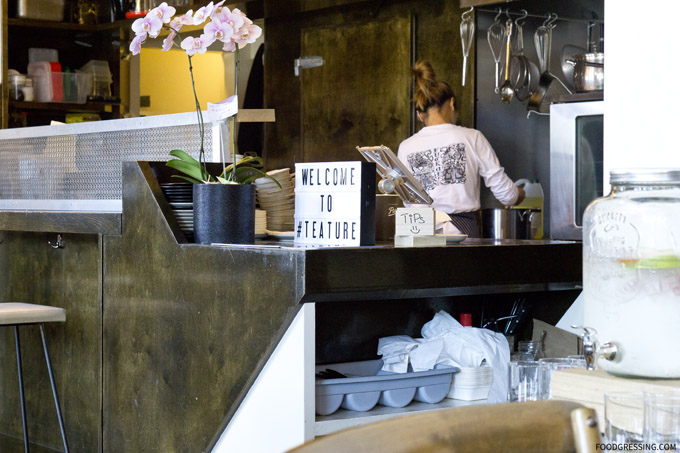 Inside Teature Tea Lounge
Teature Tea Lounge occupies the former space of Exile Bistro, a cocktail bar, and it seems like they have kept the same type of interior. Customers as well as the staff seems to be mostly Mandarin-speaking. I had no issues communicating with staff in English.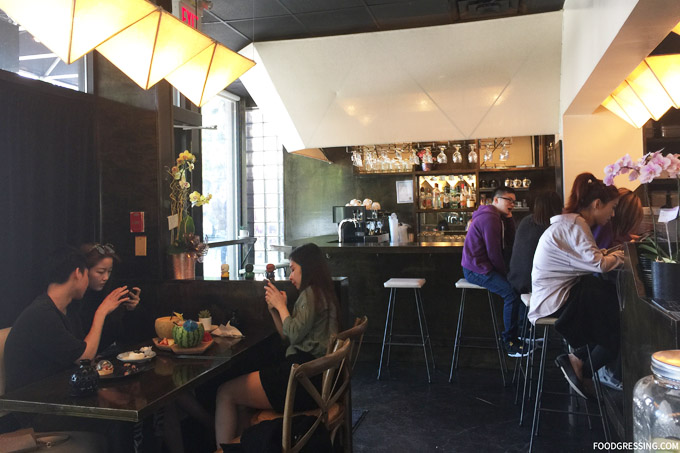 Teature Tea Lounge
On the menu at Teature Tea Lounge are a variety of tea-focused scones, pancakes, tarts, and cakes. They also have a featured macaron (but they spell it as macaroon?). Desserts are priced around around $7 – $8.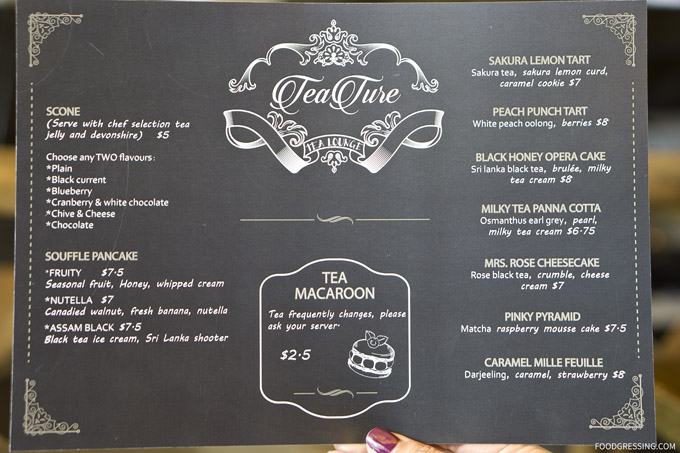 Teature Tea Lounge is unique in that they offer quite a variety of cocktails, beer bombs, and dessert wines along with desserts.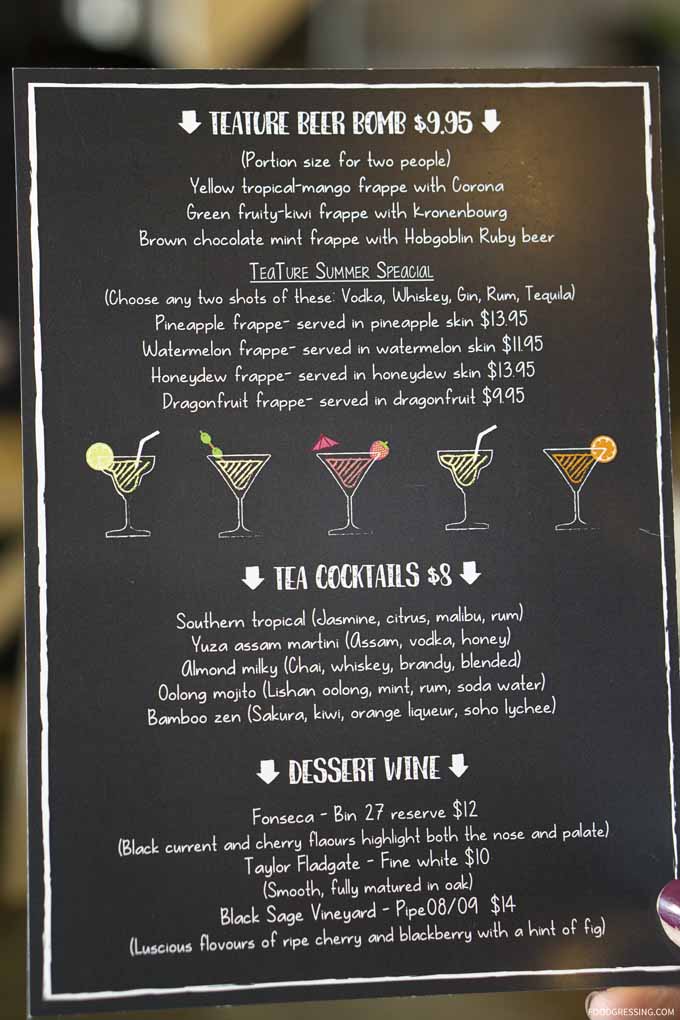 Their drink list also features non-alcoholic beverages like tea slushes and steeped tea.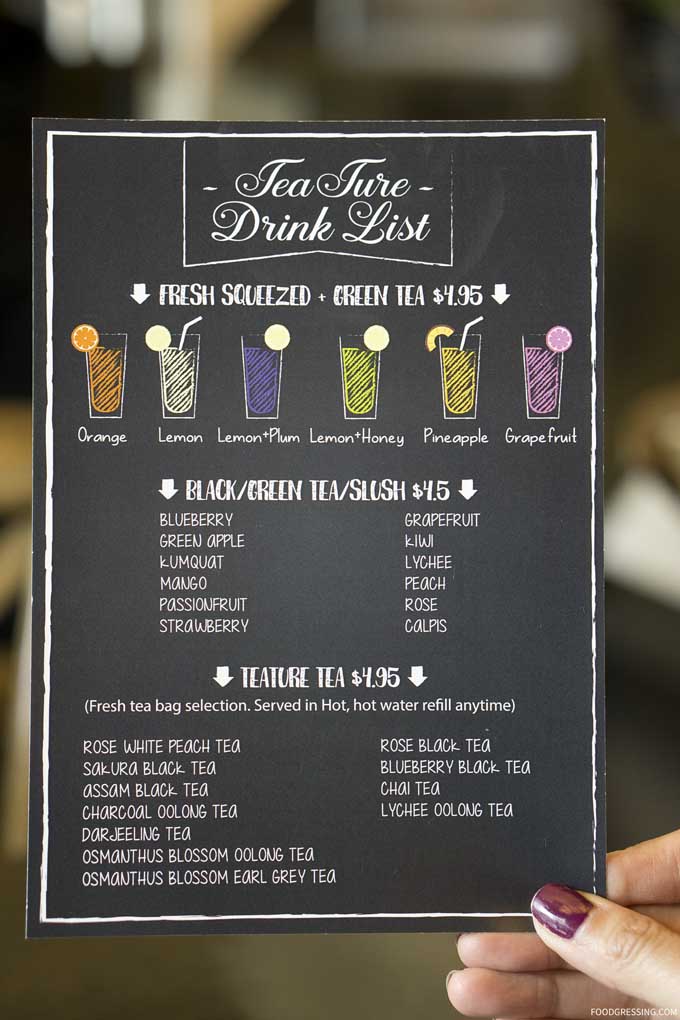 What We Tried
At Teature Tea Lounge, my husband and I tried the following:
Pinky Pyramid ($7.50)
Peach Punch Tart ($8)
Sakura Lemon Tart ($7)
Here is a video recap of my visits to Teature Tea Lounge and some interesting ways to eat their dessert!
On my first visit, I had ordered three desserts but unfortunately they thought I only ordered only one! The only dessert that came was the the Pinky Pyramid which is a matcha and raspberry mousse cake. On the outside, the cake had a slightly gelatinous texture and the bottom layer of the cake consists of matcha . I thought that the matcha flavour was too light and could be stronger to offer some bitter aftertaste.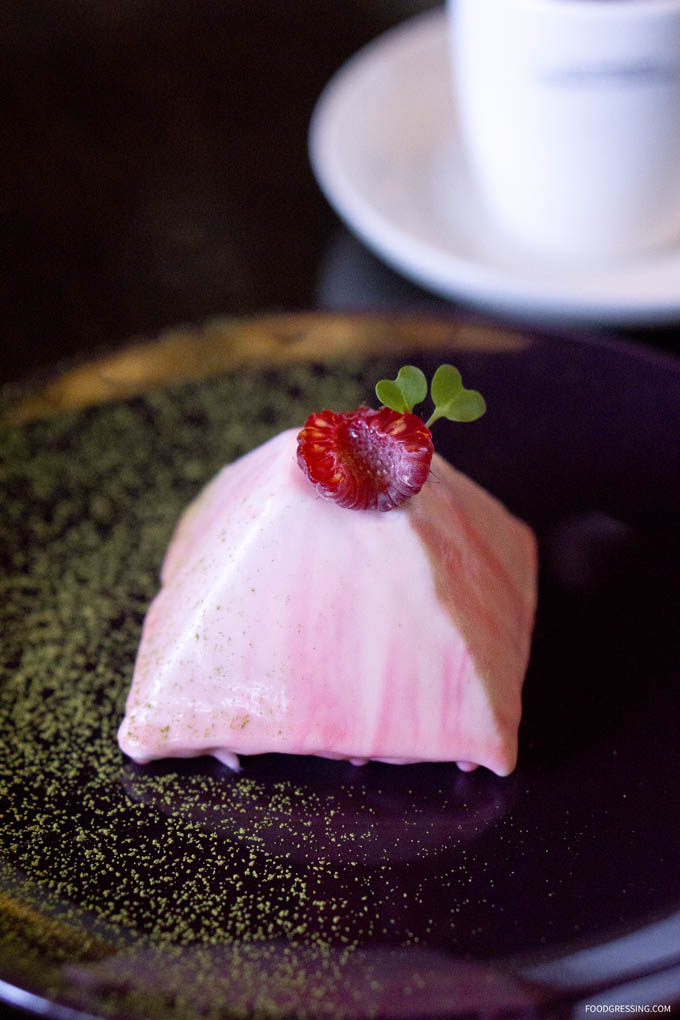 We had waited probably about a half hour for the two other desserts to be coming before the staff realized their mistake. Unfortunately, it was too late as we needed to leave. They offered Darjeeling tea infused macarons as a bit of compensation. These macarons had a floral aroma and flavour with a thick buttercream filling(?). I thought the macarons were just OK but the thick filling made it seem more like a cake than a bite-size macaron.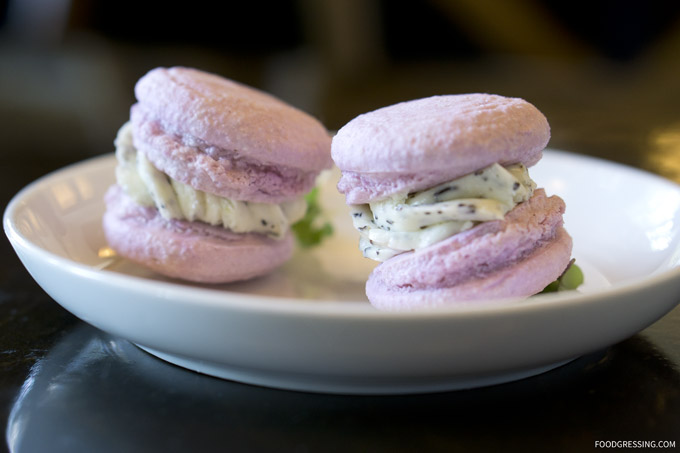 The next day, we returned to have the desserts we intended on trying the previous day. This time, the service was much improved and the desserts came rather swiftly. The Peach Punch Tart is one of their unique offerings featuring fresh berries and white peach oolong flavours with a sugar dome. I very much enjoyed the tart which had a nicely crumbly and buttery crust. One thing I thought could be improved is the amount of cream: I felt that there was not enough of it between berries and the tart crust.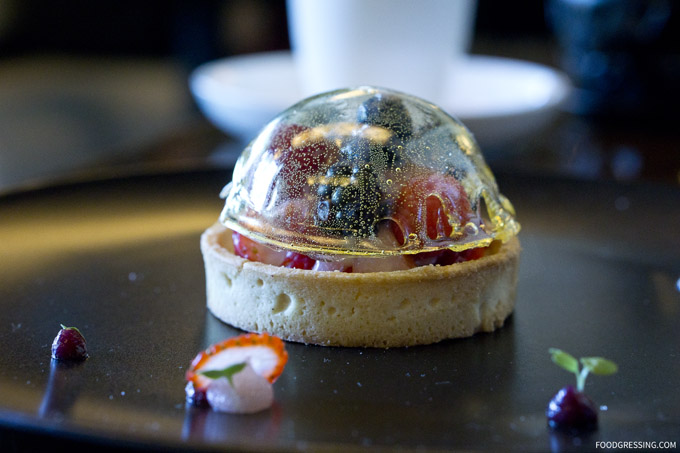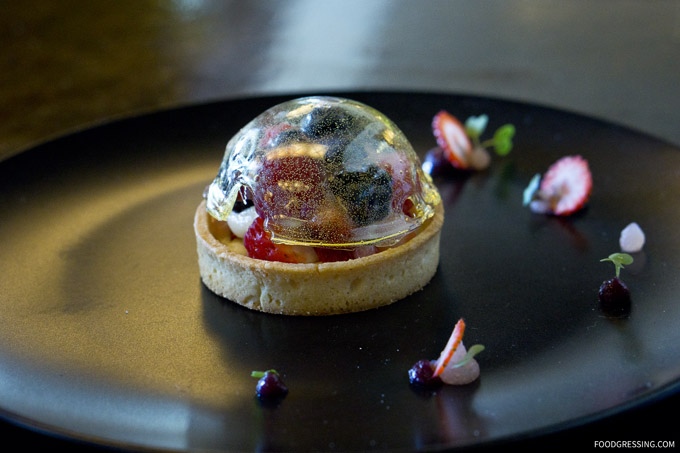 Last was the Sakura Lemon Tart with a sakura lemon curd in a caramel cookie. Topped with a sugar-coated lemon slice. I quite enjoyed the zesty flavours which was balanced with the sweetness. When I posted about this on Instagram, someone asked me how sakura tasted. I would probably characterize it as more floral and slightly fruity?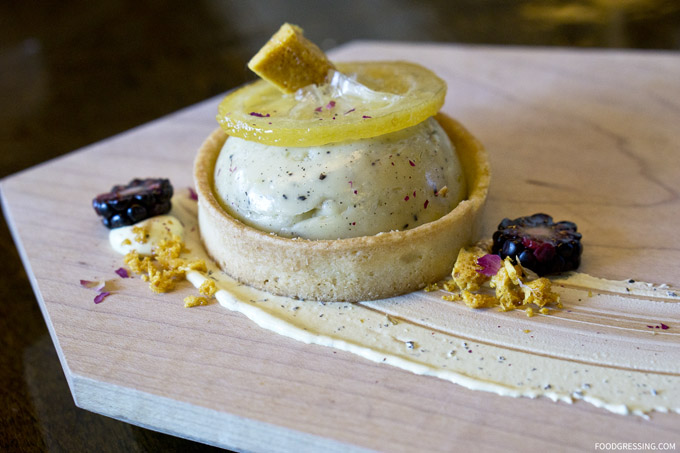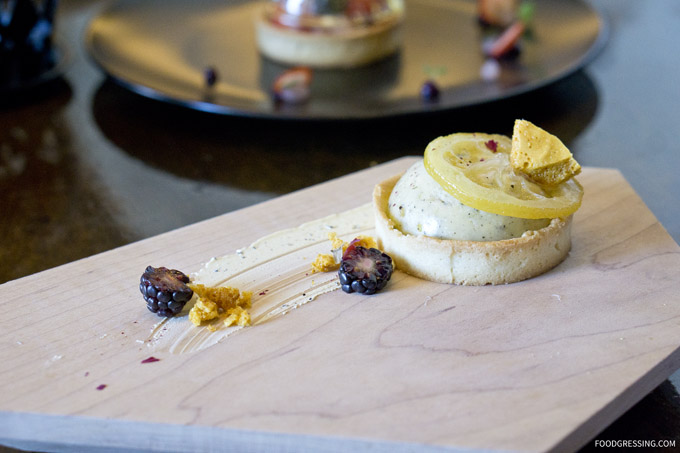 Overall Impression
Teature Tea Lounge is a unique addition to Davie Village offering Asian-inspired desserts and cocktails. I thought that their desserts were stunning in presentation with a lot of attention to detail. The flavours were good though I think there were a few areas I thought could be better. Rating: 3.5/5
Website: www.facebook.com/teatureloving